20 Holiday Cocktail Recipes From Your Favorite Hotels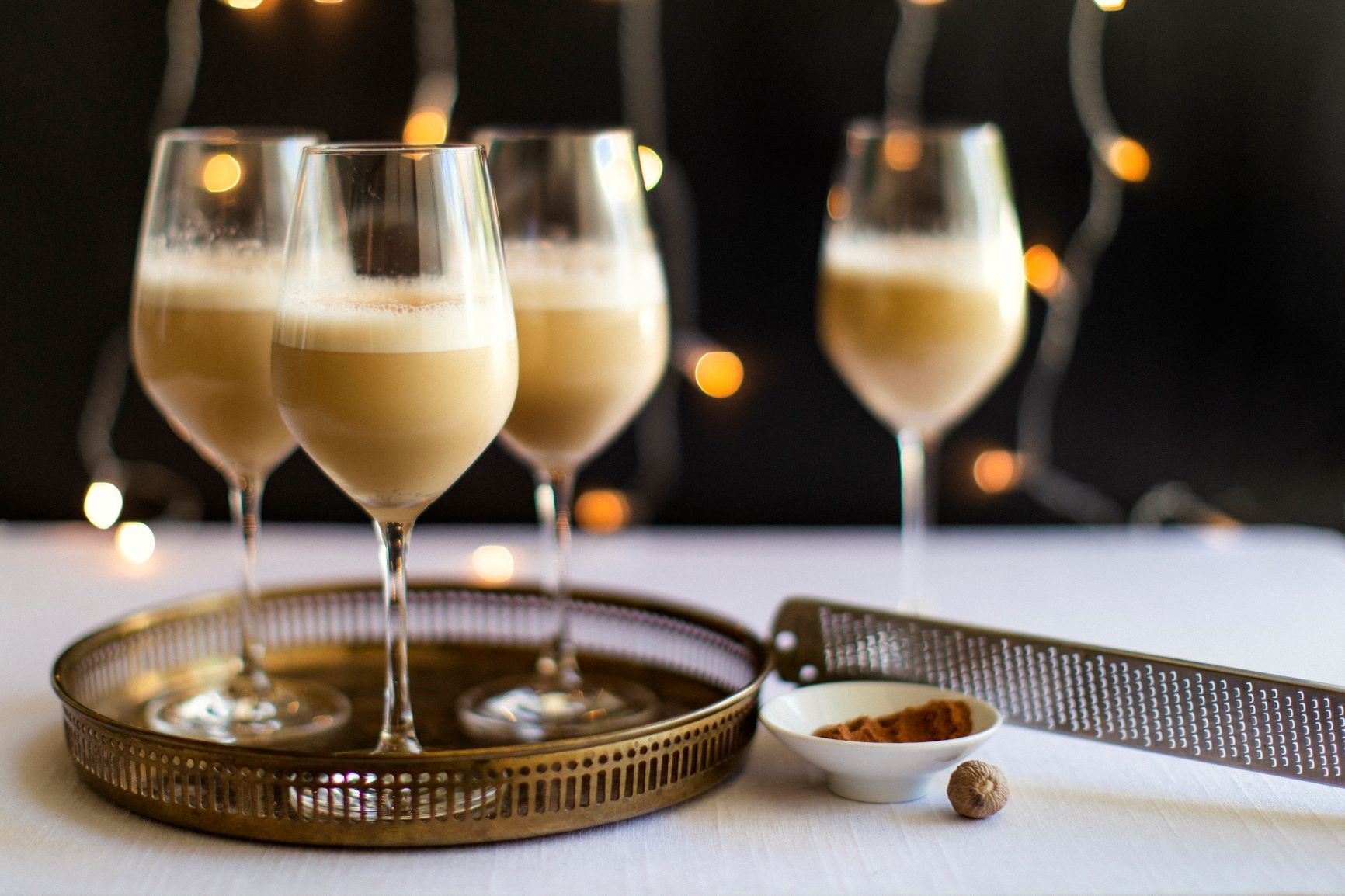 Fairmont Scottsdale Princess Flip Nog
A handful of hotels you love for meetings have graciously opened up their recipe books to gift our readers some truly fun, creative cocktails to make and enjoy at home.
So, grab your cocktail shaker, summon your inner bartender and give one of these tasty libations a try to raise your spirits—and if you discover a recipe that's a keeper, show our hotel friends some love and share your creations by tagging them on social media (and us too, @meetingstoday).
From our Meetings Today family to yours, happy holidays—and cheers!
Sleigh All Day, Vanderpump à Paris at Paris Las Vegas
From one of the newest celebrity watering holes at Paris Las Vegas is a festive white chocolate peppermint martini. Garnished with a peppermint white chocolate macaron, fresh rosemary and crushed candy canes, this decadent and luxurious concoction is the perfect drink for all the festive feels!
Ingredients
1 oz. white chocolate liqueur
1 oz. vanilla vodka
1 oz. crème de cacao white
2 dashes dark chocolate bitters
3 drops peppermint extract 
Crushed candy canes
Rosemary
Peppermint white chocolate macaron 
How to make it:
Wipe half of the rim of a martini glass with a thin line of  thick simple syrup (bring sugar and water to a boil then let simmer on low for 5-6 mins), and dip it into the crushed candy canes. 
Add the peppermint extract to the martini glass, roll it around the glass and then pour it away as a rinse. 
Add all liquors and bitters to shaker. 
Fill ¾ full of ice and shake for 30 seconds.
Strain into martini glass.
Bourbon Steak Flip Nog, Fairmont Scottsdale Princess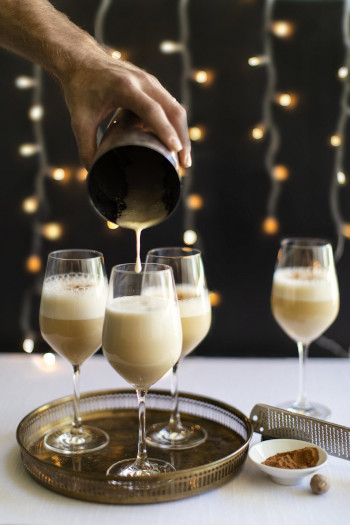 This featured holiday drink at Michael Mina's Bourbon Steak at the Fairmont Scottsdale Princess is for those adventurous home mixologists who feel like getting a little fancy.
Ingredients
1 whole egg
1 1/2 oz. cognac VSOP
1/2 oz. amaro montenegro
1/2 oz. frangelico
1/2 oz. half/half
1 oz. vanilla simple syrup (equal parts sugar/water 32 oz. to 2-4 vanilla sticks)
Whole nutmeg with microplane or ground nutmeg 
All-purpose wine glass
How to Make It
Make the vanilla syrup: Take 2-4 vanilla bean sticks, cut down middle and add to pot. Once pot is on the stove add equal parts of 32 ounces sugar/water, bring to simmer and let simmer for 10 minutes, making sure it does not boil. After syrup has cooled, pass through a fine strainer.
In your smaller shaker tin, add egg, half/half, vanilla syrup, frangelico, amaro and cognac. Add ice and shake well for 20-30 seconds. 
Roll the cocktail into the larger shaker tin and rinse out smaller shaker tin. With a Hawthorne strainer and fine mesh strainer, return the cocktail with no ice into the rinsed smaller shaker tin.
Dump ice and rinse large shaker tin. After rinsed out and cleaned, re-shake cocktail for 10-20 seconds. 
Pour into wine glass and add your garnish. Either microplane nutmeg over the cocktail or sprinkle ground nutmeg over the cocktail.
Santa's Treat, Z Bar at The Peninsula Chicago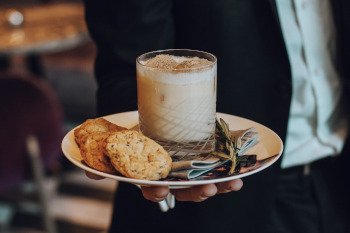 A few sips of this three-ingredient holiday treat will transport you to The Peninsula Chicago's captivating rooftop lounge, Z Bar, which overlooks famed Michigan Avenue.
Ingredients
1 oz. of 12-year-old rum (El Dorado is used in this cocktail)
1 oz. amaretto
1 oz. heavy cream
How to Make It
Combine all ingredients and shake over ice.
Serve over ice, garnish with shavings of nutmeg on top.
Gelt in a Glass, Lake Nona Wave Hotel
One of Orlando's newest and most exciting hotels is known for its innovative F&B, with Michelin-recommended BACAN onsite and wellness offerings for corporate retreats. This holiday cocktail adds a little kick to the sweet for a surprising twist.
Ingredients
1.50 oz Infused Casamigos Reposado
0.75 oz Pierre Ferrand Dry Curacao
0.50 oz cayenne-cocoa nib Syrup*
3 dashes chocolate bitters
How to Make It
Make cayenne-cocoa nib syrup: Combine 2 cups water and 2 cups brown sugar. Mix until sugar is completely dissolved. Add 2 tsp cayenne pepper and 1/3 cup cocoa nibs. Let infuse in a refrigerator over night. Strain, label and store. Good for one week. 
Add all liquid ingredients to a mixing glass. Fill 3/4 of the way with ice and stir for approximately 20 seconds.
Strain over a large cube and garnish with a gold dusted, dehydrated orange wheel. 
Breakfast at Oliver's, Atlantis Paradise Island Bahamas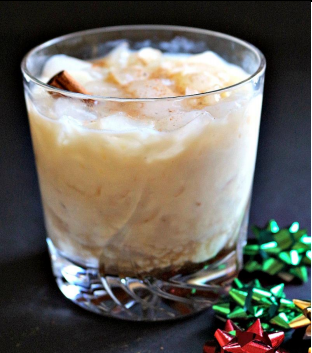 Bring the flavors of a Bahamas holiday vacation to your family room with Atlantis Paradise Island's sweet and tropical bourbon drink.
Ingredients
2 oz. High West Prairie Bourbon
1/2 oz. creme de cacao
1/2 oz. Demerara syrup
1/2 oz. heavy cream
3 dashes of Angostura bitters
How to Make It
Mix all into a shaker with ice and shake with vigor.
Strain into a glass with fresh ice and add a dash of nutmeg and cinnamon.
Thyme Well Spent, CIVANA Wellness Resort & Spa
Nestled in the Sonoran Desert outside of Scottsdale, Arizona, CIVANA keeps wellness at the fore. Fresh ingredients like thyme and lemon give this winter cocktail a bright flavor.
Ingredients
1/2 oz. Lemon Lavender Tea Honey Syrup
3/4 oz. lemon
1 1/2 oz. gin
1 lemon wheel
1 lavender sprig
1 thyme sprig
How to Make It
Add all ingredients into the mixing glass, adding the gin last.
Add an ample amount of ice to the mixing glass.
Stir in a smooth continuous motion until ice is slightly melted and drink is well chilled.
Double strain into a rocks glass over a large ice cube.
Add two to four dashes of Creole Bitters.
Garnish using a lemon wheel and thyme and lavender sprigs.
Stone Fence, InterContinental Boston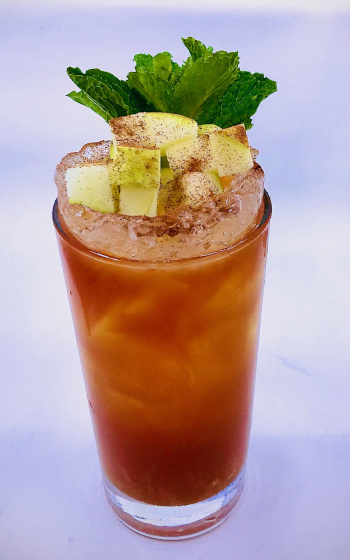 This apple-inspired cocktail from Beantown's AAA Four Diamond InterContinental Boston is quick to make and easy to enjoy.
Ingredients
2 oz. Lairds Apple Jack Apple Cider
3 dashes Angostura Bitters
Cubed crisp apples for garnish
Mint springs for garnish
How to Make It
Pour all ingredients into large cocktail shaker and strain over ice in a Collins glass.
Garnish with cubed apples and mint.
Santa Nog, Hotel Monteleone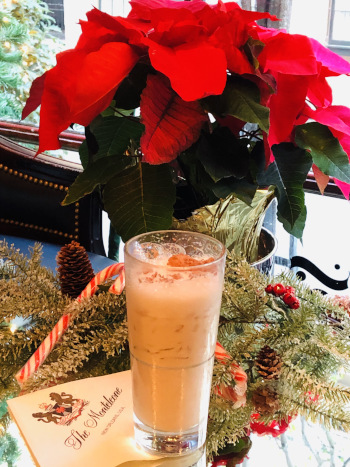 While you may not be able to enjoy a festive beverage in Hotel Monteleone's famed Carousel Bar this year, you can recreate the New Orleans hotel's magic by mixing together its Santa Nog.
Ingredients
1 oz. Drambuie
1/2 oz. Scotch
3-4 dashes chocolate bitters
1 tsp vanilla extract or 3-4 drops vanilla bitters
4-5 oz. half-and-half
Ice
Freshly grated nutmeg
How to Make It
Pour all liquids into an ice-filled Boston shaker and shake until well blended and chilled.
Strain into an ice-filled rocks glass and garnish with a dusting of nutmeg.
Sweater Weather Seasonal Cocktail, Toro Toro at InterContinental Miami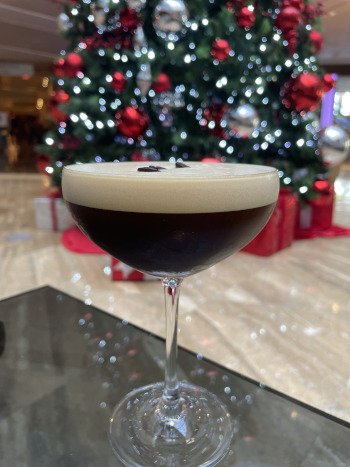 InterContinental Miami's modern steakhouse Toro Toro serves both comforting dishes with Latin flair and unique cocktails. Whether you live in Florida's warm climate or chillier parts of the country, this drink will have you in the mood for sweater weather.
Ingredients
1 1/2 oz. Zaya Rum
1 oz. Licor 43
1/2 oz. Kahlua
Double shot of espresso
3 dashes of chocolate bitters
How to Make It
Combine ingredients with ice in martini shaker.
Shake, pour and enjoy!
Papa Noel Cosmo, The Landings Resort & Spa
Tucked away on the coastline of St. Lucia's Gros Islet, The Landings Resort & Spa has a festive twist on the famous cosmo that will take you to the beach, no matter where you are spending the holidays.
Ingredients
2 oz. crushed ginger 
1/4 oz. nutmeg powder
2 oz. coconut cream
2 oz. chairman's reserve rum
2 oz. milk 
1 small scoop of ice
 
How to Make It
Muddle fresh ginger, add all other ingredients, shake over ice and strain into glass.
To rim the glass, mix 1 oz. of sugar with a sprinkle of nutmeg. Rim the glass with fresh ginger juice and dip the rim in the sugar mixture,
 
Picante Pomegranate Cocktail, The Broadmoor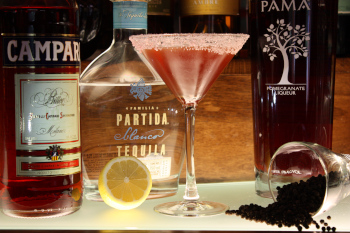 Fresh pomegranate gives this tequila drink from Colorado's meeting powerhouse The Broadmoor a tasty winter twist.
Ingredients
1 1/2 oz. Partida Blanco Tequila
1/2 oz. 100% pomegranate juice
1/2 oz. Pama pomegranate liqueur
1/4 oz. fresh squeezed lemon juice
3/4 oz. black pepper simple syrup*
How to Make It
Combine ingredients in a mixing glass and shake on ice.
Strain into a chilled, Campari sugar-rimmed martini glass** and garnish with a flamed orange peel.
* To make Black Pepper Simple Syrup: Place 1/2 cup of black peppercorns in a plastic bag and crush coarsely with a flat meat hammer or rolling pin. Pour into 1 1/2 cups of water and heat to boiling. Add 1 1/2 cups of sugar and simmer, stirring occasionally for 15 minutes. Allow the mixture to cool overnight, strain the peppercorns out and refrigerate.
** To make Campari sugar: On a silicone baking sheet, combine 1/2 cup of sugar and 1 oz. Campari Liqueur, and allow to dry completely at room temperature. Peel from the sheet, and granulate with a mortar and pestle until fine enough for rimming a glass.
Cranberry Allspice Old Fashioned, The Charleston Place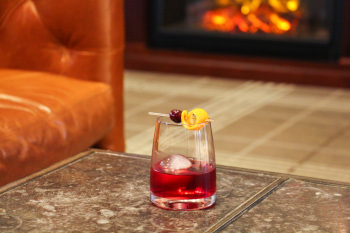 Sipping an old fashioned inside South Carolina's historic The Charleston Place is the epitome of luxury and class. Bring that fancy feeling to your home with this wintery twist on a classic.
Ingredients
2 oz. Barbancourt 15-year rhum
1/2 oz. allspice and brown sugar simple syrup
Dried cranberries and oranges muddled
1 orange peel, for garnish and glass
How to Make It
Using a muddler or wooden spoon, muddle dried cranberries, orange, allspice and brown sugar simple syrup against bottom and side of a glass.
Fill glass with ice. Stir in rhum, cranberry juice and splash of club soda (optional).
 Garnish with orange slice and cranberries.
Navidad Rojo, Wild Dunes Resort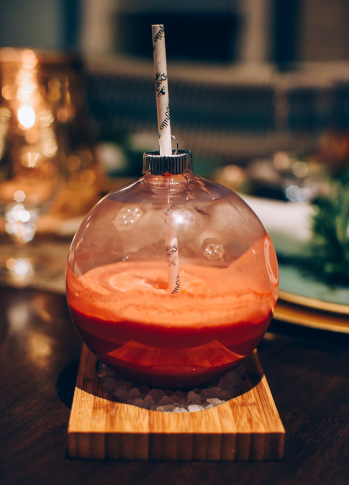 Nestled on the northern tip of Isle of Palms, a lush barrier island off the coast of South Carolina, this Destination Hotel, located just 30 minutes from the historic downtown of Charleston, serves up this holiday cocktail in a decorated ornament. Try making it on your own at home!
Ingredients
2 oz. Don Julio Silver
1 oz. lime juice
1 oz. heavy cream
1 oz. agave syrup
1 egg white
Dash of red food coloring
How to Make It
Combine all ingredients in a cocktail shaker with ice and shake for 10 seconds to incorporate.
Strain into another cocktail shaker and shake without ice for 20-30 seconds vigorously. (Hint: Use the blender ball from a protein shake bottle to improve fizz and froth.)
 Add a splash of soda water to the desired glass—or funnel into a clear glass ornament—and stir once for a little fizz. Cheers!
CHX Skimosa, Chateaux Deer Valley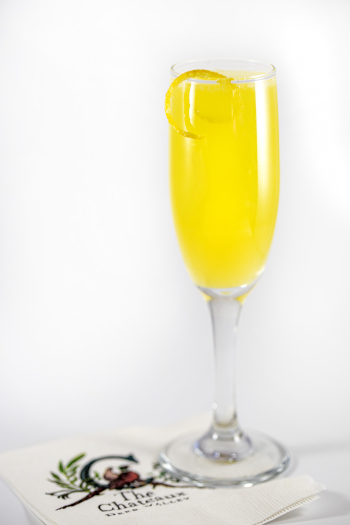 Toast to the holiday season with this fun riff on a traditional mimosa from popular mountain resort Chateaux Deer Valley, which is home to the largest ballroom space in Park City, Utah.
Ingredients
1/2 oz. Ketel One vodka
1/2 oz. Gran Marnier
1/2 oz. pineapple juice
Da Luca prosecco
How to Make It
Shake vodka, Gran Marnier and pineapple juice.
Strain into champagne flute and top with prosecco.
Winter Sangria, The Prime Rib at Live! Casino & Hotel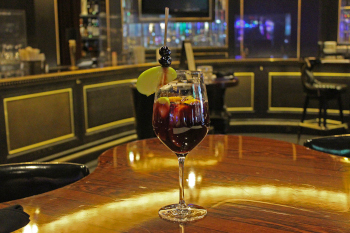 The vacation mindset isn't far away when you have a no-fail recipe for sangria. This winter version from Maryland's Live! Casino & Hotel is a winner!
Ingredients
4 oz. red wine
1 1/2 oz. pomegranate juice
1/2 oz. triple sec
1/2 oz. brandy
1 teaspoon simple syrup
Orange and apple wedges
Additional apples and Luxardo cherries, for garnish
How to Make It
Pour red wine into a glass. (We enjoy using a wine glass for the ideal Sangria look.)
Stir in pomegranate juice.
Add triple sec and brandy, stir.
Mix in simple syrup.
Cut 1-2 orange and apple wedges to add to the drink for a fruit-forward finish.
Garnish the cocktail with sliced apples and Luxardo cherries, if desired.
Peppermint Martini, The Wigwam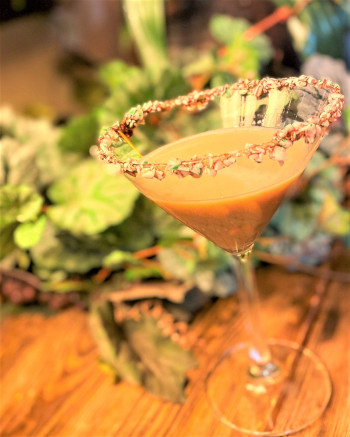 Phoenix's desert oasis, The Wigwam, serves this festive peppermint martini at its signature restaurant, Litchfield's. Until you can bask in the Southwestern sun again, mix this drink up to bring a bit of the resort to you.
Ingredients
1 1/2 oz. of vodka
Godiva chocolate
Crushed peppermint candies
1/2 oz. of peppermint schnapps
How to Make It
Dip the rim of the martini glass in Godiva chocolate and crushed peppermint.
Combine vodka, Godiva chocolate and peppermint schnapps in a cocktail shaker.
Shake over ice, serve in a martini glass and enjoy!
Christmas in Cancun, Mohegan Sun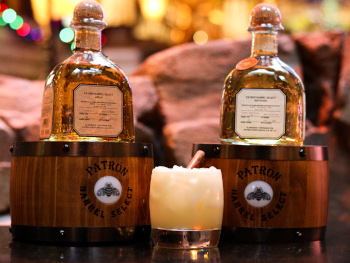 Straight from the bar at Mohegan Sun's Todd English's Tuscany is a tropical drink that will bring the beach to your home.
Ingredients
2 oz. Mohegan Sun Series 1 Tequila (or your preferred Añejo or Reposado)
2 oz. piña colada mix
1 oz. pineapple juice
Cinnamon stick or ground cinnamon (to garnish)
How to Make It
Shake all components and pour into a low ball glass.
Garnish with a cinnamon stick, or sprinkle cinnamon on top.
Iggletini, McGillin's Olde Ale House
While it's not within a hotel, we had to include a spirit from the Philadelphia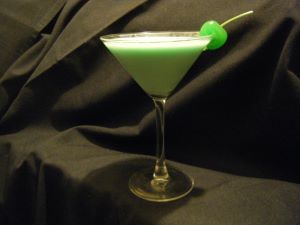 institution McGillin's. The standalone bar and restaurant is a popular place for special events and has hosted many Broadway personalities and celebrities in its history, when shows would open in Philadelphia. The historic McGillin's is now owned by our own Tyler Davidson's in-laws. This drink, named for the way people from Philly pronounce the name of the Philadelphia Eagles, will pair well this winter with a potential playoff run for the team.
Ingredients
1 shot vanilla vodka
1/2 shot crème de cacao
1/2 oz. "Eagle" Green Crème de Menthe
How to Make It
Combine ingredients. Shake well and serve in a martini glass.
 
Notes: McGillin's shot glasses are 1 1/2 oz.
Harvest Mule, Hyatt Regency Chesapeake Bay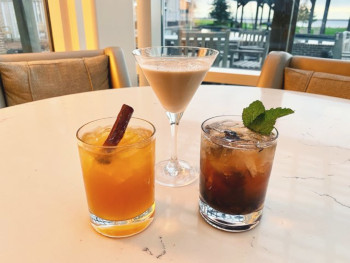 Fans of Cambridge, Maryland's Hyatt Regency Chesapeake Bay know the best way to enjoy a cocktail on site is with a bite to eat while in the Michener's Library, featuring a cozy fireplace setting with glass walls overlooking the River Marsh Golf Course and the Choptank River. The next best? Whipping up their seasonal Harvest Mule and enjoying in front of your home fireplace with a blanket.
Ingredients
1 1/4 oz. of Jack Daniels
1 oz. of lime juice
3 oz. of cider
2 oz. of ginger beer
Cinnamon stick, for garnish
How to Make It
Combine all liquids in a glass over ice.
 Stir and garnish with a cinnamon stick.
Plus: A Mocktail From Jesse Rodriguez, Head Sommelier and Beverage Alchemist at Collective Retreats
At Collective Retreats, a luxury retreat group with locations across the U.S. like Vail, Colorado; Sonoma, California; the Hill Country in Texas and more, Head Sommelier and Beverage Alchemist Jesse Rodriguez has created inclusive drink menus that include mocktails. One of his favorites that you can shake up this winter or any time of year? A strawberry-hibiscus concoction with fresh basil.
"Take the dried hibiscus and strawberries, take oat milk, take fresh basil and shake that thing up," Rodriguez said.
He recommends cutting the mixture with a bit of water—sparkling, if preferred—and sprinkling lemon zest over the top.  
"You have these little free-floating particles of yellow inside there that is like shaking the sunlight," Rodriguez said. "You just get to see all these different layers. By shaking it up, you've built this little froth on the top, and everything is super light, but then you've got a little cut from the sparkling water in the mix. It's delicious and it's refreshing. It's one of my favorite go-tos every summer."
Read more about his mocktail initiatives.
---
Hungry for more? Check out more recipes from properties around the world!