The Coastal Carolinas Plates Up a Bounty of Group Dining Options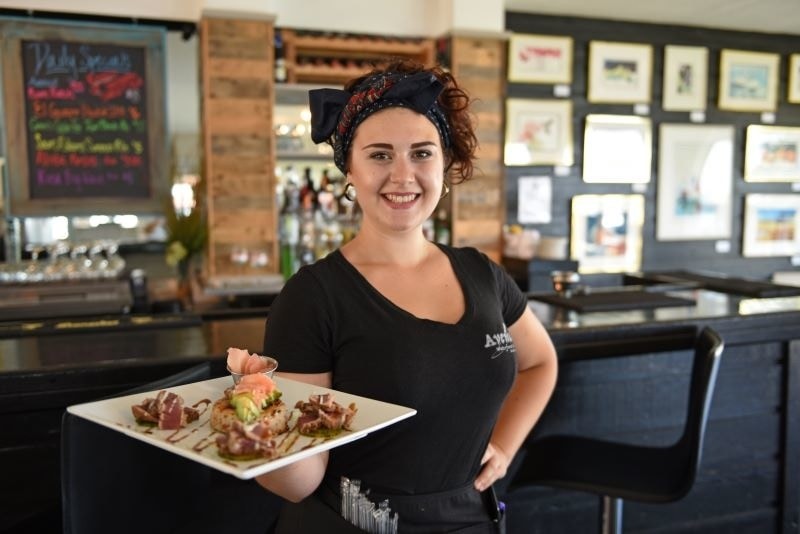 Photo from Avenue Grill, Manteo, North Carolina.
The coast of North and South Carolina is a culture unto its own, with food and beverage options that truly showcase the region's cuisine heritage for visiting meetings groups.
Following are select venues that celebrate that heritage through food, and while the pandemic has put the brakes on large gatherings throughout the world at the time of publication, they remain good bets for when we can meet en masse again.
With delicacies that include Gulf Stream-caught yellowfin tuna, crab cakes and deep-fried softshell blue crab that you need to jump on in season before they run out, the Coastal Carolinas offers a feast of land and sea that is unmatched.
The capacity information provided below reflects a non-COVID-19 environment when social distancing is not required, so be sure to contact each establishment to determine current allowances or availability.
North Carolina
Outer Banks
Perhaps the quintessential embodiment of the North Carolina coast, the Outer Banks, or OBX for short, is a relatively undeveloped little slice of heaven where lazy days are spent lounging on its sandy beaches and enjoying an abundance of fresh seafood.
"Food is an essential part of the OBX experience, with much of it coming directly from the sea to the table. Everyone down here has a fisherman in their family and we just add the Southern hospitality—plus the grits!" said Pam Gutlon, resident innkeeper at the eight-room White Doe Inn, located on the Roanoke Island town of Manteo, a popular destination for OBX visitors as well as for executive retreats.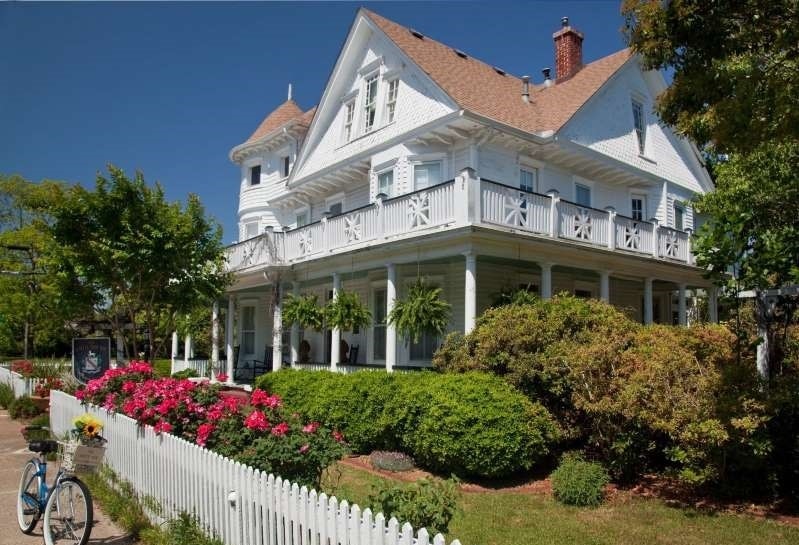 The White Doe took the pandemic seriously, purchasing HEPA air filters, UV lighting and implementing stringent cleaning protocols in its guest rooms and public spaces, as well as serving its standard four-course gourmet offering to guests in individually packaged servings.
"Stay small, stay safe is our motto, as gathering in a much more controlled environment now is especially important," Gutlon said.
Outside the walls of the historic B&B, Gutlon recommends the following two restaurants for a memorable group dining experience.
Tortuga's Lie, located in Nags Head, has been featured on Guy Fieri's Diners Drive-Ins and Dives and named the No. 1 Seafood Dive in North Carolina by Coastal Living Magazine.
Avenue Waterfront Grille, in downtown Manteo, can seat up to 50 and boasts a waterfront location, open floor plan and menu items that include Maple Pecan Fried Chicken, Bayou Shrimp and Grits, Tuna Sushi Style, Fish Tacos and a DownSouth Burger seasoned with a splash of hard cider barbecue sauce. Ample vegetarian, vegan and gluten-free dishes are also available.
Other OBX options include:
Duck's The Blue Point waterfront restaurant, helmed by James Beard nominee chef Sam McGann and with an outdoor thebackBAR venue that can seat up to 25.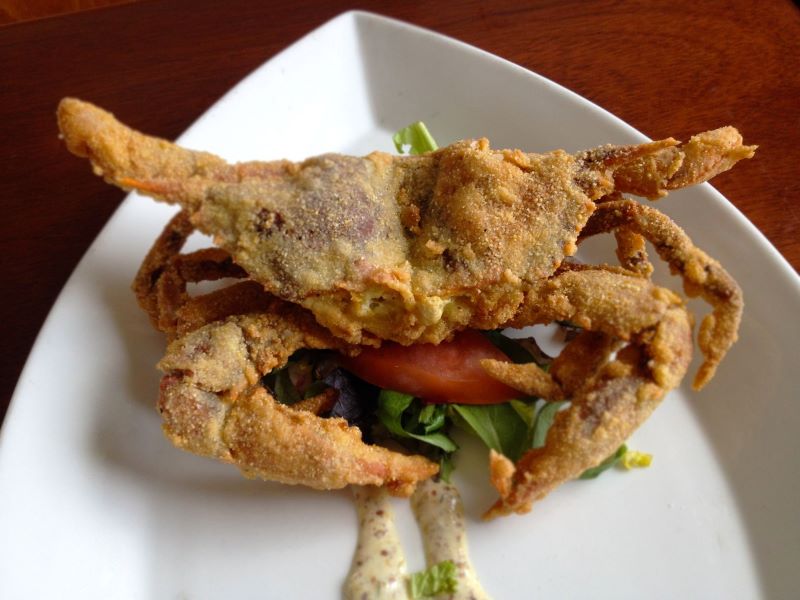 Basnight's Lone Cedar, which overlooks Roanoke Sound and can accommodate groups up to 100 for a buyout, and features wild caught seafood straight from the docks in Nags Head, including crab cakes, shrimp and flounder.
Crystal Coast
Stretching some 85 miles from Cape Lookout National Seashore to the New River, the Crystal Coast's main town is Beaufort, a historic enclave with three restaurants that may even allow diners the opportunity while gathered for an offsite event to see the area's famed wild horses roaming free at Taylor's Creek and Rachel Carson Reserve.
Moonrakers is a new restaurant specializing in coastal cuisine that features a rooftop terrace where diners may also glimpse dolphins swimming along Taylor's Creek. Its second-floor Concorde Gallery private event space can hold up to 80 to enjoy waterfront views. A full restaurant buyout can accommodate up to 140 guests.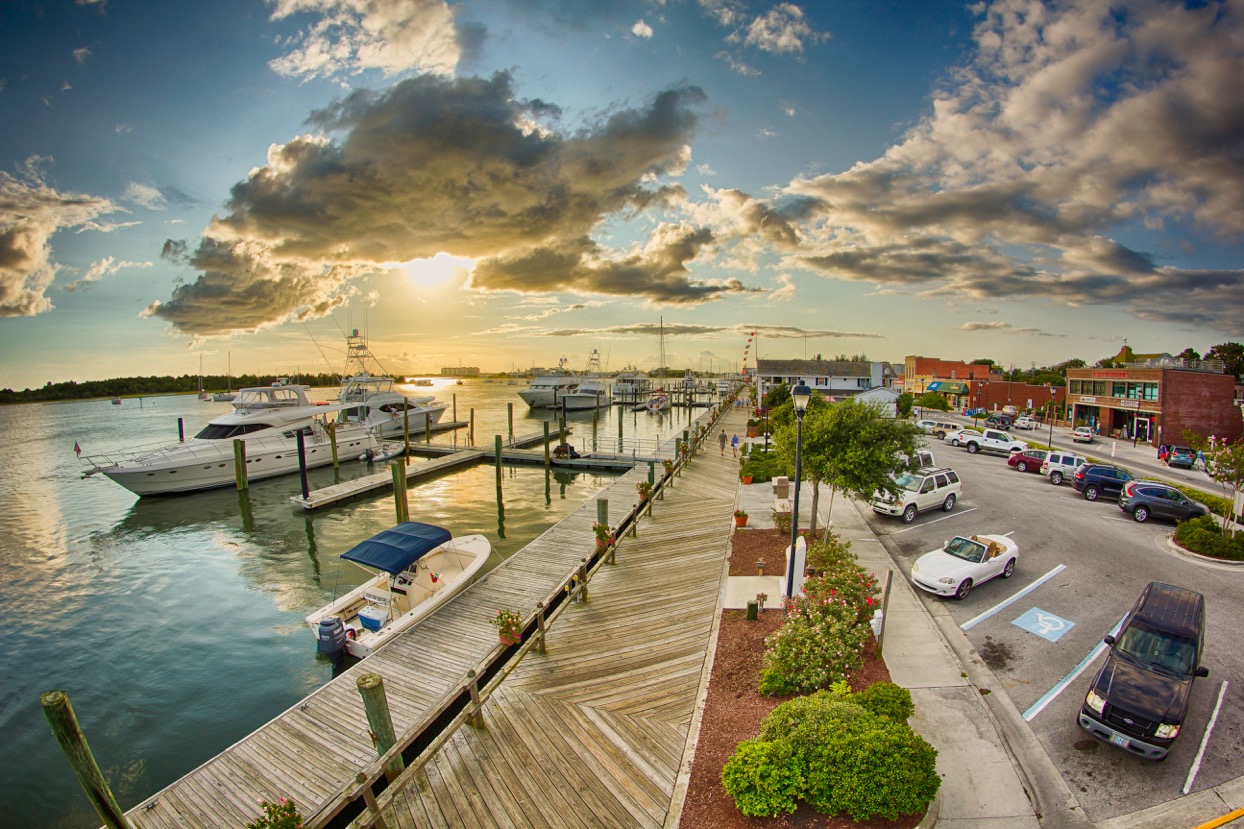 Beaufort Hotel's new 34° North Restaurant & Bar also boasts a terrace overlooking the city's marina and Taylor's Creek, and serves locally inspired Eastern North Carolina cuisine that includes local "dock to dish" seafood and hand-cut steaks.
Celebrated for its Ahi Tuna Tacos, humble traditional Southern cuisine and what's described as the best Painkiller rum cocktail around, Front Street Grill at Stillwater overlooks the Beaufort waterfront in a renovated historic Topsail marine boathouse.
[Related: North Carolina Group Dining Shows Off Its Southern Culture]
Wilmington
Prized for what many consider to be some of the top beaches in the state, the historic destination of Wilmington is the gateway to the Cape Fear Coast and features a Riverwalk festooned with restaurants. Two standouts include:
Hotel Ballast, Tapestry Collection by Hilton, is a waterfront property that features Board & Barrel Coastal Kitchen, serving up barrel-aged cocktails and Southern small plates from inside or on its outdoor patio. The restaurant also offers a Riverfront Terrace that can accommodate up to 400 for cocktail receptions and seated dinners overlooking the Cape Fear River.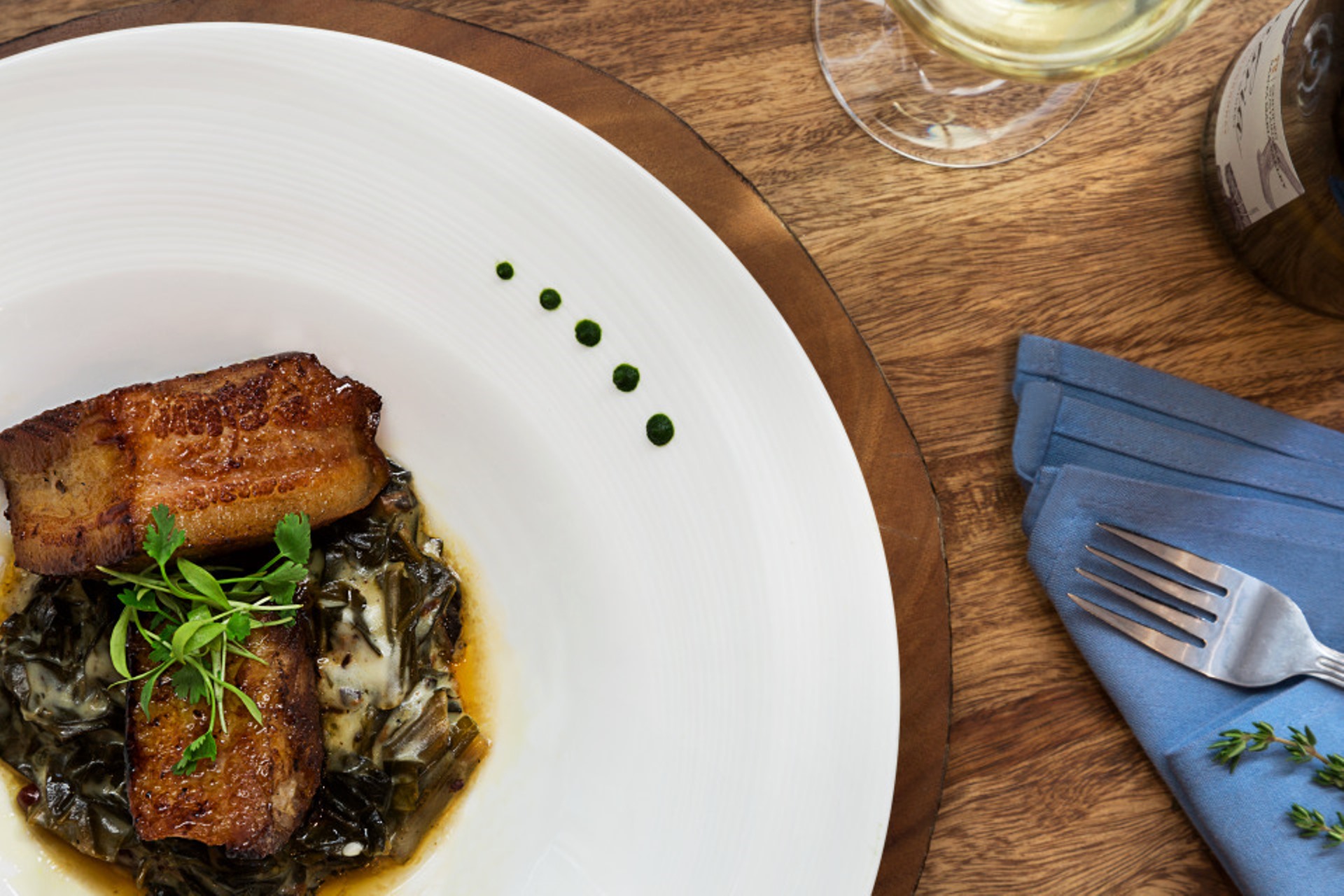 Courtyard by Marriott Carolina Beach Oceanfront sits right on the ocean with a patio area that is connected to Wilmington's new boardwalk, and also offers "picnic" areas on the boardwalk for a more informal experience in the heart of the action.
South Carolina
Myrtle Beach
Perhaps the most popular tourism destination in all of the Carolinas, Myrtle Beach draws visitors for its wide beach, family friendly atmosphere, many hotels and attractions (including a boardwalk and promenade), and golf courses and resorts.
Being such a vacation beacon, Myrtle Beach is filled with dining and entertainment venues that are tailor-made for turnkey group events. Following are three standouts:
LuLu's at Barefoot Landing, owned by musician Jimmy Buffet's sister Lucy, is a guaranteed crowd-pleaser with its laidback vibe, complete with a large beach area, 20,000-square-foot restaurant and even a ropes course.
RipTydz is a 17,000-square-foot, 500-seat oceanfront rooftop bar and grill located along the Myrtle Beach Boardwalk, with a menu that features fresh seafood (including seafood towers), steaks, tacos and a wide array of specialty cocktails.
Wicked Tuna Murrells Inlet describes itself as a "hook-to-plate restaurant providing a unique seafood experience." A variety of private and semi-private event spaces with indoor and outdoor access are available, allowing for views of Murrells Inlet and the dock where the restaurant's seafood is actually unloaded on its way to diners' plates.
[Related: What to Eat and Drink in Myrtle Beach: Food Experiences, Group Dining, and Local Beer and Wine]
Charleston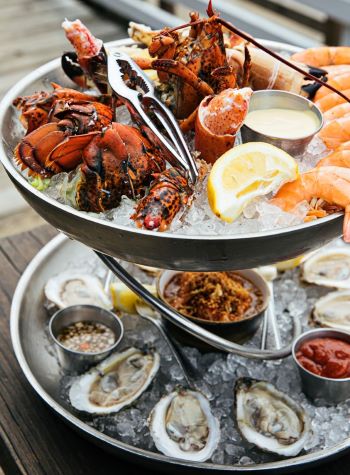 With an elegance and history that places it among such iconic Southern cities as New Orleans and Savannah, Georgia, Charleston is like a living museum piece. Groups will enjoy a wealth of outdoor dining spots that provide ample opportunities for social distancing al fresco.
Two standout Charleston-area restaurants in terms of their cuisine offering include:
Located in Mt. Pleasant, just northeast of Charleston proper, Tavern & Table is reminiscent of the neighborhood taverns of yore. Set on Shem Creek and helmed by Executive Chef Ray England, this venue's draw is classic cocktails and handcrafted Lowcountry food that utilizes local vendors, fisherpersons and farmers. The tavern can seat up to 32 people for private dining in its T&T Room and can satisfy the AV needs of corporate groups.
Gabrielle at Hotel Bennett prides itself on stylish traditional Southern cuisine and boasts an outdoor dining terrace overlooking Charleston's historic Marion Square. Led by Executive Chef Bob Gibson, Gabrielle also offers a buzzing indoor bar.
Hilton Head Island
At the southern end of the South Carolina coast, Hilton Head Island is a golfer's paradise with a resort feel that will appeal to groups looking for a little luxurious relaxation mixed in with their meetings.
While the island's six AAA Four Diamond resorts offer all the amenities a group would need, one intriguing option is located just west of Hilton Head at Page Island, a chain of nine private hammock islands between Daufuskie Island, Palmetto Bluff and Savannah, Georgia.
Operated by Destinations DMC, a division of OUTSIDE Brands, groups boating to the islands can partake in activities that include kayaking and teambuilding such as challenge courses. Catering can be arranged for beachside cookouts starring local oysters and other fresh catches.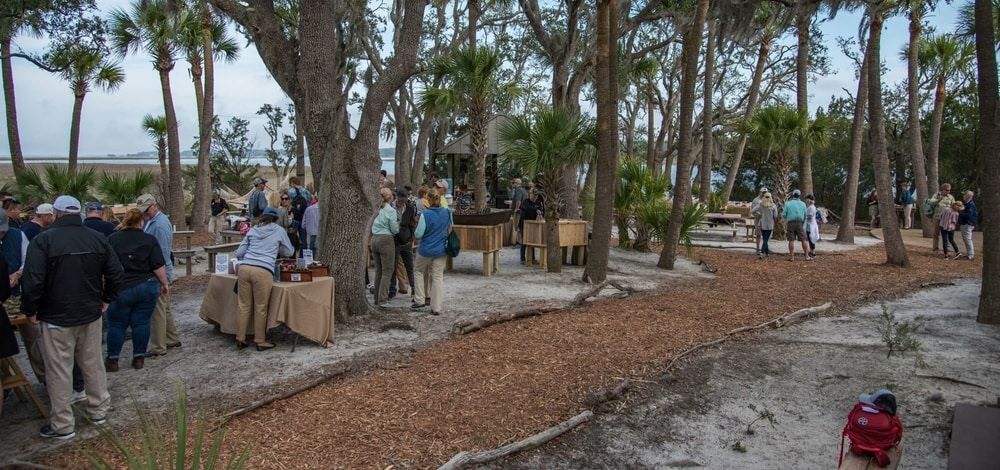 "Once you get over you feel like you've arrived on the set of the Survivor show. You don't see any homes, no McDonald's or gas stations—you're keyed into nature" said Carol Kavanaugh-Arrington, vice president of Destinations DMC.
Groups often boat to the island, depart for a teambuilding program on the neighboring islands, and then arrive back to a magically transformed main island set up for a special event. The cuisine star of the show is typically a Low Country Boil, a regional specialty consisting of shrimp, kielbasa, potatoes and corn with a signature blend of seasonings.  
"Bluffton Oyster Company is our preferred caterer, and also has their own boats, so often times we meet the shrimp boat coming in," Kavanaugh-Arrington said. "So that's how fresh the seafood coming to the island is, the same with oysters."
Read Next: Why the Cuisine of the Coastal Carolinas Is Such a Treat