Why the Cuisine of the Coastal Carolinas Is Such a Treat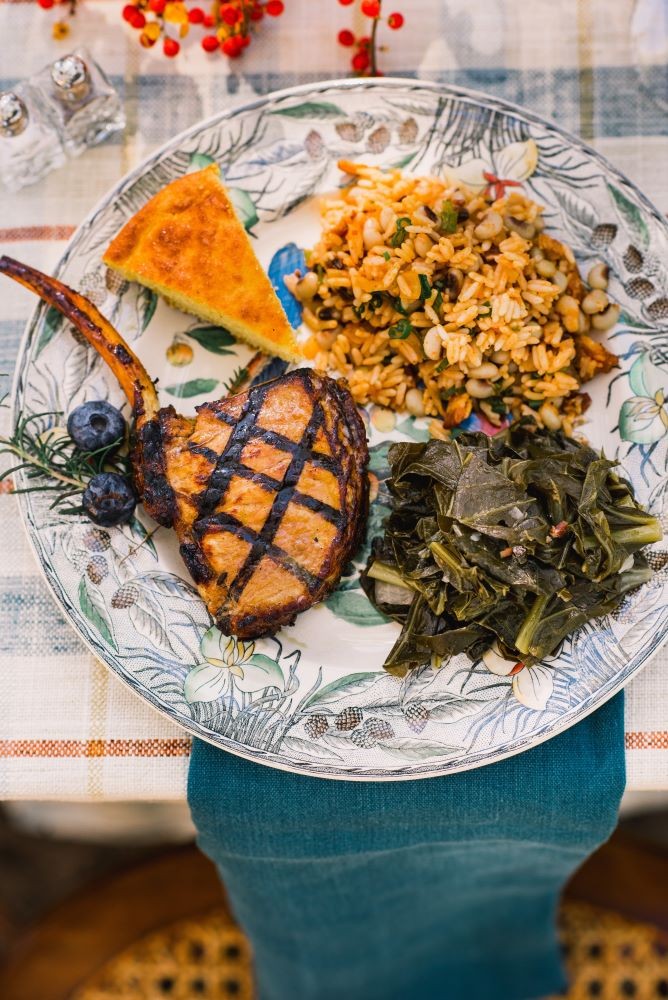 Ask anyone in the know about the traditional cuisine of the Coastal Carolinas and odds are they're going to say that seafood and produce are two defining factors. 
As a coastal North Carolinian and meetings F&B speaker and educator, that's a good thing. I have spent 46 years of my life on the East Coast of the U.S. and the other six on islands in the Pacific Ocean and East China Sea cooking and consuming seafood.
Up and down the eastern side of US I-95, the plethora of inlets, streams, ponds, rivers and, of course, the Atlantic Ocean, have provided residents of the quaint and flourishing coastal towns of South and North Carolina livelihoods that are rich in seafood and agriculture.
Related: Meetings F&B Expert Tracy Stuckrath Launches Online Course]
Carolina Cuisine Experts Weigh In 
What I learned by talking to culinary experts in both states is that while they share the Atlantic, the cuisine varies as you travel up the coast from Hilton Head Island and Charleston to Wilmington, New Bern and the Outer Banks. It also varies by season, which is not something I knew about seafood before. 
The one thing that didn't vary is the pride with which they speak about the farmers and fisherpersons whose labor and love are put into farming, fishing, crabbing, shrimping and oystering to provide sources of food and income for themselves and their communities.  
Hence their adamance that when visiting the coast, you should source local to ensure you get the freshest, tastiest products. Ask the restaurants and caterers if their seafood and produce are local, and follow up with, "When and where was it harvested?" 
"There are places along the Eastern seaboard that are great places to dine, but I will tell you that there are very few that truly embody that coastal local concept," said Keith Rhodes, James Beard Foundation finalist for Best Southeast Chef and owner of Catch in Wilmington, North Carolina. 
Above and beyond the pleasures of the palate, sourcing locally produced food is also key to preserving the culture and livelihood of residents. 
"Food is part of the culture here," said Karen Amspacher, director of the Core Sound Waterfowl Museum and Heritage Center, who grew up on Harkers Island, near Beaufort, North Carolina, and is a staunch advocate for North Carolina's local fisherman and fishing industry. "When you buy local, you're supporting local families, communities and economies."  
Related: The Coastal Carolinas Region Boasts After-Hours Entertainment]
In Charleston, South Carolina, Tanya Gurrieri, owner of Salthouse Catering and a native Charlestonian, is always proud to share her support for her fellow Coastal Carolinians. 
"When we know where something's coming from on our menu, we're going to tell you, because we want you to see that we're supporting local farmers and offering heirloom ingredients—things that have some meaning, you know—not just food," she said. 
What You'll be Eating in the Coastal Carolinas 
So, what will you find on menus along the coast of North and South Carolina?  
In the Low Country of South Carolina, the first ingredient that comes to mind for Gurrieri is rice—Carolina Gold rice, that is.
A long-grain rice, Carolina Gold—once the most popular rice grown in America and thought to have arrived in Charleston in 1685 from Madagascar—is central to the traditional cuisine of the southern Atlantic coast.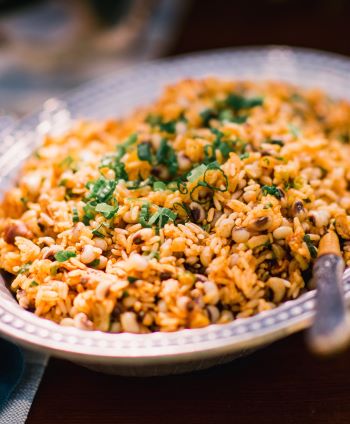 Dishes from the region include Frogmore stew (named for a fishing community on St. Helena Island—so no frogs!), shrimp and grits, crab cakes and oyster pie. For grits, some chefs in South Carolina use rice for grits, cooking it low and slow for the same texture.  
Scooting north and across the state border to Wilmington, chef Rhodes extolls the virtues of that staple of all Southern staples: grits.  
"Grits really mean a lot to us," said Rhodes, who grew up in the area eating fish and grits. "It is a dish that resonates not just in Southern culture or Black culture or white culture. Everybody who lives down here, who has old ties to this area, that kind of eating definitely resonates."
Barbecue is another one of those things that, when done right, gives proper representation of the area. 
"Eastern North Carolina barbecue is in a class of its own, especially with the right preparation—cooked on wood with a thin, vinegar-based barbecue sauce, red peppers and spices," Rhodes said. 
Ashley Moser, chef and owner of New Bern's Cypress Hall restaurant, incorporates the fresh vegetables and produce he grew up eating—collards, cabbage, radishes, okra and tomatoes—into all of his dishes. The Mema's Famous Strawberry Cake on his menu is actually his grandmother's recipe of more than 50 years, and one he and only one of his cousins had to sign non-disclosure agreement to get!   
Heading east and north, you soon land on the sandy barrier islands of North Carolina known as the Outer Banks (OBX), where Amy Gaw, chef and author of Lost Restaurants of the Outer Banks and Their Recipes, stressed that fresh Outer Banks seafood and local agriculture are critical to the food system. Gaw said that OBX stapes are typically cooked simply and traditionally with salt, pepper, butter and some spices.
In Duck, North Carlina, on the OBX, Executive Chef Sam McGann said the seasons truly dictate what is on the menu at The Blue Point Restaurant, which he co-owns. In the winter months, oysters, striped bass, dogfish, flounder and clams are on the menu. In May and June, and for six weeks only, are soft-shelled crabs—a must have, he points out, which is echoed by New Bern's chef Moser.   
In the summer you can get hard crabs, tuna, amberjack, grouper and snapper. Spot, white perch, croaker, mullet and mackerel fish are all fall fish. 
"Carolina shrimp is available all year long, mostly frozen, but we know where it comes from," Moser said. 
Produce in the OBX is challenging, so McCann relies on the Grandy Greenhouse and Farm Market on the mainland to source the produce they personally grow and import from along the Eastern Seaboard. Fresh collards, butter beans, field peas, sweet potatoes, tomatoes and crowder peas are among the favorite produce choices.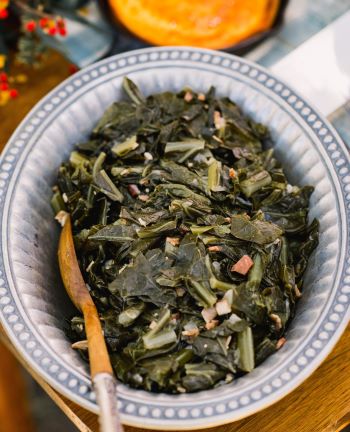 Besides the ingredients, the flavors and cooking styles that really shaped the indigenous food of the coastal regions of the Carolinas were carried to the modern day via its indigenous people, who have been eating some of the same foods for hundreds of years, and the enslaved from the Caribbean, West Indies, and the coasts of Africa. 
Both Gurrieri and Rhodes focus on these traditional flavors but add their own modern twists, and take heart to see other people showing an interest in preserving that heritage and educating others about it. 
So, when coming to the coasts of the Carolinas, make sure to request local, learn about the food culture, and know that, as chef and restaurateur Vivian Howard imparts on her Lenoir website (https://dineatlenoir.com), food with a story tastes better, and ours is of the rural, agricultural South.  
Read Next: The Coastal Carolinas Plates Up a Bounty of Group Dining Options
Where to Eat 
The Blue Point, Duck, North Carolina | Chef Sam McGann
Cypress Hall, New Bern, North Carolina | Chef Ashley Moser  
Catch, Wilmington, North Carolina | Chef Keith Rhodes 
Salthouse Catering, Charleston, South Carolina | Tanya Gurrieri, owner 
Sources for Seafood and Know-How 
About the Author: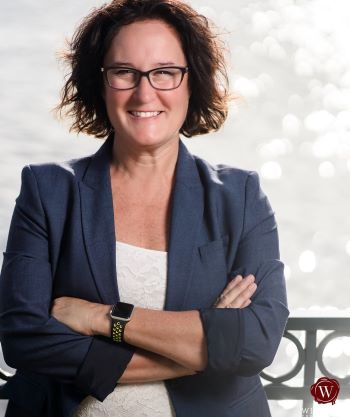 As founder of thrive! meetings & events and host of the Eating at a Meeting podcast, Tracy Stuckrath works with organizations worldwide—in-person and virtually—to create safe, sustainable and inclusive F&B events that deliver experiences where everyone feels valued.
You can find her in New Bern, North Carolina, driving to the beach in her convertible Mini Cooper. Her new online course, Every Meal Matters, is helping meeting professionals become food and beverage experts that anticipate and address attendees' dietary needs.