The Story Behind Las Vegas' Neon Lights
What do Allegiant Stadium, Circa Resort & Casino, and Resorts World Las Vegas—the leading mega-developments of the moment—have in common? The signage for each was designed, fabricated and installed by YESCO, the Salt Lake City-based company that has electrified the Las Vegas scene with fabulous beacons since 1932. (All photos are courtesy of YESCO and VOX.)
As we wait to return to one of the world's most popular meeting and convention cities for gatherings, dive into the illuminating story behind Las Vegas' many lights.
History of YESCO
In 1910, Thomas Young, then 15, emigrated from Northern England to Ogden, Utah, with his family. Loving drawing and design, he quit school to work in a local sign shop. Also fascinated by light, Young founded his namesake Sign Company in 1920, which he renamed the Young Electric Sign Company later in the decade, thereafter shortened to YESCO.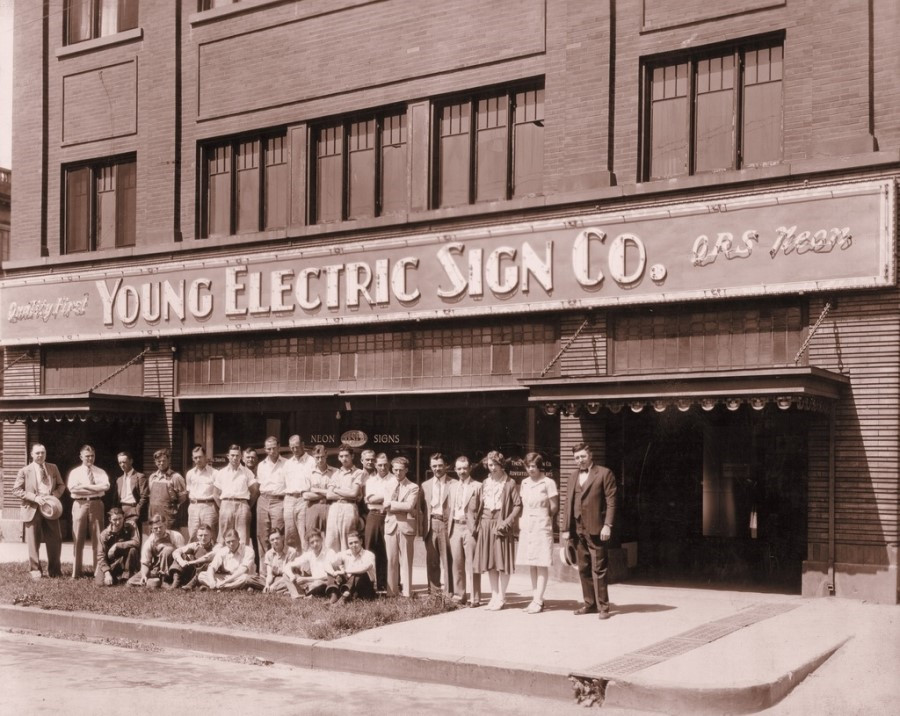 He started out crafting posters and signs of all kinds, including gold-leaf window lettering, hand-painted logos and engraved coffin plates. With big dreams, strong values and a steely work ethic, his business travels included frequent visits to Los Angeles, where his visit to a car dealership would send the company on a brilliant new trajectory. 
[Related: Las Vegas Sets Foundations and Strategies for Recovery]
The dealer, Earle Anthony, had commissioned two "Packard" signs in script for his business. Installed in 1923, these were the very first neon signs in America, provided by the inventor of the form himself, French engineer Georges Claude. Young was so taken by the colored light that he secured a license to sell this bold new signage, which he presented to prospects far and wide. Soon, Young and his growing team were manufacturing, installing and servicing neon signs across the west.
Las Vegas, where neon first appeared in 1928 at the Overland Hotel, offered truly electrifying opportunities as construction of the Boulder (later renamed the Hoover) Dam began in 1931.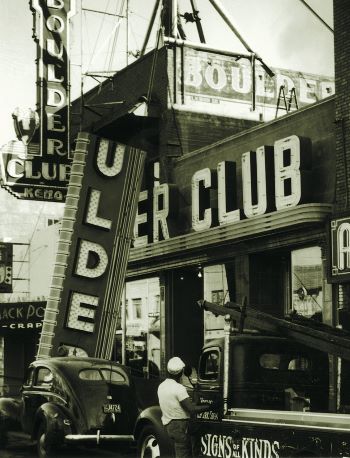 "My grandfather Tom Sr. was the consummate salesman," said Jeff Young, YESCO's senior vice president and chief marketing officer, and one of many multi-generational family members running and involved with the company today. "We found a Nevada phone book from 1932 with his check marks throughout. He called on every business in the state."
That was the year that YESCO began servicing neon signs for clients including the Oasis Café and the Boulder Club. After opening an office in Vegas in 1945, YESCO made a big splash in 1946 with a giant new sign for the Boulder Club.
"It was a risky move that produced a dazzling display," Young said. "We had done other work on Fremont Street, but that was the first true neon spectacular in town."
Many others would follow as Las Vegas went wild in the post-war period and 1950s. "Those were crazy times," Young said. "Casinos with the biggest and brightest signs got the most business, so with each new sign, the next guy wanted something even flashier." 
YESCO rose to the challenge by creating icons such as "Vegas Vic." Installed in 1951 at the Pioneer Club, the 48-foot-tall mechanical cowboy, incorporating 5,000 feet of neon tubing and electrical wiring, was the world's largest animated electric sign of its time.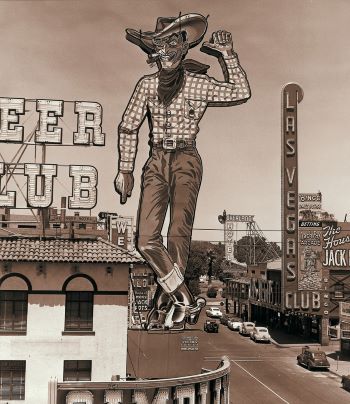 Preserving Past Signs
Once greeting visitors with his mechanical arms and automated "Howdy Podnerr" greeting, Vic still stands under the Fremont Street Experience LED canopy, another YESCO project. All other YESCO originals from Fremont's "Glitter Gulch" era, such as the curving 96-foot sign for The Mint Hotel and Casino (1959) exist only in memory and photographs, along with Strip classics such as the Stardust (1958) and Sahara's 225-foot-tall vertical sign from 1980. 
Thankfully, yesteryear gems including the Silver Slipper and Golden Nugget, both from 1958, and Hacienda Horse and Rider (1967) have been preserved as part of the Neon Museum's collection. Their significance and appeal, however, are eternal.
"While YESCO did not the install Betty Willis's landmark Welcome to Fabulous Las Vegas sign in 1959, we acquired the title in 1964 and have looked after her ever since," Young said. "We have a dedicated technician who keeps her alive, as if she were a person. It's a responsibility that we embrace for all of our signs and the history and place in the Vegas community that they represent."
That sense of duty and care is gloriously showcased in YESCO's restoration of "Vegas Vickie," the famed 1980 neon cowgirl that owners Derek and Greg Stevens rescued when demolishing the site for their new Circa Resort & Casino. 
"It took our artist months to figure out her original accent lines, fading, colors and other elements," Young said. "At 25 feet tall, we had to install her inside as the centerpiece of Circa's lobby bar early on, with construction completed around her. As the Stevens intended, she is part of their homage to Vegas old and new."
Of YESCO's historic works on the Strip, only Lucky the Clown (1976) and other signage at Circus Circus Hotel & Casino from 1969 remain. Neon gradually gave way to LED, which became the preferred lighting format for Strip resorts in 2002, the year that YESCO created the Olympic rings for the 2002 Winter Olympic Games in Salt Lake City. 
Modern Signs for the Times
Yet, YESCO never lost step with the times and continued to make its mark in the modern era with signage for meeting and events favorites ARIA, The Cosmopolitan of Las Vegas, The Palms and Wynn and Encore, to name a few.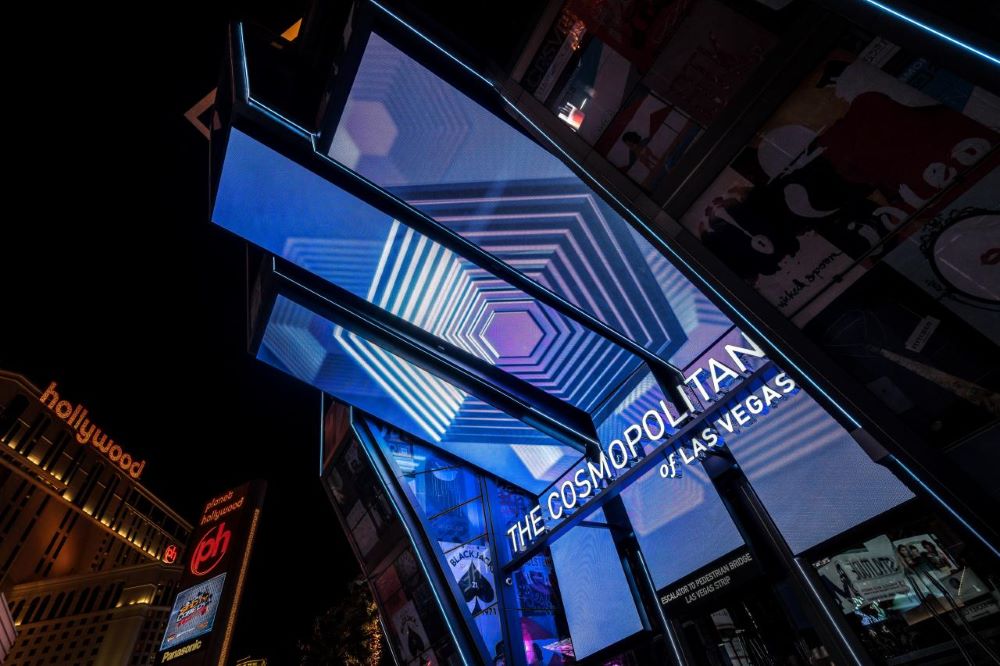 Unveiled last November, YESCO created and installed the new 80-foot Gateway Arches, which officially welcomes visitors to the City of Las Vegas at the base of The STRAT Hotel, Casino & SkyPod. That same month, Clark County presented YESCO with the Key to the Strip in commemoration of their centennial anniversary. At 101 years "young," YESCO, which operates nationally, is as electrifying as ever.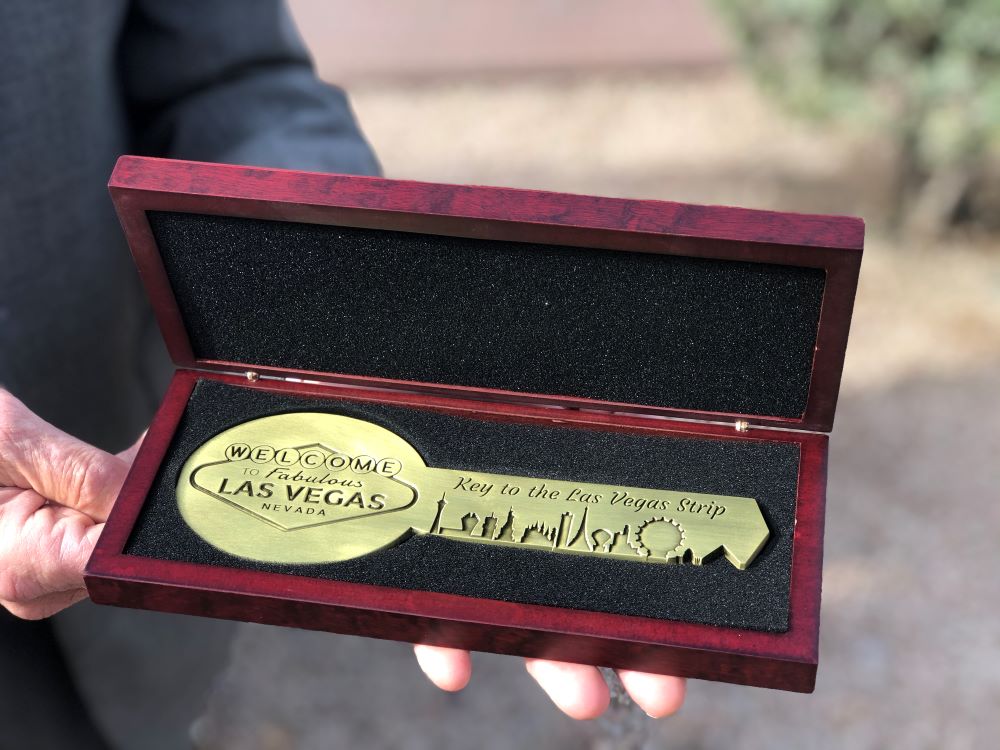 "This is a really fun business," Young said. "We installed over 4,000 signs at Allegiant Stadium, and there are projects on the horizon that even we cannot believe, and we know that when the pandemic passes, Vegas will come back as strong as ever. For tourists and meeting delegates alike, no community is set up to do what Vegas does—and we hope to be the ones lighting the way." 
Read This Next: Vegas From the Vault: Inside the Las Vegas News Bureau's Archives