Las Vegas Sets Foundations and Strategies for Recovery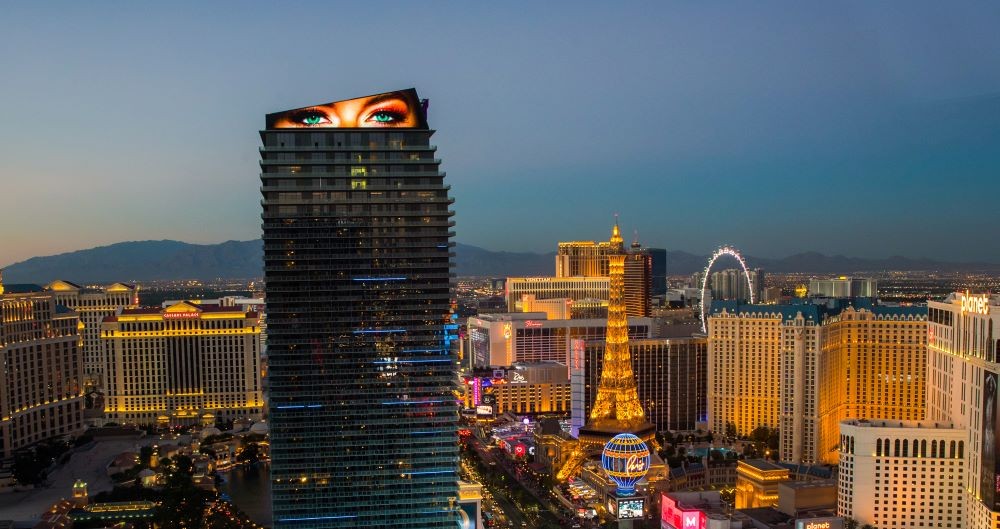 Exterior of The Cosmopolitan of Las Vegas. Image courtesy of The Cosmopolitan
What a grand debut the Consumer Electronics Show (CES) 2021 would have provided, as planned, for the completed $980 million West Hall expansion of the Las Vegas Convention Center. Instead, the technology blockbuster, normally commanding more than 2.9 million net square feet of space around town to start the convention year, went all-virtual for the first time ever.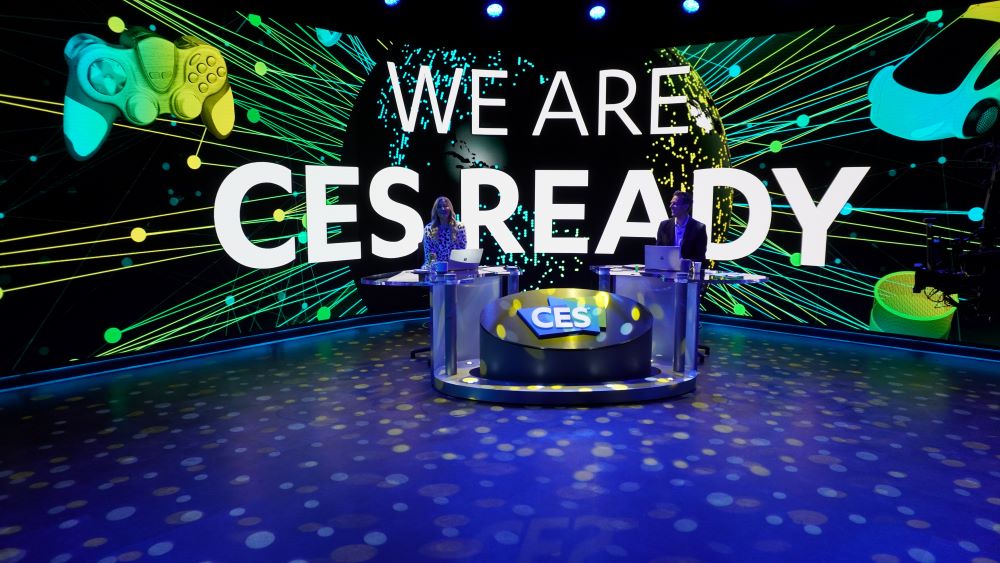 The 1.4 million-square-foot expansion of the convention center includes 600,000 square feet of new leasable exhibit space and a 14,000-square-foot outdoor terrace on the third floor with scenic Strip views. 
CES attendees also missed out on experiencing the 200-acre convention complex's new $52 million underground "Vegas Loop" transportation system.  
Of course, milestones get measured very differently in the COVID-19 mitigation context. As of press time, gatherings in Nevada remained limited to 50 people or 25% of the venue's capacity, whichever is less, while casinos, restaurants and bars were limited to 25% capacity. The path to full recovery and rebound, industry officials agree, starts with an effective COVID-19 vaccination program.
In January, Neveda Gov. Steve Sisolak announced priority vaccinations for people deemed essential to the state's economy. These "Tier 1" workers include airport, resort, casino and food service employees. While the rollout timetable has yet to be announced, the strategy represents a critical first step in creating stability and boosting confidence for the months ahead.
Seeking to "facilitate and increase the distribution of the vaccine in the Las Vegas Valley," Wynn Las Vegas made its own strategic move one week later when it opened a COVID-19 vaccination center in the Encore convention space. 
[Related: What Hotels and Resorts Are Doing to Enhance Health and Sanitation Standards]
Created in partnership with University Medical Center (UMC) of Southern Nevada, the facility will initially offer weekday vaccinations to people 70 and older, healthcare workers and first responders. In May 2020, Wynn Resorts partnered with UMC to provide all employees with reliable and accurate COVID-19 tests onsite at no cost. Wynn has also announced the early 2021 debut of a cutting-edge onsite COVID-19 testing lab and mobile health app available to resort guests.
Meanwhile, Vegas continues to inject billions of dollars into new resorts, venues, infrastructure and attractions. With little slowing of this investment juggernaut, the look of post-pandemic Vegas is already taking shape. As far as the future feel might go, the past dictates that Vegas is predestined for high-energy comebacks.
Solid Grounds for Safe Meetings
Right before midnight on New Year's Eve, Vegas displayed a giant sign that read "Super Epic Monumental Kiss 2020 Goodbye Blowout," followed by the reveal of a massive LED-lit sign with the message "What Happens in 2021, Happens in Vegas."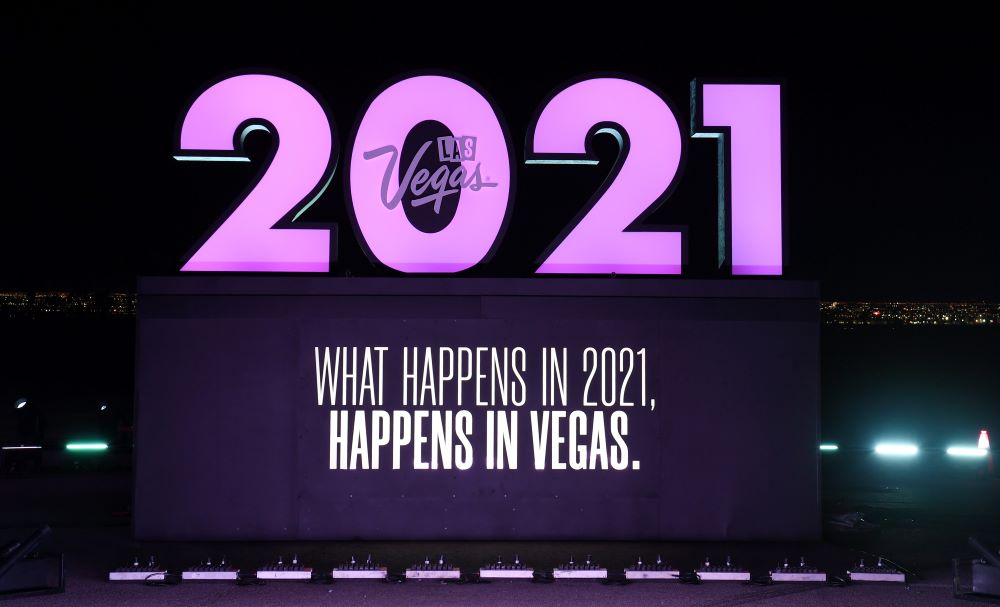 For a destination experienced at weathering downturns, this "cathartic" event was equally a show of optimism and confidence informed by strategic countermeasures in place since the pandemic began.
"Visitor health and safety are always paramount, so along with reminding people to keep proper distance, wash their hands and wear their masks, we have been transparent about showing normally discrete cleaning and sanitization protocols in resorts and venues," said John Schreiber, vice president of business sales for the Las Vegas Convention and Visitors Authority (LVCVA). "Las Vegas has some of the industry's brightest operators, and they are collaborating with state and local health officials to determine, share and implement best practices."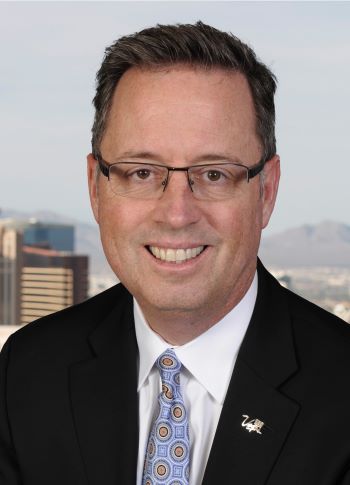 To that end, the LVCVA's citywide Vegas Smart campaign, launched in June 2020 as resorts started reopening, encourages smart and responsible visitor practices while in the destination. Launched last fall, "Meet Smart, Vegas Smart" is a similar business-focused citywide campaign that includes information about health and safety protocols at the Las Vegas Convention Center and the venue's GBAC STAR accreditation, the Nevada COVID Trace App, and other tools for business visitors. 
"Vegas is known for setting the gold standard for the meetings and convention industry," Schreiber continued. "With the world watching, many of the traits that have established Las Vegas as the number one tradeshow destination over the past couple of decades will now help to build confidence for planners and groups."
There is much else to bolster that assurance. "With modern hotels offering constantly upgraded technology, Las Vegas is primed for hybrid events," Schreiber said. "We have the most hotel rooms and meetings and exhibition space of any U.S. destination, which favors social distancing. And with many major developments completed and ahead, we are uniquely positioned to meet the world's pent-up desire and demand for travel and new experiences."
Rescheduled from February to June as the first event in the new West Hall, World of Concrete, which drew more than 50,000 delegates in early 2020, is the Las Vegas Convention Center's current yardstick for large scale hosting.
Schreiber's message to planners and attendees? 
"We are ready to welcome groups back safely and responsibly as soon as the time is right, which we optimistically see happening this year," he said. "In the meantime, we will continue to build visitor confidence by embracing innovations in cleaning, sanitization, touchless technology, successful hybrid meetings and more."
Major New Developments Pave the Way for the Future
Speaking of heavy construction, 105,000 cubic yards of concrete and 28,000 tons of structural steel went into Allegiant Stadium, the new $1.9 billion home of the Las Vegas Raiders. 
The 65,000-seat domed stadium offers more than 10 group spaces. Organized as "Impactful," "Experiential" and "Limitless," tiered options range from the Credit One Club, which safely hosted an event last November, to full stadium buyouts. From a field of many, here are other mega-projects transforming the Vegas landscape.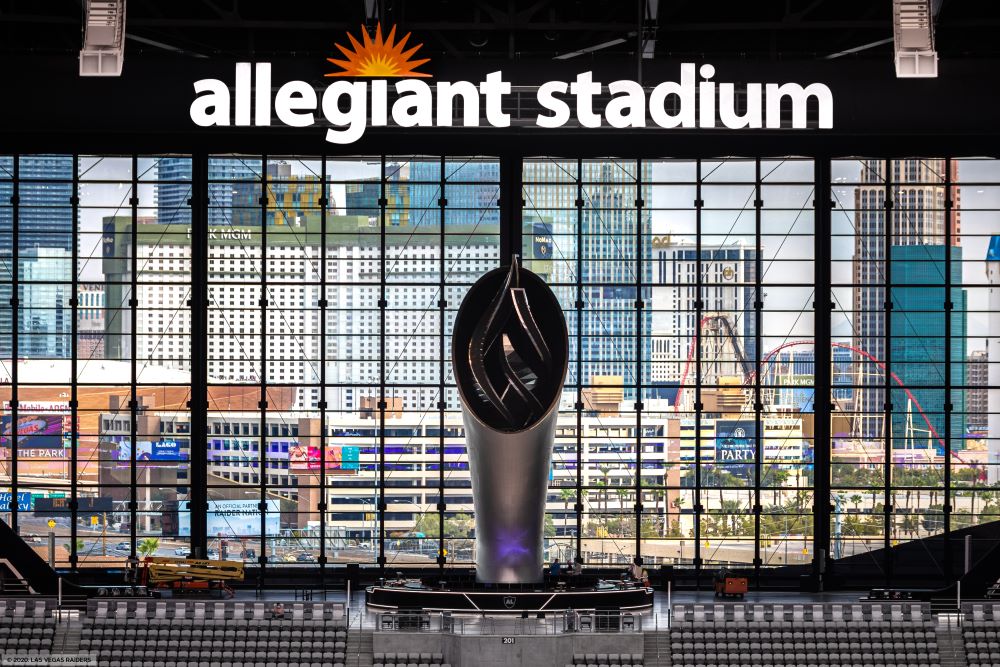 Groups have a dynamic new downtown destination at 777-room Circa Resort & Casino. Owner-developer brothers Derek and Greg Stevens celebrate Vegas past and present at their new $1.1 billion adults-only tower with venues like the Legacy Club. Inspired by and featuring busts of 11 founding Vegas legends, this rooftop cocktail lounge includes an outdoor terrace with fire pits and panoramic views. 
[Related: The Story Behind Las Vegas' Neon Lights]
Circa Sports, the world's largest sportsbook, offers private boxes for groups. Organizers can also book Stadium Swim, Circa's rooftop pool amphitheater. The Stevens restored and installed famed Glitter Gulch neon cowgirl "Vegas Vickie" in the namesake lobby cocktail lounge.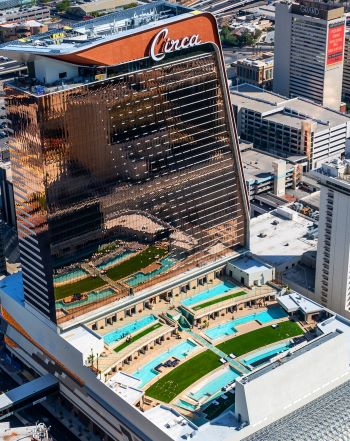 Announced in 2013, Resorts World Las Vegas is expected to make its long-anticipated debut this summer. The $4.3 billion, two-tower resort offers 3,500 rooms across three premium Hilton brands and 350,000 square feet of flexible group space. 
Other integrated features include an event-capable 5,000-seat theater, 222,000-square-foot pool complex, and multiple dining concepts. Clark County has approved a passenger station and tunnel connecting the resort to the Las Vegas Convention Center campus across the street via the Vegas Loop. 
Hilton is also going off-Strip, with the new Virgin Hotels Las Vegas joining the brand's Curio Collection. Built on the former Hard Rock Hotel & Casino site, the 1,505-room property, now taking reservations for April, will reportedly offer 130,000 square feet of flexible indoor and outdoor space. As part of its global expansion, Connecticut-based Mohegan Gaming and Entertainment will operate the resort's casino, becoming the first-ever tribal gaming operator in Las Vegas.
In October 2020, the Las Vegas Sands Corp. confirmed that it was exploring the potential sale of the Venetian and Palazzo Resorts and the Sands Expo Convention Center. Valued at $6 billion, the deal is tied to Sands' shift in focus to Asia and other gaming markets. According to gaming industry reports, Wall Street analysts see little change in this strategic direction in the wake of the passing of Sands' owner and Vegas visionary Sheldon Adelson this January.
Now significantly rounding into shape, the next-generation 17,500-seat MSG Sphere at the Venetian concert and event venue is now projected to open in 2023.
Announced at CES 2021, Illuminarium Experiences is a 30,000-square-foot technology-driven experiential venue slated to open inside the new immersive entertainment and events complex AREA15 in 2022.
Las Vegas Resorts Signal Strength and Resiliency 
When the chips are down, Vegas operators know how to turn adversity into a winning hand.
Some efforts were publicized, such as the mobilization of CSR, philanthropic, and community relief efforts. Many more went unseen, such as the workers who reportedly flushed toilets and running sinks in temporarily closed buildings to prevent Legionnaire's Disease. Individuals like Flamingo Las Vegas pool server Samantha Dymond rose to the occasion as a frontline nurse. 
Signage is a powerful medium in Vegas. When temporarily closed last year, several resorts displayed encouraging messages on their darkened towers. When Circa opened, several resorts lit their marquees with congratulations. More than two dozen resorts and attractions united to show their support for CES 2021 with an orchestrated marquee display. 
[Related: Las Vegas Properties That Gave Back During the Coronavirus Crisis]
Resorts have also sent a strong message through action.
Last March, Caesars Entertainment had to livestream the debut of its new 550,000-square-foot conference center CAESARS FORUM when the pandemic struck. It was only a delay in the celebration, however. This October, the 550,000-square-foot venue, featuring the world's two largest pillarless ballrooms at 110,000 square feet each, hosted ConferenceDirect's Annual Partner Meeting for its first live event. 
The Cosmopolitan of Las Vegas is leveraging listening and learning to answer the pandemic challenge.
"We really listened to the science and the guidelines set forth, and we've used that to determine the best ways to accommodate every guest," said Danielle Strong, associate director of catering and conference services, on the property's 52 Stories blog. Key solutions include adapting The Cosmopolitan's core hybrid meeting model to safely separate delegates in "pods." Attendees staying at the resort can also join meetings virtually via dedicated, coded channels on the televisions in their rooms.
Treasure Island Las Vegas was among the first resorts on the Strip to reopen last June. 
"We did so with industry leading enhanced health and safety policies and protocols that have allowed us to operate safely 24 hours every day since," said Don Voss, vice president of hotel sales and marketing. "After coordinating with the Southern Nevada Health District and Nevada Gaming Control Board, we went above and beyond with SGS certification through our Radisson Hotel Group affiliation to ensure all meeting and event groups have full access to our services."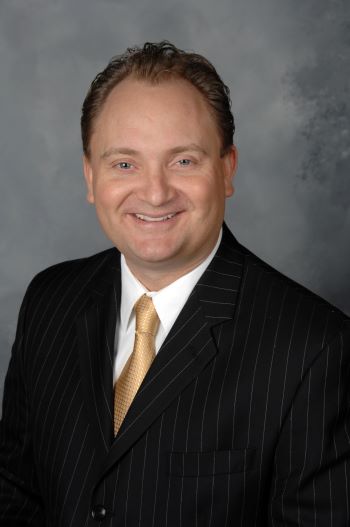 Radisson partnered with SGS, the world's leading inspection, verification, testing and certification company, to create a program of in-depth cleanliness and disinfection procedures.
"While most of our groups with more than 50 attendees changed their event dates to the second half of 2021, we have successfully accommodated several smaller groups during the pandemic as well as over 200 weddings," Voss said. "Continuing hurdles include international and some U.S. state travel restrictions, as well as the 25% occupancy restrictions and 50-person maximum for events." 
Looking ahead, Voss said that Treasure Island "believes that once a critical mass of the general public receives a safe and effective vaccine, Las Vegas will be one of the first meeting and event destinations to recover based on our proven track record of providing enhanced health and safety policies, and the incredible value and variety Las Vegas has always offered."
Connect
Las Vegas Convention and Visitors Authority
702.892.0711
Read This Next: How Nevada Is Navigating the Near-Term and Beyond