Miami and Fort Lauderdale Meetings Industries Plan for Brighter Days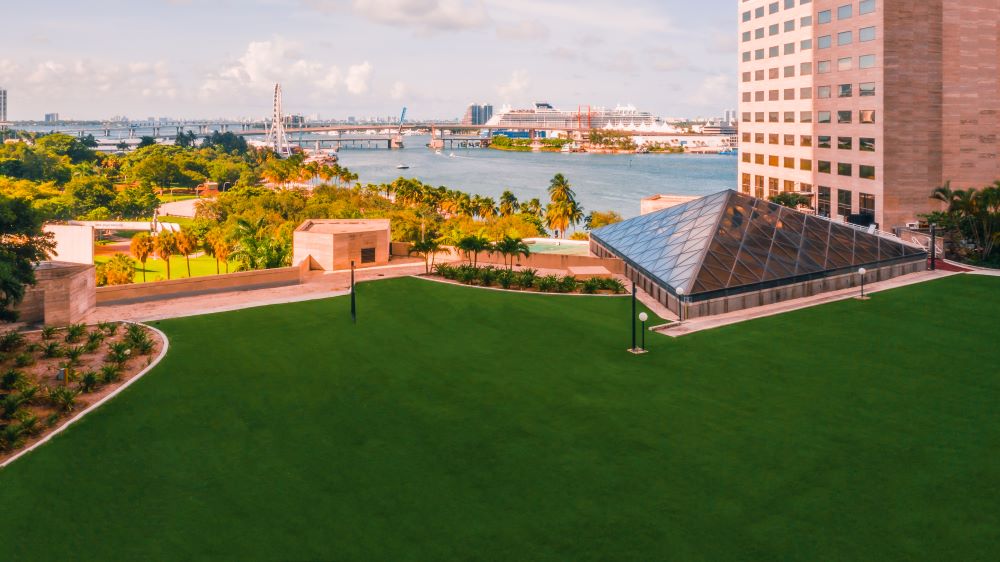 InterContinential Miami SkyLawn
In December, the Greater Miami Convention & Visitors Bureau (GMCVB) announced its first major booking for 2021 since COVID-19 caused the cancellation or postponement of most meetings in the region in 2020. 
The Aesthetic Society is bringing its annual meeting to Miami Beach in April with 600 expected participants and 200 exhibiting companies. The four-day event is a sign of hope, to be sure, but also good news economically—it will bring an estimated $2.4 million in economic impact to the area.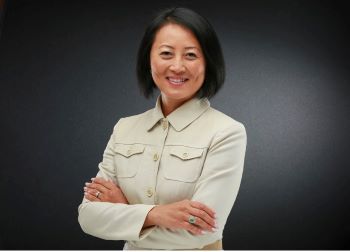 "We were lucky here in Miami that 90% of our meetings postponed and didn't cancel," said Sonia Fong, vice president, convention sales and services at the GMCVB. "We're just looking forward to having the industry come back so we are working harder and smarter."
For the Aesthetic Society, harder and smarter means a hybrid meeting with safety measures in place: Attendees will be required to adhere to all social distancing and mask mandates, and the occupancy at the Miami Beach Convention Center (MBCC) will be under 50%. A virtual component will allow organizers to welcome attendees both in person and virtually. 
"Face-to-face meetings will be looking different for everyone as we all move toward bringing the industry back," added Kathleen McClemmy, director of meetings for the Aesthetic Society. 
"The Aesthetic Society's first obligation is to the safety and security of all stakeholders. As vaccinations begin and treatments improve, we want to be able to accommodate the needs and comfort levels of all our members," she continued. "The Miami Beach Convention Center and our hotel partners are preparing to create an event that will provide a safe educational environment for those who choose to travel and for those who choose to stay home, a virtual option to receive the exceptional educational content that The Aesthetic Society is known for." 
Just north of Miami In Fort Lauderdale, Visit Fort Lauderdale President and CEO Stacy Ritter said she is very hopeful and optimistic about 2021. "With the vaccine being rolled out and our convention center opening in October on time and on schedule, we are going to blow the roof off!"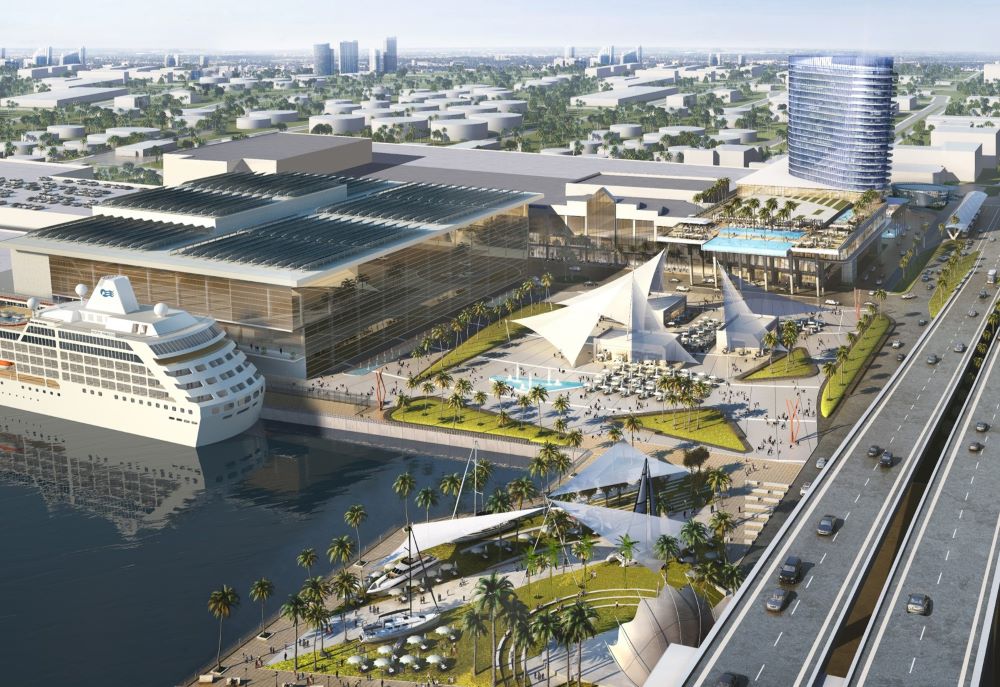 The Greater Fort Lauderdale Broward County Convention Center closed in February due to its expansion, fortunately avoiding the issue of cancellations. As of early January, Ritter said hotel occupancy in Fort Lauderdale was at 72.4%, only 10% shy of last year's numbers. 
Planner Perspectives
Sherrie Sokolowski of SLS Event Planning and Consulting, based in Clarksville, Tennessee, has held two hybrid events in Fort Lauderdale in the roofing industry and entrepreneurial law practice industry in 2021, with one at the end of January and the other in February. She also has another hybrid meeting in Miami mid-March, also in the roofing industry.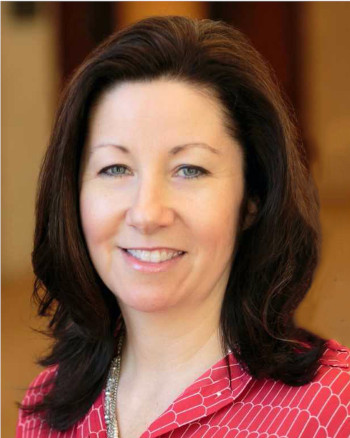 "All of us are hopeful for this coming year. Of course, I've been getting into the hybrid side of meetings for the past six or seven months and my clients are embracing it," Sokolowski said. "Before, we could squeeze as many people in the room as possible, as long as we followed fire marshal rules. Now, it is more about making people feel safe, and following social distancing guidelines."
 
The meeting in January was held at the Westin Fort Lauderdale Beach Resort, and Sokolowski said one positive that has come out of the pandemic is the way hotels are partnering with planners in a whole new way. 
"We said, 'OK, what can we do to make this as successful as possible?' Planners and hoteliers can talk about goals and work together as we think outside the box. This is what is so exciting to me. There's more flexibility on both sides," she said.
Another positive is that hotels are being flexible with planners on pricing. 
"We're having a meeting at the luxury Fontainebleau Miami Beach in March and they've worked with us on the room block and rates. Normally for a hotel like this we'd have to come in with a huge room block, but the Fontainebleau is working with us on rates and resort fees. We're using their 19,000-square-foot ballroom where we can safely meet while still maintaining social distancing. They've also given us an additional space for exhibitors at no extra charge," Sokolowski said. "My job is to remind hotels that you're partnering with me and my client. We want to get the business and make money, but we all have to be realistic.
"My client is really excited for this to happen. They haven't met since 2019 and are eager to learn and network again. We have some high-level keynote speakers and great outdoor social events. If we provide a safe environment, quality education and networking, it will all be worthwhile."
[Related: 5 Top Tips for the Best Beach Events]
Although meetings will slowly come back, Sokolowski predicted they will look different. "We're all already tired of the phrase 'the new normal.' What we're going to see is a modified style of meetings. Contracts will be different. We need to look at it as a positive. We want hotels to come back better than before. Hotels that take the extra step for their meetings will be remembered as the place to meet in the future." 
A recent visit to Miami hosted by the GMCVB with an add on north to Fort Lauderdale wowed Tanna Pearman, a meeting broker for Meetings Made Easy (MME), based in Las Vegas.
"The continued investment in infrastructure shows faith in the future of the industry. The silver lining this year is construction schedules were able to be ramped up and fewer pieces of business disrupted. Many of the hotels we visited had been through a refresh during the 'downtime' of 2020. Everyone seems optimistic about the return of face-to-face meetings and many have enhanced their product to incorporate a hybrid/virtual component. The Conrad in Fort Lauderdale has dedicated an entire meeting room for virtual programming," Pearman said.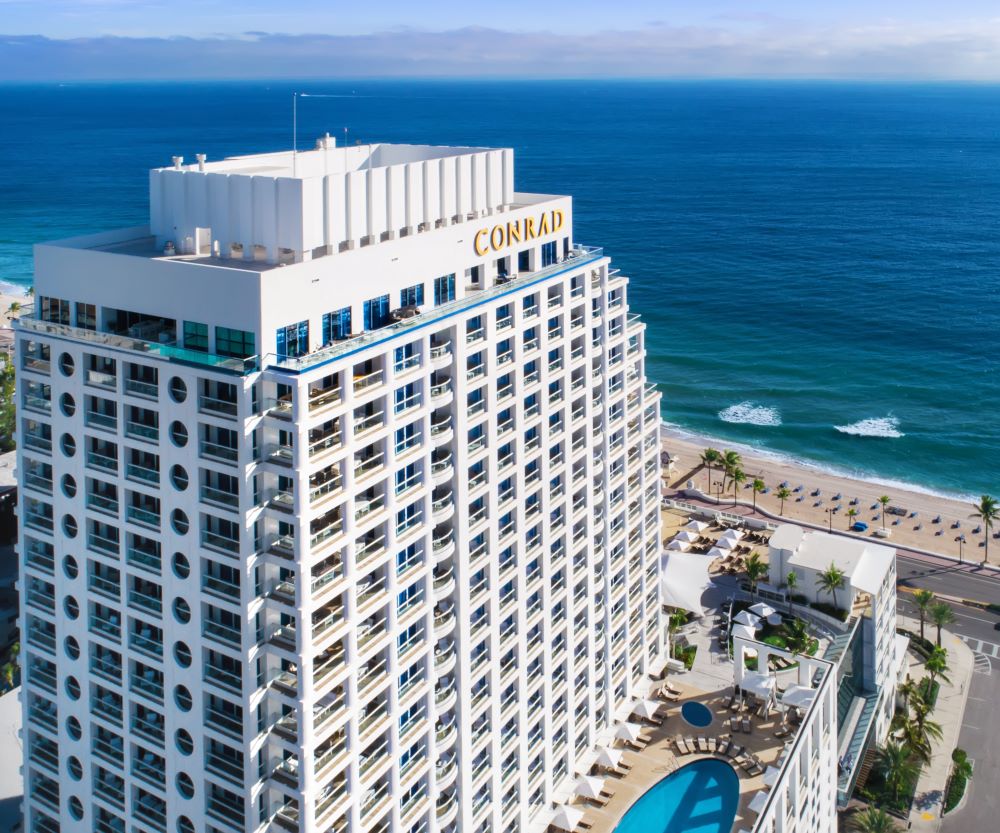 The Future Looks Bright
"No doubt about it, last year was difficult—but the future is looking bright," asserted Eric Jellson, area director of sales and marketing, Kimpton Hotels Florida. "Q3 and Q4 of 2021 are already showing great promise. New lead volume continues to grow and groups who have already booked with us aren't canceling. Instead, they're moving dates with confidence and looking toward their events with confidence. We're ready for the 2021 comeback."
"I'm excited that RFPs are beginning to come in for future years and even for late 2021," added MME's Pearman. "Our hotel partners are experiencing an increase in RFPs. The continued announcements of safely held meetings in various locations and distribution of the vaccine seem to have everyone looking forward to a strong recovery."
For Pearman and her clients, Miami and Fort Lauderdale are at the top of the list. To start, the number of different types of properties in Miami cater to clients of varying budgets and space needs.
"My clients love Miami, beginning with the international airport's great non/one-stop access, and hotels are no more than 20 minutes away. Add to that the flexibility of space at properties such as Loews Miami Beach, Fontainebleau Miami Beach and the 1 Hotel South Beach," she said. 
Fort Lauderdale is another hot spot for her clients. "They have great air access with the Fort Lauderdale Airport and within an hour of the Miami International Airport. The Marriott in Fort Lauderdale is located directly on the beach and boasts amazing outdoor function space to complement the indoor assets. The Guitar Hotel was a pleasant surprise—I've shared the capabilities of this property with many clients over the past couple of months," Pearman added.
Increased Flexibility
Pearman is also optimistic about the meeting of the minds between planners, clients and properties in the future.  
"As I work with my clients toward sourcing on future programs, I've discussed the importance of flexibility. In the past, some groups were hesitant to hold meetings in non-traditional spaces, [but] 2020 has definitely changed that mentality and it is exciting to discuss outdoor venues, theaters, even how to better utilize prefunction space and restaurants to increase the capabilities of properties," she said.
"There is also a trend toward buyout opportunities, where mingling with those outside of the meeting group is limited. Miami and Fort Lauderdale have properties that work very well for this option."
Pearman, a meeting and hospitality veteran of 25 years, concluded: "I think a legacy 2020 will leave behind is the importance of a personal connection, a handshake or hug. This year has made most people realize the importance of human contact." 
New Developments and Renovations 
When groups return to Miami and Fort Lauderdale, they will find many updated properties and newcomers to the market. Here is a rundown of some of the most recent developments and renovations.
Fort Lauderdale
A $1 billion expansion of the Greater Fort Lauderdale/Broward County Convention Center is underway. Phase One will open October 2021 with 350,000 square feet of contiguous exhibit space. Full completion is projected for 2024. When completed, the expanded convention center will boast more than 1.2 million square feet, including a new 65,000-square-foot waterfront ballroom, the latest technology, new dining concepts, enhanced water taxi access and a waterfront plaza with public access. 
The Hyatt Centric Las Olas Fort Lauderdale hotel, located on the first 15 floors of 100 Las Olas, offers 238 guest rooms boasting city skyline views. The property features 15,000 square feet of flexible meeting and event space. 
Hotel Maren Fort Lauderdale Beach, a new 229,000-square-foot, 12-story hotel with 136 rooms, oversize balconies and ocean views, opened in January. Amenities include a VIP lounge, Ocean Club, fifth-floor pool and pool bar, meeting rooms and a state-of-the-art fitness center.
AC Hotel by Marriott Fort Lauderdale Beach opens in June 2021 just steps away from Sebastian Street Beach in Fort Lauderdale. The 171-room hotel will boast ocean views, an open kitchen for European-style breakfast and specialty culinary events, a library, an expansive resort-style pool with cabanas and dining services and 1,000 square feet of meeting space.
A new 23-story Four Seasons is anticipated to open in Fort Lauderdale in December 2021 with 130 guest rooms and 90 residences, two restaurants, a spa, fitness center, children's recreation room, "Beach Butlers" and ballroom and meeting facilities.
The Pier Sixty-Six Hotel & Marina is going through a renovation and is expected to reopen 2022. Upon completion, the hotel will have 345 guest rooms and suites, multi-level pool experience with family and adult areas, lobby lounge, Pier Top lounge and spa. 
AC Hotel Fort Lauderdale Sawgrass Mills/Sunrise, a new 174-room hotel in Sunrise, opened in February.  
Miami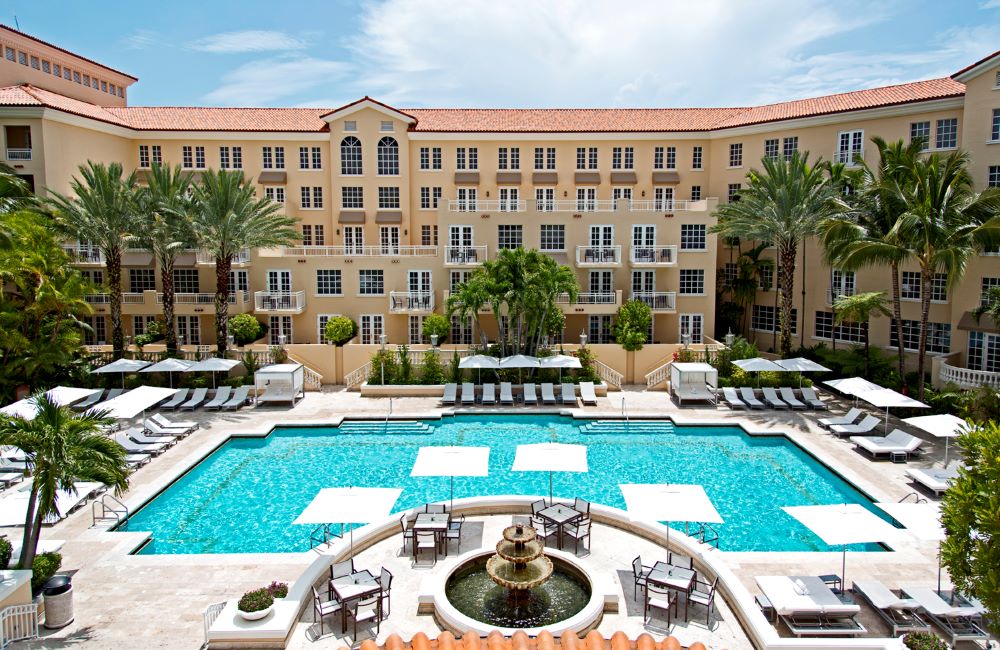 Miami Beach Convention Center recently unveiled its Art Deco Studio to support the production of hybrid events.

The rebranded JW Marriott Miami Turnberry Resort & Spa underwent a $300 million renovation in 2019, adding a new 16-story Orchid Tower, nearly doubling the total number of rooms to 685. The iconic resort also updated and expanded the conference center and now offers 121,000 square feet of meeting space. The resort also features a new entry and spacious modern lobby. Also completed was an upgrade of two championship golf courses. 

The Confidante Miami Beach's open-air Vista Terrace has been recently renovated with new blue and white floor tiling, offering a great outdoor space for groups. The newest dining destination in mid-beach, Ambersweet, opened on site in February. 

Downtown's InterContinental Miami has introduced SkyLawn, Miami's only 35,000-square-foot outdoor rooftop green space, situated on the fifth floor of the 34-story luxury property. The hotel boasts 653 elegant guest rooms, including 22 suites, and houses 101,000 square feet of meeting space, spread over 35 meeting rooms. SkyLawn increases that total and offers unobstructed views of Biscayne Bay and Miami skyline.

Grand Hyatt Miami Beach, with 800 rooms, will serve as the central anchor of the Miami Beach Convention Center District. The hotel will feature 12 floors of guest rooms, two floors of meeting spaces and ballrooms to complement the convention center and a resort-style pool deck. An elevated skybridge will enable event attendees to move between the hotel and convention center in a climate-controlled corridor.

The 528-room and suites Hilton Miami Downtown installed virtual stages in their ballroom to facilitate virtual meetings. It has 15 meeting rooms and a total of 43,300 square feet of meeting space. The hotel recently completed an extensive $35 million renovation project delivering fresh convention, meeting and guest facilities. The latest phase of the renovation was completed in 2020.

Kimpton Surfcomber Hotel in South Beach recently completed renovation of rooms and public areas. Unique to this 186-room hotel's meeting experience is its DAYLIFE program, which provides delegates thoughtfully curated activities like teambuilding games, guided meditation, yoga and more. The hotel has more than 3,120 square feet of air-conditioned meeting room space and 50,000 square feet of outdoor event space. 

The 330-room Mondrian South Beach has recently undergone a $20-million property-wide renovation, transforming the hotel into a modern tropical oasis. Baia Beach Club, the waterfront dining oasis, opened in December 2020, offering an all-new restaurant, bar, lounge and pool deck.  
Plus: New Unique Venues That Cater to Groups
Ambersweet at The Confidante Miami Beach is the newest dining destination in mid-beach, which opened February. Executive Chef Armando Diaz fuses his Mexican-American heritage, experiences abroad in Italy, and Miami's rich culture, to create a unique menu. The Lounge at The Confidante Miami Beach embodies mid-century retro-glam. 
Sistrunk Marketplace & Brewery, a 24,000-square-foot indoor food hall, mixed-use event space and retail concept, opened in the heart of Fort Lauderdale's historic Sistrunk. There are several private and shared event spaces.
Old Riverhouse Vegan Village opened in the heart of the historic district on Fort Lauderdale's Riverwalk. Built in 1903, the restaurant serves vegan comfort food and will soon include a sushi bar, coffee bar and outside juice bar, tapas bar, vegan full liquor bar, ramen bar and tea cafe.
GIOIAEat (pronounced "joy-ah-eat") has opened on Young Circle in downtown Hollywood. Master Pizza Chef and Acrobatic Pizza World Champion Massimiliano Stammerra can be seen throwing pizza dough as he prepares 17 specialty pizzas.
The Abbey, part restaurant and part nightlife/entertainment venue, opens in early 2021 inside a transformed church in downtown Fort Lauderdale.
The highly anticipated Cuba Libra Restaurant & Rum Bar is expected to open in early 2021 on Las Olas Boulevard in downtown Fort Lauderdale. 
Q&A With Nadim Barrage, Hotel Manager for Conrad Fort Lauderdale Beach
Do you have meetings group booked for 2021? 
Yes, we are pleased that group business is ramping up, and we are proud to continue to introduce hybrid and virtual options for the new meetings and event landscape. For example, in partnership with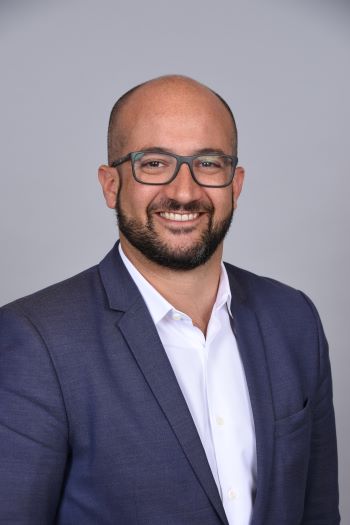 PSAV, we launched an innovative Presentation Stage, which allows groups to engage with their colleagues in a meeting space within the resort that is designed with the latest technology and enables maximum virtual connectivity with green screens, prompters, full customization for your presentation needs. Furthermore, South Florida has county restrictions that currently allow meetings with robust social distancing guidelines, and our Hilton EventReady protocols have provided meeting planners with additional ease of mind to hold their small- to mid-size meetings in 2021 at Conrad Fort Lauderdale Beach.
Do you think the end of the year will be better for meetings? 
With the introduction of the vaccine, consumers being more aware of protocols to ensure the utmost safety plus our resort's high standard of cleanliness expectations, we are optimistic about the future comeback of events and meetings. We also strongly believe in the future of the luxury group sector expanding more rapidly in Fort Lauderdale and believe that traditional secondary cities will continue to gain popularity.  
 
What are planners asking for as far as cleanliness and safety in the hotel? 
Planners are appreciative of Hilton CleanStay, an industry-defining standard of cleanliness and disinfection in Hilton properties around the world. The Hilton CleanStay with Lysol protection is a rigorous system that incorporates RB's [Reckitt Benckiser's] trusted know-how and scientific approach to cleaning practices and product offerings. Experts from Mayo Clinic's Infection Prevention and Control team advised and assisted in enhancing Hilton's cleaning and disinfection protocols. 
 
How has this pandemic changed the relationships with the meeting professionals? 
True relationships withstand turbulence, distance and time! We're lucky to have great meeting planner partners all throughout the country, and while we miss seeing them face- to-face, we're able to keep in touch with them through various technologies and fun interactive virtual events such as our holiday live cooking demo we hosted a few weeks ago, which taught planners how to make Tres Leches Pancakes, Pan Seared Sea Scallops and a "Tale of the Cake" Old Fashioned.
Read This Next: 12 One-of-a-Kind Group Experiences in Florida (That Aren't Theme Parks)