The Difference Between DEI Certifications and Certificates of Completion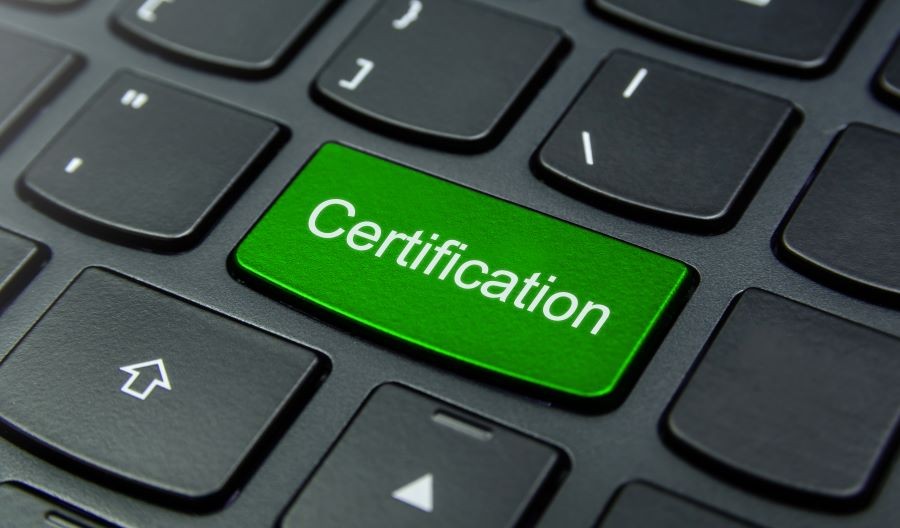 One year ago, we started this series of articles for Meetings Today by explaining The Critical Importance of Diversity, Equity and Inclusion in the Meetings and Hospitality Industries. Some key points in that first collaborative piece highlighted the need for: 
Demographic data and assessments 
Leadership buy-in, transparency and accountability 
DEI as core to the primary business strategy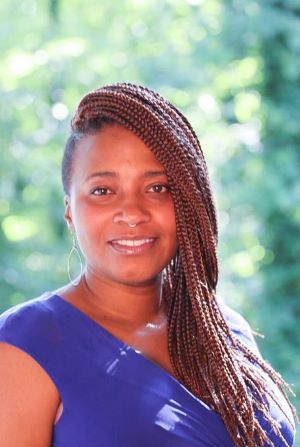 Eight articles later we recognize the need to discuss how ensuring continuance of efforts are best supported by professionals that have an elevated knowledge of organizational development, and even better, a certificate or certification specifically in Diversity, Equity & Inclusion. 
[Related: Why Learning Your DEI Certifications Can Promote Supplier Diversity] 
Now, some may argue that hyper-focused credentials are unnecessary. They believe that if DEI is a priority, then an individual can pursue one of the well-known industry certifications such as CMP, DMCP, DES or CGMP, followed by a workshop or a webinar about unconscious biases, to make them qualified.  
This argument stems from multiple beliefs:  
Meeting professionals need to prioritize learning technical skills related to their sector to excel in the industry, not DEI.  
Well-known industry certifications cover topics such as accessibility sufficiently.  
There is no need for a diversity consultant internally; they can be contracted when something happens.  
Unfortunately, due to the over reliance on these beliefs, companies are enduring inaction by appointed committees, poor workplace culture/client engagement and expensive litigation due to incidents/complaints. The complexity of Diversity, Equity & Inclusion in solving organizational challenges proves that basic knowledge will not suffice.  
If a company is not in the position to invest in consulting services or hiring for an executive-level diversity role, then budgeting for DEI credentialing is imperative. The value of DEI-specific professional development ensures three things occur:  
A qualified and knowledgeable DEI professional can assist with pressing issues. 
Financial barriers do not pose a hindrance to forward progress. 
Additional funds can be allocated towards resources that support DEI initiatives (i.e., surveys, scholarships and programs).  
While basic credentialing may not be an optimal approach, it does strengthen professional knowledge of Diversity, Equity & Inclusion within your organization. 
[Related: The Critical Importance of Diversity, Equity and Inclusion in the Meetings and Hospitality Industries] 
Why Us?  
Hospitality professionals are resilient, determined problem solvers and effective organizers. At every level they engage with stakeholders locally, nationally and globally. Progressively, their skills and exposure have put them at the forefront of dialogue about how to manage diverse needs across multiple social identities. Afforded the opportunity to gain quality training, professionals in our industry can create the blueprint for strategically implementing Diversity, Equity & Inclusion.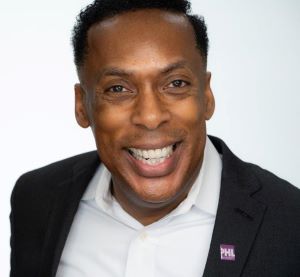 Now more than ever, leaders in the hospitality, meetings, events and tourism industries are feeling the pressure to change policies, procedures and practices. Collectively, they are moving past the concept of DEI as a "progressive idea" into recognition that when strategically understood it is a transformational conduit that must be integrated into the overall business strategy.  
Currently, there is not a singular agency that offers blended credentialing for hospitality professionals seeking to improve their DEI aptitude. Our goal with this article is to provide insight and encourage trade associations to upgrade their curriculum, form partnerships with existing DEI organizations and help leaders in our industry meet the growing demand for DEI professionals. 
[Related: How to Recruit Underrepresented Professionals for the Next Generation of Leaders]
A few professionals have already opted to invest in training on their own or attend free courses offered by academic institutions, but it's not enough. In order for DEI to be adapted properly into the fabric of the ecosystem, like standards of excellence for risk management, catering and planning, there must be an examination of core competencies, requirements and training that will lead to more hospitality, meetings, events and tourism professionals becoming credentialed in Diversity, Equity and Inclusion.  
The first step begins with understanding how current training is being defined.
Second, there must be a comparison between existing DEI organizations that offer resources and credentialing.
Lastly, we'll provide our perspective on how trade organizations such as MPI, ILEA, PCMA, NCBMP and SITE can benefit from offering continuing education clock hours toward an accredited DEI certification or a subspeciality.
It is worth acknowledging that other industries (healthcare, technology and retail) have achieved successful outcomes aligning industry specific training with Diversity, Equity & Inclusion credentialing.  
Clarifying Terminology  
Certificate vs. Certification  
True to the English language, the similarity of both "certificate" and "certification" have caused much confusion.  
A certificate recognizes the completion of reading or listening to designated material, coursework or lectures. For example, University of South Florida Muma College of Business offers a Diversity, Equity and Inclusion in the Workplace Certificate. The program consists of seven modules addressing topics ranging from emotional intelligence to building a sustained business model. Module videos can be watched on their website, LinkedIn or YouTube.  
As of March 22, 2021, more than 110,000 professionals registered for the USF certificate. Fourteen hours following registration, many students proudly shared their certificate of completion via LinkedIn. While a noteworthy accomplishment, the lack of needing to prove competence or ongoing proficiency through a strenuous testing process qualifies this training as basic and informative, rather than a professional qualifier.  
A certification is a result of the above requirements in addition to completing assignments, taking an exam, writing a paper and/or conducting a research project. In certification, you are conferred with credentials to indicate mastery in the field, and you are required to demonstrate a commitment to supplemental learning in the area through continuing education units (CEUs).  
When someone is certified in Equity, Diversity & Inclusion, employers do not have to guess whether the individual will achieve expected outcomes; they can have complete confidence that the person is an elite professional whom a third party has adequately vetted.
For example, Houston-based National Diversity Council has a DiversityFIRST® Certification Program in which graduates are awarded a Certified Diversity Practitioner (CDP) designation after presenting a well-researched case study and passing an exam. 
A certificate is a great first step while a certification separates passive learners from knowledgeable consultants.  
Clock Hours vs. Continuing Education Units (CEU)  
While not synonymous terms, clock hours and continuing education units are connected. 
Clock hours are typically defined as unmonitored learning where the learner has no contact with the educator, and are pursued voluntarily for those casually seeking professional development or as criteria to pursue a higher level of achievement as determined by the selected accrediting agency.  
According to MPI's website, "A clock hour is one-tenth of a CEU (.10 clock hours). So, one clock hour (60 minutes) is stated as 1.0." 
Accredited vs. Non-Accredited  
Accreditation is a voluntary process that institutions of higher learning or organizations that provide structured coursework pursue to gain recognition from non-governmental bodies. The validation from certain entities classifies the curriculum as high quality and strengthens its programs with defined standards that must be met every five-10 years. There is no singular authority that regulates educational services that are offered across the business ecosystem.  
Accreditation bodies are generally privately owned and funded by investments from their esteemed board of directors or members. While universities seek institutional accreditation, independent organizations gain specialized or programmatic accreditation. The primary difference between the two is really a popularity contest that is upheld by inherent biases and financial wherewithal. 
[Related: How to Recruit Underrepresented Professionals for the Next Generation of Leaders]
Non-accredited programs can be just, as if not more, valuable than their accredited counterparts, but we are socialized to trust that one is better than the other. Truthfully, the evidence is in the provider's ability to offer quality education that achieves the goal of helping professionals secure employment, be of value in the workplace and upscale careers. 
The key marker of any assessment-based program is whether or not it is following published standards from organizations like the International Organization of Standardization (ISO) and Institute of Credentialing Excellence (I.C.E).  
A leading developer of standards for both certification and certificate programs, I.C.E is both a provider of and a clearinghouse for information on trends in certification, test development and delivery, assessment-based certificate programs, and other information relevant to the credentialing community. 
Current Accreditation Options 
The hospitality, meetings, events and tourism industries have several accreditation bodies that serve professionals at particular levels within certain sectors. A few of these include:  
Accrediting Commission for Programs in Hospitality Administration (ACPHA), which accredits programs at the bachelor's degree level or higher.  

Commission for Accreditation of Hospitality Management Programs (CAHM). which accredits programs at the associates degree level. 

Events Industry Council (EIC). which accredits specialized programs and signature activities through its promotion of high standards and professionalism in the events industry  
The Diversity, Equity & Inclusion field is even more overpopulated with self-identified accrediting bodies that are working to bring more regulation to the practice. Currently, organizations that both accredit and offer programs are mostly one in the same, except the few that are partnering with universities to set themselves apart. As an emerging body of work that is only about 53 years old, the DEI field could benefit from more standardization, structure and premium accreditation.  
Credentialing Criteria  
There are two emerging credentials that are being offered by more and more companies: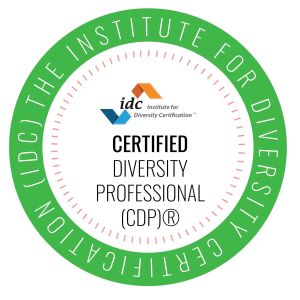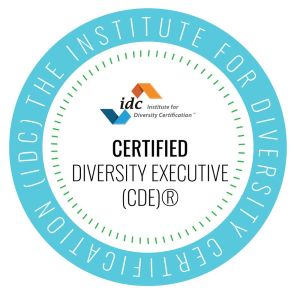 The Certified Diversity Professional (CDP) credential will empower you to lead day-to-day inclusion efforts effectively. 
The Certified Diversity Executive (CDE) credential is designed to manage a global or large-scale initiative. 
When deciding on the best certification or certificate course for yourself, there are a few key considerations:  
First, assess the cost and what you are getting for that price. The fees vary significantly; assess your outcomes, what your budget is, and which courses align best with both.  
The more expensive classes will likely be more hands-on, potentially with an in-person facilitator leading the session. See if the system includes any additional resources, such as reading materials or critical books for the participants to read alongside to enrich their learning and knowledge.  
Question to Ask: Is there a follow-up session that you can book to check in on and consolidate the learning that has taken place and any questions or situations that have arisen since the initial workshop? 
Second, consider the time commitment of the course. Courses can vary from a one-hour class online to a five-day in-person course or an online course with an hour's training each week for a set period.  
You may decide to select an online training course of a few hours that attendees can do at their convenience. This self-paced course allows attendees to take control of their learning and fit it around other work commitments.  
Professionals may decide they want a long in-person period because participants benefit from being together as a team while working through a challenging curriculum. A more intensive and longer course may match up with your desired outcomes. 
The following companies are well known amongst diversity practitioners and are setting themselves apart as either a university or affiliate of a school within an institution. 
Benefits to Trade Organizations 
In 2019, MPI released a The State of Inclusion in the Meetings Industry report. Forty percent of the 1,087 respondents said that they don't have all the information/knowledge needed to plan inclusive experiences. A mean score of 3.8 revealed that there is a dominant attitude that believes the event industry needs better training and technical tools around diversity and inclusion.  
Now, post-2020, which saw a global social awakening, it's time for hospitality, meetings, events and tourism trade organizations to fulfill the request. Similar to small and independent companies that are offering programs, credible associations like those suggested have the resources, tools and networks to offer accredited training that will be valuable to all their stakeholders.  
In partnership with the existing organizations, accreditation bodies and plethora of universities, industry associations can benefit from developing intentional clock hours as the initial criteria for pursuing a subspeciality specifically focused on Diversity, Equity & Inclusion.  
For many years, DEI has been used as a catch-all statement to include people identifying success as representation in communities, across the workforce, and especially in leadership. Although a positive sentiment, these representation metrics fail to realize the desired outcome of equal pay, distribution of power and equity in access to opportunity.  
More thought leaders in the hospitality, meetings, events and tourism industries are thinking strategically about how to achieve these efforts specifically for the way we do business. Fortunately, the difference between the past and present is that more people have lost the fear of speaking up when the status quo is being maintained.  
Events Industry Council (EIC) has unapologetically created an Equity Task Force that is, with laser focus, addressing the eradication of systemic racism across the hospitality, meetings, events and tourism industries. As members of this committee, we are actively discussing how standardization will be rolled out and how member organizations will be held accountable to measurable and sustainable goals.   
As leaders alluded to in a recent Joint Board Development meeting with MPI's DE&I committee: "DE&I is not an expense, it's an investment."  
The more leaders that grasp that the business case for diversity is not about how diverse groups will be of value to organizations but how leaders are effectively investing in serving diverse groups, the more this statement will resonate and result in action. 
The current climate may have all leaders paying closer attention to DEI in the workplace; many DEI certification programs are intended to enhance this awareness. Without credentials, many in the workforce will lack the necessary competencies to lead as a diversity professional.  
In addition, they will not have the credibility to encourage people to undertake organizational adjustment. The diversity certification credentials that can be obtained should be proportionate to the challenges you as a professional are asked to tackle.  
The bottom line is that we as an industry need the ability to fulfill the role and carry out the responsibilities competently, and that takes quality training that results in certificates and even better certifications.  
References: 
Accreditation Commission for Programs in Hospitality Administration: Value of Accreditation 
U.S. Department of Education: Accreditation in the U.S. 
Events Industry Council: Our Mission 
Institute for Credentialing Excellence: History 
University of South Florida: DEI Modules 
Best Value Schools: Value of Unaccredited Degree Programs 
ISO: About Us 
MPI: Inclusion Report 
Read Next: Greg DeShields Brings a Career Dedicated to DEI to Tourism Diversity Matters