Two New Luxury Hotels and ocV!BE District Catapult Anaheim, California's Meetings Capabilities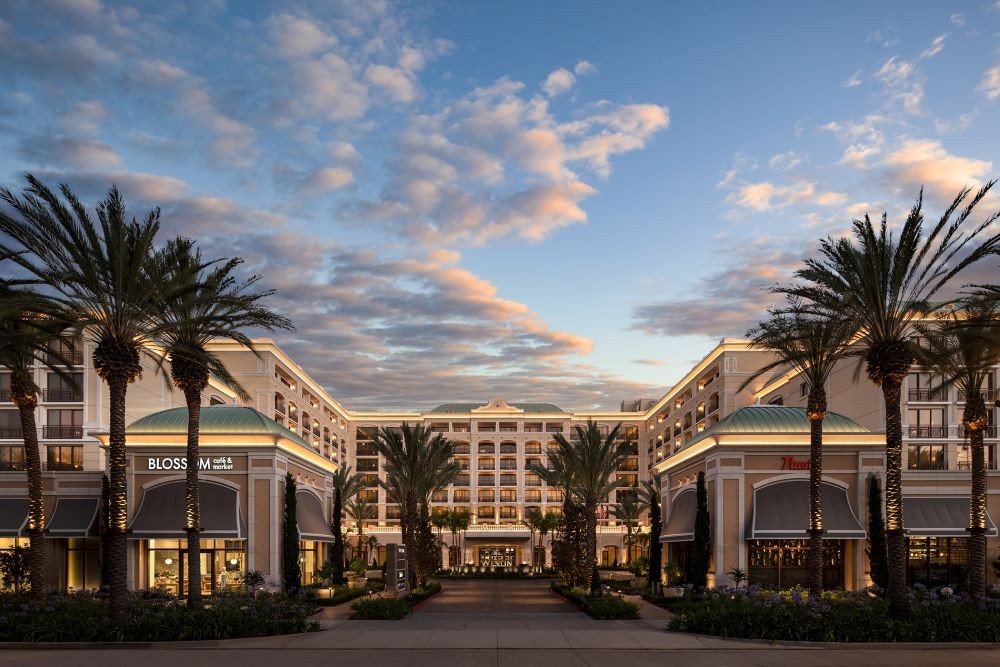 Westin Anaheim Resort exterior. Courtesy of Visit Anaheim
Big things are afoot in Anaheim, California—quite an assertion for a city that's already home to Disneyland and the largest convention center on the West Coast.
But when I traveled to Anaheim in October to take a media tour with Visit Anaheim of some of the newest developments in town, I saw a major transformation in progress that is sure to create big waves in the hospitality industry.
Two luxury properties just got added to the city's hotel portfolio and a major sports and entertainment complex is planned, with the goal of debuting itself to the world in time for the 2028 Olympics in Los Angeles.
Two New Luxury Resorts
While Anaheim has many of the amenities that planners want—a built-in offsite draw like Disneyland and a massive convention center—it didn't have the luxury hotels that many corporate and executive meeting professionals prefer. With the JW Marriott, Anaheim Resort opening in summer 2020 and Westin Anaheim Resort on its heels in June 2021, the idea that Anaheim doesn't have luxury properties to offer groups is no longer valid.
"Adding this new luxury product to Anaheim's hotel portfolio fills a void that Anaheim previously had. As a result of these two hotels opening, we are already receiving new leads and attracting new business to the destination," said Jay Burress, president and CEO of Visit Anaheim. "These new high-end options are undoubtedly bringing new opportunities to our city and have the potential to expand existing business."
I had the opportunity to visit both AAA Four Diamond properties myself. Here's what planners need to know.
JW Marriott, Anaheim Resort
Elegant, sophisticated, oasis. These are the words that came to my mind immediately upon walking through the JW Marriott, Anaheim Resort's lobby. As our group took a media tour of all the resort had to offer, my first impressions were reinforced.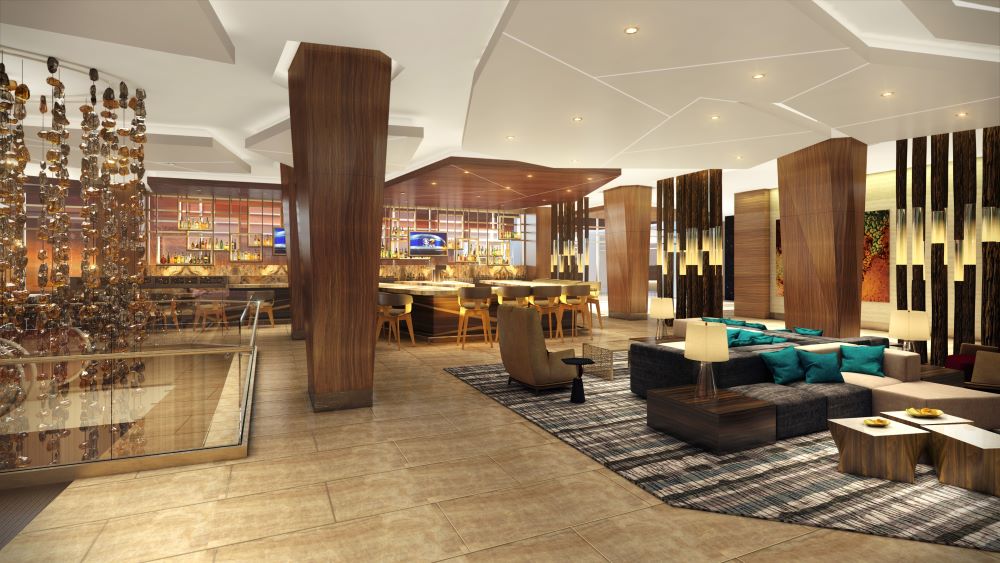 Maribel Denner, director of sales and marketing for the resort, said that the 466-room hotel is anchored around a "stylish garden retreat" theme. "When you walk into the hotel, you find respite," she said. This could be felt throughout the 40,000-plus square feet of meeting space, which is tucked away from leisure guests all on the first level. 
The meeting spaces have some unique design elements that separate them from your typical meeting room. Two such examples include "storefront windows" in some of the breakout rooms, where blinds can raise to allow natural light in or serve as a unique exhibit window; and slider doors inside the executive boardroom that lead to a private area for F&B service, so attendees don't need to leave the workspace for food.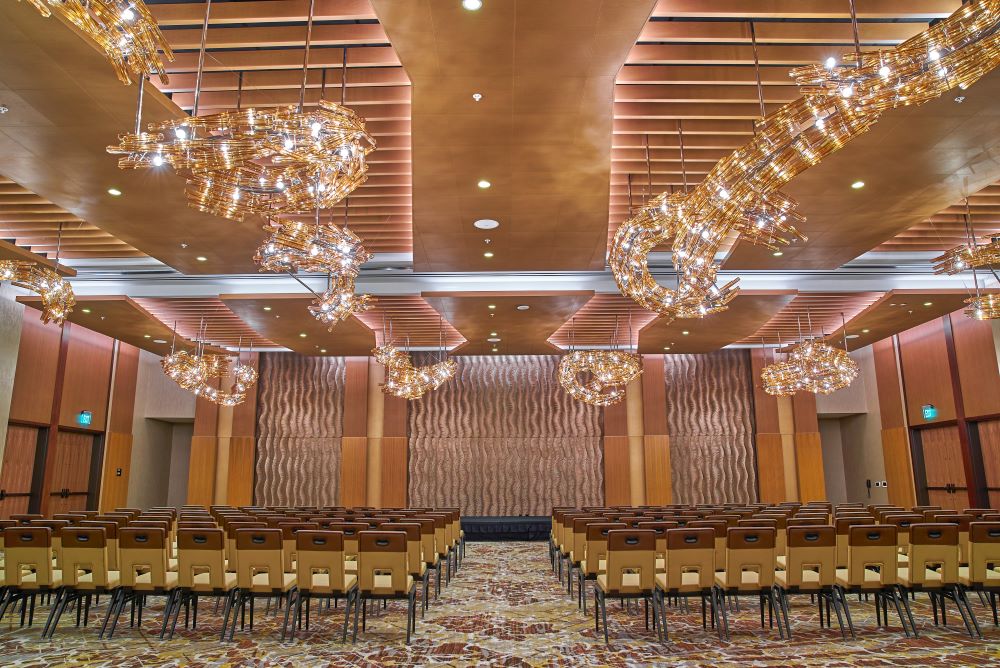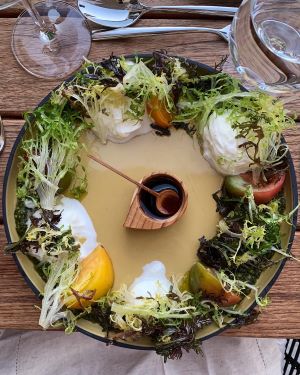 Neutral colors, varied textures and local art displayed throughout the hotel add to the nature-inspired theme.
Attendees can experience live nature in the JW Gardens, where many ingredients used at onsite restaurant Tocca Ferro Italian Chophouse are grown, and 600 titanium butterflies adorn the walls. Direct entry to the Gardenwalk is within the gardens, which guests can follow all the way to Disneyland, or dine at one of the 20-plus restaurants.
Outdoor spaces continued to impress at JW Marriott, Anaheim Resort, which is home to the highest rooftop bar in Anaheim, Parkestry Rooftop Bar. Our group enjoyed a custom dinner at sunset, taking in sun-soaked views of Disneyland while sampling fresh dishes like tuna crudo with sundried tomato oil and rosemary maldon salt; burrata with pistachio pesto, heriloom tomatoes and compressed greens; and aged steak and lobster tail.
Groups can reserve the scenic space—complete with bonfire pits—for private events.
[Related: Anaheim Sets Its Convention Dial to 11 As New Properties Open]
Westin Anaheim Resort
Upon arriving at the Westin Anaheim Resort, my first reaction was that the location of this luxury property could not be more convenient. It sits across the street from Disneyland and adjacent to the Anaheim Convention Center, making it an excellent lodging option for corporate executives with an event next door, a product that Cynthia Ordyke, sales and marketing director for the resort, said the area was lacking before.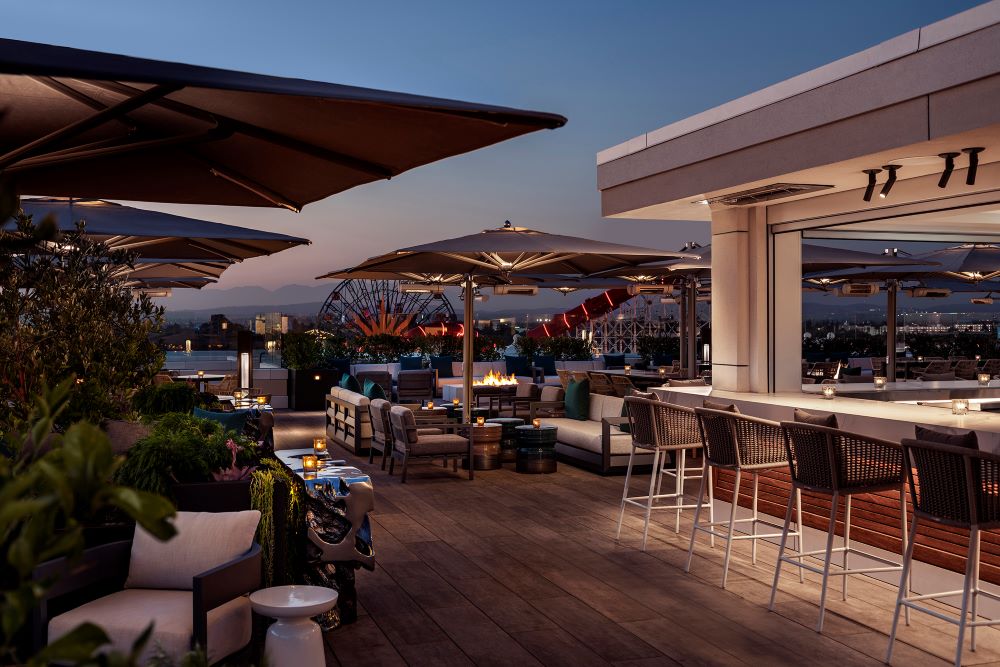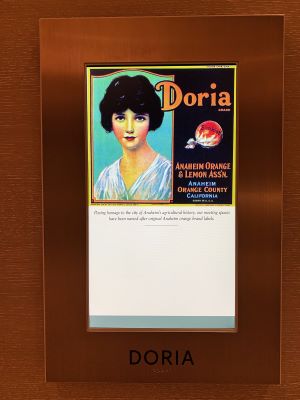 The 618-room Westin Anaheim Resort has plenty of space for events of its own, too. More than 47,000 square feet of meeting space is at the resort, including the 16,120-square-foot Anabella Ballroom and a variety of other meeting venues, including breakout rooms, a rooftop bar that can be reserved for private events, the pool deck and more.
This property, too, takes inspiration from its natural surroundings—the decor at the Westin pays homage to the orchards of Anaheim, with fun details like breakout rooms named after original orange labels, with the corresponding artwork displayed. 
After touring the meeting space, our group participated in one of Westin's "Bright Breaks," which is a wellness initiative for meetings and events at Westin properties and designed to help attendees relax and recharge. Our activity? Freshly squeezed juices followed by a sound bath.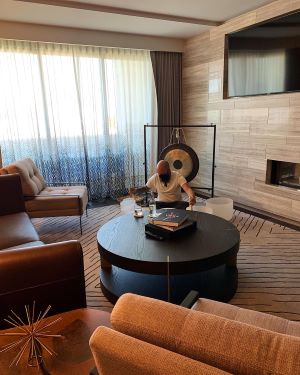 Never heard of a sound bath? I felt like it was a power nap for the mind. It's a meditative experience featuring sound waves, created by various instruments like singing bowls, gongs and chimes. For me, it was a way to turn the brain off and truly relax. Ordyke said that sound baths are just one of many custom ways that the resort can organize unique breaks between meetings.
Dinner for the evening was a progressive tour of some of the diverse onsite restaurant options at Westin Anaheim Resort.
We kicked things off with apps at Mexican restaurant Puesto, which can host groups for private dining while feasting on some of its famous blue corn tortilla tacos. Next, we enjoyed some fine dining with a filet and wine flight in the private dining space at Fleming's Prime Steakhouse & Wine Bar, and ended the evening in the hotel's cocktail bar and lounge, Bar 1030, for some sweet treats and creative cocktails.
[Related: Level-Up Your Events Planning Toolkit With This Free Future Skills eHandbook]
A Massive Sports and Entertainment Complex in the Works
New hotels aren't the only developments coming online in Anaheim. In between resort tours, our media group received an exclusive presentation of the plans for ocV!BE, a whopping $3 billion sports and entertainment complex that will change the nightlife scene in Anaheim.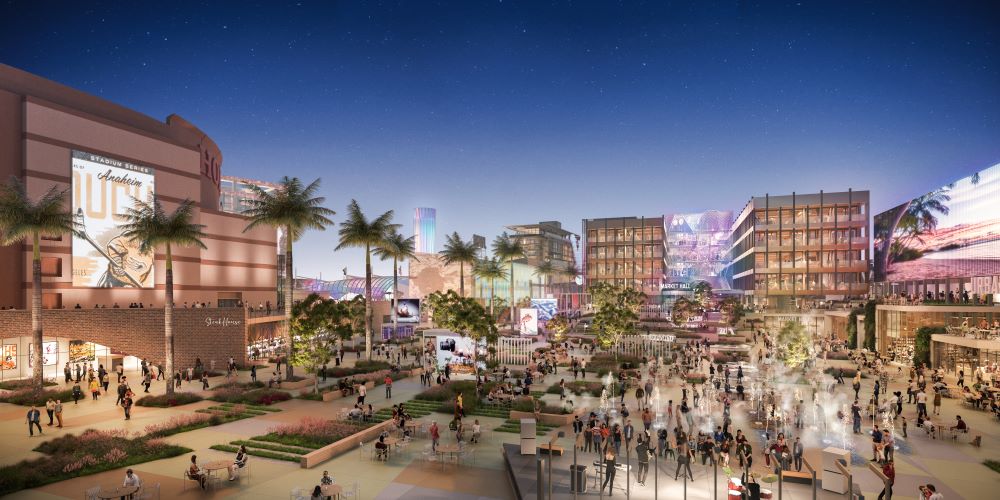 Spanning 95 acres and built out around the Honda Center, with the ARCTIC train station at its southernmost point, ocV!BE will provide a whole new offsite experience for conventioneers. The site is two miles from Disneyland and the convention center, and preliminary plans include the following:
Two hotels with an estimated 550 rooms total.
Residential and office space.
30-plus restaurants, including a food hall concept.
Four flexible concert venues, including indoor and outdoor options.
10 acres of publicly accessible parks, including a more than 4-acre wellness park and nearly 5-acre riverfront park. Plus, 20 acres of public space, including four unique plazas.
The park will have the potential to host festivals or buyouts for an estimated 40,000-plus people, according to Tim Ryan, CEO of ocV!BE. 
The project is funded by Henry and Susan Samueli, owners of the Anaheim Ducks. The first phase is expected to be completed in 2024, with a full opening anticipated in time for the 2028 Summer Olympics in Los Angeles, where the Honda Center will host indoor volleyball competitions.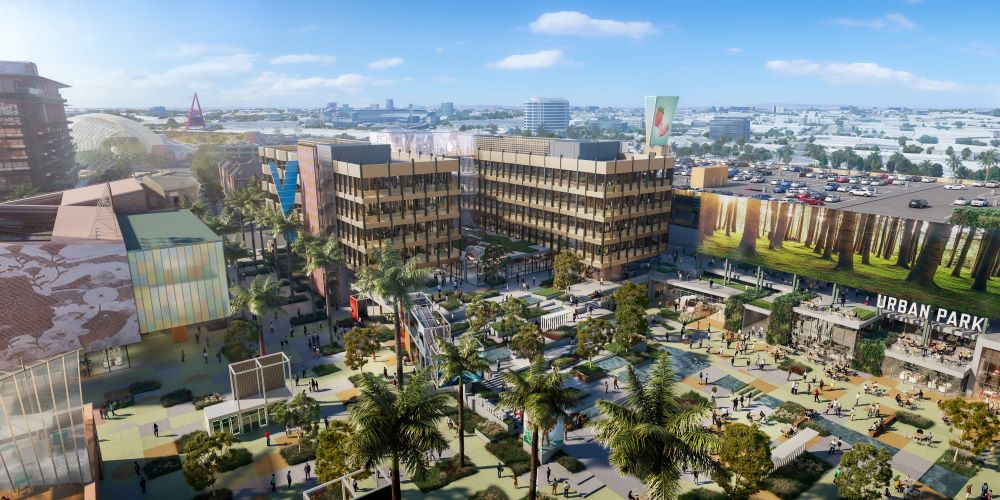 "This is the next chapter of Anaheim as a destination and the offerings it can provide to the market," Ryan emphasized. He also noted the investment in digital experiences—including LED sponsor walls and venues equipped with the technology to host events like esports tournaments—add an exciting element for groups.
Ryan called it a "campus of activities" and expects ocV!BE to host over 600 events each year, from community events to sporting events, music festivals and more—and that number could easily rise given buyouts and private event rental requests—bringing in millions of annual visitors.
Connect
Visit Anaheim
(714) 765-2800
Read this next: Outdoor Escapes Along California's Central Coast