Want Your Offsite Reception Hosted? Corpus Christi Has You Covered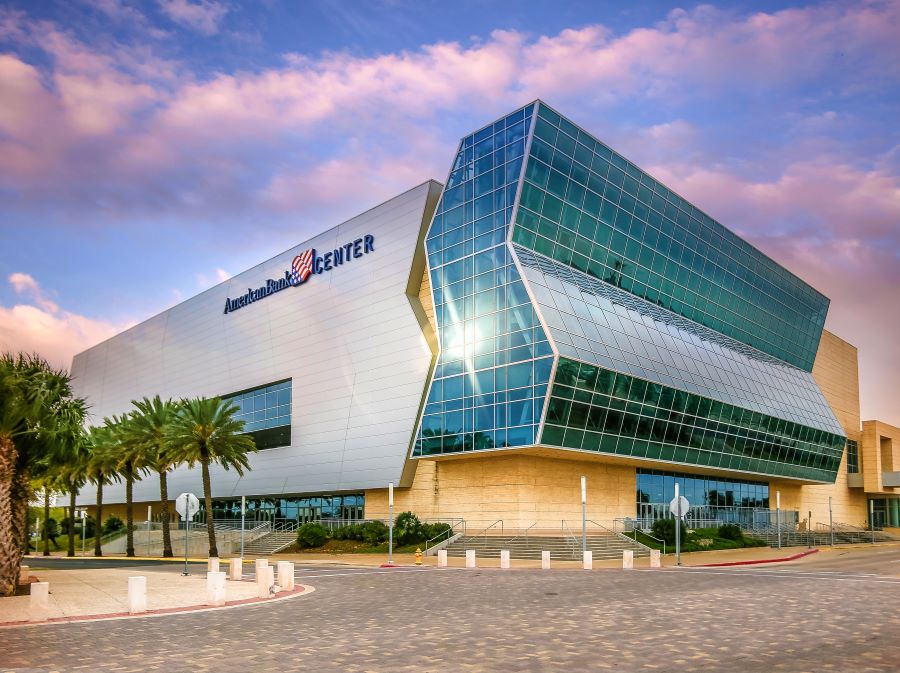 American Bank Center Arena. Credit: Visit Corpus Christi.
Corpus Christi is promoting a Coast Your Own Way Meetings Offer that features the hosting of an opening or closing reception at one of six of the Gulf Coast destination's premier offsite venues.
The venues range from Whataburger Field to the Art Museum of South Texas, the beach and even the USS Lexington.
[Related: Corpus Christi Offers Exclusive Incentives to Coast Your Own Way]
"Groups that contract up to 500 or more total room nights will receive this incentive toward their reception that will consist of two hours of venue rental, hors d'oeuvres, bar and entertainment," said Nicole Olivares, Vice President of Sales for Visit Corpus Christi. 
Under the Coast Your Own Way Meetings Offer, meetings that book a specific number of room nights are eligible for the following percentage of hosted reception costs:
Tier 1: 500-699 total room nights includes coverage of 25% of the reception costs
Tier 2: 700-999 total room nights includes coverage of 50% of reception costs
Tier 3: 1,000-plus total room nights includes coverage of 100% of reception costs
[Related: Podcast With Corpus Christi's Nicole Olivares]
Offsite Venues Available Under the Offer
The following six offsite venue options are available as part of the Coast Your Own Way Meetings Offer, with a description of some of the venues' key attributes provided by Olivares: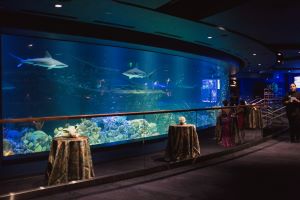 Texas State Aquarium
This option offers eight venue options, with a maximum capacity for up to 1,500 attendees.
"Guests can mingle among jungles, coral reefs and other immersive environments that really bring events to life."
USS Lexington Museum
This crowd favorite offers four venue options, with a maximum capacity for up to 2,600 attendees.
"This ship is a World War II vintage aircraft carrier that has housed some of the most important events in history on board and makes for a fun, yet historic venue for an offsite event."
McGee Beach
McGee Beach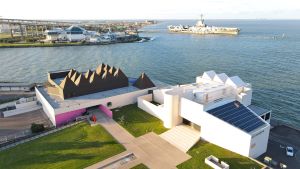 For groups that want to get a little sand in their toes, McGee Beach offers two venue options, with a maximum capacity for up to 1,500 attendees.
"If groups are looking for a beach venue close to downtown and our convention facilities, this is the place to be. Located right on the Corpus Christi Bay, McGee Beach offers a laid-back vibe, perfect for a kick-off or closing reception with its calm waters and photo ops."
Whataburger Field
This baseball park offers six venue options, with a maximum capacity for up to 1,500 attendees.
"Home to the Corpus Christi Hooks baseball team, Whataburger Field has turnkey event areas and some of the best amenities. The cool thing with Whataburger Field as an offsite option is that during the season, group attendees can experience a ball game all while networking and enjoying themselves at our 'Ballpark by the Bay.'"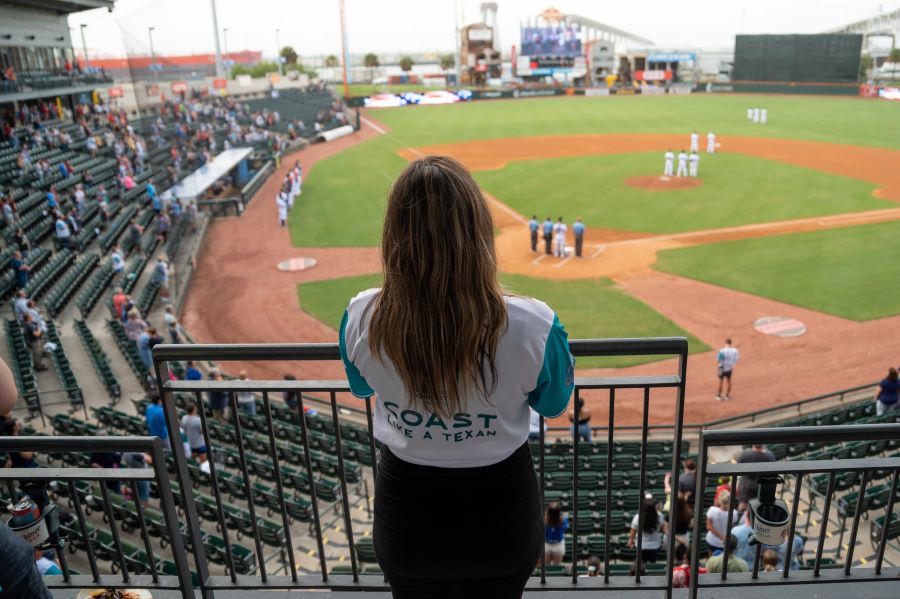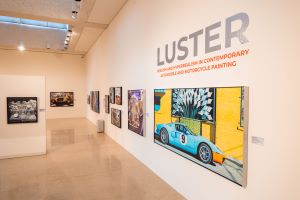 Art Museum of South Texas
This art museum offers three venue options, with a maximum capacity for up to 600 attendees.
"For arts and culture enthusiasts, we have the Art of Museum of South Texas, which offers beautiful, modern event spaces and inspiring art galleries and exhibits—all a part of the event experience!"
Corpus Christi Museum of Science and History
Another museum venue, this facility offers nine venue options, with a maximum capacity for up to 2,000 attendees.
"Museum buffs will love the Corpus Christi Museum of Science and History. With over 500 years of South Texas history on display and over 100,000 square feet of indoor space, the museum has capabilities to host groups of all sizes."
Other Offsite Options
Aside from the venues eligible under the offer, Corpus Christi offers a variety of other exciting offsite venue opportunities.
"Other options that will take visitors out of the downtown area are the Sunset Deck at Marker 37 Marina and The Waterline at Doc's," Olivares said. "These two venues are right on the Intercoastal Waterway and have some of the most amazing sunset views of the Laguna Madre. I am a diehard sunset lover that will plan vacations at tropical destinations just for the sunset and have seen some of the best ones there. There's just something about a Texas sunset, but a Texas sunset on the coast can't be beat."
[Related: Read Our Meetings Today Texas Supplement]
"We really have a variety of venues for every audience," she continued. "So, a more casual crowd may like Nueces Brewing with its relaxed outdoor patio and amazing BBQ, but for a more adventurous crowd, we'd recommend the new Elizabeth's at the Art Museum, which features unique Mediterranean flair and cuisine with some of the best bayfront views in town. Elizabeth's is part of the local, iconic Water Street brand that has been a fixture in Corpus Christi since the early '80s. They just opened Water Street Garden, which offers a casual, intimate garden feel complete with string lights above their expansive patio."
Hit the Beach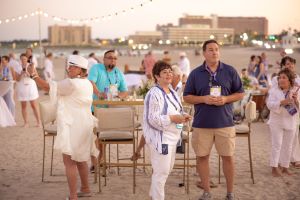 Of course, beach events are always popular in Corpus Christi, which boasts 272 days of sunshine a year, so weather is rarely an issue, according to Olivares.
"That is one of our signature experiences and one of the more unique opportunities for offsite events that we have to offer," Olivares said. "It's definitely a more involved planning process being that you are authentically outdoors, but our Destination Services Team is with you every step of the way. The team will help with planning, logistics, catering recommendations, decor—the works. You name it, we can jump in to support."
Safety Is Paramount
Corpus Christi is also heavily invested in providing a safe destination for attendees, with all tourism- and meetings-related businesses participating in the destination's Stay Safe Pledge, which helps mitigate any COVID-19 exposure through enhanced health and safety protocols, including the following:
Washing or sanitizing hands and work areas.
Wearing face coverings; following social distancing guidelines.
Cleaning and disinfecting protocols.
Requiring employees to stay home when feeling ill.
In addition, several bars and restaurants have completed the GBAC Fundamentals Course, and four major meeting and event facilities in the destination are GBAC STAR-accredited: 
American Bank Center
Art Museum of South Texas
USS Lexington Museum on the Bay
Corpus Christi International Airport
Connect
(361) 881-1888