Teambuilding Experiences in Eastern Iowa to Rebuild and Reacquaint Groups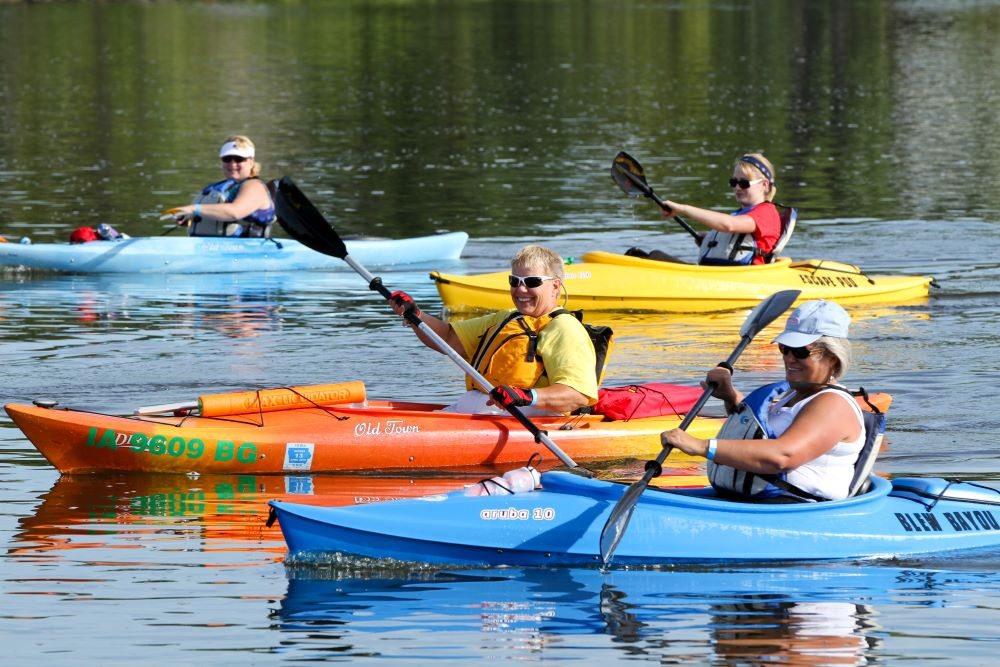 Take your attendees on a guided kayaking adventure through the Quad Cities' waterways courtesy of Quad Cities Kayak River Adventures. Courtesy of Visit Quad Cities
As in-person meetings slowly begin to replace virtual options, colleagues are looking to get reacquainted with each other. There's no better way to rebuild rapport and camaraderie than with a fun teambuilding activity, and these four Eastern Iowa cities are ready to show your attendees a fun time while they bond during a teambuilding activity. 
Below, we highlight diverse teambuilding options in Cedar Rapids, Iowa City, Dubuque and the Quad Cities. 
Cedar Rapids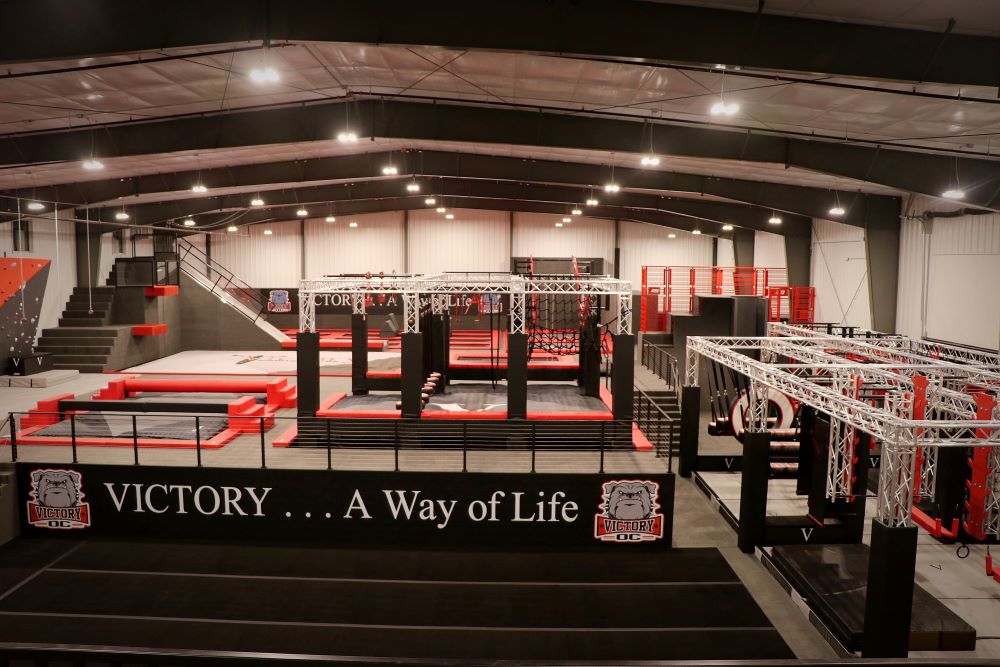 The City of Five Seasons' community theater, Theatre Cedar Rapids, can host your attendees for a behind-the-scenes tour of the theater and a teambuilding event dubbed "Beer and Improv."  
"While it may seem intimidating at first, after a beer the laughter starts to flow," explained Julie Stow, director of meetings and conventions for Cedar Rapids Tourism. "It teaches people to work together collaboratively, brainstorm, think on your feet and accept others' ideas without judgment." 
The Hotel at Kirkwood, a convenient lodging option for attendees, is also home to Kirkwood Community College's Culinary Arts Program.  
"Your group can join a chef in the kitchen and create a dish, followed by a chef's demo in the impressive Kitchen Theatre," Stow said. 
Looking for a more active option? Check out Victory Sports Center in Marion, where your attendees can test their skills on the Ninja Course, fly high on the performance trampolines and climb the bouldering walls.  
"You'll deserve a reward after all that hard work, so take the team for a tour and a beer tasting at award-winning Lion Bridge Brewing Company," Stow offered. 
[Related: Tap These Unexpected Eastern Iowa Offsites for Group Outings]
Iowa City 
Get attendees active with the UI Challenge Course, an exciting obstacle course at the University of Iowa that's designed to enhance personal and group growth with challenges that improve communication, cooperation and problem-solving. Choose from low elements, which range from being directly on the ground to 10 feet high, and high elements, which are roughly 30 feet off the ground to bring people out of their comfort zones. Some elements are physically challenging while others require more mental effort, offering something for everyone. 
For a more artistic teambuilding option, take your group to Brush and Barrel, where attendees can create works of art while sipping a beverage from the menu. Instructors will guide your group step by step through the featured painting. You can also bring Brush and Barrel instructors to the site of your meeting or explore a hybrid option for guests who can't come to the studio but still want to participate. 
Cryptiq Escapes offers a choice of five escape rooms for attendees, four of which are accessible to people with physical disabilities. Choose from a prison break scenario, a hostage rescue mission, a cursed cemetery, a race to save a stolen heirloom and a seasonal escape room that changes with the seasons and current events. Attendees must work together to solve the puzzles and explore the interactive elements. 
[Related: Eastern Iowa Showcases Heritage at Group-Friendly Venues]
Dubuque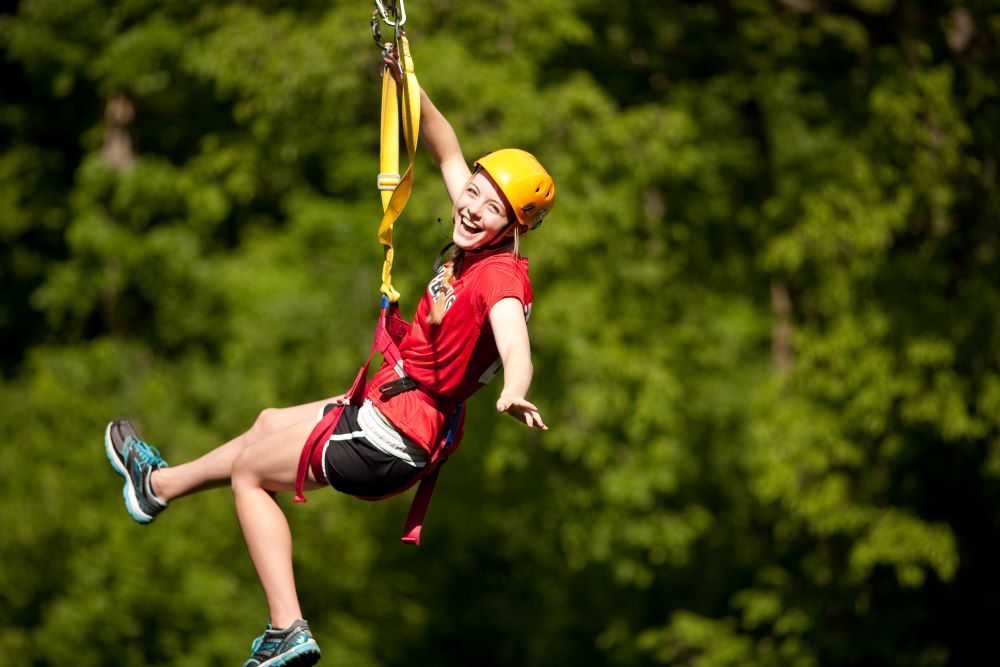 With teambuilding options that start at just $10 per attendee, Dubuque is an ultra-affordable choice for meetings. Travel Dubuque will even occasionally sponsor activities for planners, said Julie Kronlage, vice president of sales for Travel Dubuque. The riverfront city has recently revitalized historic buildings like The Driftless, which includes event spaces like the Magnolia Room and is located in the heart of Dubuque's Millwork District. 
Dubuque's teambuilding options are as diverse as the city's landscapes. Take adventure-seeking attendees on Sky Tours' nine ziplines, which stretch over the historic ruins of Union Park. Ziplines start at the top of the bluff and venture downward. 
Travel Dubuque hosts a digital scavenger hunt that's uploaded to attendees' phones. Teams will explore the downtown area on foot or by car in this fun and educational activity that encourages attendees to explore the city. 
Dubuque also offers ropes courses by the Four Mounds Foundation to get attendees up in the air. Walking in the trees or doing trust falls requires attendees to rely on their teams, instantly building team trust in a powerful exercise. 
[Related: Eastern Iowa Sports Venues and Meeting Experiences]
Quad Cities 
The Quad Cities—a region of cities in Eastern Iowa that includes Davenport and Bettendorf in Iowa and Rock Island, Moline and East Moline across the Mississippi River in Illinois—is an experienced choice for teambuilding, explained Lynn Hunt, vice president of business growth and service for Visit Quad Cities. The bi-state destination itself is the result of decades of teamwork.  
The new Interstate 74 bridge, one of the largest transportation projects in the Quad Cities, makes travel across the river a breeze, Hunt said. It also features a separate pedestrian/bicycle path with an observation point in the middle of the bridge set to open in the spring. It can become a gateway to exciting and thought-provoking activities for your attendees across the Quad Cities region and beyond. 
Camp Liberty Lodge presents lodging, event space and teambuilding in one 245-acre setting. Its elegant yet rustic surroundings are situated in New Liberty, just outside the Quad Cities. This natural landscape "provides the perfect setting for any outdoor adventure or event," Hunt said. "The team can create a customized leadership work retreat for the perfect experience for your group." 
Explore the Rock River, the Mississippi River or the historic Hennepin Canal with a guided kayaking adventure courtesy of Quad Cities Kayak River Adventures. The knowledgeable and experienced guides can lead your team through a river adventure. 
Rock Island-based G.I.T. Improv offers corporate training and improv coaching and can bring its 40 years of improvisational experience to any venue or group size.  
"Successful improvisers utilize the same skills as those required for effective business leadership and meaningful customer relationships," Hunt said. "Workshop attendees benefit from better communication techniques with internal and external customers, enhanced creativity and a new perspective leading to a better sense of satisfaction at work." 
The TBK Bank Sports Complex & Entertainment Center offers meeting planners several choices for teambuilding events, from bowling and escape rooms to competitive activities. Kick back at its sports bar and lounge afterward to celebrate a hard day's work. 
Connect 
Cedar Rapids Tourism 
(319) 731-4560 
Think Iowa City 
(800) 283-6592 
Travel Dubuque 
(563) 845-7698 
Visit Quad Cities 
(800) 747-7800 
Read this next: Is Meetings Business Recovering Faster at Family-Friendly Resorts?