CSR Activities for Groups to Give Back When Visiting Hawaiʻi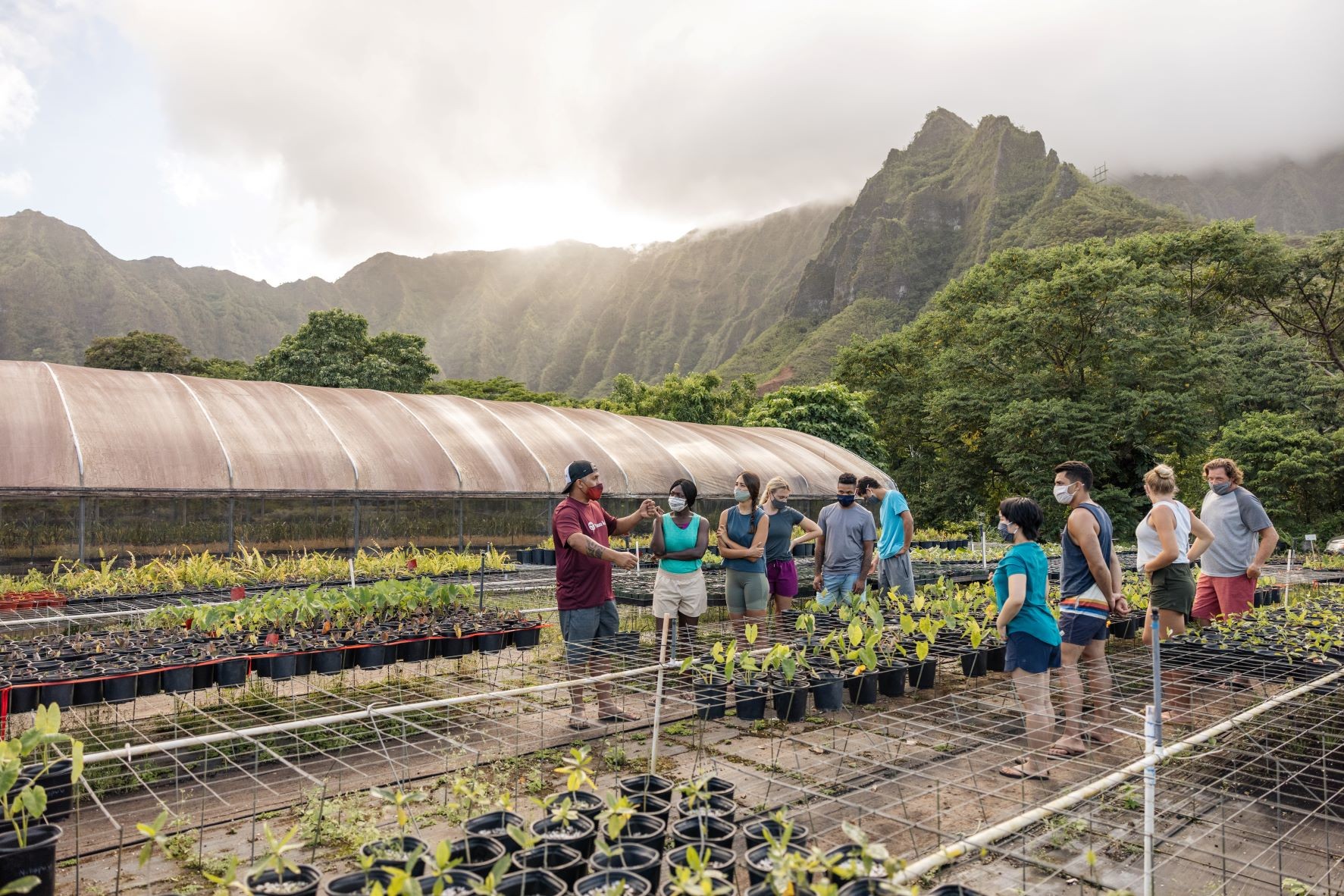 Rick Barboza of Papahana Kuaola guides volunteers at Hui Ku Maoli Ola nursery in O'ahu. Credit: Hawaii Tourism Authority (HTA) / Heather Goodman
As both leisure and business tourism bounces back in the wake of the pandemic, travelers continue to seek out ways to leave a positive impact on destinations after their stays. Hawaiʻi and its communities believe in a reciprocal relationship to 'āina (land), in that if we care for our natural resources, the land will care for us in return.  
When planners incorporate CSR activities into their Hawaiʻi programs, not only will they honor this sentiment, they'll ensure their attendees experience a deeper connection to the people, places and culture of Hawaiʻi. Here are some examples to get you started. 
Maui 
The Maui Visitors and Convention Bureau (MVCB) is currently focusing on the Mālama Hawaiʻi program, which is a statewide initiative. Mālama means to give back, and "when you give back—to the land, the ocean, the wildlife, the forest, the fishpond, the community—you're part of a virtuous circle that enriches everything and everyone," the Hawaiʻi Tourism Authority stated on its website. "Including your experience as a visitor." 
The Mālama Hawaiʻi program encourages visitors to engage in activities that give back to the islands, in an effort to create more impactful experiences for guests that connects them to the Hawaiian culture and the Hawaiian Islands. By engaging with these dedicated volunteer activities through participating organizations on the island, such as hotels, visitors can even qualify for special discounts or even a free night. 
For example, Four Seasons Resort Maui offers two activities in partnership with the Lāhainā Restoration Foundation and the Pacific Whale Foundation. With the former, guests can become a scientist for a day and discover Maui's storied past through hands-on processing of historic artifacts and documents. At the whale foundation, visitors can clean up coastal areas in need while collecting data to assist in the protection of the oceans. 
And at Wailea Beach Resort–Marriott, Maui, guests can partake in a quilting experience in which they create their own applique and sew it onto a background. These crafted squares are eventually added to others to make quilts that will be donated to kūpuna (elders) or those in need.  
MVCB is also focusing on sharing its Mālama Maui County Pledge with visitors and groups, which asks them to respect the islands' culture, environment and community. Take the pledge at mauitourism.org.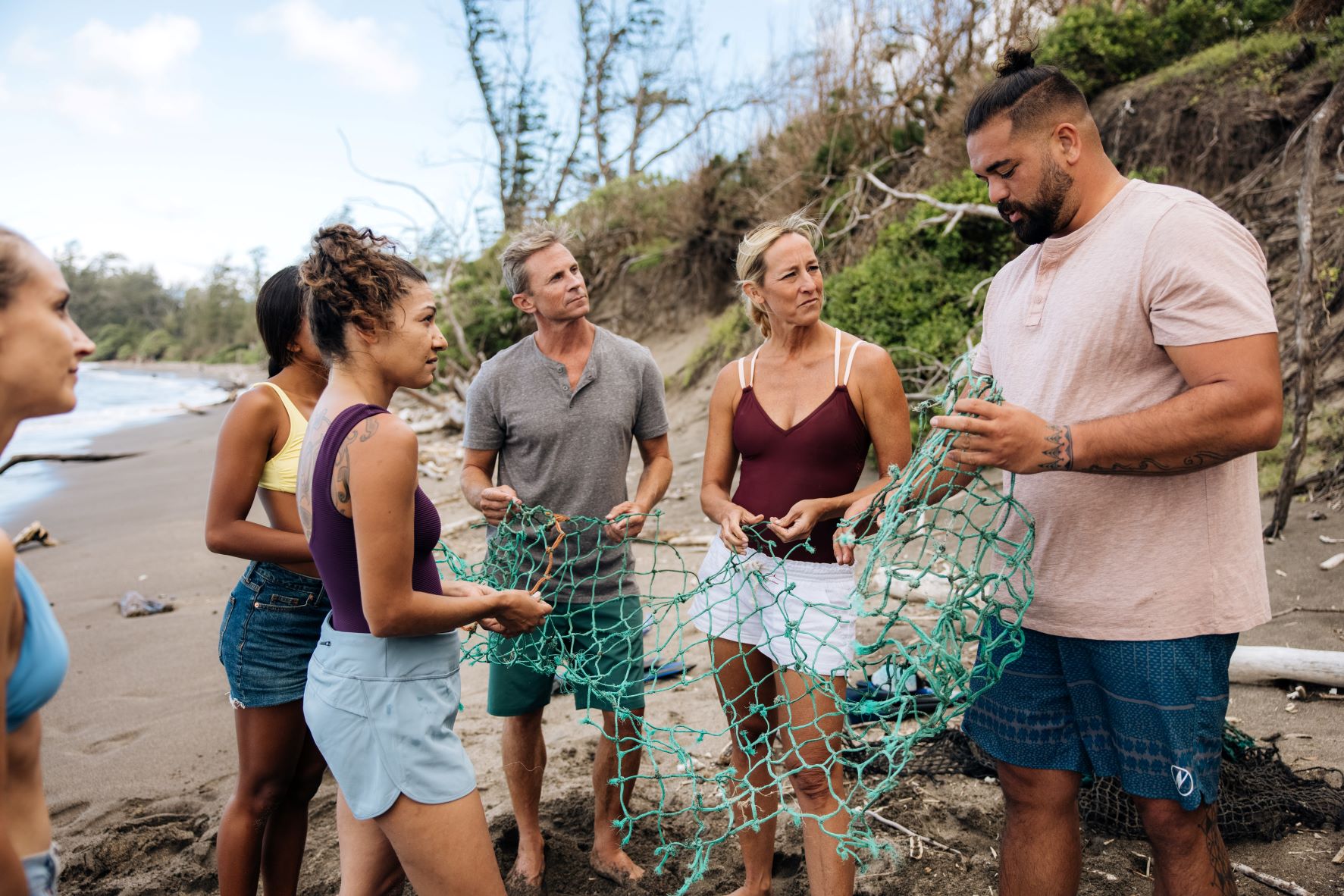 Island of Hawaiʻi 
On Island of Hawaiʻi, the nonprofit Edith Kanakaʻole Foundation invites groups to participate in a CSR experience at the Haleolono Fishpond just outside of Hilo. Here, attendees can help with restoring and repairing Haleolono's rock sea wall while learning about Hawaiian aquaculture traditions, including traditional fish farming and fish and seaweed propagation still practiced at the site.  
Visitors and community members alike are also invited to participate in the foundation's monthly community workdays, currently happening the second Saturday of every Monday from 9 a.m. to noon. 
Planners can also work with the Waikoloa Dryland Forest Initiative, which helps rehabilitate native ecosystems, build trails, clear weeds, plant trees, collect native seeds and propagate plants that will grow into future forests. The Fairmont Orchid is partnering with this organization as part of its Mālama Hawaiʻi program. 
Last April during Meetings Today LIVE! Hawaiʻi, which was hosted at the Fairmont, attendees stayed onsite to learn about Waikoloa's work with dry forest conservation and restoration. They also helped plant wiliwili trees, an iconic native dry forest tree, and collected seeds to aid in future planting of native species like kolomona and the endangered Ma'o hau hele (a yellow hibiscus, which is Hawaiʻi's state flower). 
O'ahu 
The Hawaiʻi Land Trust, a statewide organization based in Honolulu, is a nonprofit and nationally accredited land trust that protects lands integral to Hawaiʻi's wellbeing and character. Volunteers help with restoration and conservation projects, including land stewardship.  
Papahana Kuaola is an organization that helps to preserve Hawaiian culture and native ecosystems through multi-faceted education programs. Lelekamanu, its outreach and service project division on Oʻahu, offers field trips to marine and terrestrial conservation areas and active restoration sites, where the organization partners with other community organizations on mālama ʻāina-based initiatives, and participates in native vegetation restoration projects throughout Hawaiʻi and the Pacific. 
In central O'ahu, groups can work with the Battleship Missouri Memorial to help restore one of the world's most famous battleships. The USS Missouri served through three wars and is best known as the site of the signing of the Formal Instrument of Surrender, marking the end of WWII.  
"Mighty Mo" can be found in Pearl Harbor overlooking her fallen sister ship, USS Arizona. Volunteers can view parts of the USS Missouri not open to the public, with opportunities that include cleaning, sanding, touch-up painting and helping preserve the decks of the ship. 
Read Next: The Latest Resort News for Your Next Meeting or Incentive in Hawaii (2021)