Meet the Chef Who's Turning the Fort Worth Convention Center Into a Dining Destination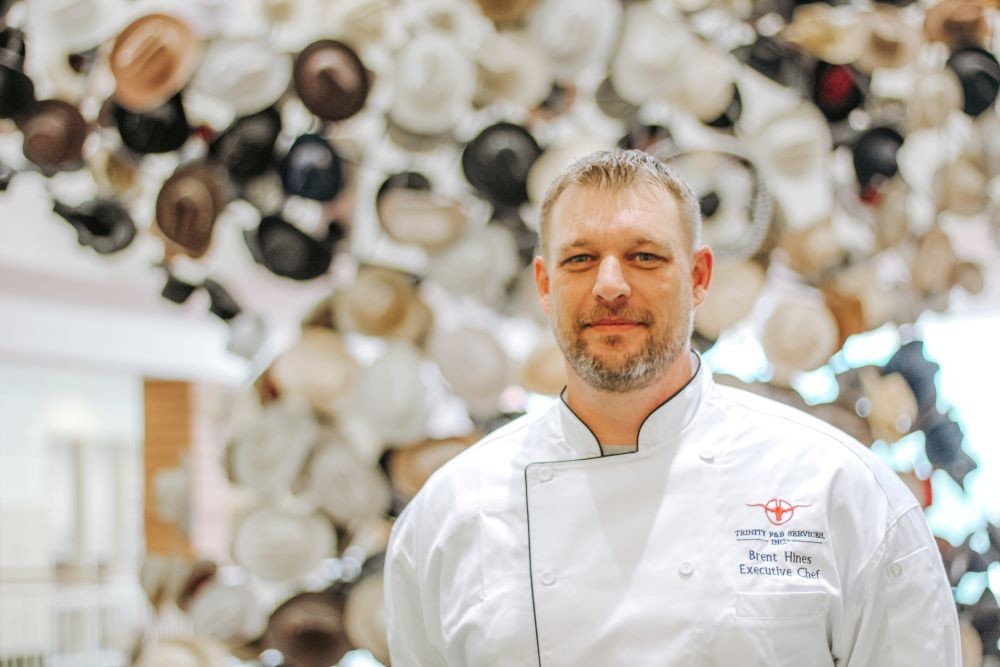 Executive Chef Brent Hines, Fort Worth Convention Center. Credit: Fort Worth Convention Center.
Exciting changes are afoot at the Fort Worth Convention Center. Not only is the venue slated for a $450 million phased expansion over the next five years, but last July, Executive Chef Brent Hines took the reins of the convention center's catering operations—positioning it to become a culinary destination in its own right.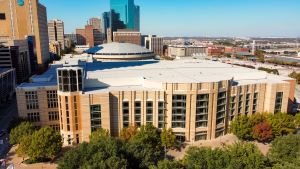 A veteran of fine-dining restaurants and hospitality giants like Gaylord and Benchmark, Hines thrives in the banquet environment, which allows for extensive preparation and poses exciting challenges.
"I wanted the challenge of bringing unique, chef-driven recipes to a convention center here in Fort Worth and helping rebuild Fort Worth," he said of the city's longtime struggle to have a contemporary convention center offering.
[Related: New Developments Abound in Fast-Growing Dallas-Fort Worth Metroplex]
Hines hails from the small town of Chico, Texas, where he grew up on an exotic game ranch for lease to deer hunters. His family harvested livestock, fish and game, as well as a two-acre garden. 
"It's in my blood to love food," Hines said. "My dad and grandmother would cook all the time, and we traveled a lot. So not only did we live on this farm, but my dad was an airline pilot, too, so we traveled all over the place. And as a kid, I would try [any food]—I wasn't afraid of anything. That all stuck with me."
Hines said the Caribbean became a big influence in his cooking, drawing him to tropical fruits like papaya, mango and pineapple. One of his most prominent memories of travel in his youth was in Germany and Austria, and trying different sausages. 
"The way they prepared their meats there was just incredible," he said.
Read Next: Charlotte's Young Chefs Are Catapulting Its Dining Scene
A Blank Canvas
Now in Fort Worth, Hines creates unique flavor combinations with those influences that include Caribbean, Italian, French, Asian, Mediterranean and of course Southwestern. Signature dishes include tenderloin bruschetta with arugula pesto and tomato jam; and grilled Texas watermelon with hydroponic mixed greens, local goat cheese and smoked blueberry dressing.
Hines sees cooking and constructing an amazing dish as an art form. He enjoys working on custom menus with groups. At the time of our conversation, he was working on a menu of high-end canapés for one group.
Last November, the Certified Angus Beef Convention came to town and required the entire menu to comprise certified Angus beef—"no chicken, no fish," Hines quipped.
Beginning in 2023, the Fort Worth Convention Center will begin construction on its massive expansion, which will include a new, state-of-the-art catering kitchen. This will give the venue the ability to serve larger events and shows with 5,000 to 10,000 people in attendance. 
"One of the things I want to focus on is not only bringing good quality food to groups, but our footprint that we have here with food waste," Hines said. "I try to utilize as much of the vegetable, plant, protein as there is in some way. I think it's very important for us to think about our future and our kids who are going to be here a lot longer than us. What can we do to impact that now?" 
Discover More Top Chefs!
Grilled Beef Bruschetta with Tomato Confit and Arugula Pesto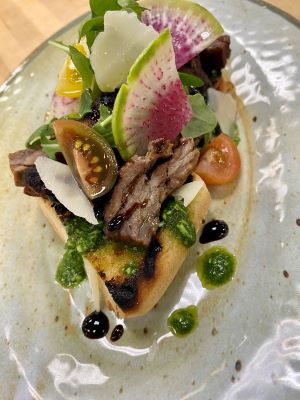 With spring around the corner, this recipe is great for backyard entertaining—a simple yet elegant way to impress your friends and your taste buds. Enjoy this award-winning recipe from Chef Brent's personal cookbook.      
Grilled Beef: 
6 oz. fresh beef tenderloin 
Gently season beef with sea salt and cracked black pepper. Grill to desired doneness. Let the beef rest and slice into strips.  
Tomato Confit: 
3 Roma tomatoes, de-seeded and small diced 
1 tsp. granulated sugar  
½ cup herb balsamic vinaigrette 
Combine tomatoes, sugar and vinaigrette in sauce pot. Simmer for 30 minutes. Drain tomatoes and reserve balsamic oil.  
Toasted Baguette: 
1 fresh French baguette loaf 
1 tbsp. extra virgin olive oil 
Pinch of Sea Salt 
Slice Baguette on a bias every 2 inches. Coat baguette with sea salt and olive oil. Place on grill, turning often to crisp outside and slightly warm inside.  
Arugula Pesto: 
1 cup fresh basil (packed) 
1 cup baby arugula (packed) 
2 cups salad oil 
¼ cup fresh grated parmesan 
1 tsp. lemon juice 
1 garlic clove 
Salt and pepper to taste 
Using a blender, place oil in first. Then add remaining ingredients. Blend until smooth.  
Plate Up: 
Place one teaspoon of basil pesto on crostini and spread evenly. Top pesto with tomato confit and slices of tenderloin. Garnish with a drizzle of balsamic reduction, reserved vinaigrette oil, fresh heirloom tomatoes, watermelon radish and shaved parmesan cheese.
Try More Top Chefs Recipes!