New Developments Abound in Fast-Growing Dallas-Fort Worth Metroplex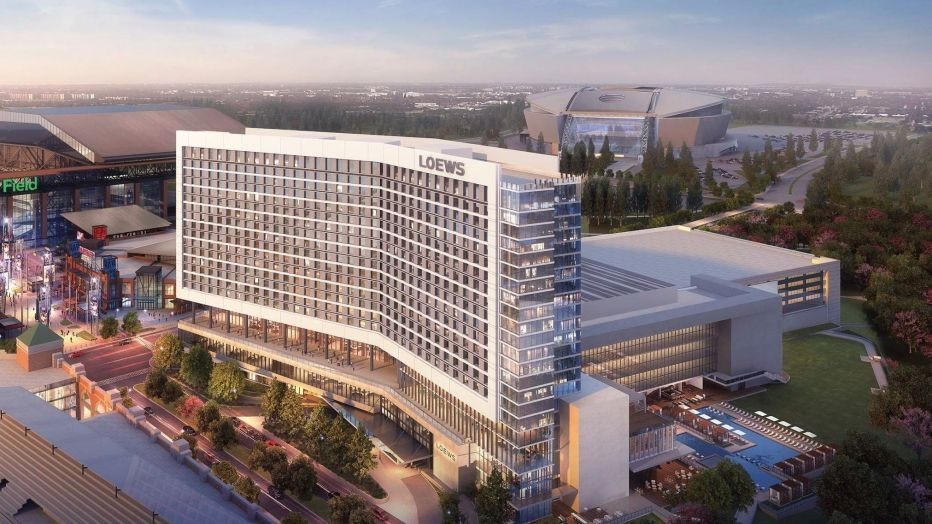 Rendering of Loews Arlington Hotel
The Dallas-Fort Worth Metroplex is home to some of the fastest-growing cities in America, which means more hotel and event space options for planners, plus a host of new attractions to help attendees get a real feel for the Texan life. 
To help you keep up with all of the new projects, we distilled the most noteworthy new openings and developments enhancing the DFW area.
Dallas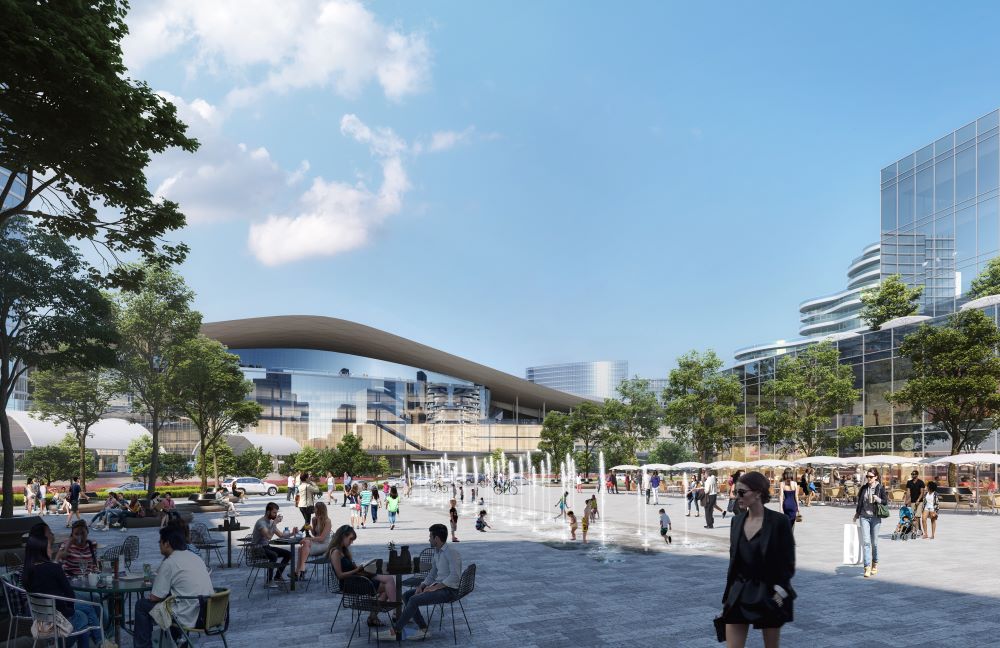 Dallas continues to stride forward, leading the North Texas metro into the next phase of hospitality. Currently, 147 hotel construction projects with more than 17,700 new rooms are in the pipeline, according to a new report by Lodging Econometrics—and matches Atlanta as the U.S.'s top hotel building market.
To VisitDallas CEO Craig Davis, this explosion of development is just another day in Texas' largest city, where entrepreneurial spirit thrives and expansion is constant. "The fact is that we are such a business-friendly city. We have this culture of continuing to build and not stop," he said.
Meeting planners can expect progress on many of these projects within the next year. In the third quarter of 2021, Dallas had 18 projects totaling 1,756 rooms in the works, and another 48 Dallas-area hotels with 5,643 rooms are scheduled to break ground in the next 12 months.
Most notably, Dallas city council has approved plans for a new 2.5-million-square-foot convention center located adjacent to the current Kay Bailey Hutchison Convention Center Dallas. The new center will feature 800,000 square feet of exhibit space and 400,000 square feet of breakout space, including a 100,000-square-foot ballroom. Construction on the $2 billion center is expected to begin in 2024 with completion in 2028.
"This news is a game-changer for Dallas and will put our city on the map as the preeminent large-city convention and meeting destination in the nation," Davis said. "The center will be the anchor for a lively new Convention Center District that will excite convention goers and revitalize southern Downtown Dallas, making it a place for locals to enjoy alongside our convention attendees."
More especially exciting news for the meetings market is the addition of three luxury products that will elevate Dallas' corporate allure:
JW Marriott Dallas: This 15-story hotel is scheduled to open in February 2022 in the heart of Dallas' Downtown Arts District. The 283-room hotel is set to feature a 25,000-square-foot grand ballroom and meeting space, spa, restaurant, lobby bar, fitness center and a rooftop pool deck and bar. 
InterContinental Dallas: Also coming in 2022, InterContinental Hotels & Resorts will return to Dallas at Cityplace Tower in Uptown, featuring panoramic views of the Dallas skyline. Guests will enjoy spacious, high-end rooms and amenities, including a rooftop infinity pool and lounge and over 21,000 square feet of event space. 
Four Seasons Dallas: More luxe is on the way to the Dallas area in 2025 with the introduction of the city's first Four Seasons. The property is slated to bring a 250-room resort-style hotel to Dallas' Turtle Creek neighborhood, situated between Uptown and Highland Park. The high rise, which will include residential units, will occupy one of the last undeveloped properties along Turtle Creek.
Planners can also look forward to booking events at recently opened hotels: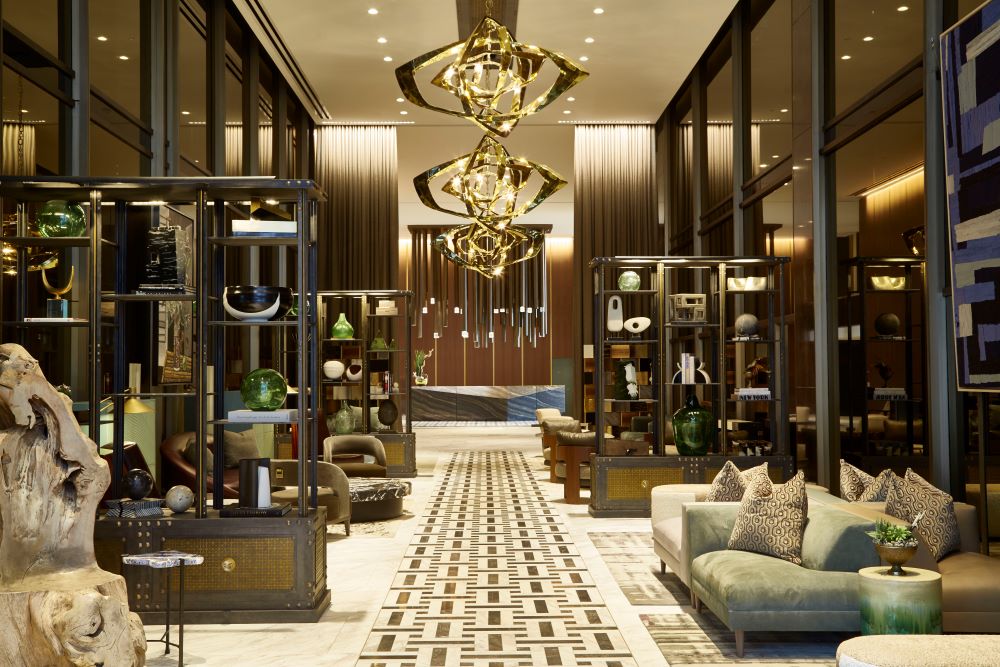 The Kimpton Pittman Hotel: Housed in historic 1916 building originally designed by Dallas' first African American architect, restoration has returned this hotel and famed fourth-floor ballroom to its original Beaux Arts glory in the Deep Ellum neighborhood.
The Thompson Dallas: This new entrant to downtown includes 219 rooms, 14,000 square feet of ballroom space, four restaurants and two acres of outdoor terrace space. 
Marriott Dallas Uptown: This 255-guest room, contemporary hotel is in the trendy Uptown neighborhood, boasting six event venues and a unique 14th-floor rooftop event space with 360-degree views of Dallas.
In conjunction with the hotel boom in Dallas, new multi-purpose districts elevate the convention experience in town. Most notable is downtown's AT&T Discovery District, which opened in June 2021, as a public gathering place for conventioneers and local employees complete with green space and creative high-tech features.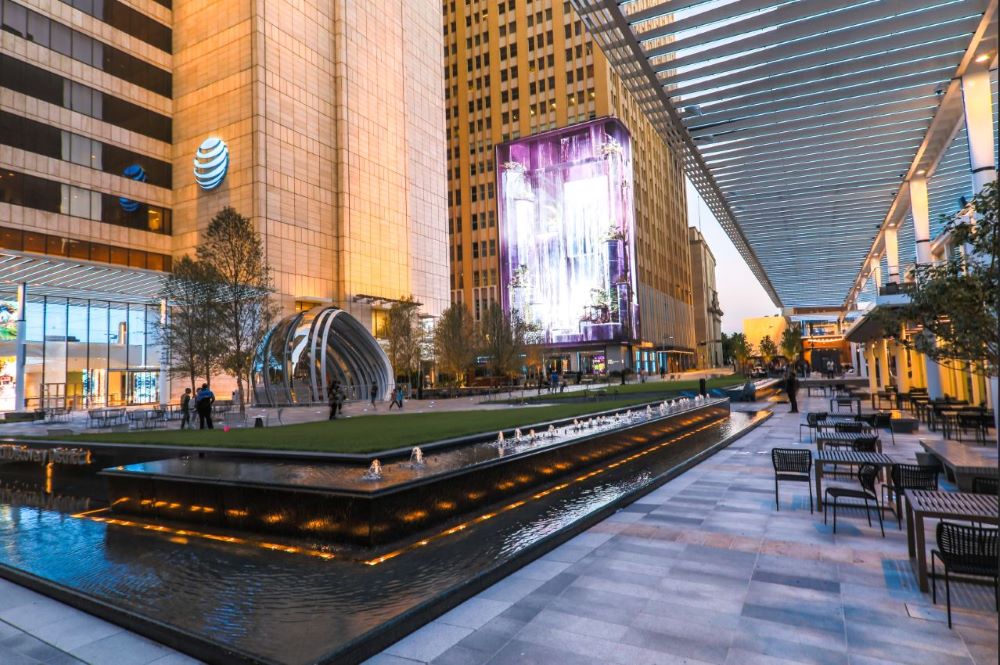 "It's a really incredible district that's walking distance from the convention center and it includes restaurants and a 104-foot media wall," Davis noted. 
The AT&T Theater at the district is fit for advanced screenings or corporate meetings; and multiple dining outlets including JAXON Beer Garden and a forthcoming food hall provide casual networking spaces post-meetings. The entire area has 5G and free Wi-Fi.
For impressive offsite events and experiences, planners should also check out Echo Lounge & Music Hall, the newest entrant to Dallas' Design District. The 1,000-person capacity concert venue sits next to the Mavericks training facility and features an immersive sound system, a concert hall with an open floor surrounded by sound-enhanced walls and floors, and luminescent lighting that changes throughout the evening. The facility also has an outdoor patio, which can host up to 125 for private events.
[Related: These Texas Brands Add Authentic Flavor to Group Agendas]
Fort Worth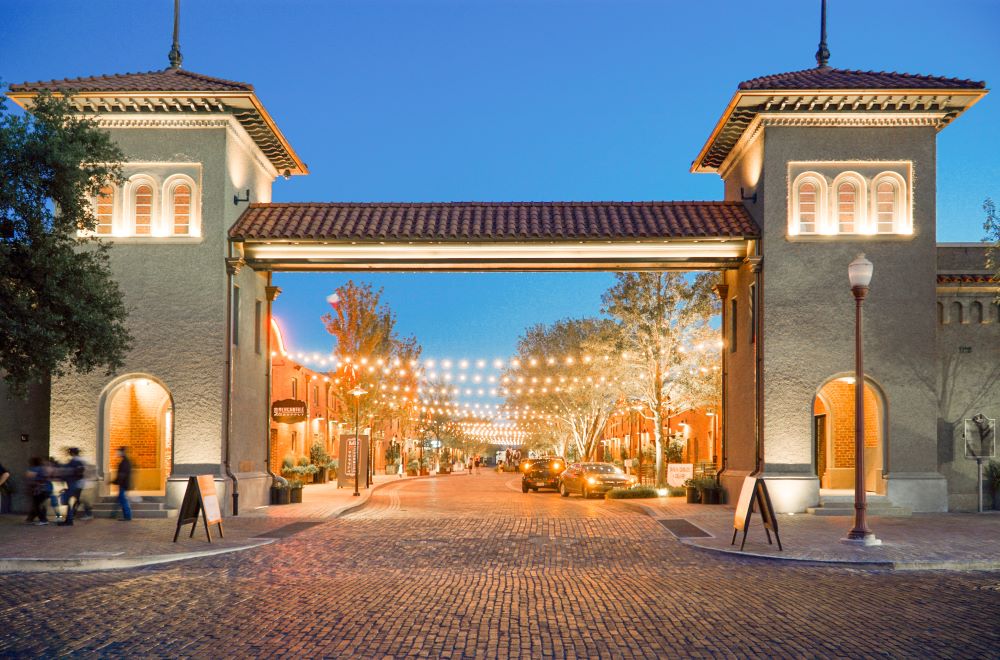 Now the 12th-largest city in the nation, the rapidly expanding Fort Worth continues to innovate, but while it grows, its convention space and walkability don't rank in the nation's top 25 in size, according to Visit Fort Worth. To address this, a 100,000-square-foot expansion of the convention center is forthcoming, along with other enhancements that the CVB expects to double the number of annual events.
The Fort Worth City Council recently approved the use of $52 million of COVID-19 federal relief money to fund the expansion of the five-decade-old convention center. Phase 1 of the project will begin in 2022, including a new, state-of-the-art kitchen and demolishing the underused annex. In Phase 2, tentatively scheduled for 2026, the outdated arena will be replaced with a ballroom and flexible space.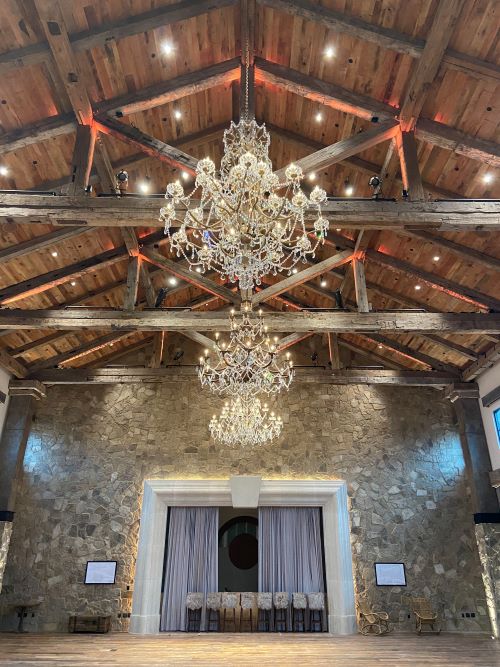 More enhancements will happen across the street from the convention center, where Texas A&M University announced a $350 million expansion of its nationally ranked law school to include Tier 1 research facilities, alongside a new Education Alliance Building, which would host conferences and house university courses. 
New hotel inventory comes to Fort Worth too, with the roughly 4,000 rooms surrounding the convention center all being new or renovated by 2022. 
The Stockyards National Historic District—a popular attraction in town—also has received a facelift that will enhance the experience for groups in the area with the addition of the 200-room Hotel Drover, a Marriott Autograph Collection hotel with 40,000 square feet of unique indoor and outdoor event space. The property—which opened in 2021—anchors the Stockyards Heritage Development Co.'s multi-million-dollar renovation of historic Mule Alley in the Fort Worth Stockyards which includes shops, eateries, creative workplaces and live entertainment venues.
[Related: Iconic Texas Filming Destinations That Add Box Office Appeal to Meetings]
Arlington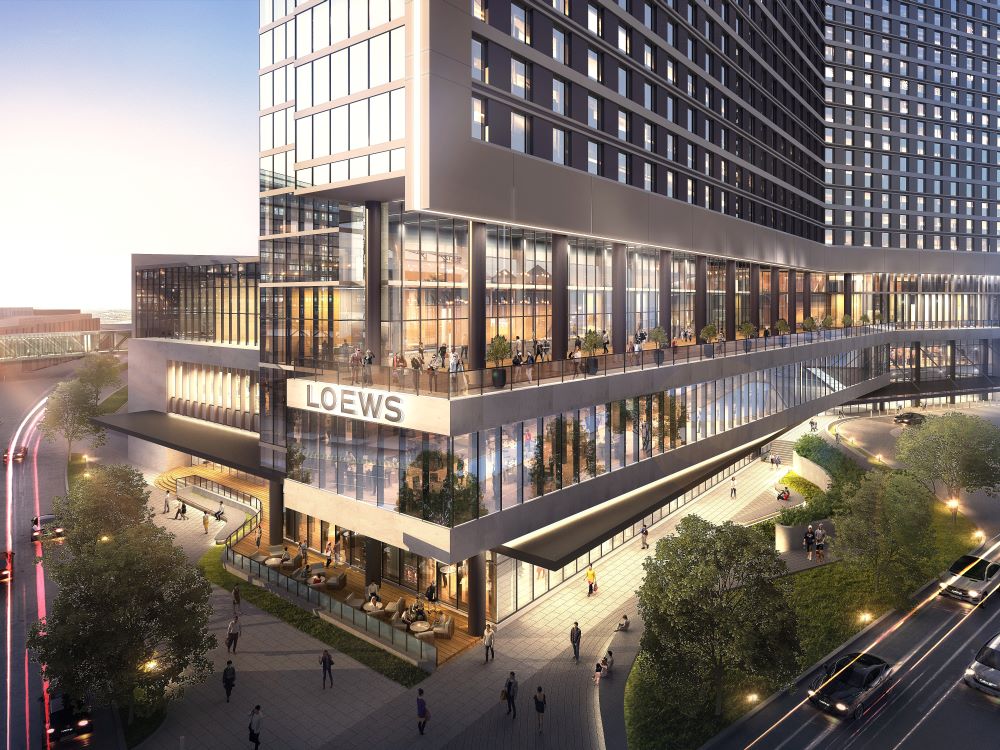 Big news is afoot for conventions in Arlington. An $810 million expansion of Arlington's Convention Campus is underway, which will include a host of exciting new developments for meetings and events, including:
A new convention center, which will provide 216,000 square feet of indoor and outdoor meeting space.
An 888-room, $550 million Loews Arlington Hotel, which broke ground in October 2021. The hotel will be connected to the new convention center via skybridge.
A mixed-use residential building with 280 units and 100,000 square feet of retail, entertainment and coworking space.
A planned 200,000-square-foot corporate office headquarters in the Arlington Entertainment District.
A public parking garage providing an additional 1,900 spaces.
"The new convention center plus Loews Arlington Hotel is a game changer," said Chad Enloe, vice president, sales for the Arlington Convention & Visitors Bureau. "Our existing world-class sports and entertainment venues will now be complimented by incredible hotel and meeting facilities that will attract national events of all kinds. We are already a leading destination for meetings and events and this new development will further strengthen Arlington's robust convention opportunities."
Recent sports and entertainment venues that have elevated Arlington's profile are Globe Life Field—home of the Texas Rangers—which is a part of the recent Texas Live! entertainment complex, which provides unique entertainment venues, restaurants and retail options for events and post-meeting nightlife. 
Plano
One of Plano's most popular and versatile venues—Plano Event Center—is getting a $1.85 million facelift starting in Q2 of 2022. The event center's courtyard will receive a complete renovation; hardscape paving, site lighting, site furniture, shade structures, fireplace, audio/visual equipment and connections, utility adjustments, new fencing and entry gates, landscape planting beds, tree plantings, and reconfiguration of the irrigation system will all be completed over the course of 9-12 months.
"The renovation project will also significantly expand upon programmable and rentable spaces for outdoor events by providing extensive shaded areas and expanded hardscape to accommodate receptions, impromptu meeting spaces and live entertainment," added Millerann Moya, senior marketing manager for Visit Plano. 
"The fireplace area will draw patrons out to enjoy cocktails and tapas while listening to live or recorded music from the wireless sound system located throughout the courtyard area," Moya continued. "The games section will capitalize on the large outdoor game trend for lawn chess or outdoor tic tac toe. There will be a stage area for performance artists or musical groups and plenty of outdoor seating with tables for al fresco dining provided courtesy of the Plano Event Center culinary team."
Moya added that with the demand for flexible outdoor spaces for networking breaks, weddings, breakout sessions and other special events, the courtyard renovation will significantly help the venue meet planner's needs moving forward.
Irving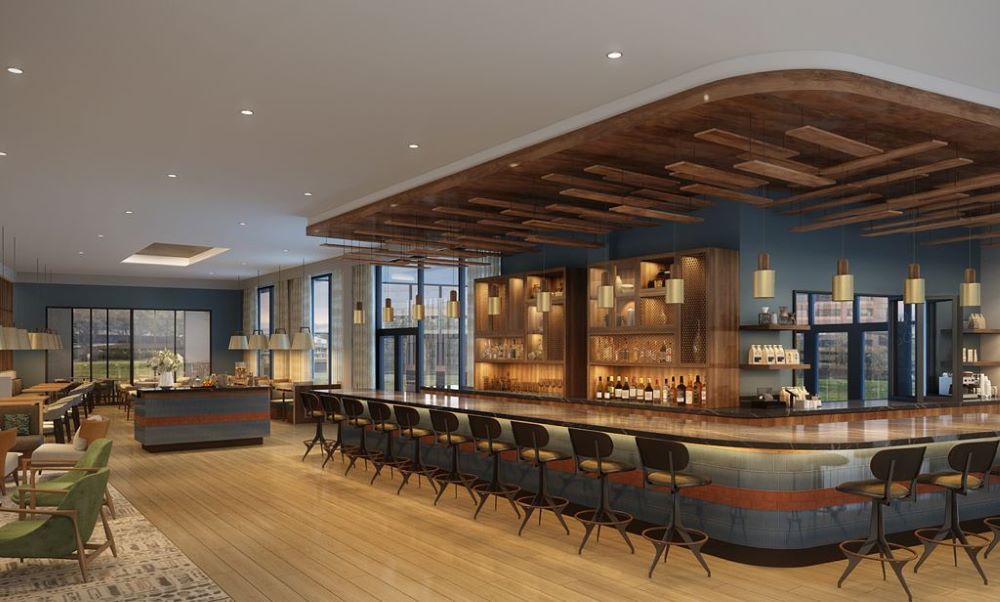 While not nearly as large as its northwest neighbor Dallas, Irving too is growing quickly, while still maintaining the smaller city charm that sets it apart from its Metroplex counterparts. 
"With a beautiful lake and Venetian-like waterways throughout the city's walkable visitors district, Irving is a convention city with character," said Diana Pfaff, VP of marketing and communications for Visit Irving Texas.
Pfaff said that the city's entertainment district, in particular, holds many attractions for conventioneers. "The district provides walkable entertainment options at the Toyota Music Factory, Water Street and the Mandalay Canal." 
"And we are the most conveniently located to DFW Airport," she continued. "We're easily accessible and affordable, but still offer all the bells and whistles."
Less than five minutes from Irving Convention Center at Las Colinas, a string of new hotels are planned:
Element by Westin Las Colinas: Opening this February, Irving's Las Colinas will soon welcome this new, 12-story, upscale extended stay hotel. The property has 159 suites that include kitchenettes. The hotel is perfect for small groups needing extended-stay accommodations with 2,277 square feet of event space with two breakout rooms. 
Hotel Indigo: Groundbreaking on this new boutique hotel in Las Colinas began in August 2021. Upon completion in 2023, the Hotel Indigo by IHG will feature a six-story tower, 150 rooms with canal views, and a 90-seat, full-service restaurant and bar. The design includes 3,300 square feet of meeting space, an infinity edge swimming pool, fitness center and 155 surface parking spaces.
TEMPO by Hilton: Located in the heart of Las Colinas' robust corporate and entertainment district, this 138-room hotel opening in 2024 will have more than 2,500 square feet of meeting space and a large outdoor patio perfect for evening social gatherings.
In addition to hotels, a new a $2.8 million project along Lake Carolyn opened in 2020 on the southwest corner of Lake Carolyn in the Urban Center. Levy Plaza, a new outdoor venue option, was purchased by the city in June 2018 in anticipation of a dedicated location for the City of Irving Special Events festivities.
Pfaff noted that Heritage Park is also undergoing renovations. The open space at this 32-year-old park in South Irving will be reconfigured for concerts, featuring a permanent stage with a large video screen and speaker system. There will also be parking for food trucks, new public restrooms and a fountain feature with dancing water jets. The $6.5 million construction project adds another post-meeting option or special event space for groups.
With all the new development plus the convention center's unique design that includes outdoor meeting spaces with waterfront views, paired with many more fresh-air plazas, patios and more, Pffaf believes Irving can offer much of what planners and groups crave for meetings right now. 
"With pent-up demand for travel, attendees will be thrilled to learn that Irving is an ideal 'bleisure' destination," she added. "With resort-style hotels, spas, outdoor recreation and water activities, Irving provides customizable and unique experiences for spouses and families that want to tag along or join for the weekend."
Connect
Arlington CVB
(800) 433-5374
VisitDallas
(214) 571-1000
Visit Fort Worth
(800) 433-5747
Visit Irving Texas
(972) 252-7476
Visit Plano
(800) 817-5266
Read this next: Iconic Foods of Austin and Texas Hill Country—And Where Groups Can Try Them