Raleigh Is Booming, and Its Event Venues Are Meeting the Challenge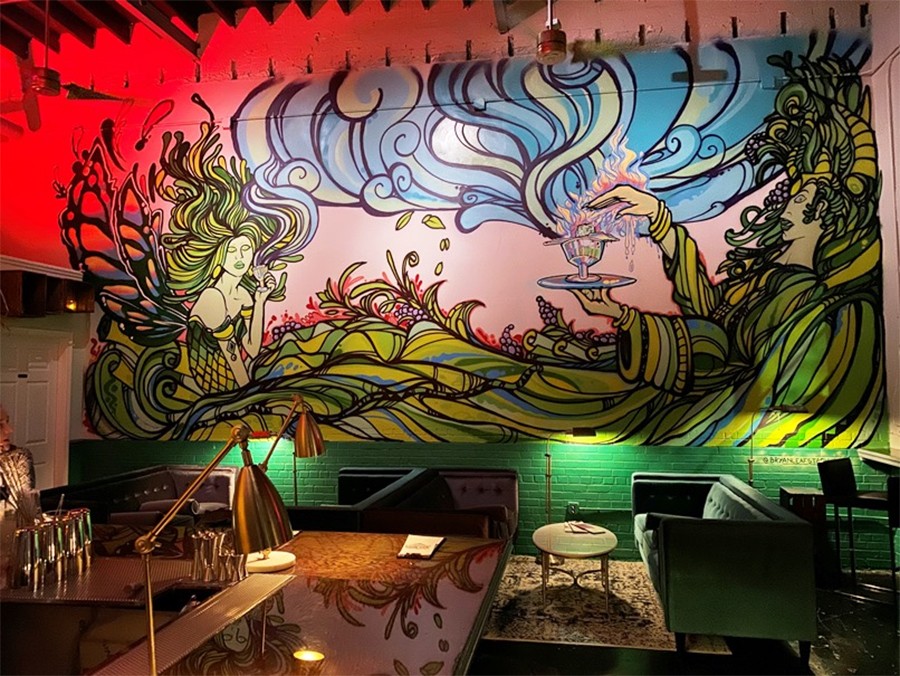 Aunt Betty's Gin & Absinthe Bar
Raleigh, North Carolina, and its fellow Research Triangle (RT) cities are experiencing a boom that is attracting young tech workers and others to a region that is already flush with top universities and leading health and life sciences companies and organizations. 
Google recently announced it would build a new engineering hub in the Triangle, and Apple followed suit by selecting the RT for a new $1 billion technology campus. According to the North Carolina Technology Association, tech job openings in North Carolina hit a new high in February 2022, up a stunning 52% from 2021 numbers, with Research Triangle cities Raleigh, Cary, Durham and Chapel Hill contributing more than 19,000 of the nearly 48,000 statewide total. 
As it's common knowledge that young tech workers are a thirsty lot, convention-focused cities such as Raleigh are flush with dining and drinking establishments that cater to a demographic mirroring a youthful surge in corporate America. 
[Related: Raleigh's Live Music Scene Is On Fire]
"We're definitely seeing a younger clientele with these larger companies," said Miriam Black, special events coordinator with Hibernian Hospitality, which operates nine buildings—the majority of which are in Raleigh—that often contain multiple venues that can be used for offsite events. "Breweries—craft beer, craft cocktails, good music and good food—are huge in North Carolina in general, and with that age especially. People just want to find the newest place, and I think a lot that has a lot to do with social media, Instagram and being able to post." 
Following are select examples of Raleigh offsite venues for groups that are geared toward the RT's exploding youth and tech culture. 
Billing itself as offering "the world's largest selection of draft beers available in one restaurant"—402, but who's counting—and with a capacity for up to 2,000, Raleigh Beer Garden offers multiple areas for events. Inside can hold up to 300 and its outside patio can accommodate an additional 150. The venue's small rooftop is geared for intimate gatherings of 50-60 and its Event Field at The Beer Garden is a surefire attendee hit as it's filled with picnic tables, additional decks and bars, fire pits and a variety of games, and can accommodate groups of up to 1,500 guests. 
With the vast number of beers and settings available, it could be a challenge for guests to make a decision, as the venue offers a North Carolina beer floor, International beer floor, rooftop bar, Spiritual cocktail lounge and a back beer garden.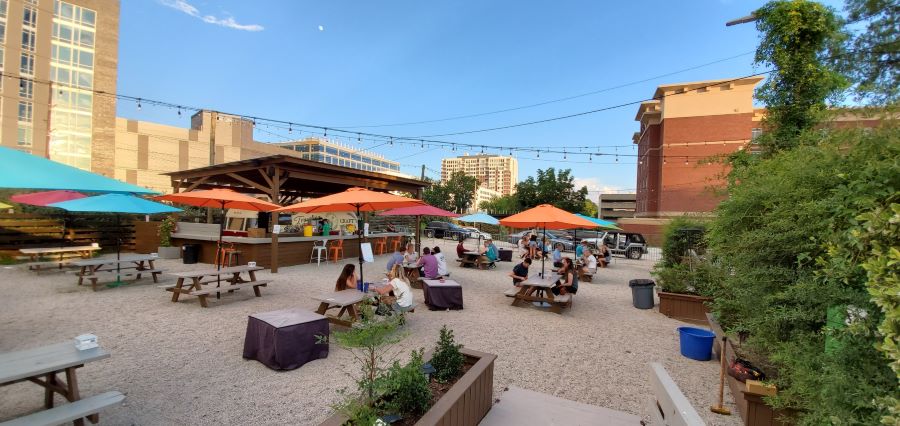 Morgan Street Food Hall, located in Raleigh's Warehouse District, boasts more than 20 food and beverage vendors in more than 22,000 square feet, offering communal picnic tables that can accommodate up to 550 guests. Other features include a large indoor/outdoor bar in the middle of the action, as well as a covered outdoor patio that can hold up to 150. 
The attached Aunt Betty's Gin & Absinthe Bar, which can hold up to 40 guests, may be the most eclectic in town, slinging "extreme craft cocktails" and festooned with absinthe-inspired paintings and velvet seating.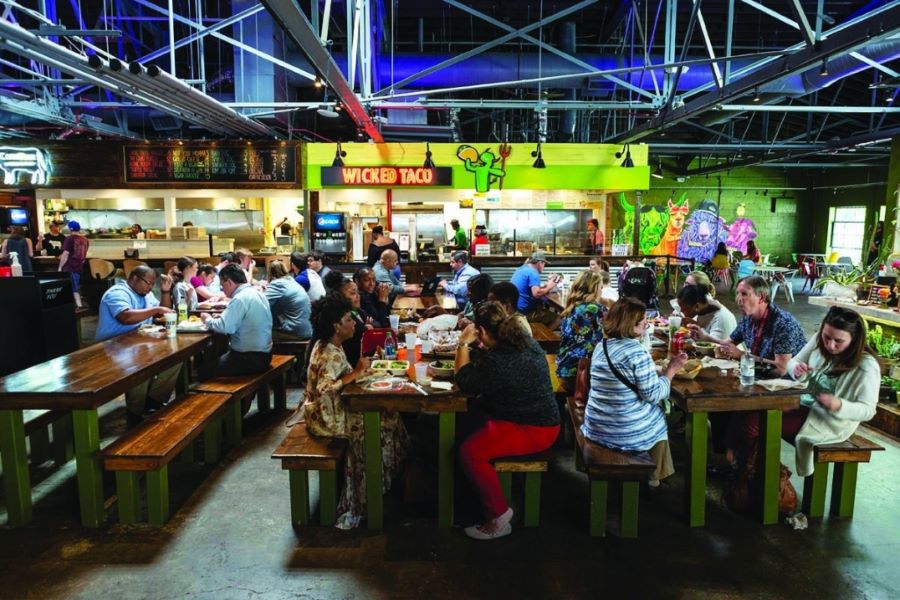 This three-story space was revamped in 2021. The first-floor Botanical Lounge, with a 33-foot main bar and a second, 20-foot bar on the patio, offers velvet couches and is filled with live greenery. The Lounge can hold up to 220 guests (140 indoor, with accordion-style doors opening to front and side patios). 
The second-floor Sage Room offers a large dance floor with a state-of-the-art sound and lighting system while the top-floor Highgarden rooftop lounge boasts lounge seating, fire pits and a panoramic view of the downtown Raleigh skyline. 
A complete buyout of the entire building can accommodate 900 and features a chef's kitchen for food served throughout.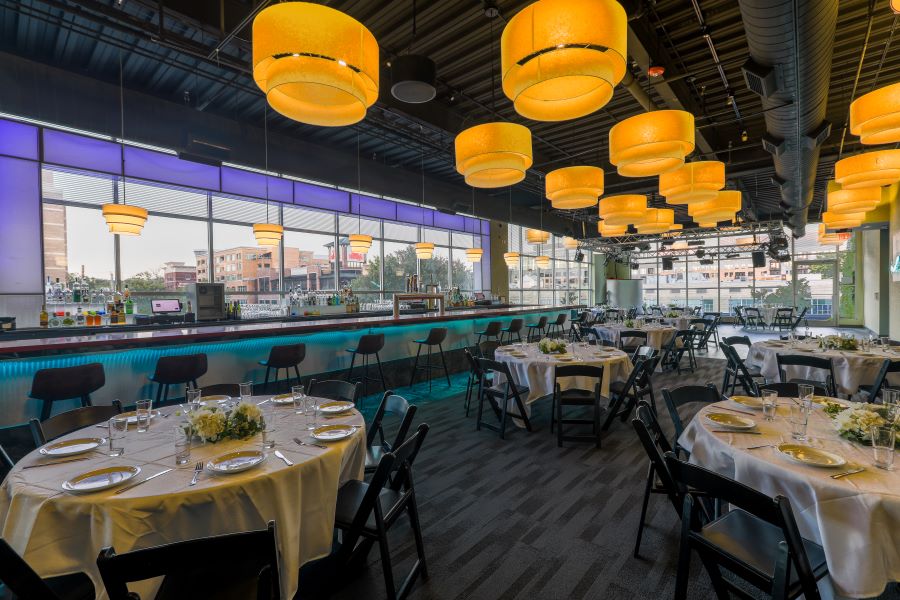 Styled as a 1920s speakeasy, this "underground" venue can be broken up into three bars and also features one of the few outdoor courtyard spaces in downtown Raleigh. Filled with comfy leather seating, the entire venue can hold up to 300, with an additional 80 in the courtyard. With its dimmed lighting, rich wood interiors and walls filled with books, Watts & Ward is an elegant option.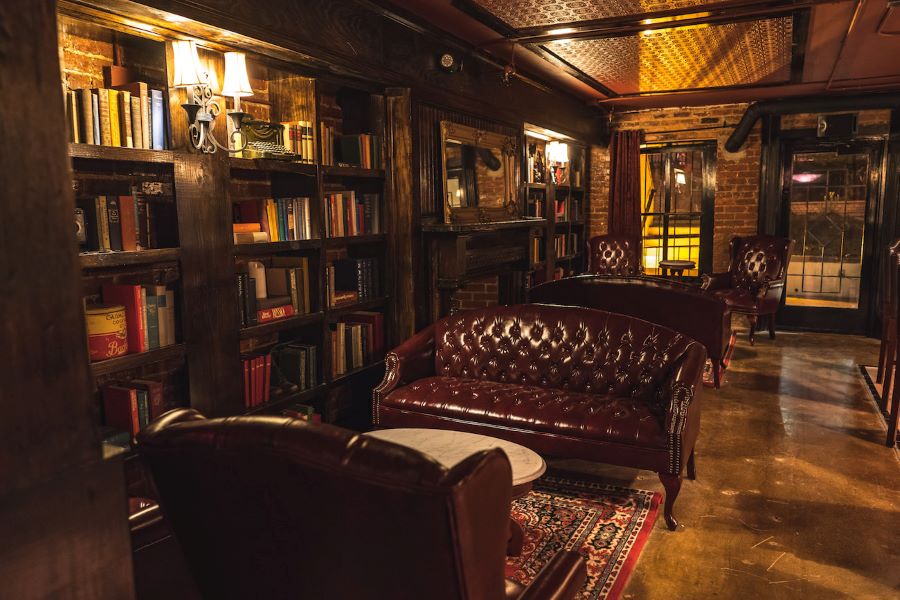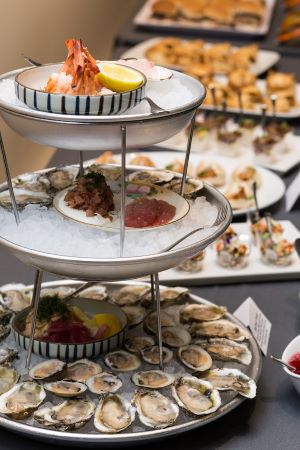 Located in the historic Carolina Coach Garage and Shop in downtown Raleigh's historic Olde East neighborhood, this 50,000-square-foot hall and market contains production space, and restaurant and retail counters from myriad vendors.
Tenants include Locals Oyster Bar, Benchwarmers Bagels, Che Empanadas, Dank Burrito, Captain Cookie and the Milkman and Burial Beer Co.  
The following individual spaces are available for event rental:
The Lift Bay, accommodating up to 40; The Loft, for up to 49
The Courtyard, for up to 500 guests
The Ballroom, which can accommodate anything from a five-person luncheon to a 300-person concert, all with full catering access to the food hall and different restaurants. 
Located atop Marriott's sophisticated AC Hotel Raleigh Downtown, which opened in late September 2021, The Willard Rooftop features a refined bar and outdoor terrace experience on the seventh floor of the 146-room property, allowing for stunning panoramic views of the city. The venue can host social events in seven spaces in 10,000 square feet of space, with the largest space able to accommodate 250. It also offers five meeting rooms in 2,120 square feet of space that can accommodate 126, including a ballroom that can seat 114 classroom style. The venue's talented mixologists craft a spectacular array of craft cocktails, with one recent special event featuring a partnership with the North Carolina Museum of Art to create cocktails inspired by the museum's collection.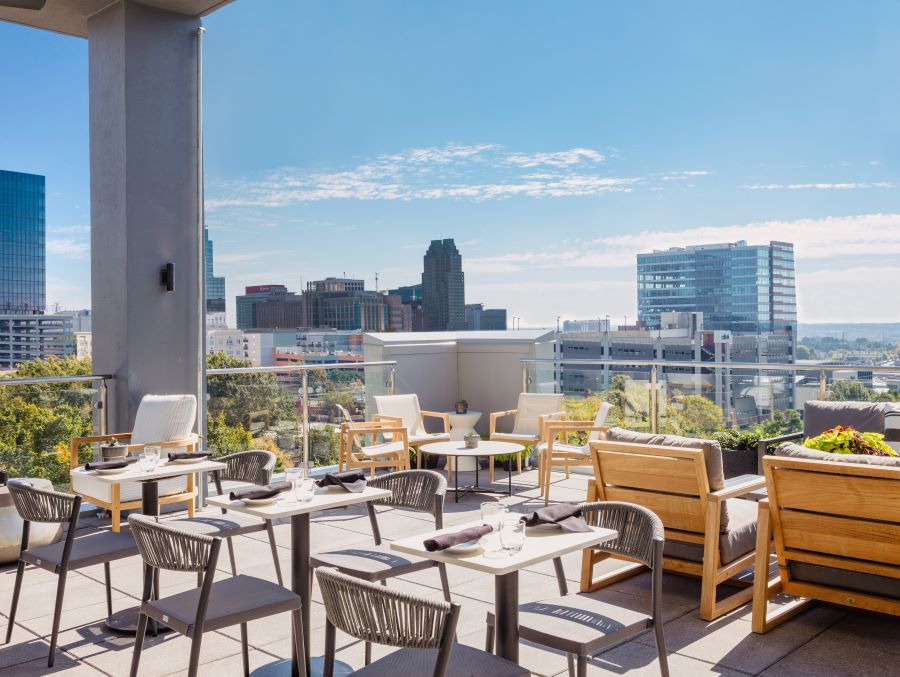 Related: How Visit Raleigh Stepped Up Its Services for Planners During COVID-19