Detroit's Innovation and Creativity Bring in New Meetings Business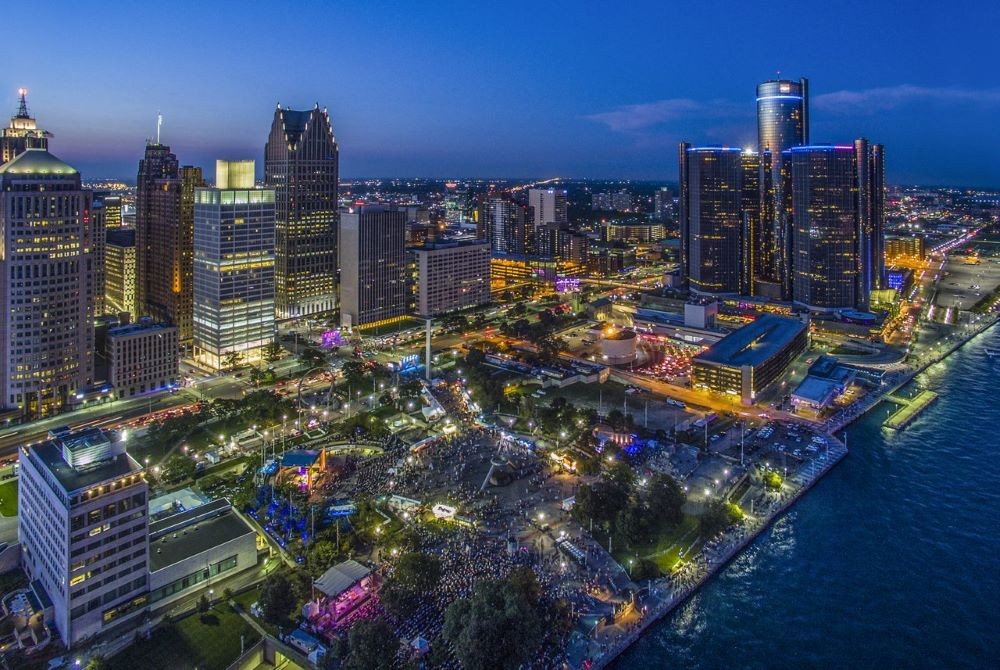 Detroit skyline. Credit: Visit Detroit/Vito Palmisano
The spirit of innovation and creativity is alive and well in Detroit, as evidenced by the hundreds of new meetings, sporting events and conventions that choose to make Detroit their destination spot and the millions of dollars in direct spending as a result. 
"When somebody comes in to host a meeting in Detroit, whether it's at Huntington Place, our largest convention center, or the Suburban [Collection] Showplace in Novi, or at the Henry Ford, or at a hotel or meeting space throughout the region, what they're going to find is this homage and this inspiration that is drawn from our long history of innovation and creativity," said Chris Moyer, senior director of communications at Visit Detroit. 
"The narrative is catching up to the reality," he said. 
Moyer said that for many people, Detroit has a reputation rooted in the decline that took place over many generations.  
"The reputation of the abandoned city, the reputation of the downtrodden city, the reputation of a city that's down on its luck is just not accurate and has not been accurate for the entirety of the 21st century," Moyer explained. "Detroit has accelerated to the point that it's no longer a comeback—we're back." 
Why Detroit?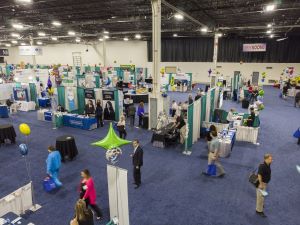 Long known for its automotive history, Detroit has been a favorite destination for events that focus on manufacturing, automotive and mobility—but it also has a few surprises up its sleeve.  
"We have a burgeoning fashion and apparel industry," Moyer said, also noting the city's growing financial tech sector and healthcare industry. "Detroit is strong in the diversity of industry sectors."  
Automate, North America's largest showcase automation tradeshow, made waves when it decided to pull up stakes in Chicago and rehome in Detroit in 2021, choosing Huntington Place as its meeting destination and drawing nearly 8,000 people with it. 
"To continue our rapid growth, and better meet the needs of our exhibitors who look to Automate to reach new potential customers, we've decided that now is the right time to move Automate to its own location, and Detroit is an ideal fit," said Jeff Burnstein, president of the Association for Advancing Automation (A3), the show's organizer, in a 2019 interview with DBusiness magazine. 
"Detroit is turning into the next major technology hub in the United States," he continued. "This is an exciting change for us and our exhibitors, allowing Automate to expand in size and technology scope as the automation industry continues its steady growth." 
[Related: Meet in Detroit and Meet Detroit]
New Developments 
True to its reputation for creativity and innovation, greater Detroit has been adding restaurant and hotel capacity, and the next two years will see a significant increase in hotels, according to Moyer.  
In Corktown, a new boutique property, the Godfrey Hotel, will be built on the former site of the Detroit Lions and City Cab Co. offices. Offering seven floors of guest rooms, as well as a chef-driven restaurant, ballroom and what developers are claiming will be Detroit's biggest rooftop bar and lounge, its opening is expected in 2023. 
Roost Apartment Hotel is an extended-stay apartment hotel being developed in the Book Building and Tower, one of the tallest and most historic skyscrapers in Detroit. The hotel will feature 118 apartments of studio, one- and two-bedroom configurations, and will span four of the Book Tower's 38 floors. Opening is expected in December 2022. 
The 158-room Cambria Hotel at the Ashley is located only three blocks from the Detroit riverfront and Huntington Place. Guests can park in the attached parking garage, enjoy a relaxing courtyard garden, rooftop bar and shopping spaces, as well as 18,000 square feet of event space. Opening is expected for summer 2022. 
Renovated Venues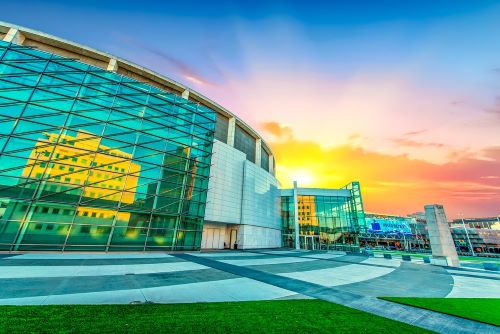 Drawing on inspiration from the past are several works-in-progress that history lovers and meeting planners alike will appreciate.  
The Michigan Central Train Station, a multi-story building built in the 1920s with breathtaking architecture that sat abandoned for several years before being purchased by the Ford Motor Company, is now in the final phase of construction. It will be part of "Michigan Central," a 30-acre mobility innovation district that will include the Book Depository and other buildings. It will house hotel, office and retail meeting space.  
Other plans for the district include 1.2 million square feet of commercial space, as well as walkable spaces accessible and open to the public. The district is also set to be powered by 100% renewable energy sources, and completion is expected in early 2023. 
The historical Hudson's Site, which was previously home to the J.L. Hudson department store (built in 1891) before being demolished in 1998, has plans for a 49-story, 680-foot-tall building with 1.5 million square feet of mixed-use space. This will include dining, residential, office, retail, hotel, event and parking spaces. Full completion is expected in 2024. 
[Related: Historic Event Venues in Detroit: 6 Spaces That Mix Storied Pasts With Modern Amenities]
Inside and Outside: Amenities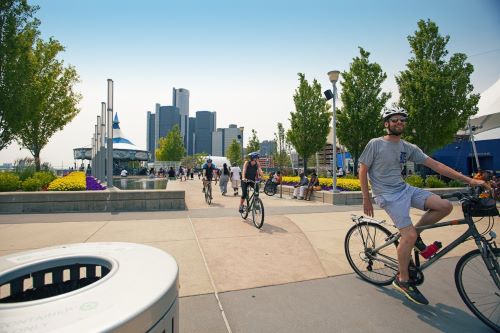 Moyer says when it comes to amenities, Detroit has everything meeting planners could need when it comes to hospitality, services and technology requirements. 
Huntington Place, Detroit's largest convention center, boasts a striking river view from downtown and contains 2.4 million square feet with five exhibit halls, 80 meeting rooms and eight banquet rooms.  
The Suburban Collection Showplace has nearly 100,000 square feet of ballroom/banquet/meeting space, 36 meeting rooms, more than 300,000 square feet of multipurpose exhibit floor/flexible event spaces and 39,000 square feet of prefunction lobby space. It adjoins Hyatt Place hotel with 126 rooms. 
For outdoor enthusiasts, the Detroit RiverWalk was named the country's best river walk by USA Today in its 2021 10 Best Readers' Choice Awards contest. Attracting 3.5 million people annually, it has plans to connect its far eastern side to that of Belle Isle, a 982-acre city park in the middle of the Detroit River with gorgeous views of Canada.  
"It's a great place for meeting and convention goers to just get outside relax, go for a walk, go for a run, go for a bike ride," Moyer said. "We have a tremendous amount of natural beauty, and then architectural beauty as well."  
[Related: 5 Must-Try Detroit Restaurants During Your Next Meeting]
Moving Forward Safely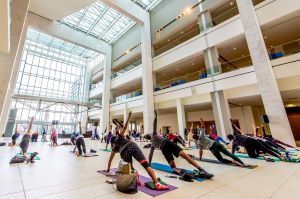 During the pandemic, Detroit joined the Michigan State Meetings Coalition to put protocols in place in order to mitigate the spread of COVID-19.  
"We want people to feel safe and confident returning to in-person gatherings," Moyer said. "Human beings need to be together to collaborate on great ideas, to share best practices, to continue the process of the next generation of innovation. And our meeting spaces have gone all out to make sure that attendees are able to do that seamlessly and safely." 
Detroit Metro Convention & Visitors Bureau (DMCVB) established an initiative called "Go Safely," created to ensure visitors that the city is committed to their well-being. Members of DMCVB are asked to take the Go Safely pledge or receive GBAC STAR accreditation, which promises to put safety protocols in place to mitigate the spread of COVID-19. Some of the protocols include wearing a mask, practicing social distancing, regularly washing hands, reducing contact by accepting debit and credit cards, staying home when sick and sanitizing surfaces.  
Whether that's building anew, preserving the past, attracting the latest and greatest or taking care of the health and wellness of its visitors, Detroit is truly the comeback kid. 
"What makes Detroit special is our spirit of creativity, the spirit of innovation, the spirit of getting the job done," Moyer said.