The Magic of Murals and Public Art in Texas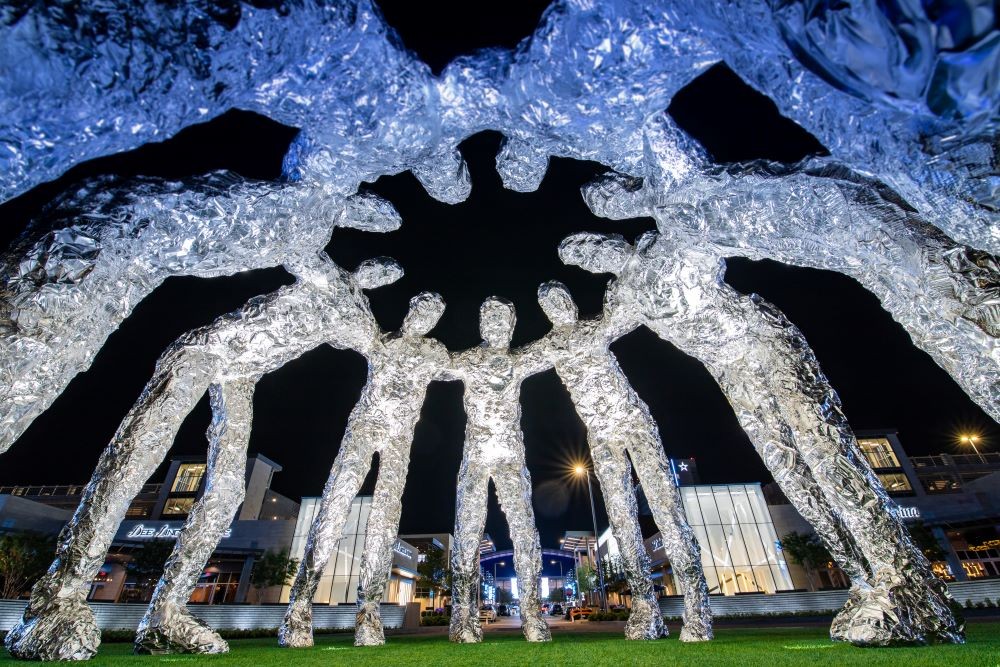 Huddle sculpture at The Star, Dallas. Image courtesy of Joseph Haubert for The Star
In its 2021 State of the Arts Report, the Texas Cultural Trust found that the art and culture industry in Texas has expanded by more than 30% over the past decade, to the current tune of $6.1 billion in economic impact. Along with world-class museums and performing art centers, the Texas creative landscape features an extended canvas of enticing murals, public art installations and giant sculptural figures.
Depicting the stories of people, communities and the Texas experience, these compelling indoor and outdoor works offer captivating tour and scavenger hunt opportunities for groups.
History in the Making

Arising from the Mexican Revolution (1910-1920), Mexican muralism became one of the most impactful art movements in history after new President Álvaro Obregón commissioned a series of public murals to help unify the country. 
The principal artists of this cultural renaissance, David Alfaro Siqueiros, Diego Rivera and José Clemente Orozco, later traveled to the U.S, where their large-scale populist works influenced artists including Jackson Pollock and the emerging modern American art scene at large.
According to the Texas Historical Commission, the trio, or "los tres grandes," also inspired the tradition of murals in Texas, which first blossomed during the Great Depression. While most of the 90-plus works in Texas from the national Public Works of Art back-to-work project are gone, notable survivors include Texas painter Howard Cook's 16-panel San Antonio's Importance in Texas History in the foyer of San Antonio's landmark Hipolito F. Garcia Federal Building.
In 1950, prolific Texas muralist "Buck" Winn painted The History of Ranching, a massive 280-foot cylindrical mural, or cyclorama, inside the Corral Room, an event space at San Antonio's former Pearl Brewery. Today, three panels of the work span above the welcome desk at the library at Texas State University in San Marcos, with another seven panels reinstalled in governmental and museum buildings in nearby Wimberley, Texas.
Unveiled in 1954, Genesis: Gift of Life is a classic Dallas heirloom. Created by Mexican artist Miguel Covarrubias, who used glass mosaic to depict four folkloric Mexican deities, the 60-foot masterpiece is displayed outside of the Dallas Museum of Art.
[Related: The DFW Metroplex Offers a Wealth of Venues for Meetings and Events]
Approachable Art Appreciation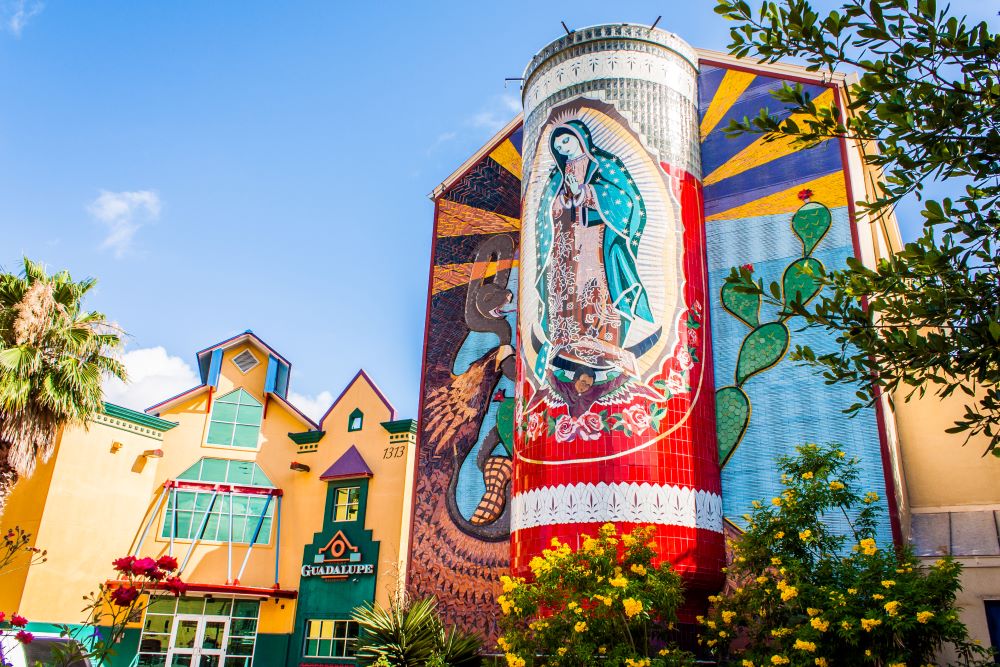 Studies have shown that murals and outdoor street art attract tourism and boost visitor spending while enriching the visitor experience. "A traveler who seeks out street murals will be rewarded with insights into a city's social, cultural or political dynamics as well as the artistic aesthetics of a particular neighborhood," wrote Forbes in a 2020 article.
Leading Texas mural destinations include San Antonio. Signature works include Jesse Trevino's La Veladora of Our Lady of Guadalupe at the Guadalupe Cultural Arts Center, where groups can rent the historic Guadalupe Theater. 
During the pandemic, Centro San Antonio's "Art Everywhere" project introduced at least a dozen new murals to downtown, including celebrated artist Luis Valderas' Sky, Earth and Mariachi Lecho Over San Antonio. Painted on the San Antonio Hyatt Regency's garage wall, the evocative work is part of Valderas' series featuring his father dressed in his 1930s mariachi outfit as a Mexican-American icon and alter ego. 
"The public realm is one of the most democratic ways to share art," stated Andrea Rodriguez, Centro's vice president of cultural placemaking, in a 2021 San Antonio Express article. "You don't need a ticket, you don't need to be a connoisseur—you just walk up and we're having a dialogue."  
Tour operators include Mural Ride and San Antonio Street Art Tours.
Splashed with acres of murals, Essex Modern City is a former industrial complex on San Antonio's East Side that now serves as a dramatic and versatile location for large-scale events and offsites.
Austin's mural tradition dates to 1974 with Austintatious. Created by three art students, this classic portrays Texas founder Stephen F. Austin holding two armadillos with a crown above his head centered in Austin's curving cityscape.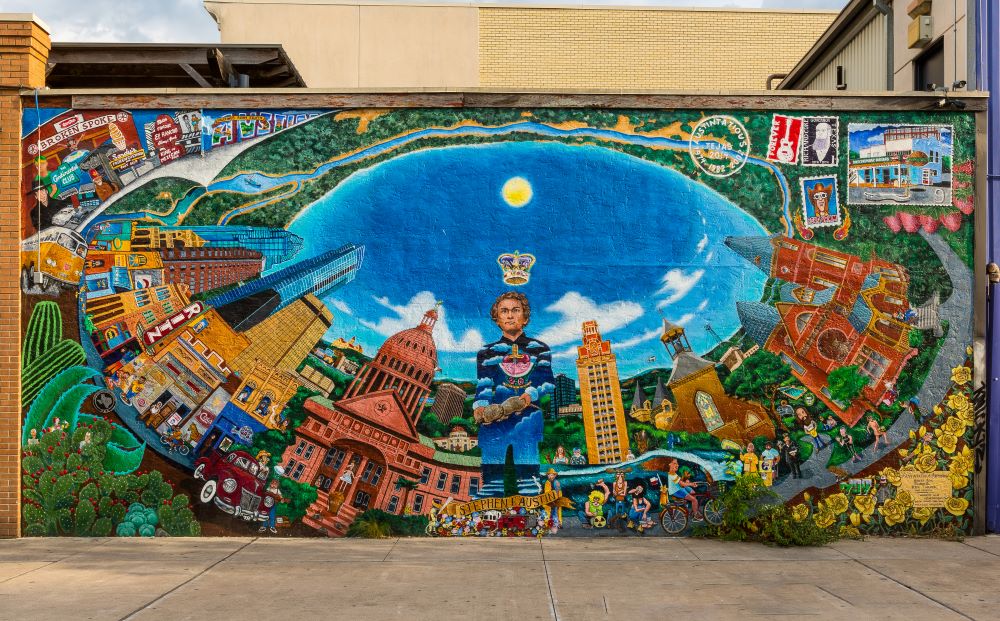 Today, Texas's capital city abounds with murals and street art. Popular works include the vintage postcard-style Greetings from Austin on the exterior of the Roadhouse Relics studio and gallery and local musician Amy Cook's I Love You So Much on the side of Jo's Coffee shop. Launched in March 2021, Visit Austin's "Vibrant City" campaign integrates augmented reality filters to showcase the mural scene. Mural stops are included in curated programs from operators such as Austin Detours and Twisted Texas Tours.
Home to 100-plus vivid works city-wide, El Paso is another mural city with a tradition that dates to Tom Lea's massive Pass of the North (1938) inside the federal courthouse. Steeped in Mexican storytelling tradition, many later murals are found in the Lincoln Park and El Segundo Barrio districts. 
In McKinney, internationally renowned Australian artist Guido van Helten is creating a 100-foot-tall mural on the cement grain silos and grain elevator at McKinney's Historic Flour Mill. Scheduled for completion by this fall, the project, paying homage to McKinney's industrial and agricultural heritage, joins other silo murals in Minnesota, Iowa, Kansas and Arkansas as part of van Helten's "Monuments" series. 
Another Metroplex charmer, Denton, is awash in indoor and outdoor murals, while Fort Worth's dazzling mural parade includes the iconic three-story Chisholm Trail Mural in Sundance Square.
Houston groups can view more than 40 murals in Downtown, Midtown and EaDo (East Downtown) on guided golf cart tours with local operator Joyride. Now the Houston Public Library, the landmark 1926 Julia Ideson Building houses eight interior murals painted by three women muralists of the Depression-era Works Progress Administration. Founded by local artist Gonzo247, the biennial HUE (Houston Urban Experience) Mural Festival gives artists 190 hours to create murals using various tools, techniques and styles.
Gulf Coast groups also have vibrant outdoor mural programs in Beaumont and neighboring Port Arthur, while Corpus Christi has developed a self-guided Mural & Art Trail covering the downtown area and Padre Island.
[Related: Fast-Growing Regions in South Texas Promise Successful Meetings]
Eye on Texas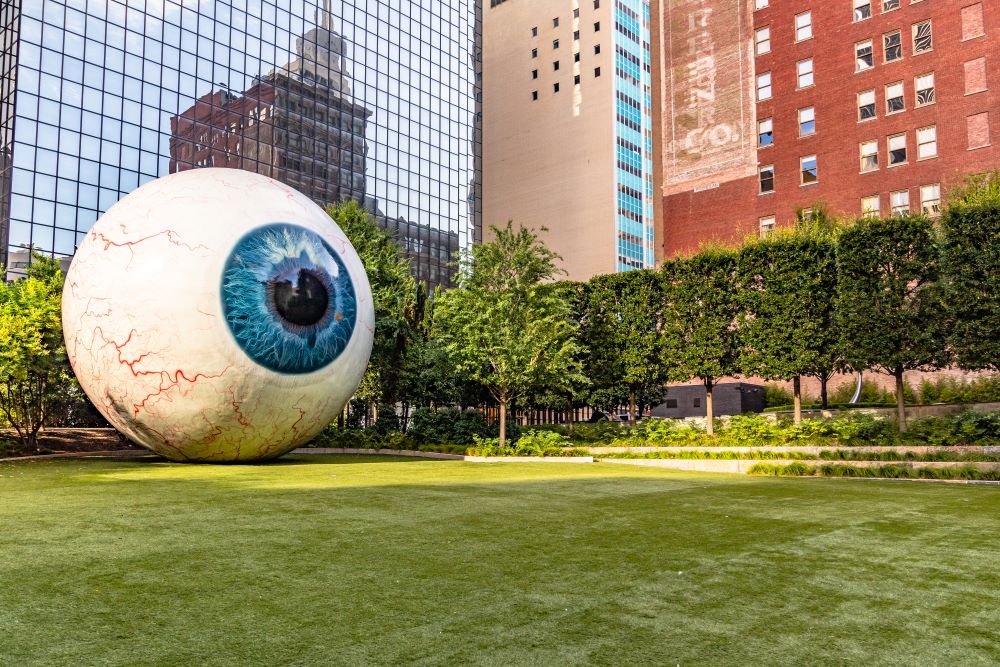 From Cadillac Ranch on Route 66 outside of Amarillo and the 77-foot-tall Tribute to Courage statue of Sam Houston in Huntsville to the Stonehenge replica in Odessa, larger-than-life figures and outdoor art installations further enhance the Texas visual landscape.  
Concentrated areas include the Metroplex, where Dallas is home to eye-catching icons such as 55-foot-tall Big Tex, the world's tallest cowboy and official greeter of the State Fair of Texas since 1952, and the 38-foot-tall Traveling Man statue in storied live music hub Deep Ellum.
Also look out for Eye, artist Tony Tasset's 30-foot-tall outdoor sculpture of his own eyeball installed at the Joule Hotel in downtown Dallas. Serving as a mesmerizing backdrop to events including the Dallas Art Fair's annual hot-ticket closing gala The Eye Ball, the monumental work came to the Joule in 2013 by way of the boutique's partnership with the Nasher Sculpture Center.
Designed by world-renowned museum architect Renzo Piano, this event-capable Dallas Arts District gem houses one of the world's finest collections of modern and contemporary sculptures in its galleries and serene garden.
Guided art tours go behind the scenes of the Dallas Cowboys Art Collection inside Arlington's AT&T Stadium. The collection extends to The Star, the Cowboys' event-capable headquarters and entertainment complex, where sculptor Tom Friedman's Huddle is an inspiration. Frisco groups can also experience the preeminent outdoor sculptural works by Texas artists at the Texas Sculpture Garden.
Read the 2022 edition of Meetings Today Texas