Local Connections Create a True Sense of Place at These Texas Hotels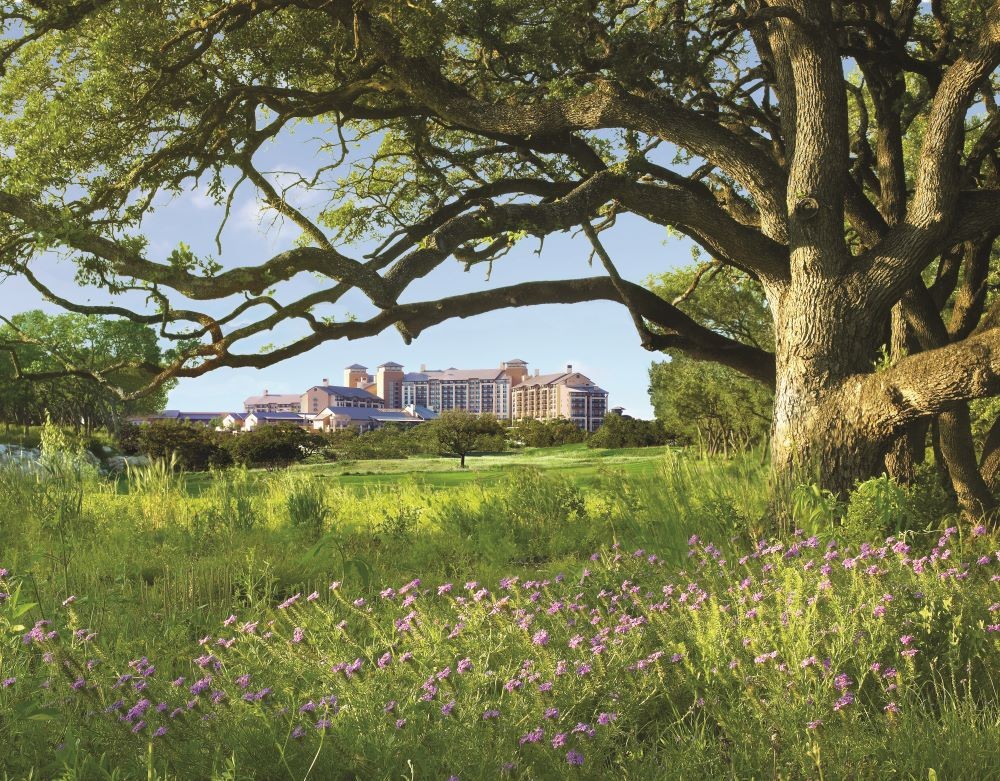 JW Marriott San Antonio. Credit: JW Marriott San Antonio
Ever check into a new hotel and feel like you've been there before? Or wake up in the morning and forget what city you're in? In hospitality as in other industries, brand sameness can bring on the blahs. Absent any emotional or experience design considerations, blandness can be another bummer on the road.
Conversely, hotels that thoughtfully create unique and differentiating elements in decor, food and beverage, service and other touchpoints tend to have more engaged and satisfied guests, which is the ideal frame of mind for delegates heading off to a meeting or event. 
Localization, either by way of bringing unique local touches in-house, or creating locally based programs for guests, is a proven method for winning hearts and minds and bringing customers back. These leading group properties discuss how it is done.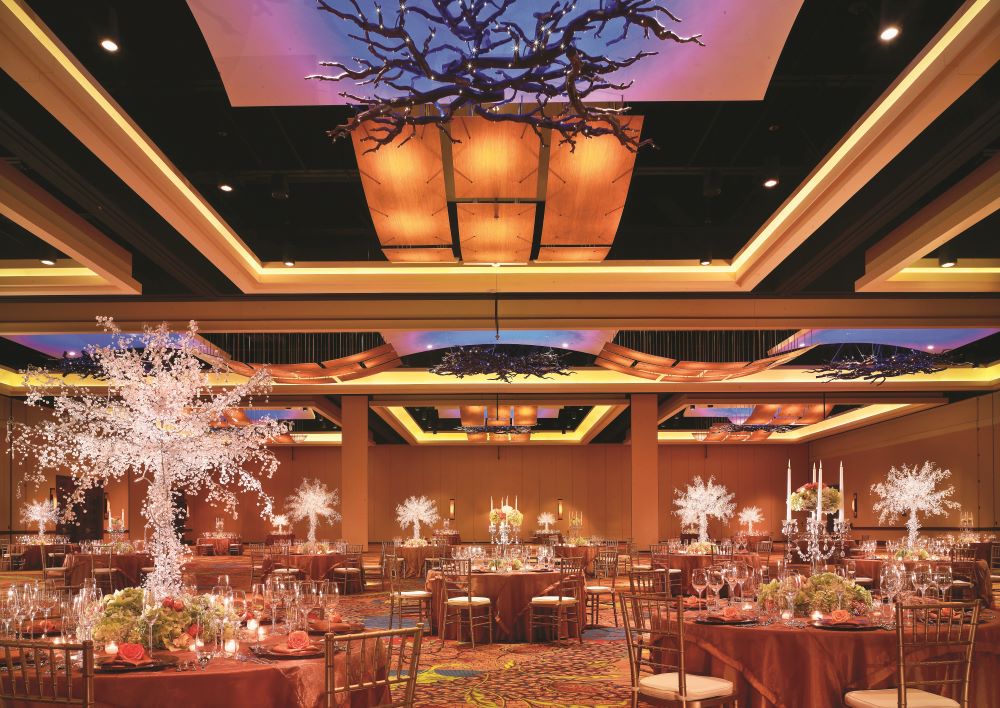 Located on 600 acres amid the picturesque, oak tree-covered landscape of the enchanting Texas Hill Country 20-plus miles north of downtown San Antonio, this luxurious 1,002-room resort features authentic touches and experiences with influences from the rich culture of San Antonio and surrounding area.
"With incomparable scenic backdrops for outdoor events, indoor design that is inspired by the region, and restaurant menus crafted by regional ingredients, every gathering at our resort provides guests with a local experience," said Brian Morris, the resort's director of sales and marketing.
Renowned as a premier business destination, the resort offers more than 265,000 square feet of flexible, newly refreshed meeting spaces that boast new carpeting, wallpaper and paint with designs representing the topography and landscapes of the Texas Hill Country. Many of the breakout rooms are named after Texas wildflowers.
At 40,500 square feet, the 6,300-capacity Grand Oaks Ballroom is the largest group space. Along with 5,000 square feet of indoor space, the River Bend Pavilion offers a 4,200-square-foot covered deck and expansive 18,000-square-foot event lawn with freestanding covered outdoor stage and grill. Ideal for retreats, receptions and board meetings, the Sunday House is a charming one-story, free-standing building featuring limestone walls, distressed wood floors and spectacular Hill Country views. 
"One of our key partners for meetings and events is Knibbe Ranch," Morris said. "Located less than 30 minutes away in the rolling hills and beautiful meadows of Spring Branch, this truly authentic fifth-generation working cattle ranch and venue provides groups with an inviting, natural, all-weather facility."
Resort amenities include seven restaurant and lounge options, the luxurious Lantana Spa, Topgolf Swing Suites, running and biking trails, and a stunning infinity pool. Golfing groups can access two championship courses at the private TPC San Antonio, home of the PGA Tour's Valero Texas Open.
[Related: The Magic of Murals and Public Art in Texas]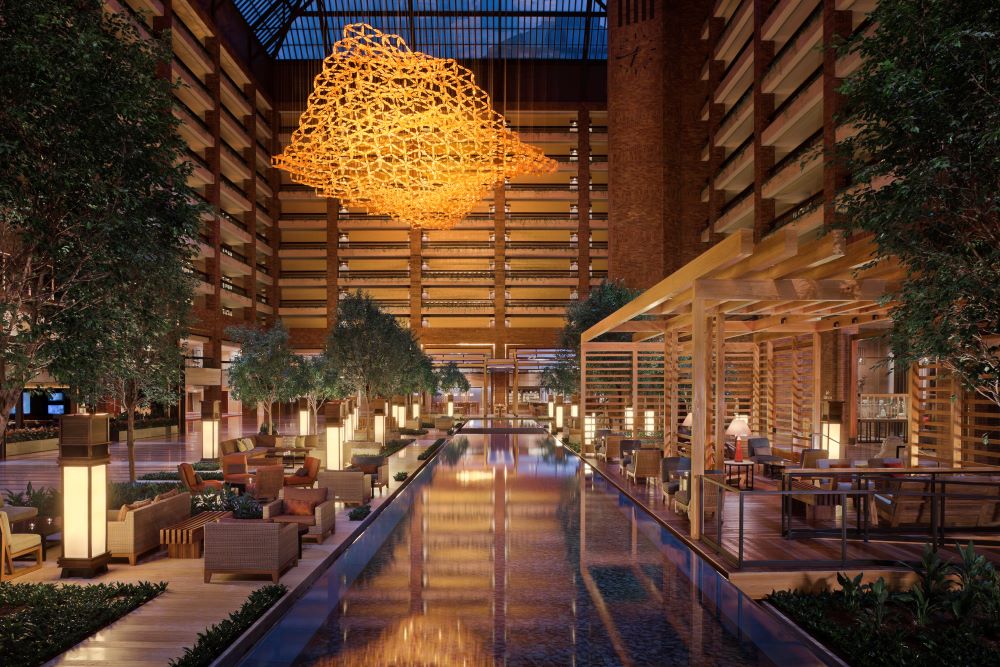 In 1979, late Dallas real estate magnate Trammell Crow developed a hotel just north of Dallas under the Loews flag which he named the Anatole ("Where the sun rises") after a favorite Copenhagen restaurant. Earlier, in the mid-1960s, Crow and his wife Margaret had begun amassing historical and contemporary artworks from China, Japan, India, Korea and Southeastern Asia. Many of these rare and exquisite pieces are displayed at the Crow Museum of Art, which the Crow family opened in 1998 as a permanent free museum and which became known as the "Jewel Box" of the Dallas Arts District.
Other works from the couple's globe-spanning collection were installed throughout the property, creating America's largest in-hotel collection. This local connection is just one reason that the Anatole, a Hilton property since 2006, is a Dallas event unto itself.
"Dallas is a big, bold city and the Hilton Anatole mirrors that excitement and largesse with a curated experience you can't find anywhere else," said Kimberly Zoulek, director of sales and marketing. "From the moment you walk in, the sheer size of Hilton Anatole says Texas. But you don't become a Dallas landmark by just being big. Our urban resort, the only one in the city, is much more than a hotel. Groups specifically choose Dallas over other cities for their meetings and events because the Hilton Anatole is a destination."
Befitting a hosting history that includes presidents, international heads of state, celebrities and star athletes, the scale and sense of grandeur is unmistakable. The 27-story, 1,606-room landmark houses more than 600,000 square feet of versatile function space, including nine ballrooms and 79 meeting rooms. 
Displayed through the property, the $35 million collection of museum-quality art and artifacts includes two 12-foot Berlin Wall sections. The outdoor sculpture garden features the 15-ton propeller from the British ocean liner RMS Lusitania, torpedoed by a German submarine in 1915. The massive Nebula kinetic sculpture suspended from the ceiling of the soaring 150-foot-plus tall atrium is an artistic and engineering wonder.
Offering three private rooms, fine dining SĒR Steak + Spirits boasts spectacular Dallas skyline views through floor-to-ceiling windows. The globally inspired menu has a Texas twist, including hand-selected meats from local ranches and specialty regional game. Resort amenities include the event lawn and JadeWaters pool complex.
[Related: Fast-Growing Regions in South Texas Promise Successful Meetings]
Blending Spanish colonial architecture and European style, this 338-room Four Diamond luxury hotel is a true San Antonio treasure steeped in the city's history. 
The site, located on hallowed ground from the 1836 Battle of the Alamo, was first developed as a school 16 years later by members of the Society of St. Mary, a local religious order. Opened in 1853, the original St. Mary's Institute then evolved through the decades. By 1875, it was one of the largest European-style complexes in San Antonio. Renamed St. Mary's University Downtown College in 1931, the school operated until 1966 when Patrick Kennedy, a former St. Mary's law student, purchased the property for conversion into a luxury hotel.
After adding a six-story addition overlooking the San Antonio River and remaking the exteriors in Spanish Colonial Revival-style, Kennedy opened his La Posada Motor Hotel.  in time for HemisFair '68. With its "The Confluence of Civilizations in the Americas" theme celebrating the many nations that had settled the region, this International Exposition officially introduced San Antonio to the world.
Acquired and renamed by Omni Hotels in 2006, the hotel's enveloping charms are evident from the moment of entering the romantic lobby. 
Throughout the hacienda-style property, the furnishings and decor evoke San Antonio's cultural ties to Spain and Mexico. Following a multimillion-dollar update in 2020, the design maintains the building's originality while incorporating modern amenities and technologies. Facing the River Walk or the lush interior courtyard, all guest rooms have time capsule ambiance. Offering 18,000-plus square feet of flexible space, the hotel's tradition of service and commitment to the power of personal experience attracts a loyal following of repeat business and leisure customers, including many local and regional corporations and social groups. 
Slated for an August 2022 debut, the new Four Brothers restaurant blends Southern and South Texas cuisine with Latin and French influences. El Colegio Bar commemorates the former law school space from 1934
Across the river at companion Omni property Mokara Hotel & Spa, groups can dine at the romantic AAA Four Diamond Ostra seafood restaurant and enjoy Forbes Four-Star spa treatments.
[Related: The DFW Metroplex Offers a Wealth of Venues for Meetings and Events]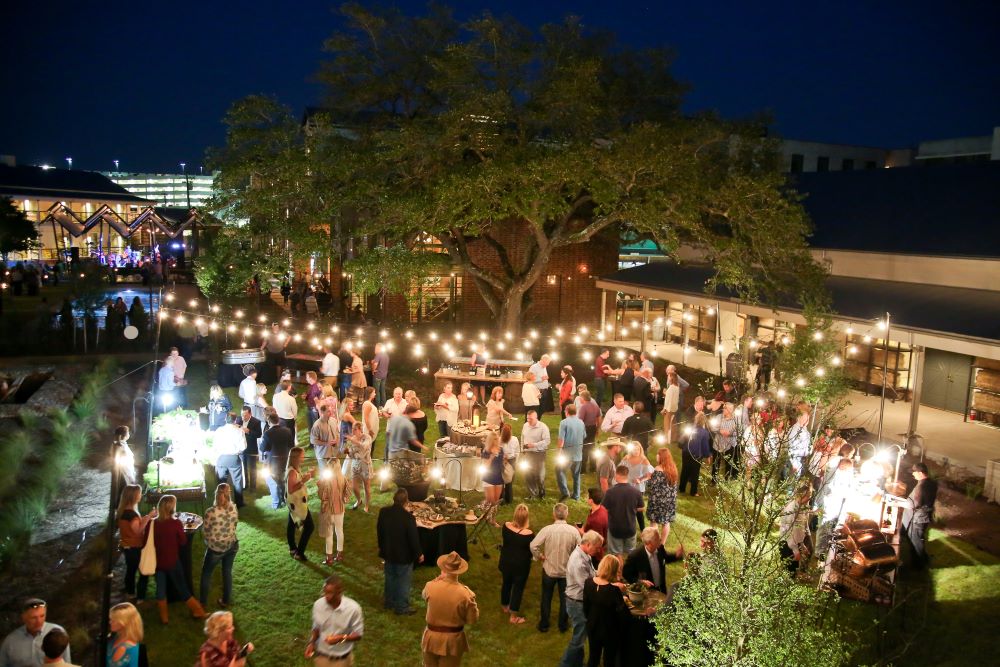 Opened in September 2021, Cotton Court Hotel in Lubbock is the newest property from the Houston-based Valencia Hotel Group. Adding to Valencia's line of vintage motor court-style hotels in Texas, the 156-room urban retreat embodies all the hallmarks of the luxury hotel management company's strategy of immersing guests in the culture and lifestyle of the cities they serve.
Located one mile east of Texas Tech University, Cotton Court's name and retro-inspired design pays homage to Lubbock's rich agricultural history and as a touchstone for live music. Guests mingle with locals at the Midnight Shift Restaurant & Bar, which serves Texas-American inspired cuisine and hand-crafted cocktails such as the Rattlesnake Martini. Brand signatures include live music and a spacious courtyard with firepits and yard games.
Innovative and memorable meetings and events are also part of the plan. Cotton Court offers a 3,000-plus-square-foot ballroom and multiple meeting and board rooms along with a 2,500-square-foot climate-controlled tent on the spacious event lawn. 
As Valencia's Corporate Director of Sales Nancy Alonzo explained, "great spaces in great places" defines all Valencia hotels.
"From our inviting common areas to our welcoming outdoor venues, we intentionally design our hotels to draw people out of their rooms," Alonzo said. "Offering that perfect blend of professional and social, groups can meet in the ballroom or take advantage of our courtyard lawn games for some friendly competition. Our properties are in very pedestrian-friendly locales, so you don't need a car. You can valet your car and never have to leave the hotel or the neighborhood."
Augmenting Valencia's welcoming and relaxing spaces is what the company calls "hospitality with personality," or its renowned culture of professional, seasoned high-touch service.
"Many of our associates have been with us for decades, and truly take the time to focus on the 'small' details," Alonzo said. "That adds up to a huge difference for our guests."
Valencia Hotel Group provides gateways to authentic local experiences in four other Texas cities.  
Located in the Irving Entertainment District directly across from the Irving Convention Center, 152-room, Spanish mission-style Texican Court has an authentic Old West vibe with 3,500-plus square feet of indoor and outdoor space.
Unique features include a trio of courtyards named Il Buono, Il Brutto and Il Cattivo (The Good, The Bad, and The Ugly); Tex-Mex dining at the Two Mules Cantina restaurant, which has its own beer garden with firepits; and The Salt Tequila Bar.
Local tie-ins at Austin's retro-ranch style 123-room Lone Star Court include a food truck and live music. Versatile venues include approximately 2,000 square feet of inside space and the 1,600-square-foot covered Lady Bird Outdoor Pavilion with adjacent 1,800-square-foot open-air lawn.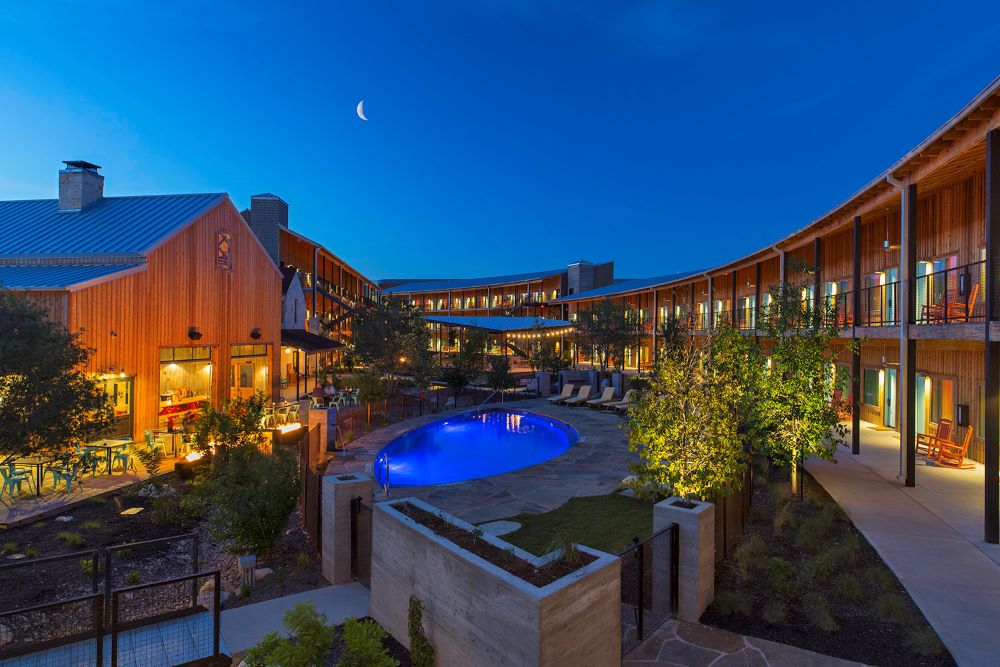 Located in College Station's vibrant Century Square, 141-room Cavalry Court has 6,000 square feet of indoor and outdoor space. The Canteen Bar & Grill opens onto an outdoor space of wooden benches around firepits and a swimming pool. 
Century Square is also home to The George, one of two hotels in Valencia's luxury lifestyle collection. Flexible space at this 162-room Aggieland escape include the 5,236-square-foot Statesman ballroom, with adjacent outdoor plaza. Named for notable Georges throughout history, the hotel features artful interiors and the 1791 Whiskey Bar. 
Located on the tranquil side of the River Walk in San Antonio, 213-room Hotel Valencia Riverwalk is an urban Spanish Colonial-meets-Modern Mediterranean oasis offering 7,000 square feet of versatile space. Inviting spaces include the lobby library and Naranja Tequila & Mezcal Bar, which pays homage to the art of tequila making.