4 Ways Los Angeles Is Becoming a More Sustainable Meetings Destination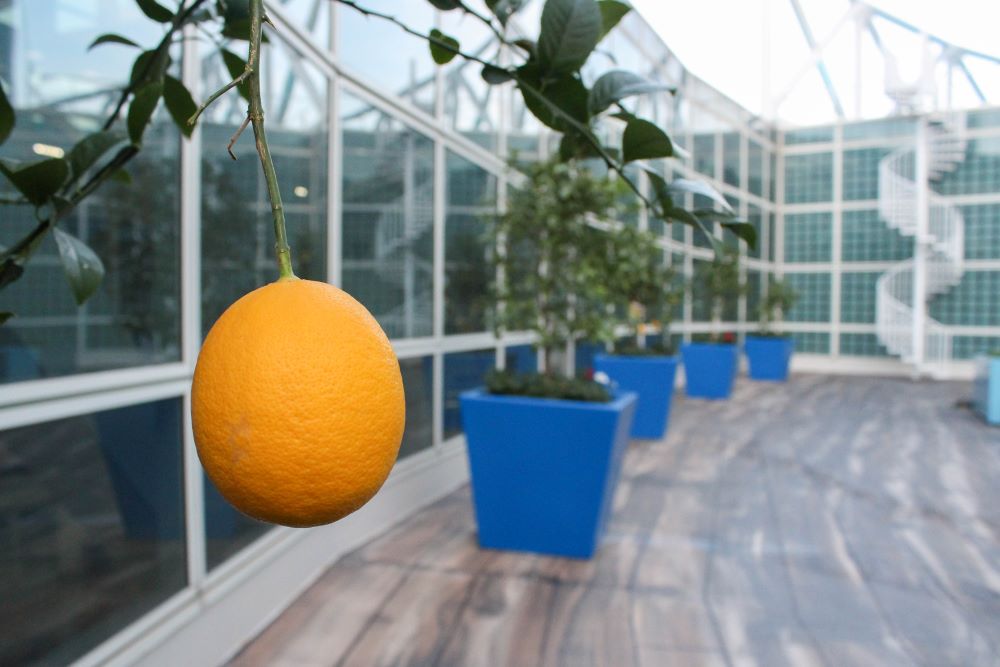 Rooftop garden, Los Angeles Convention Center
Climate change is top of mind nationwide. President Biden just signed legislation that includes the most substantial federal investment in history to fight climate change; U.S. Travel Association recently formed the Sustainable Travel Coalition to advance a greener future in the travel, transportation and technology industries; and sustainability was a major point of focus for DMOs at Destination International's Annual Convention.
At the Annual Convention during a session on sustainable tourism, Darren Green, chief sales officer for LA Tourism, took the stage and revealed that sustainability was a major point of concern for meeting and event planners he has spoken with recently. 
[Related: Los Angeles' Premier Sports Facilities Are Game-Changers for Meetings]
"One of the questions we asked was, 'in prioritizing safety or sustainability in L.A., what's more important to you?' And 65%-70% put sustainability as their priority."
As meeting planners continue to thoughtfully consider destinations for their next meeting in the context of sustainability, what is Los Angeles—the nation's second-largest metropolis—doing to help green meetings and tourism? We discover some of the latest initiatives.
The Green New Deal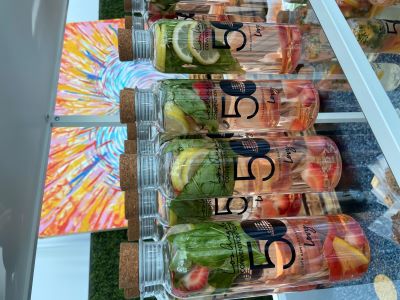 Planners should take note that the City of Los Angeles is taking a holistic approach to sustainability. In 2019, Mayor Eric Garcetti launched L.A.'s Green New Deal, which set aggressive goals to address climate change and put the city on course to be carbon neutral by 2050 while concurrently strengthening the economy. The plan is guided by four principles, according to the Mayor's Office:
Uphold the Paris Climate Agreement.
Deliver environmental justice and equity through an inclusive green economy.
Ensure every Angeleno has the ability to join the green economy by creating pipelines to good-paying, green jobs.
Lead by example within City government, showing the world what an urban Green New Deal looks like in practice.
In May, Mayor Garcetti provided an update on the Green New Deal, reporting a 36% reduction in L.A.'s citywide greenhouse gas emissions from the city's 1990 baseline. The report also showed progress across emissions from buildings, transportation, electricity, water and waste.
[Related: L.A. to Make Travel for Meetings Easier with Transportation Improvements]
The Green Lodging Program
When it comes to meetings and conventions, selecting a host hotel is one of the most important decisions in the process. L.A. has a Green Lodging Program, which encourages L.A. hotels to implement policies for energy and water conservation, recycling, pollution prevention and environmentally preferable purchasing. 
Certified "green" hotels are also promoted through the program to meeting planners and tourists. To receive the Green Seal, hotels must complete a certification process and onsite audit. Some notable meeting and event properties include:
Reusable water bottles
 

JW Marriott Hotel Los Angeles L.A. LIVE: In the heart of downtown and steps away from the convention center, L.A. LIVE, Crypto.com Arena and more, this property is a popular choice for meetings and events. Paired with its 135,000 square feet of meeting space is its Green Seal Silver Certification, which includes waste minimization and reduction, recycling and energy efficiency, water conservation, indoor air quality and purchasing products that are environmentally sound.
The Westin Bonaventure Hotel & Suites, Los Angeles: This AAA Four Diamond property was the first hotel to receive the Green Seal Silver Certification for its carbon footprint reduction, achieved with recycling programs, energy conservation and management, water conservation and more. The hotel invested $20,000 into its environmentally friendly practices and saved an estimated $225,000 per year, according to LA Tourism, and subsequently earned Gold Certification. The iconic L.A. hotel has more than 166,000 square feet of meeting space, including the city's largest ballroom.
Hilton Los Angeles/Universal City: Adjacent to Universal Studios in L.A.'s entertainment district, this property with about 30,000 square feet of meeting space is also Green Seal Gold certified for its waste minimization, water and energy efficiency, hazardous substance handling and environmentally responsible purchasing initiatives. At the time of certification, it was only the second hotel in California to achieve Gold level certification and only the fifth hotel nationwide.
Sustainability at Los Angeles Convention Center
The Los Angeles Convention Center (LACC), owned by the City of Los Angeles and managed by ASM Global, is LEED Gold Certified and has been a leader in the city in terms of sustainability for a number of years. Being a public-private facility, the convention center is also closely aligned with the city's sustainability goals.
While LACC has been working behind the scenes to reduce its environmental impact, a facility can only take things so far—a group has to come in willing to make sustainability a priority.
When asked if she has seen any uptick recently in meeting planners asking questions about sustainability, LACC's Kadamia Hubbard, operations manager, facility and sustainability, answered with a resounding "absolutely."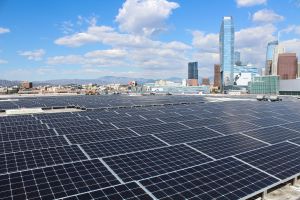 "Over the years, [on average] one or two major events would ask about it, like back of house [operations] and trash," she said. "But more and more, we have all types of events coming in and circling back asking what the impact is of an event. They often want to know what the footprint is during their stay. They ask about CO2, water, waste diversion and now it's been heading in the direction of food waste. They want to know what their impact is."
Annually, LACC averages 70% or above in waste diversion. However, when U.S. Green Building Council brought its annual meeting to the center in 2016, it achieved a record-breaking 90.3% diversion rate. 
"They were a perfect example of being completely green," Hubbard added, stressing that if a group comes in with aggressive sustainability goals, LACC can help meet them.
Other sustainability strides LACC has made include:
With a 2.21 megawatt solar array, LACC has the largest solar array on a municipally owned convention center in the U.S.
Single-use plastics were officially banned throughout the facility in April 2022. Levy Restaurants, the LACC's exclusive food and beverage partner, replaced single-use plastic bottles with aluminum bottles throughout cafes and catering operations. Beverages sold in the center's vending machines have also followed suit.
A 9,500-square-foot rooftop garden with produce enhances the center's food service program of 90% locally sourced food.
LACC has implemented an irrigation zoning plan to cut water waste; in some zones total irrigation time (in minutes) has decreased by more than 50%.
LACC replaced 710 toilets throughout the facility with low gallon-per-flush models. Water consumption from toilet use is projected to decrease by 20%-25%.
The facility has a "cool roof" and light defusing windows to reflect sunlight and heat away from the building to save energy.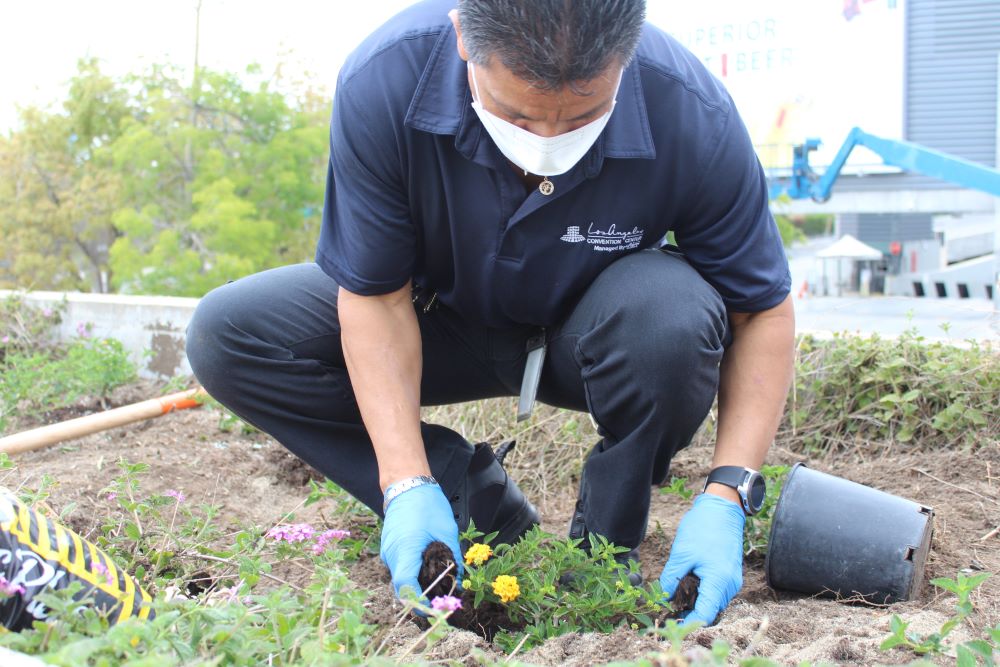 Sustainable Transportation
A large contributor to emissions and environmental harm is transportation, and L.A. traffic has long plagued the city's reputation. However, L.A. has been making large investments in its transportation systems, including the Metro Transit System and Los Angeles International Airport (LAX), in order to make traveling to and around the city less of a headache for visitors, while lessening its impact on the environment.
Los Angeles World Airports (LAWA, which owns and operates LAX) has a number of sustainability initiatives in the pipeline. One major project includes the $5 billion LAX Landside Access Modernization Program (LAMP), which brings a 2.25-mile Automated People Mover to the airport, connecting travelers to the regional light rail transport, and also new offsite parking facilities and a rent-a-car facility. The project aims to relieve traffic congestion and improve the airport travel experience.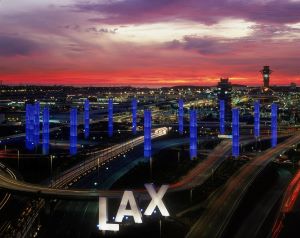 "LAX is our gateway to the world—and by finally bringing rail to the airport, Angelenos and tourists will be able to connect to Los Angeles' world-renowned neighborhoods and attractions without ever stepping foot in a car," said Mayor Eric Garcetti in a prepared statement about LAMP. "LAMP will transform how L.A. thinks about travel, and get people in and out the airport faster and more conveniently."
The system's fleet will be operational in 2023 and consist of 44 cars that are fully electric, 98% recyclable and generate a portion of their own power through regenerative braking. The command center and maintenance facility generates nearly half of its power from solar energy and is designed to be LEED Gold Certified.
Other sustainability wins from LAWA include the LAX Food Donation program, phasing out single-use plastic, incorporating sustainable practices into their current construction efforts, and ongoing efforts to improve air quality and reduce greenhouse gas emissions at its facilities by 45% below 1990 levels by 2025 and by 80% by 2050.
For attendees that want to avoid driving in cars to and from the airport and in the city's neighborhoods, to make travel easier and more sustainable, L.A.'s extensive Metro system is expanding some of its lines. The projects are part of Mayor Eric Garcetti's plan to build 28 transit projects by the time the summer Olympics come to town in 2028.
Read Next: How Los Angeles Planned and Executed Super Bowl LVI