How Los Angeles Planned and Executed Super Bowl LVI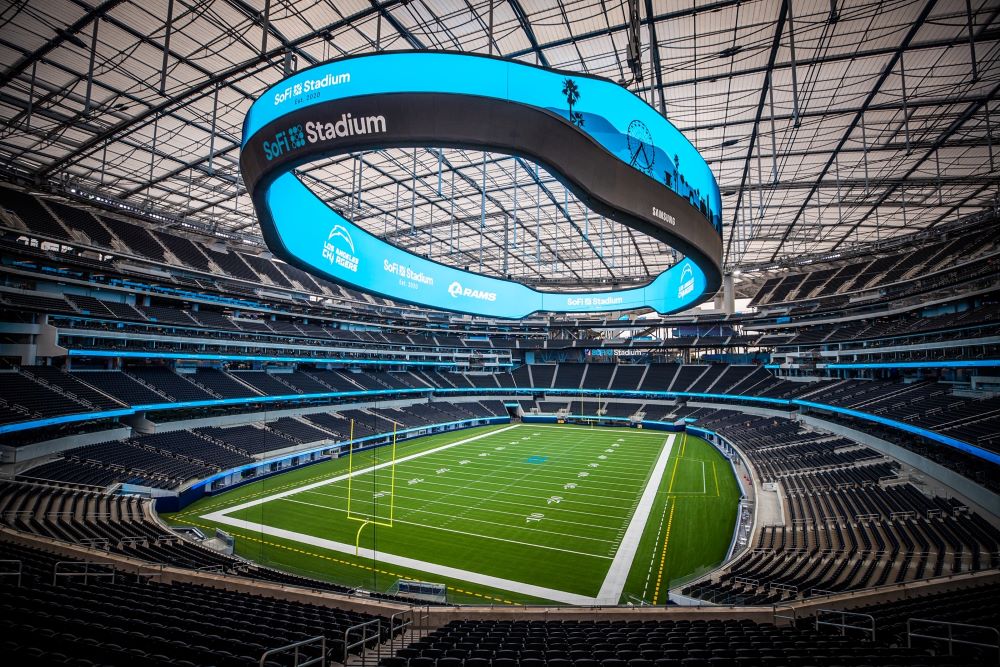 What does it take to put on an event like the Super Bowl? Darren Green, Chief Sales Officer for LA Tourism, joins Meetings Today to share how his team worked with L.A. hospitality partners and the NFL to host Super Bowl LVI and its surrounding events. We also discuss new developments in L.A. that meeting planners should know about and big events coming to town in the next few years.
Listen now or read the transcript below.
Transcript
Danielle: Hello and welcome to this Meetings Today Podcast. I'm Danielle LeBreck. We have an exciting episode planned for today. Joining us is Darren Green. He is the Chief Sales Officer for the Los Angeles Tourism and Convention Board. Darren will be walking us through the planning strategies and execution of Super Bowl LVI, which took place recently on Sunday, February 13 at L.A.'s new SoFi Stadium.
I'm really looking forward to digging into this case study. And hopefully you will walk away today with some learnings and ideas for your next event in L.A., and also learn a little bit more about what it takes to put on an event like the Super Bowl. With that said, welcome, Darren, and thank you so much for joining us today.
Darren: It's great to be here. Thank you, Danielle.
Danielle: First off, I have to say congratulations to the Los Angeles Rams and the City of Los Angeles. What an exciting time for you guys; the Rams winning in their home city at arguably the most famous sporting event in America. What has the Super Bowl victory meant to the city of L.A.?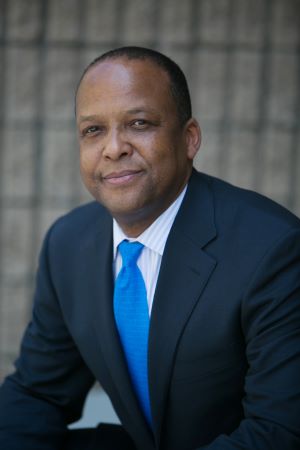 Darren: It's been incredible. It's hard to imagine or plan on how exciting it is to be in L.A., and especially during this time when we can celebrate our Super Bowl champion, Los Angeles Rams. It's really ignited the city. And I think it's also galvanized the city. We just did a parade earlier to celebrate the team, and it's just been a great coming together and to be there, fortunate enough to participate in the event. Just to feel the energy of the game and to have it in your own city is over the top. 
The Super Bowl was years of planning. We had to go to cities like Atlanta, Miami and Tampa to see how those cities would host the game so we could prepare to do it. While those were great experiences, nothing comes close to actually not just having it in your home city, but having your home team win.
Danielle: Like you said, the Super Bowl requires such a massive citywide effort. And with the added complexities of planning for an event of this scale during some unpredictable times of COVID-19, I'm wondering if you can walk us through how your team at LA Tourism prepared for this event and worked with your hospitality partners in L.A. to execute it safely?
Darren: Los Angeles Tourism worked closely with our City Officials and many entities across the region in the lead up to the Big Game, galvanizing the community through ChampionLA, along with the Los Angeles Host Committee, led by Casey Wasserman. This group included the Los Angeles Sports & Entertainment Commission, The Los Angeles Rams, Los Angeles Chargers, SoFi Stadium and our team at LA Tourism. It took a collective effort to pull it together. The NFL requires certain venues and number of rooms that we commit to within the hotel community. Our team worked in lockstep with the others to secure all the details of the request for proposal that the NFL needed to bring the Super Bowl to L.A. That was the first step/
We were fortunate to have the SoFi Stadium as the host, and if you haven't seen it, that $5 billion facility is state of the art. I would arguably say it's the most incredible venue in the world, in terms of what it offers. It's not just a stadium, it is a destination. It really provided an incredible backdrop for not just the game, but for the city of Los Angeles and everything that we have to offer. We couldn't have been more pleased with how things came together.
People had this pent-up desire for travel, which was coupled with this game where you could have a full stadium, venues and full participation in the events. I think it was a shot in the arm, and what the city needed as we powered through the recovery. Just about all of our venues, from Santa Monica to Hollywood to the Beach Cities to Downtown L.A., had activities and activations going, whether they were for corporate, or the NFL, or the players. Just about every venue had such high demand. I think on all points, L.A. really shined. And it was a thrill. I'm still coming down.
Danielle: You had mentioned SoFi stadium. That's a relatively new stadium, and it will host a lot of big events in the future. What are some of the noteworthy features of that stadium that you think really make it stand out? And how were they used during the Super Bowl?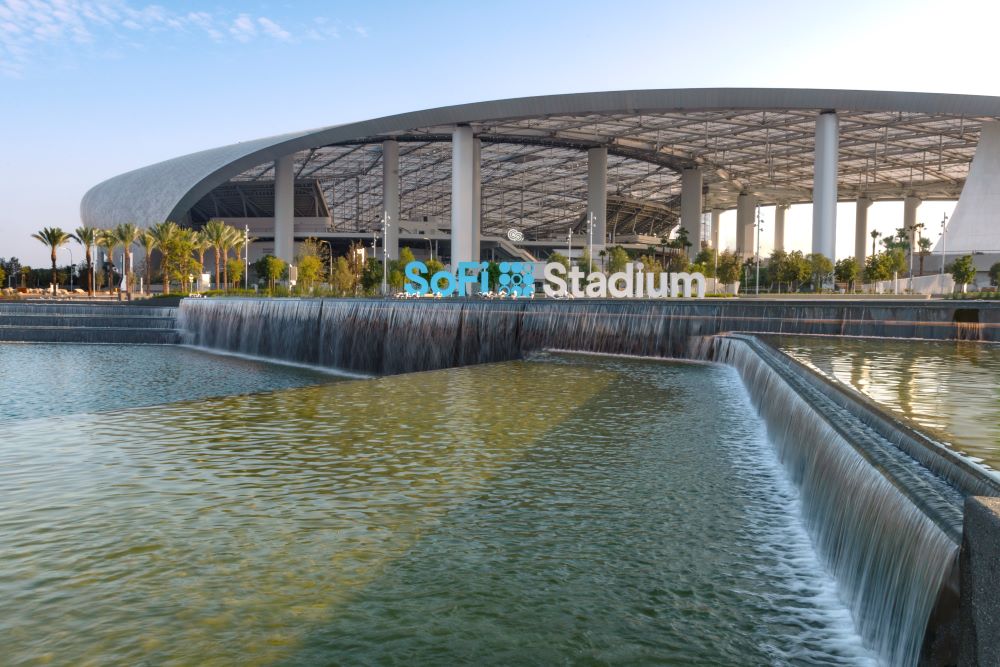 Darren: SoFi Stadium is world-class and the stadium has a multi-faceted platform to host an event the size of the Super Bowl. Capacity can go up to 100,000, if needed. That's one of the unique aspects. Under the same roof canopy as the stadium is the American Airlines Plaza, which is an open-air area, and that leads you right into the YouTube Theater. YouTube Theater is an indoor-covered theater and can host around 6,000 or so for concerts, esports, comedy, community or awards events. That's actually where the NFL honors event took place. 
Another unique aspect of the stadium though is that it's a covered, open-air venue. It is covered because we are in the flight path of Los Angeles airport, so planes are flying over it pretty frequently. The stadium is actually built about six levels into the ground. So, when you're entering the stadium, you're looking up at two levels above where you enter, but it goes down about six levels. I think that really helps with noise and other things because it gets loud in there. But it's fairly contained because we want to be sensitive to the community. The last thing I'll mention about the stadium is the lake. They built a manmade lake around the stadium, and it showed so well as the Super Bowl was broadcast. 
Danielle: During the broadcast, as I was watching on TV, it really struck me how beautiful the stadium looked inside and out. A really impressive space. Moving on to some safety measures. I know that city of L.A. has been a real leader on safety during the pandemic. Last fall, LA Tourism was the first destination marketing organization to partner with CLEAR to offer the CLEAR Health Pass access to meeting and event organizers planning events in L.A. I'm wondering as it relates to the Super Bowl, what were some of the safety measures in place that you think showcases how L.A. can host safer in-person events of this scale in 2022 and beyond?
Darren: Well, I think the Super Bowl reflects really that we were in lockstep with the NFL in safety being a priority. We were a little nervous leading up to the event because we were getting a little bit of the surge earlier in the year after the holiday. But fortunately, things got fairly contained, and case counts started to drop. So both the city and the league felt very comfortable that we could do a safe event. 
Before people came in the proof of vaccination was a requirement for you to enter the stadium. The NFL and the stadium provided the KN95 masks for everybody coming into the stadium, that they could wear. I'll be honest with you, L.A. is not unlike just about any other venue where you can ask people to wear masks, but it's up to them on whether they're going to do it or not. I think in most of the places that were either indoor, or that had restricted airflow, you would see more masks. But I think once people were outside in the open air, whether it was the tailgate parties prior to the game, or during the game itself, you didn't really see people masked up. It's kind of hard when you're at a game like that to cheer and to enjoy a beverage and wearing a mask at the same time. But all in all, I think it went well. We'll keep our fingers crossed that people were safe. And there was no real negative impact from the event itself, when it comes to safety.
Danielle: I know it's probably just been a whirlwind of the past couple of weeks and months. But following the Super Bowl and with some time to reflect on the event, what are some of your personal biggest learnings from helping to plan and execute this event? And how do you plan to apply some of those learnings to future events and conventions coming to L.A.?
Darren: What we saw on display was the unmatched variety and selection of outdoor venues that L.A. offers. With 300 days of sunshine and average temperatures of 70 degrees, more than likely, you're going to have great weather when you come out to L.A. for your meeting or event. While you might need to use a ballroom or convention center, of which we have some great options, I think the open-air option is a great way to enhance a program. We saw a lot of the Super Bowl events take place in covered open-air venues and the customers seemed to like it; I know the attendees feel even safer there. That was really one of our key takeaways. We've known it, but to see it actualize made us more confident. 
We were fortunate to host some of our top customers from corporate, association and third parties that attended the game, and it really opened their eyes, saying, "Oh my gosh, I didn't realize that I could do this in L.A.," or, "I can bring my group here, we could be outside or we could do an indoor-outdoor event." For them to see it and express, "I didn't realize I could do it," that really was gratifying because sometimes you wonder if your message is really being heard or is resonating. But to hear that from those customers really validated why we are such a special destination.
Danielle: Right. It sounds like it really opened people's eyes to the possibilities in L.A. which are very vast. I know that Super Bowl LVI is just the beginning for you guys. There are a lot of really big events that are going to be putting L.A. on the global stage coming down the pipeline in the next few years. Can you detail for our listeners, what else is coming to L.A. soon?
Darren: We have a robust lineup of major sporting events coming to L.A. The MLB All-Star Game is in July this summer. Nine months from now, we'll be the host city for the College Football  National Playoff Championship and Wrestlemania that will also take place at SoFi Stadium. Following that, we'll have the 123rd U.S. Open Championship. In 2024, we have the NCAA D1 men's basketball, Regional West championship. In 2026 we will be one of the host cities for the FIFA World Cup, and that same year we'll also be hosting the U.S. Women's Open golf tournament. That will culminate with our hosting of the 2028 Olympic and Paralympic Games, and we will be one of only two cities to host the game three times outside of London. The Los Angeles Memorial Coliseum is one of the few buildings that is able to don the Olympic rings outside of the facility. And the torch still burns. We are extremely excited, and 2028 is going to be here before we know it. 
Danielle: Such an exciting lineup of events. I'm guessing with all of these massive citywides, the city will probably be working on some new developments or renovations coming online that visitors and future meetings and events can take advantage of. Are there any openings or renovations that are planned that you think our listeners should know about?
Darren: There's the rebranding from the Staples Center to Crypto.com Arena. That's located downtown at our meetings and events hub—our convention campus. That's where L.A. Live, the Microsoft Theater, the Xbox Plaza and the L.A. Convention Center are. And within that is the Cypto.com Arena. We're excited about that. It shows how L.A. is extremely progressive. Looking ahead, I think everybody's still learning a lot about NFTs and cryptocurrency, so to have that brand as part of one of the most recognized destinations not just in L.A., but in the country, is going to be positive for us as well. 
In addition to that, we'll be opening up the state-of-the-art Lucas Museum, from George Lucas of Star Wars fame. That'll be right next to the Coliseum, and also next to the new Banc of California stadium where LAFC plays. That's all in the USC campus area, five to 10 minutes from downtown. We just opened up the Academy Museum of Motion Pictures, which is downtown off of Wilshire, and it's the first museum that's completely dedicated to film. It's an incredible facility but they can also do some great group events. Our Warner Brothers studio is going through a complete refresh as well.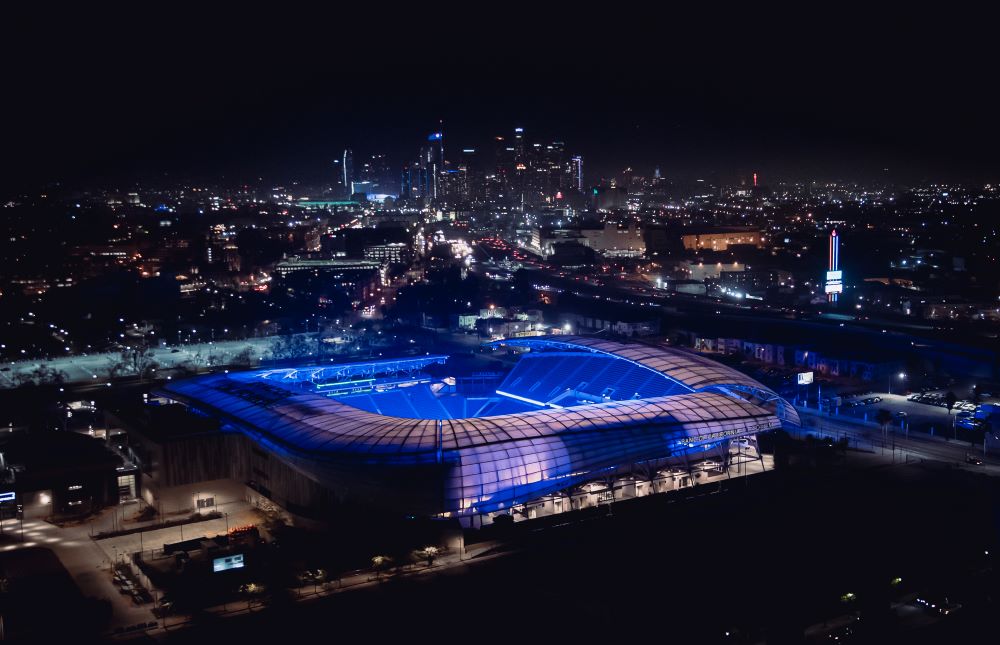 We also had a lot of great new hotel openings: AC-Moxy downtown, the Conrad Hilton downtown and the Fairmont Century Plaza in the city's iconic building just opened up. There's so much that's going on in L.A. and it's a great sign of the future as we recover. We're continuing to expand the destination and what it offers.
Danielle: So many incredible developments and events. It certainly is bringing us into the future. That brings us to the end of our show today. I just want to thank you again so much for your time, Darren and congratulations again on an L.A. victory.
Darren: Well, thank you so much, Danielle, for having me. We appreciate our partnership with Meetings Today as we powered through this together. The best is yet to come.
Danielle: Exactly. And yes, thank you to LA Tourism for their partnership with this episode. And thank you all for listening to the Meetings Today Podcast. You can listen to more episodes on Apple Podcasts, Spotify, or wherever you get your favorite podcasts. You can also read more information about meetings and events in L.A. and other destinations across the country at meetingstoday.com. Thank you all and have a good one.
More News in Los Angeles
From the Super Bowl and new developments to transportation improvements, there is a lot for meeting and event planners to be excited about in Los Angeles. Stay up to date with the latest news:
This podcast was produced in collaboration with LA Tourism