5 Tips for Eating Healthy on the Road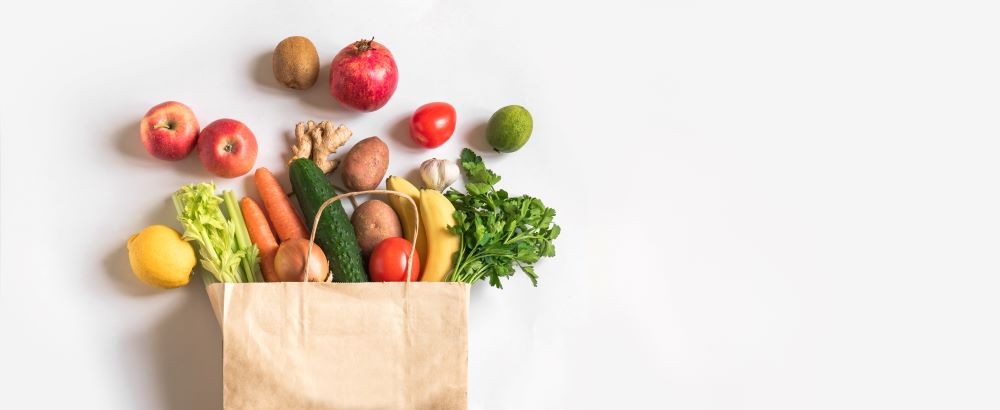 All-you-can-eat buffets, heaping spreads of more food than you could imagine and open bars throughout the evening are common sights to see at nearly every meeting and event, and while alternative food options like vegan and gluten-free have become standard, finding healthy choices at every meal remains a challenge.
Packed meetings and events schedules also leave little time for freedom of choice when it comes to meals and snacks, and sometimes planners and attendees find themselves too wrapped up in activities to remember to eat at all. 
While these concerns linger in the back of many meeting and event planners and attendees' minds, finding solutions and remembering how to eat healthy on the road often takes a backseat to getting the job done. Next time you get ready to attend a meeting or event, consider taking these five expert tips into account to lead with a health-first mindset.
1. Pack Pre-Packaged Snacks
Several healthy, balanced snacks are easily available to buy in bulk in individually wrapped packages. Make a list of some of your favorite healthy snacks and see which ones are available in small, single-serving sizes to pack in your carry-on or suitcase the next time you travel for meetings and events.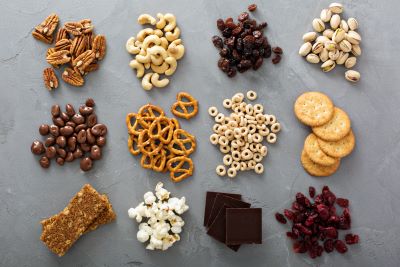 "Stores like Target and Whole Foods sell vegetables in sealed bags, like carrots and peppers, that you can just put in your bag and carry with you," said Tracy Stuckrath, professional speaker, food and allergy expert and event planner with thrive! meetings & events. "Make your own trail mix at home and bring that with you, get a couple of protein bars as well, but make sure that you're looking at the carb-to-protein ratio."
Not only will this ensure you have a healthy option you know you enjoy with you, but they are easy to toss in your bag and snack on throughout the day between scheduled group meals when you are feeling hungry with little options.
"You definitely need the more nutrient-dense foods to keep you sustaining, so look for something that's not overly laden with sugar and salt," Stuckrath said. "Put tangerines on the table. Put cherry tomatoes on the table, so that when you're walking by that's what you're snacking on."
Stuckrath also suggests getting "sense of place for what's around you." For example, metropolitan areas likely have options for grocery delivery directly to your hotel, or there may be a supermarket within walking distance for you to pick up fresh produce to store in your hotel room's mini refrigerator. 
2. Keep Your Plate Colorful
Piling your plate full of foods of a variety of colors has more benefits than just looking pretty. In fact, the more colorful your plate, the more nutrients, vitamins, minerals and antioxidants you ensure you consume. According to SCL Health, ensuring your plate has a variety of colorful fruits and vegetables is a proven way to boost and improve your immune system and increase your overall energy.
"Ask for the vegetarian or vegan plate," Stuckrath suggested, as most typically offer more vegetables. "I know a handful of people that do it specifically trying to get a healthier meal out of it. But it definitely needs to be thought about. To me, it's a great option to do that, but you need to stick with it as well, because so many planners see people order the vegan option and choose meat instead. Stick to it."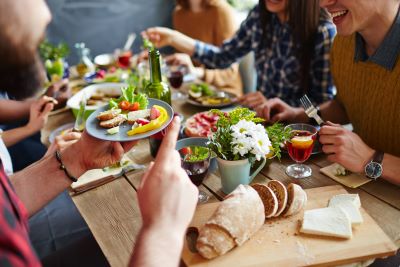 Another reason to create a colorful plate is because different colors of food provide different sets of phytochemicals, or the naturally occurring compounds in food that provide nutrients and prevent disease and inflammation. For example, red fruits and vegetables support the brain and circulatory system, green food is better for digestion and purple or blue foods have been linked to improved memory.
Consider the ways in which each individual color can improve your meeting and event experiences. Those on active trips may feel more inclined to choose green foods, to easily digest them and provide energy for excursions or more movement, whereas those attending educational sessions and lectures may opt for blues and purples to improve brain power.
[Related: 9 Self-Care Tips to Maintain Your Sanity at Conferences and Ensure a Rewarding Experience]
3. Sit Down to Eat (With a Friend)
Busy schedules make for busy bodies, and sometimes finding time to set aside solely for eating can be tough and fall to the bottom of the list of priorities. Oftentimes, you may find yourself eating at your desk while writing an email, shoving your lunch to the side to focus on the work in front of you.
Meetings and events, most of the time, mean work, socializing and networking, and some of the best opportunities to do so occur during scheduled mealtimes, when everyone congregates in one place and has the opportunity to chat and connect with other meeting attendees.
What is hard to remember, though, is how distracting this can be while eating. Conversations that trail off, or those in which more individuals get involved, can lead to excitement that takes us away from the necessary task of remembering to eat.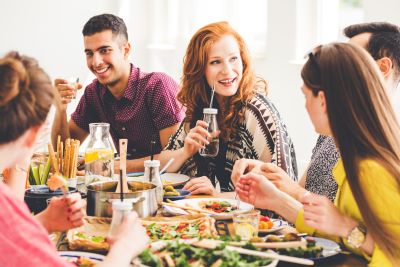 "Sit down and have a meal with a friend, because that adds to the mindfulness aspect of it as well," Stuckrath said. "Eating with somebody, breaking bread with somebody, it really does add to the mindful aspect of eating. Take the time to eat, as much as you need to. It's really important to do so."
One of the best ways to eat a healthy meal, and a substantial one, is to sit down with your plate to eat. Give yourself the time and space to dedicate to food and ensuring you are fueling your body properly for the action-packed day ahead of you. Mindful eating, in this way, can allow you the necessary time you need to eat while also keeping it distraction-free, therefore shortening the time it takes to eat a meal and giving you a fresh and energized mindset to re-enter work-related conversations.
4. Plan Your Meals in Advance
Rarely is there a time when the agenda isn't shared with event attendees prior to when it begins, and many specify when group meals will take place throughout the day. Some even go as far as to share the types of food that will be offered.
Take advantage of having a schedule in front of you and plan—or write down—when you will be having your meals and snacks. If you notice a longer break between meals, it can be helpful to ensure you carry a snack with you in case of a busy day.
"Taking that time in the morning or night before to just say, 'Okay, this is my agenda today and what I'm going to do tomorrow' helps to know your body and understand what works best for you," Stuckrath said. "Do you like to snack in the morning? What will you snack on? Avoid sugar and carbs, because that's not going to fuel you."
[Related: Lee Papa's Tips to Stay Well on the Road]
5. Create an Appreciation Notebook
It may seem odd at first, but there's a plethora of benefits to taking out a notebook and pen and jotting down things to remember, how you are feeling or helpful tips and advice people have shared with you. 
Meetings and events can bring a sudden wave of emotion surrounding food, especially if you feel pressured to try something others find new and exciting but don't necessarily have the desire to. Patti Spaniola, director of conferences and events at University of West Florida, recently found herself in this situation.
"They had a carved bacon station, and I decided not to eat it because really all I wanted was fresh fruit," Spaniola said. "So, I skipped the bacon and immediately regretted it when they took it away. The fruit and the granola bar really trumped the bacon, but everybody made me feel really badly about, 'Well, you didn't try the best part. How dare you!' and I thought, 'I wonder how vegetarians might feel if they just simply say they didn't try something and then they're barraged with, 'Oh, but you have to try it?'"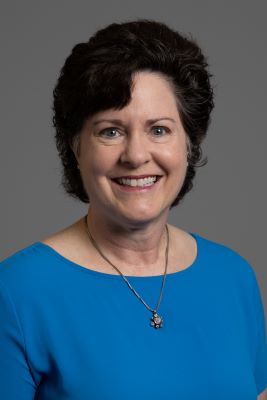 The pressure and comments from other event attendees made Spaniola unsure of her choices and emotions around food throughout the event, and the next day she ended up piling her plate high with corned beef hash and eggs, only to wish she hadn't eaten it later on. So, she took out her notebook and started writing things down—her feelings, her thoughts and words others spoke to her.
"Writing things down about how others see my work and see me probably makes me value myself better," Spaniola said. "It's been a really nice way to wrap up my own mind and take good mental care of myself…I'm going to have whatever makes me feel good to be fueled property so that I smile. I'm calling it my appreciation notebook."
Now, when Spaniola knows a meeting or event may be a "brutal and busy" few days, she takes advantage of the days prior to leaving, making sure to eat well and write down her plans. This way, Spaniola feels more confident about the choices she makes while attending events.
"Supporting ourselves mentally can then allow us to say, 'No, I don't want to eat that,' and it helps to remember our value, and that mental state is really where it is," she said. "It's easy to berate yourself or what you did or didn't do, but all I need to do is go back and read things in this notebook to see that people do appreciate me for me." 
Read this next: Four Hot Meditation Apps to Help Stressed-Out Planners