Savannah Combines Historic With Hip for Meetings and Events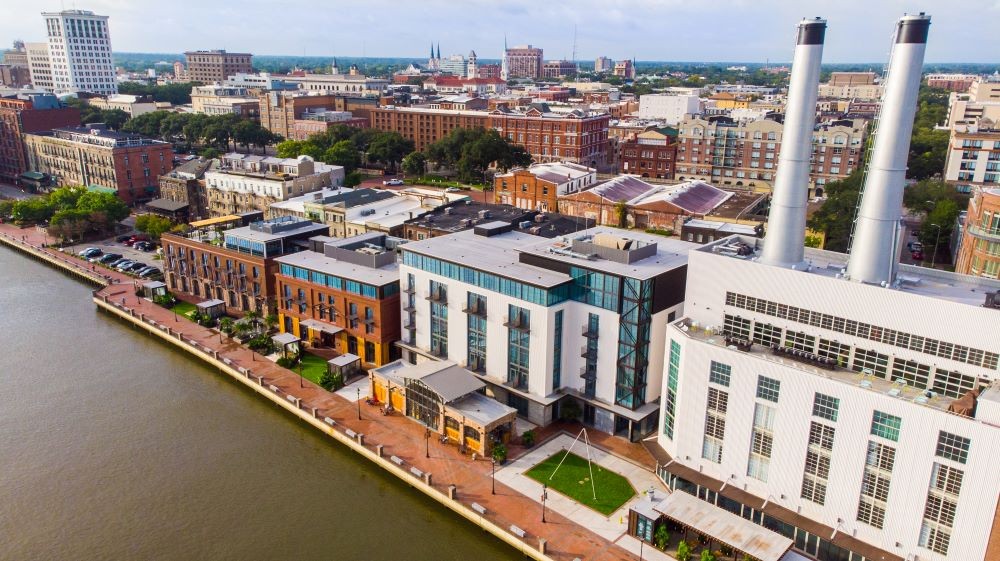 Plant Riverside District. Credit: Visit Savannah.
Walking around Savannah, Georgia, can be like traipsing through a work of Southern Gothic literature, with its 22 verdant public squares shaded by a canopy of Spanish moss-draped live oaks and surrounded by Edwardian buildings with wrought-iron balconies evoking a New Orleans vibe.
Continuing on the theme, visitors can also savor the surroundings on their Historic District stroll with an adult beverage in hand, as long as it's in a 16-ounce to-go cup.
[Related: 5 Hot Savannah Restaurants For Group Dining]
You see, people come to Savannah to have a good time while being transported back in time, and the destination's meetings and events facilities are more than willing to get the party started.
"Savannah, established in 1733, has the largest historic landmark district in the country," said Jeff Hewitt, executive vice president of Visit Savannah. "It was the first planned city in the New World. Every era of American architecture is represented. Couple that with the transformation of old unused buildings into places like the lobby of the JW Marriott, the influence of the Savannah College of Art and Design, and you find yourself at the intersection of historic and hip."
Savannah definitely has the historic part down and has upped its hip quotient with the addition of the Plant Riverside entertainment district and the ever-evolving Starland, an arts community district that has been in the works since 2000 and provides a bit of bohemian relief to the Southern Gothic foundation.
"The Plant Riverside District, anchored by the JW Marriott, is a riverfront wonderland," Hewitt said. "The complex contains 14 food and beverage outlets, rooftop venues and dozens more in the immediate area. There are numerous shops and galleries, and the power plant building is like a natural history museum. All this on Savannah's beautiful riverfront."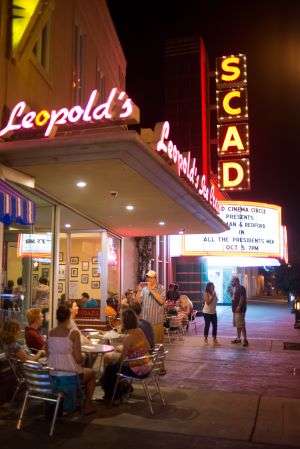 Featuring a repurposed electric power plant and two newly constructed mixed-use spaces, the 4.5-acre Plant Riverside District opened in summer 2020 and demonstrates the city's recommitment to its waterfront. Within the District is a hotel, three rooftop bars, more than a dozen restaurants, specialty retail and the addition of more than a quarter mile of new river walk.
A meetings and events highlight of the Plant Riverside District is the 10-story (six above ground and four below) Atlantic Building, which can be used as a venue for larger events alongside the river. The Atlantic also houses the JW Marriott as well as a street level that contains the District Live music venue, ballrooms and prefunction spaces.
The Starland District represents the fruits of a more than a 60-block revitalization project initiated in 2000 by two Savannah College of Art and Design graduates to create a functioning arts community separate from the college. Hundreds of abandoned houses and buildings were restored to create a creative hub filled with studios, restaurants, galleries and unique retail establishments.
"Starland is home to Savannah's eclectic artistic community with numerous vintage clothing and vinyl shops," Hewitt said. "Local microbreweries and food trucks provide local flavor. If you want to explore your bohemian side, this is where the locals hang."
[Related: More Info on Meetings Today LIVE! South, in Savannah]
Savannah Meetings Hotels
Top meetings hotels in Savannah include the following properties:
Located in the heart of the downtown Historic District, The DeSoto Savannah will be the host hotel for Meetings Today LIVE! South December 4-7. A popular starting point for a "Sip & Stroll" walking tour, the 246-room DeSoto offers 20,000 square feet of newly renovated event space, including the 5,400-square-foot Oglethorpe Ballroom, the 4,000-square-foot Madison Ballroom, 11 breakout rooms and the ability to use Madison Square itself for events.
The 419-room, waterfront JW Marriott Savannah Plant Riverside District, with 18,000 square feet of meeting space and located in the Plant Riverside District, offers the Salzburg and Amethyst Ballrooms, as well as the event-ready Moon Deck and Myrtle & Rose Rooftop Garden overlooking the Savannah River.
The Westin Savannah Harbor, a 403-room, AAA Four-Diamond property set on the Savannah River, is next to the city's Historic District. The property's PGA Championship golf course—the only one in Savannah—recently completed a $1.2 million greens renovation. The hotel also offers 286,600 of event space, including 46 meeting rooms, a more than 10,000-square-foot ballroom and more than 50,000 square feet of outdoor event space.
Another contemporary-styled property, the 351-room, riverside Hyatt Regency Savannah offers direct access to River Street and the Historic District. Other features include a large outdoor patio overlooking the Savannah River, where iconic paddle-wheeler steamers ply the waters. The hotel offers 33,000 square feet of meeting space with an 11,000-square-foot Harborside Ballroom. 
Inspired by elegant European hotels, the 126-room Mansion on Forsyth Park provides more than 13,000 square feet of function space, including six meeting galleries and the Marble Garden Courtyard, which can be tented for fresh-air events. The property is undergoing a multimillion-dollar renovation and expansion that is expected to be complete in early 2024.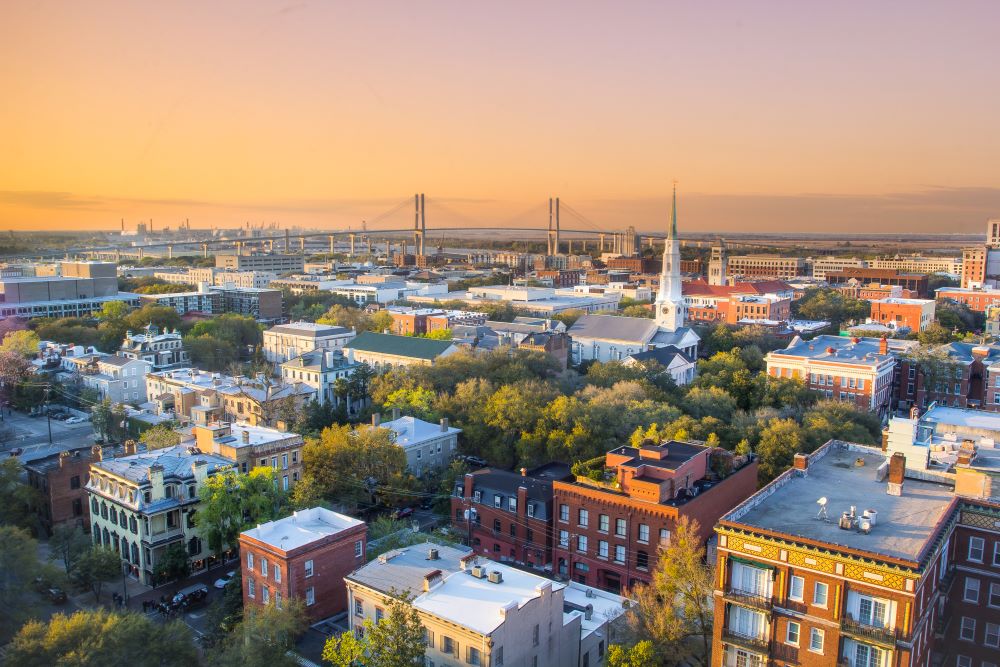 Convention Center Expansion
Scheduled for a 2024 completion, the Savannah Convention Center, which currently offers 330,000 square feet of space, is undergoing an expansion that will allow the destination to compete for larger groups.
"The building's space will double in size, and when complete in Q1 2024, it will feature a 200,000-gross-square-foot exhibit hall, a 40,000-square-foot ballroom that complements a 25,000-square-foot ballroom, and a total of 36 breakout rooms," Hewitt said. "And then add rooftop and riverfront patios, and this facility will be unequaled."
Highlights of the Savannah Convention Center expansion include the following:
100,000 square feet of additional exhibit space
40,000 square feet of more ballroom space
13 additional meeting rooms
900-plus parking spaces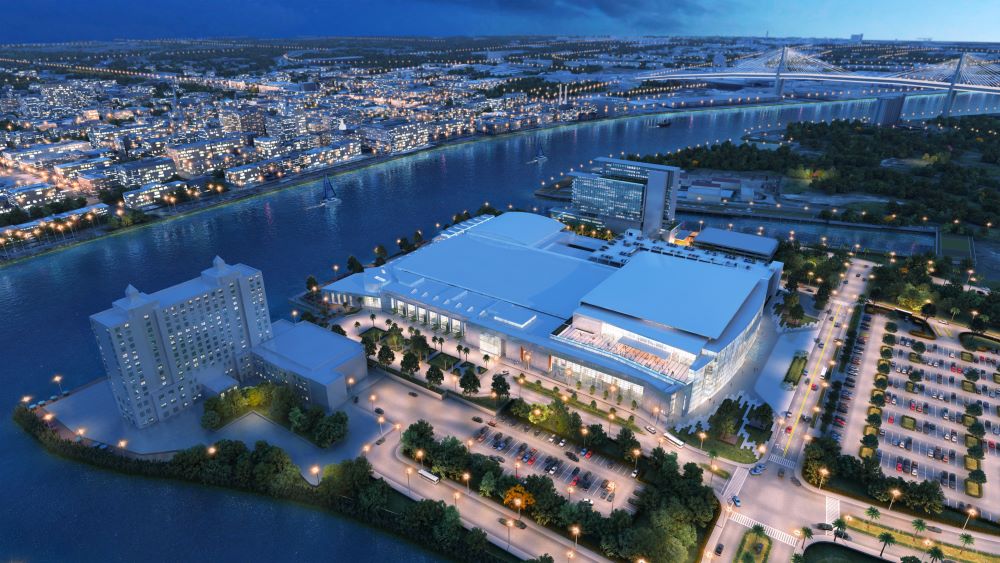 Also in the works is a new 400-plus-room hotel that will be connected to the convention center, but further details were not available at publication time. Groups can also access the Savannah Civic Center, which offers 25,000 square feet of exhibit space as well as a 2,500-seat auditorium.
Connect
Visit Savannah 
(912) 644-6400
Read Next: 11 Historical Venues in Georgia That Will Charm Attendees