4 Tucson Venues for Space and Science Fans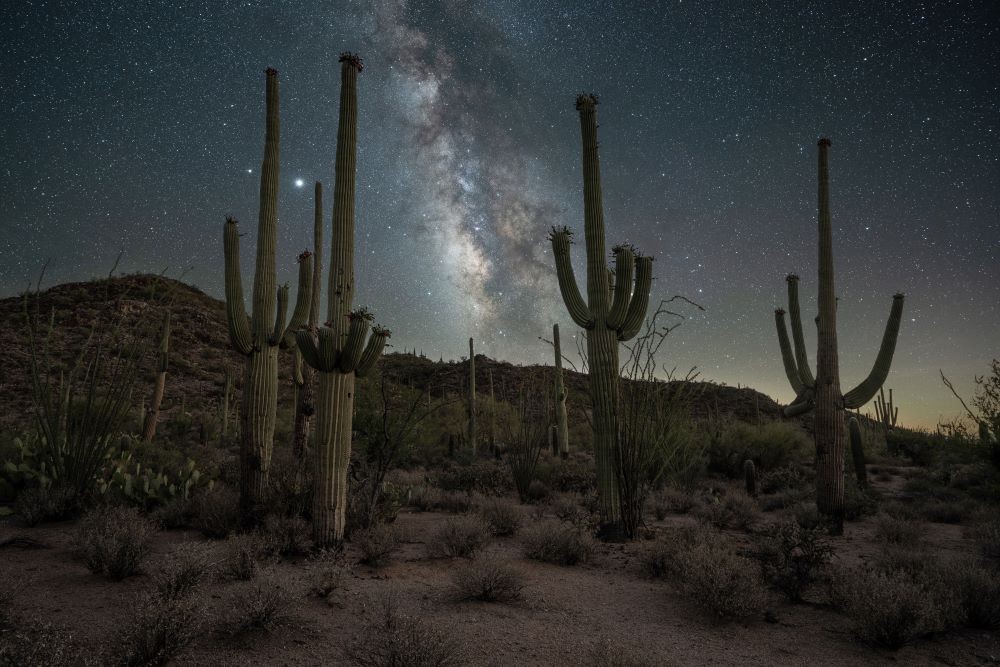 Night sky over the desert near Tucson, Arizona
Tucson, Arizona, has long beckoned groups with its picturesque, wide-open desert landscapes and luxury resorts. Recent developments to its downtown core are upping its meetings game, too.  
What you might not know is, Tucson is also a hotbed for scientific discovery, innovation and aviation technology. These four venues can give your groups other-worldly atmospheres, while helping them learn something new about Tucson along the way, too. 
Flandrau Science Center & Planetarium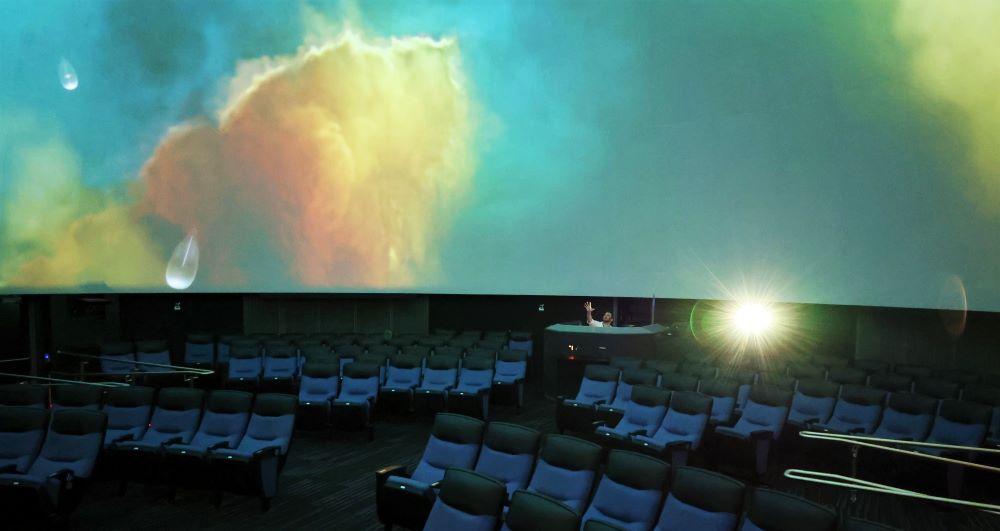 If you've ever been to the Greater Tucson area and spent time outside at nighttime, it's hard to forget the twinkling shows put on by the dark skies. Thanks to ordinances by the City of Tucson and Pima County enacted in the 1970s, light pollution is scarce, causing researchers and astronomers to frequently venture to the Southwest desert city.  
The International Dark-Sky Association calls  Tucson home, and the Flandrau Science Center & Planetarium at the University of Arizona is now home to one of the most reputable astronomy departments in the U.S., leading projects such as the Phoenix Mars mission and the OSIRIS-Rex sample return mission to the Bennu asteroid. 
Groups aiming for an exploratory air can host private events within Flandrau, including in the main Galaxy Room (exhibit hall), Eos Planetarium Theater and the Mezzanine Classroom. Small groups of up to 225 can attend meetings, receptions, lectures and more, or attend a private, after-hours planetarium show. 
Nick Letson, manager of marketing and communications for Flandrau, offered a few examples of how groups have used the spaces recently. In welcoming the new Dean of the College of Science, the university hosted an evening reception in the science exhibit halls followed by a presentation in the Eos Planetarium Theater.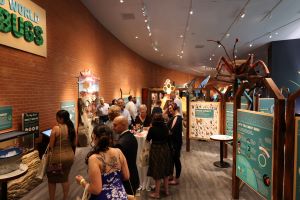 "Visitors were able to enjoy adult beverages and hors d'oeuvres while interacting with the space and Earth science exhibits," he said. "In the planetarium [which has a full complement of audiovisual equipment included with the rental price], they introduced the new dean by using the planetarium software to zoom into where she came from, in Rochester, New York, and then over to Tucson before zooming all the way out into our solar system to look at OSIRIS-Rex." 
Flandrau also hosted the first gala fundraiser event for the nonprofit Reach for the Stars recently, whose mission is to help and enrich the lives of disadvantaged kids through astronomy programming. 
"We had our observatory open and pointing to the stars throughout the night and the exhibit halls were filled with tabletops, drinks and food," Letson explained. "They used the planetarium theater to host a live auction, which was followed by our 'Tucson Sky & Beyond' presentation, which is a live star talk explaining points of interest [planets, constellations, meteor showers, etc.] in the current night skies." 
[Related: All the Ways to Meet Under the Sun in Phoenix and Tucson]
Pima Air & Space Museum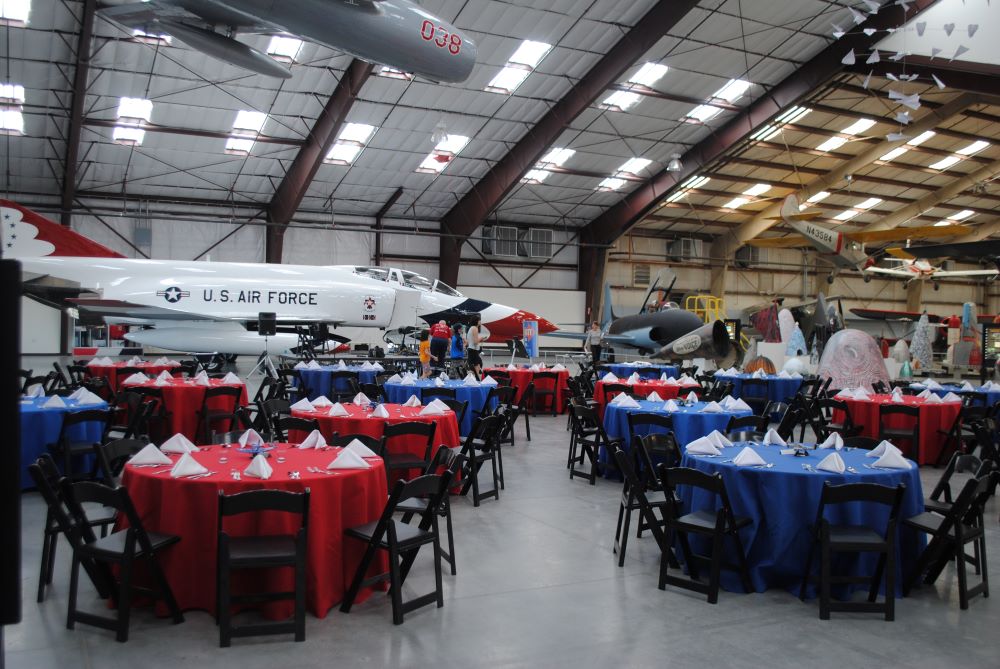 Sitting adjacent to Davis-Monthan Air Force Base is Pima Air & Space Museum, which is one of the largest non-government-funded aviation and space museums in the world, housing more than 400 historic aircraft on 80 acres.  
Civil, commercial, military and experimental aircraft are included in the international collection along with 125,000 artifacts—including a moon rock—throughout the five hangars. Aviation buffs will marvel at World War II aircraft like the Boeing B-29 Superfortress and modern 787 Dreamliner.  
More than 20,000 square feet is available for events up to 325, spread across a variety of spaces:  
Flight Central is the museum's main event space located in the Main Hangar and accommodates groups up to 320 guests under the wings of a meticulously restored F-4  Phantom II in Thunderbird markings, an F-14 Tomcat and alongside a Blue Angels F-11 Tiger. 
Spirit of Freedom is also located in the Main Hangar under the wings of the SR-71 Blackbird. This space accommodates up to 120 guests and is ideal for a more intimate setting.  
Flight Grill is the museum's onsite restaurant and can be used for breakfast meetings, luncheons and in the evenings for smaller events of up to 100 people. The grill is climate controlled, features floor-to-ceiling windows and has a patio. 
The John R. Stitt Education Center is available for meetings for up to 100 people. 
Biosphere 2
Roughly 30 miles north of Tucson in Oracle, Arizona, is Biosphere 2—a research facility that made history as Earth's first self-contained biome. The facility was originally built in 1986 to research and develop self-sustaining space-colonization technology, conducting missions to measure survivability in the early '90s. 
The University of Arizona took over ownership in 2011 and today the facility now serves as an important tool by researchers at the university aimed at quantifying some of the consequences of global climate change through various experiments. It's now the world's largest controlled environment dedicated to understanding the impacts of climate change. 
Attendees passionate about sustainability and environmental conservation will surely enjoy the intellectual mission of Biosphere 2, and planners might be surprised to find a full conference center and retreat grounds available onsite.  
A campus village with 28 Santa Fe-style houses containing 108 double-capacity rooms with in-suite kitchens are available. The conference center itself contains eight meeting rooms and has an outdoor event lawn that can host up to 500 people, complete with views of the Santa Catalina Mountains. 
Tumamoc Hill 
Located in the heart of Tucson, Tumamoc Hill is a U.S National Historic Landmark and 860-acre ecological preserve that's been home to the Desert Laboratory since 1903. According to the University of Arizona, "Tumamoc Hill, known in O'odham as Cemamagi Du'ag, Horned Lizard Mountain, is on the ancestral lands of the Sobaipuri and Tohono O'odham peoples. This volcanic hill is of prominent ancestral, cultural and sacred significance to the O'odham nations, including the The Tohono O'odham Nation, Gila River Indian Community, the Salt River Pima-Maricopa Indian Community and the Ak Chin Indian Community, as well as the Hopi Tribe and the Pascua Yaqui Tribe." 
The site has both this cultural significance in the Tucson community as well as scientific. The Desert Lab, which originated in the early 1900s, is home of ecology studies (how organisms like plants, mammals and insects and bacteria interact with each other and with their environment). Being the site of ancient farmers thousands of years ago, it's also an important archeology site. While walking the hill, visitors can see large rock walls built around the edges of Tumamoc Hill over 3,000 years ago. 
Currently, it's owned and operated by the University of Arizona in partnership with Pima County and is home to active research in ecology. It's also one of the most popular hikes in the Tucson area. Groups can walk the site's trail and then meet among the inspirational discoveries in the historic stone Desert Lab building. Up to 60 people can meet in the classroom, 40 people in the library, and small working groups of three to eight people can use the Map Room. Amenities like smart boards, projectors and screens, TV monitors and video conferencing are available. 
Plus: How You Can Incorporate Dark Sky Tourism Into Your Event
Dark sky tourism is on the rise. Perhaps it's because a sky full of stars is an increasingly rare sight—according to a study published in Science Advances, more than 80% of the world and more than 99% of the U.S. and European populations live under light-polluted skies, and The Milky Way is hidden from more than one-third of humanity, including nearly 80% of North Americans. 
A movement to reduce light pollution is rooted in Tucson, which is home to the International Dark-Sky Association (IDA). IDA founded its International Dark Sky Places (IDSP) Program in 2001 to encourage communities, parks and protected areas around the world to preserve and protect dark sites through responsible lighting policies and public education. 
IDA's reach extends across the world, with over 195 certified IDSPs reported as of January 2022. Because of its efforts, "astro-tourism" is looking up, and people traveling to Tucson are beginning to notice.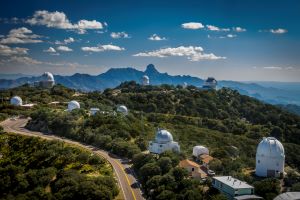 Robert Sparks, a science education specialist at National Science Foundation's NOIRLab in Tucson—whose parent company is the Association of Universities for Research in Astronomy (AURA)—has seen groups' interest in the stars above first-hand. While many groups will make their home base for meetings at popular resorts like Westin La Paloma Resort or El Conquistador Tucson, for example, they will leverage Tucson's astronomy expertise. 
"A lot of these meetings do incorporate a stargazing component into [their program], whether it's at one of our local observatories like Kitt Peak, or whether they get people from us, for instance, from our lab to bring telescopes there, or other organizations, like the University of Arizona student Astronomy Club and groups like that, to bring telescopes set up at these venues for stargazing evenings." 
Sparks also added that University of Arizona's Richard F. Caris Mirror Laboratory is another popular site groups frequent, where teams of scientists and engineers are making giant, lightweight mirrors for a new generation of optical telescopes. 
NOIRLab, where Sparks works, is the preeminent U.S. national center for ground-based, nighttime optical and infrared astronomy, which operates five programs, including the nearby Kitt Peak National Observatory. Sparks helps organize educational meetups leveraging the organization's astronomers. 
One program is Project Astro, where Sparks pairs local teachers with astronomers during a two-day workshop.  
"In pre-COVID times, we would take teachers up to Kitt Peak for Friday…spend all day Friday on Kitt Peak, have dinner up there at the cafeteria," he said, adding that teachers get to mingle with astronomers over a meal. "Then, they go off for a night of stargazing up on Kitt Peak and then we come back down the mountain for the Saturday session, which is held here at our headquarters at the UVA [University of Arizona] campus."  
Following the program, astronomers continue to visit the teachers in the classroom throughout the school year to help them with astronomy education. Sparks hopes to bring back the full program in 2023. He also added that NOIRLab also works with students in the Teen Astronomy Cafe Program, where high school students come to the lab, hear from professional astronomers and have opportunities to learn in the computer lab, playing around with real data. 
Whether you're trying to leverage professional astronomers for educational purposes or are just looking for a fun nighttime stargazing activity for the group you bring to Tucson, the resources in the area run deep to explore the skies.
Connect 
(520) 624-1817 
Read this next: 7 Ways to Savor Sonoran Cuisine in Tucson