Meetings Today LIVE! Corporate & Incentive Wraps in Cancun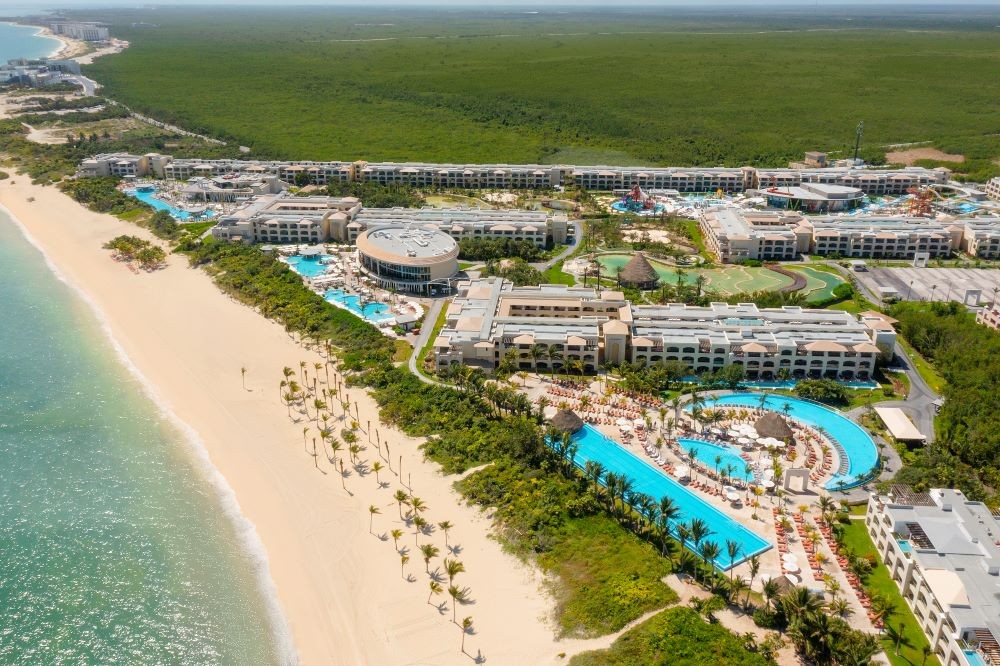 Aerial view of Moon Palace The Grand - Cancun. Credit: Palace Resorts
With its turquoise seas, white-sand beaches and an impressive tourism infrastructure, including easy lift from many U.S. destinations, Cancun, Mexico, is a popular evergreen option for incentive travel programs. This destination never goes out of style, and is constantly renovating and adding properties, which is why this year's Meetings Today LIVE! Corporate/Incentive program took its program to this perennial Caribbean destination.
Qualified incentive planners, along with suppliers from Mexico, the Caribbean and other southern incentive destinations, gathered to discuss business and also experience the portfolio of Palace Resorts in the Greater Cancun area.
The 1,304-room Moon Palace The Grand–Cancun played host to the group for three days, November 6-9. This luxurious and expansive all-inclusive property comes with 11 restaurants, four snack bars and 10 bars, nine outdoor pools, the largest Awe spa in the Palace Resorts portfolio, around 53,000 square feet of outdoor meeting space and up to 80,000 square feet of ballroom and meeting space.
"This is my first Meetings Today LIVE!," said Stephanie Grueneich, director at Prestige Global Meeting Source. "I got to meet with over 20 vendors from all over the world, network, enjoy receptions with great food and drink, and learn a lot more about areas I wasn't familiar with but can now share with some of my best clients when I get home."
Watch the video below, produced by Palace Productions, to see highlights from the event!
Opening Night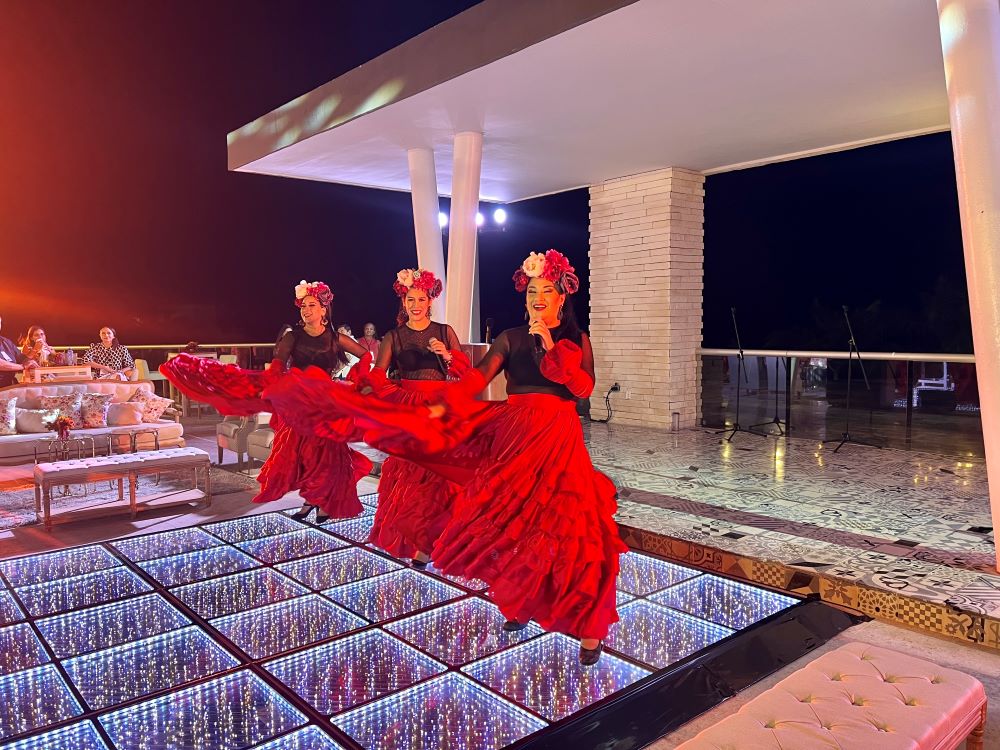 The welcome reception on the Cusco Terrace at Moon Palace The Grand–Cancun showcased the colorful decor, entertainment and food and beverage groups can experience when partnering with Palace Resorts' in-house event services arm, Palace Productions.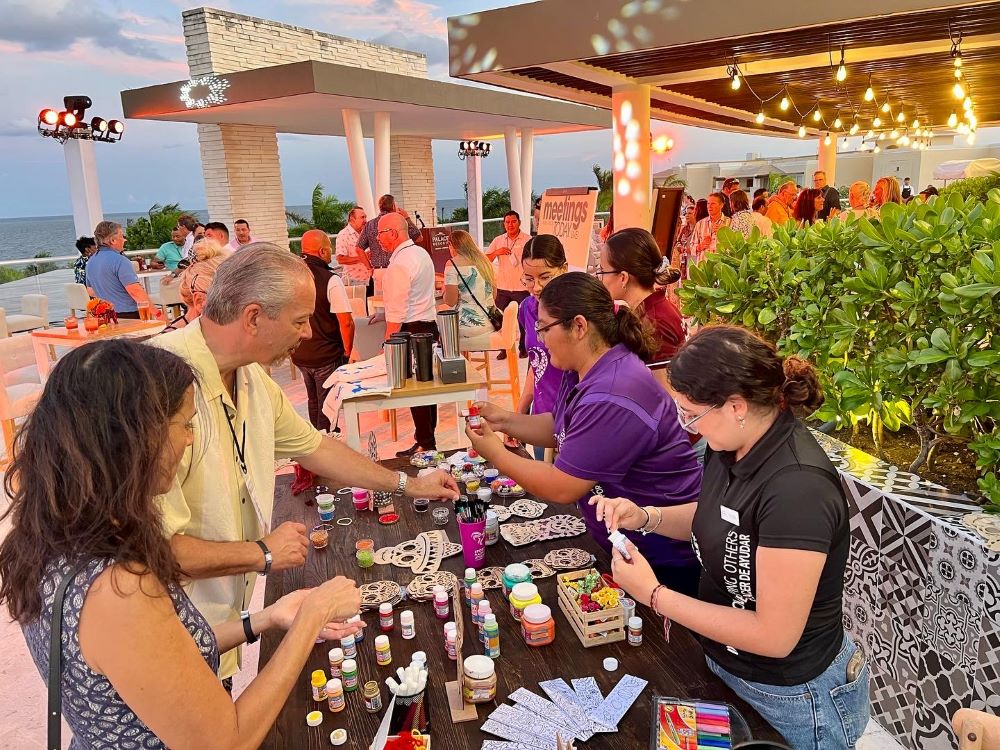 Palace Productions is a valuable resource on hand for planners. There are no setup fees for an unlimited number of events, and the in-house team can help with decor, lighting and any audiovisual and entertainment needs. For our welcome reception, Palace Productions brought in a light-up dance floor and stage that gave way to mariachi entertainment, singers and dancers. Traditional Mexican street tacos and appetizers native to the Cancun area immediately gave attendees an introduction to the local food and beverage. The Palace Foundation, through which planners can coordinate CSR projects, was on hand for arts and craft activities. If groups want to incorporate activities that highlight local Mexican culture into their event, the Palace Foundation has also organized events for clients such as a fair with the highlights of the Mexican culture, including foods from different regions, Mexican games, music, desserts and more.
[Related: We are traveling to Hawaii in 2023! Inquire to attend now.]
Day One: Exploring Palace Resorts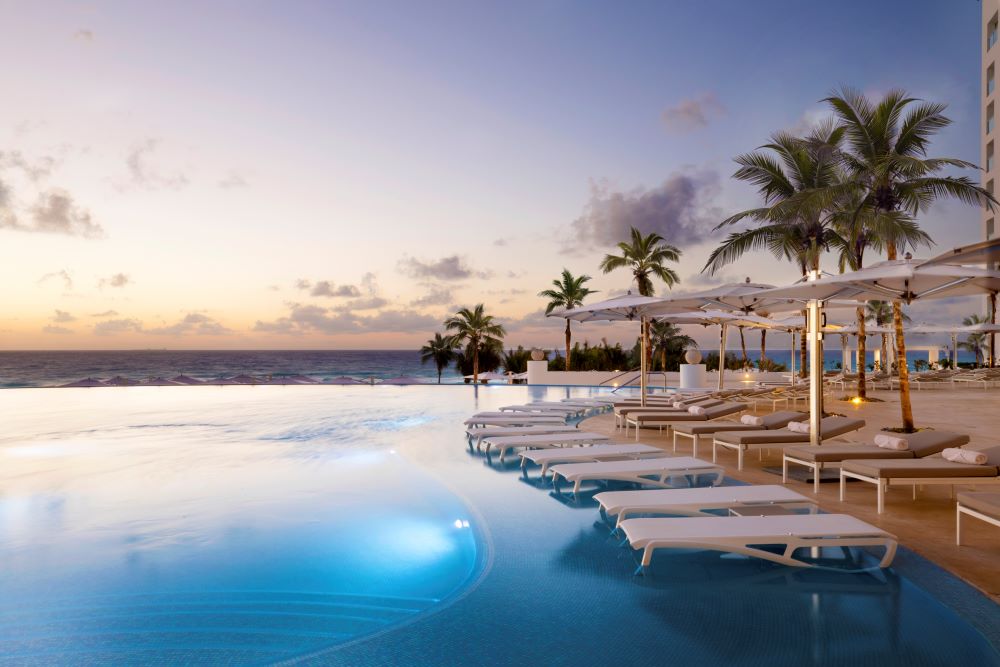 The real business kicked off on November 7, when attendees started the day with an education session with Roger Rickard of Voices With Advocacy. Rickard presented his "Ripped from the Headlines" interactive presentation, where attendees identified top issues affecting the meeting and events industry, and then discussed tools to advocate for both solutions to the issues and the value they bring to the table at their organizations.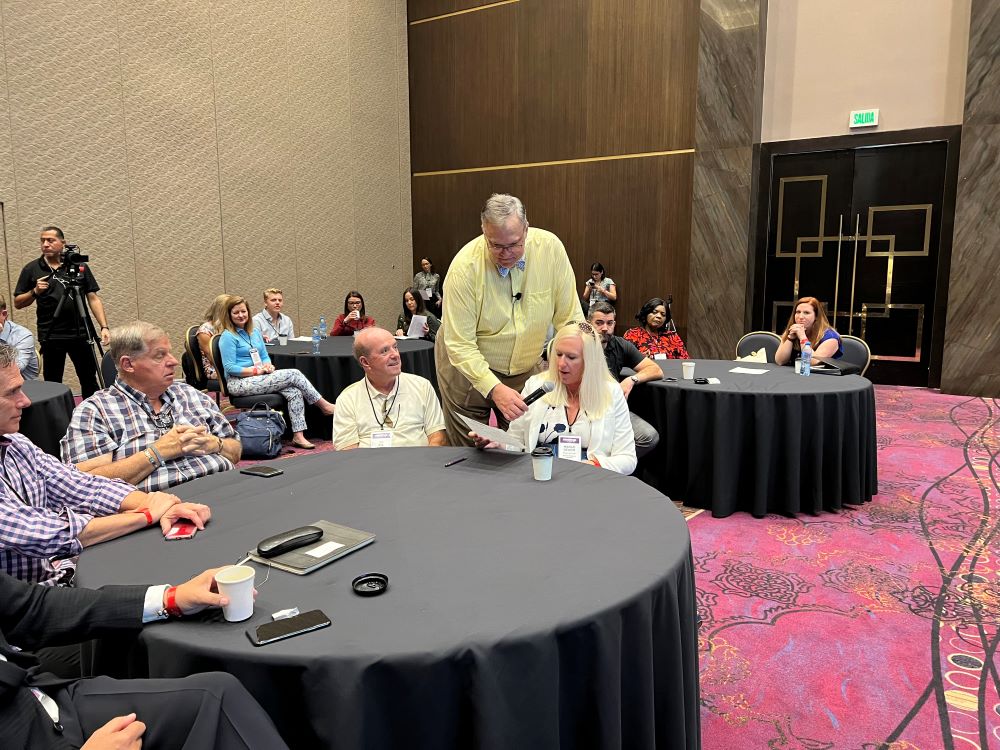 Energized from a concluding pep talk on how to be their best advocates, attendees proceeded with one-on-one appointments—hallmarks of Meetings Today LIVE! Events—where planners and suppliers meet face-to-face discussing RFPs, learning about offerings in various destinations or of different products and other business items.
Palace Resorts has a large footprint in the Cancun area, and the afternoon was reserved for site inspections of some of its other properties. 
First up was a tour of Sun Palace—a 245-room adults-only resort in Cancun that offers 3,300 square feet of meeting space and 5,100 square feet of outdoor meeting space, in addition to four restaurants, three bars, three infinity pools and spa. 
Nearly every room at Sun Palace—which was renovated in 2019—has a view of the Caribbean Sea, and attendees got to enjoy the same views from lunch at La Tratto restaurant onsite.
Following Sun Palace, the group made its way back to the Moon Palace campus to tour the Moon Palace Cancun and adjacent Moon Palace Arena. The AAA Four Diamond all-inclusive property has over 2,000 rooms across its two Nizuc and Sunrise sections. The property was buzzing with activity due to a buyout for the Cancun Jazz Festival, which also utilized the convention center. The arena can host up to 8,000 people.
Le Blanc Spa Resort Cancun was the final stop on the day's tour of Palace Resorts properties, and the most high-end luxury product was saved for last. The all-inclusive AAA Five-Diamond Le Blanc Spa Resort, complete with butler service for all 260 rooms (90% of which have ocean or lagoon views), did not disappoint. The property is a nice fit for those upper echelon incentive groups, maintaining its Five-Diamond rating for 11 consecutive years with amenities like the Blanc Spa with hydrotherapy treatment, six restaurant options, five bars (including two swim-up bars), 11,000 square feet of indoor meeting space and around 14,000 square feet of meeting space. 
When All Doesn't Go to Plan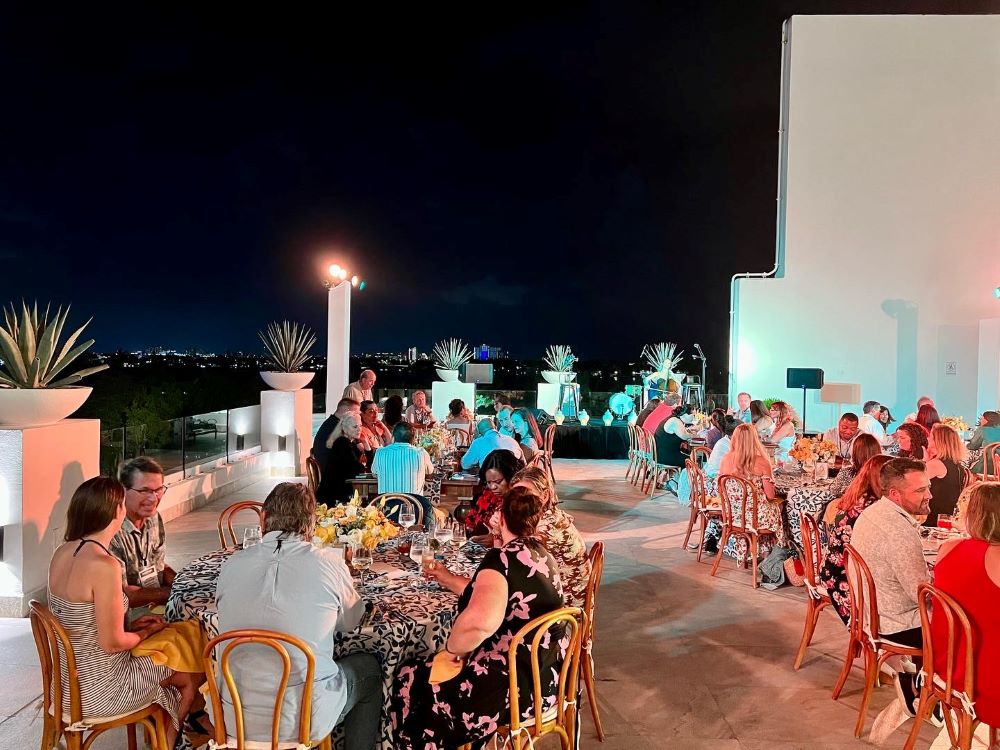 The staff at Le Blanc welcomed attendees with an electric cellist and stunning dinner decor on its Wind Terrace overlooking the ocean. The moonlight shined on the water and a light breeze blew in the air as everyone enjoyed the first few courses of salad and soup outdoors. 
Unexpectedly, a few raindrops fell—and just as quickly, the rain started to come down in sheets. But what better group for chaos to befell than a room full of meeting professionals? 
The Le Blanc staff sprang into action and did an incredible job of clearing the terrace and flipping the second part of the dinners indoors. As they set the tables indoors, a handful of sympathetic meeting planners, who are no strangers to plans going awry, rolled up their sleeves and rushed into the ballroom to help staff set the silverware and fix the chairs with covers.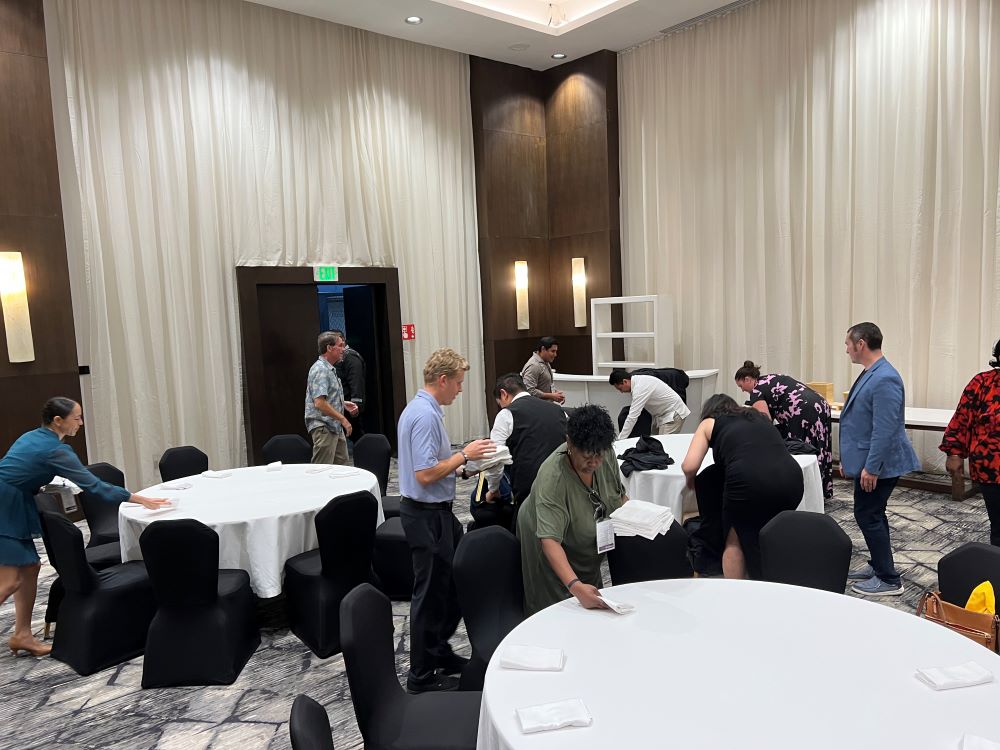 The room setup was soon complete and attendees seated in less than 30 minutes from when the downpour began, and while it pushed dinner to a later hour than expected, spirited conversations about "what do you do in the event of unexpected weather" ensued over the main course. A standing ovation for the Le Blanc staff capped off the eventful night, which goes to prove that no matter whether you're a novice meeting planner or a seasoned vet, weather can always throw you a curveball.
Day Two: Incentive Amenities and a Sweet Ending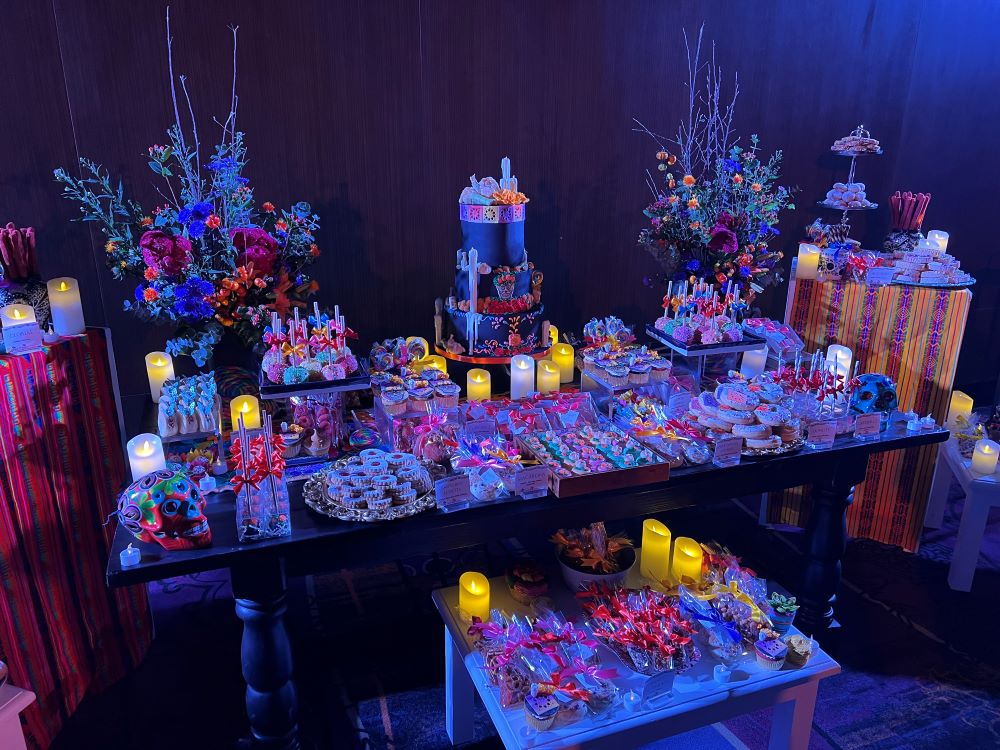 Following another productive morning of one-on-one appointments, the remainder of Tuesday was reserved for experiencing some of the Moon Palace The Grand–Cancun's onsite amenities. Attendees had the option to golf at Moon Palace Cancun's 27-hole Jack Nicklaus-designed course or enjoy one of the services at the Awe Spa, or simply sit by the pool to relax. 
Refreshed and ready to eat, the group split into smaller groups to each experience a different restaurant in-house, from gourmet Mexican food and Mexican street food to Asian, Italian and a steakhouse.
Palace Productions had a real treat in store for dessert, welcoming groups back from dinner to an incredible dessert spread. Traditional Mexican sweets like Mexican shortbread cookies, chili-coated gummies, plus decadent cake pops, meticulously decorated macarons, colorful cupcakes and more dazzled attendees. After snapping many photos and sampling many treats, we said goodnight to another successful Meetings Today LIVE! program, and walked away with new connections and a fuller understanding of what Cancun and Palace Resorts can offer incentive programs. 
Thanks to Our Sponsors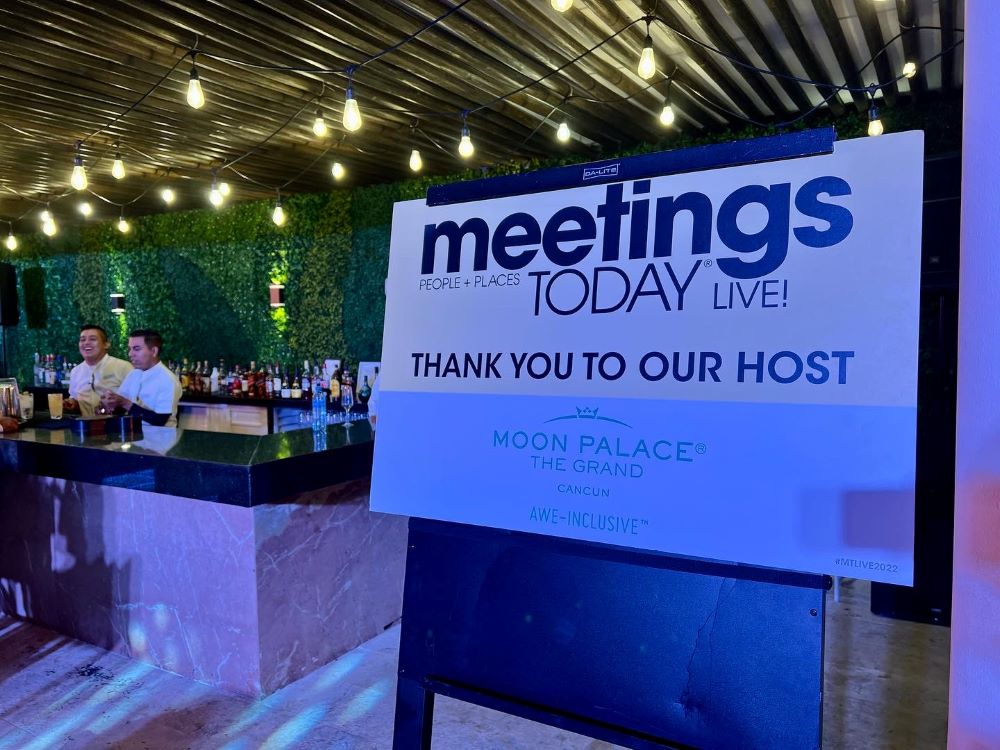 A big thanks to the sponsors of this year's Meetings Today LIVE! Corporate/Incentive Cancun event:
Interested in attending a Meetings Today LIVE! event? Inquire about our 2023 events now!