Unique Offsite Venues Showcase Baton Rouge and Shreveport Culture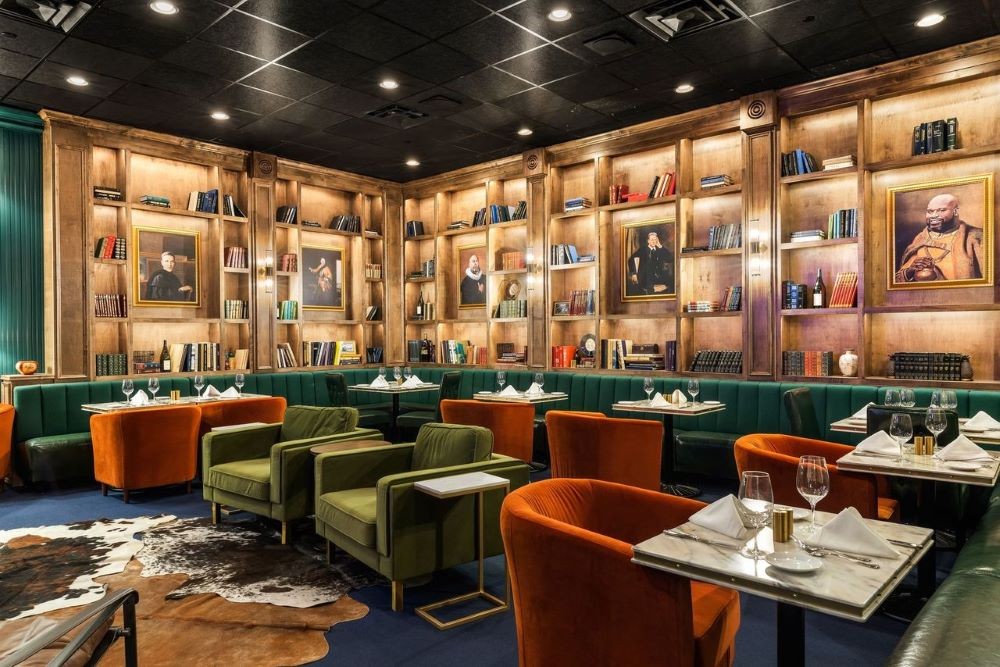 Jubans Dining and Seating Area
As meetings and events near returning full-swing, attendees are looking for experiences outside of boardrooms and conference centers, hoping to leave having learned something new both about the industry and the destination they visit. While onsite venues provide easy-to-access solutions for gathering attendees somewhere close, offsite venues offer unique opportunities and surroundings guaranteed to make your meeting memorable and full of local flavor.
Cities such as Baton Rouge and Shreveport, Louisiana, have a plethora of offsite venue options to offer, from historical sites like underground tunnels converted into dining halls to the nation's largest park dedicated to roses. Consider working one of these offsite venues into your meeting agenda during your next Louisiana event. 
Baton Rouge
A city rich with history, Baton Rouge turns to its roots to welcome and entertain meeting and event attendees. The city's name itself is French for "red stick " and has been nicknamed the Red Stick City since French explorers wandered the land more than 300 years ago. Today, Baton Rouge visitors can experience the Red Stick City themselves at the offsite venue Red Stick Social inside the Electric Depot.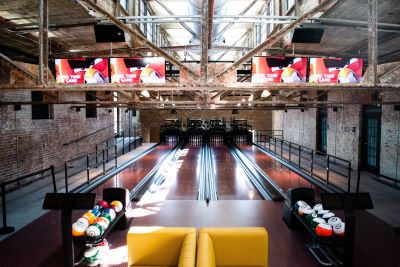 The Electric Depot, housed inside the newly renovated 103-year-old building that had been the Baton Rouge Electric Company powerplant, offers Red Stick Social as new live music and social club venue in an intimate and unique setting. While enjoying live music, guests can take advantage of the social club's multiple bowling lanes or enjoy locally inspired small plates with both indoor and covered outdoor seating, including a pet-friendly beer garden and rooftop patio.
Red Stick Social measures 35,000 square feet across five floors and can host private events for 10 to 1,000 guests. Wrapping around the second floor of the building, Red Stick Social's outdoor patio can accommodate up to 75 people for a standing reception, and guests can get a taste of Baton Rouge's local cuisine with a private event venue featuring crawfish pies and remoulade, boudin balls and creole mustard and shrimp fettuccine pasta. 
For a private bowling experience, groups of up to 20 can book Red Stick Social's Bowling Balcony, an indoor balcony overlooking the venue's stage from the third floor with two bowling lanes. Groups of up to 75 can take advantage of the venue's VIP Floor, including four bowling lanes, a bar and access to the rooftop terrace.
[Related: Delectable Group Dining Options in Louisiana]
Jubans Restaurant and Bar, a recently renovated property where "history loves company," offers more than 11 unique offsite meeting and event venues, including a hidden library, wine cellar and outdoor patio. Larger groups of up to 200 can gather at the restaurant's Chateau Juban, and groups of up to 75 can gather on The Patio for a standing cocktail reception.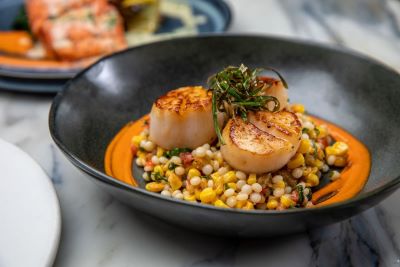 Intimate spaces include The Wine Cellar, where a group of 10 can enjoy a seated dinner with a menu offering Jubans gumbo, cauliflower crab and brie soup and seafood gratin, and the Tigre Lounge, which can accommodate 20 people for a seated dinner or up to 40 for a standing reception.
Located at the foot of Louisiana's state capitol—the tallest in the nation—is Capitol Park Museum, which neighbors Baton Rouge's oldest neighborhood, Spanish Town. The museum provides explorations and exhibits featuring Louis Armstrong and Huey P. Long, Mardi Gras and the nation-building commerce of the Mississippi River. 
Capitol Park Museum's Plaza measures 5,300 square feet and is set against green lawns and a reflecting pool. The fully sheltered outdoor space can accommodate 300 seated and 500 standing and offers views of the State Capitol. Inside, the museum's 2,840-square-foot Reception Room features a rare and historic mosaic by Conrad Albrizio and can host 200 for a seated dinner or 400 for a reception. Groups can also experience the museum itself first-hand with an added museum tour during receptions.
While not offsite, Hilton Baton Rouge Capitol Center recently began hosting events in The Tunnel, a converted event space in the tunnel that once ran beneath Lafayette Street, connecting Hilton Baton Rouge Capitol Center to Hotel Indigo. The Hilton opened its side of the tunnel and allows visitors to walk through its half, which was used when the hotel was known as the Heidelberg Hotel for Huey P. Long, former Louisiana governor and U.S.  senator , to avoid the media in the 1930s.
"They've converted it into a space where you can have cocktail hour events. They've done a whole seated dinner," said Anna Gasperecz, destination experience manager with Visit Baton Rouge. "It's great, and it has history of the area. Obviously, [Huey P. Long] would use [the tunnel] to escape the media, but they do say that his wife would stay in one hotel and his mistress in the other, and he could go between the two without anyone ever seeing."
The Tunnel features exposed-brick walls and an antique bar and evokes feelings of the era in which it was used years ago, featuring a portrait of Long, historic images and a plaque explaining its relevance and history. The Tunnel measures 1,050 square feet and can accommodate up to 40 guests banquet-style.
[Related: How Baton Rouge Can Give Your Meeting an Authentic Louisiana Experience]
Shreveport
Located along the Red River in northwest Louisiana, Shreveport is a destination overflowing with culture and new experiences. In addition to its five riverboat casinos, the Port City has more than two dozen museums, outdoor adventures like ziplining across a lagoon full of alligators and an appreciation for art and history.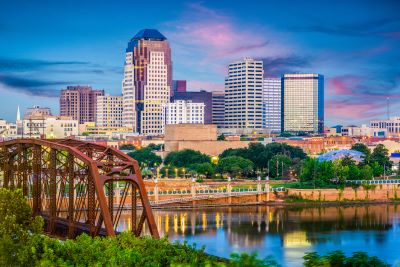 Shreveport's first arts center dedicated to the creation, production, presentation, promotion and exploration of all art disciplines, artspace is not just a museum or gallery, but a place for the public to connect to its creative side. Located in the vibrant West Edge of Downtown Shreveport, artspace offers open gallery spaces ideal for meetings and events. 
Access to and private use of artspace's upstairs gallery, coolspace, is available for up to six hours. The space can accommodate 160 guests seated at round tables or up to 175 standing in an open gallery featuring floor-to-ceiling windows. The museum's mainspace gallery can host 100 seated or 150 standing for more of a come-and-go gathering within one of the museum's exhibitions.
The entire building, including private space on all floors, can be rented out for groups of up to 500 guests and is ideal for programming, awards ceremonies and larger gatherings. 
[Related: A Little Something More for Louisiana Meetings Groups]
Festival Plaza, the premier location for festivals and public events in Shreveport, offers more than 400,000 square feet of outdoor venue space within walking distance of the riverfront and numerous downtown activities including casinos, Shreveport Aquarium and Red River District. 
Festival Plaza's Historic Municipal Auditorium can seat more than 3,000 people and has hosted performers such as Elvis Presley in the 6,300-square-foot arena. The plaza's RiverView Theater and RiverView Hall, renovated in November 2019, are two popular meeting venues often booked together in the area. The theater can seat up to 1,500 people, and RiverView Hall can accommodate 900 standing.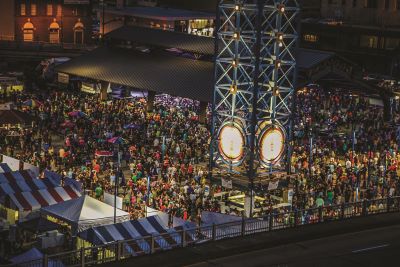 Hill Country Village offers a country setting and takes guests back in time to the 1930s. The main building, Old Country Store, was the commissary on the Robson Cupples Plantation and is believed to be more than 100 years old with original flooring and shelving. Groups often utilize the store's front courtyard for outdoor gatherings, as it can be outfitted with tables and chairs for a seated dinner. 
Hill Country Village's main dining room includes a full bar, dance floor and stage, as well as a fireplace and easy access to both the courtyard and brick patio.
Situated on 118 acres is the Gardens of the American Rose Center, home to the national headquarters of the American Rose Society and dedicated to the culture, preservation and appreciation of roses. The gardens are currently undergoing a total restoration and feature towering pine trees, companion plants, sculptures, fountains and the Dudley Watkins Reflection Pool.
The Gardens of the American Rose Center's 4,000-square-foot Kilma Rose Hall offers a unique event venue for meetings and events with a total capacity of 200 guests at the nation's largest park dedicated to roses. 
Connect
Visit Baton Rouge
(225) 383-1825
www.visitbatonrouge.com
Shreveport-Bossier Convention and Tourist Bureau
(318) 222-9391
www.shreveport-boissier.org 
Read this next: The Most Quintessential Louisiana Teambuilding Activities for Groups