3 Ways to Incorporate Local Culture Into Your Puerto Rico Meetings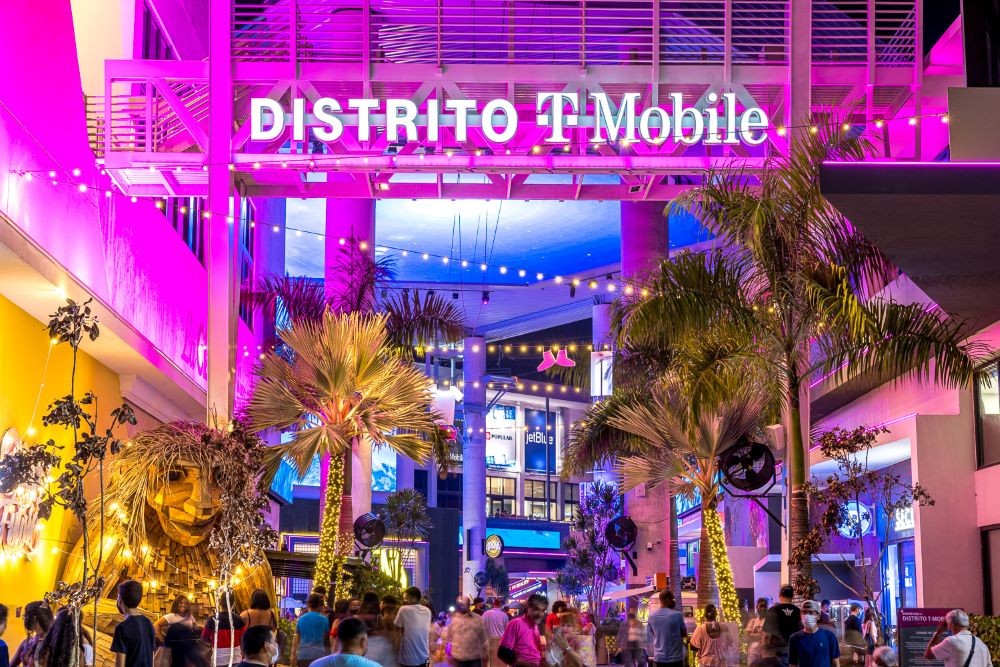 Distrito T-Mobile. Credit: Discover Puerto Rico
While concerns about staffing shortages and workforce development are dominating almost every market in the meetings industry, Puerto Rico is setting records. In August, the travel and tourism industries set an all-time record for employment, surpassing 90,000 for the first time. 
It's a statistic that reflects the roar back of Puerto Rico's hospitality industry. Group bookings are up 25% year over year, and the island's year-over-year growth in group demand sits at 71%, driven by health and medical, tech, incentive, education and finance and insurance groups. Luis Muñoz Marín International Airport (SJU) saw a 23% increase in passengers this summer compared to last summer—all following a record-breaking 2021, when Puerto Rico saw 4.3 million travelers visit the island, up 15% from the record set in 2015. 
A healthy hospitality industry plus the added benefits Puerto Rico offers, like no passport needed for U.S. citizens, no currency exchange with use of the U.S. dollar and elevated entertainment and events hub Distrito T-Mobile, make the hot Caribbean destination an ideal choice for meetings and incentives. And as more groups look toward Puerto Rico, the CVB Discover Puerto Rico is encouraging visiting meeting groups to "Make Your Meeting Boricua" and meaningfully connect with the local culture during their programs.  
"Beyond the sense of community and networking that we all gain when we meet together, we're able to connect with the destination at a level that really provides deeper, more meaningful connections and memorable gatherings that will have planners and their attendees talking about the meeting before and after," said Brad Dean, president and CEO of Discover Puerto Rico during a press conference at IMEX America. "For us, it's an opportunity to really connect the attendees and events with the local communities so they truly experience our unique lifestyle." 
Following are three ways you can incorporate the culture of Puerto Rico into your next event.
[Related: Dear Ashley: What Are Some Special CSR Ideas for an Incentive in Puerto Rico?] 
Visit a Coffee Hacienda 
Coffee is deeply ingrained in Puerto Rico's local culture and economy, and its significance on the island dates back to 1763 when the Spanish introduced coffee as a minor cash crop. The coffee industry boomed, thanks to the island's high altitude and volcanic soil, and by the mid-1800s, it was one of Puerto Rico's biggest industries. 
Groups can take a trip to a working coffee hacienda to experience what it was like to be in Puerto Rico in the 1800s when coffee was one of the most important agricultural products in the destination by learning more about coffee production, history, see the fields where it is grown and even learn how to taste coffee like a seasoned expert.  
Some working haciendas to visit include Hacienda Lealtad, one of the longest-running haciendas in Puerto Rico, in the western mountain region, and Hacienda Eucaliptos, a family-owned, third-generation coffee farm that is home to over 150,000 coffee trees and also offers rentals for special events. 
Taste the Food 
One of the best ways to experience the history and culture of a place is through its food, and Puerto Rico is no exception. Groups can experience the melding of indigenous Taino flavors with the influence of Spain and African and Latin American countries in many of the dishes and cooking techniques at restaurants in San Juan, Puerto Rico's capital city.  
Discover Puerto Rico's team can arrange experiences like a mofongo (a traditional plantains dish) and mojito walking tour, cooking lessons with a local chef or a ride on a Chinchorreo Bus to visit some of the island's best and most authentic food stands serving up dishes like fritters and fried plantains. Chinchorrear, the word that inspires the bus tour, according to Discover Puerto Rico, is when you get a group of friends and family together and go on a road trip into the mountains or along the coast, stopping at different restaurants and bars to eat and a drink. 
Spoon, a Puerto Rico-based culinary tour company, offers foodie tours of Old San Juan, where groups can learn about the city's gastronomy, history and architecture while sampling nine restaurants. Spoon also offers cocktail tours and cooking classes. 
[Related: How Can Teams Be More Culturally Sensitive in Planning Destination Events?]
Take a Mixology Course 
Seventy percent of the rum consumed in the U.S. comes from Puerto Rico. The world's largest premium rum distillery, Casa BACARDÍ, calls Puerto Rico home and offers tours and tastings. Guided tours include a rum tasting tour, a history tour to learn about the family-owned company's evolution and a mixology class where participants will learn to make iconic rum cocktails. 
Groups can also venture to Ponce to learn more about Puerto Rican rum at Castillo Serralles, an 1865 mansion that was built by the founder of Don Q rum. With Spanish revivalist architecture and lush grounds, it also doubles as an impressive offsite venue for events. 
Finally, if you're hosting an event at the Caribe Hilton, don't miss a chance to try the classic piña colada cocktail—the recently renovated property claims to have invented the drink in 1954. 
Connect
Read this next: 5 Nature Escapes in Puerto Rico