PCMA Goes Big: Association Announces Major Acquisitions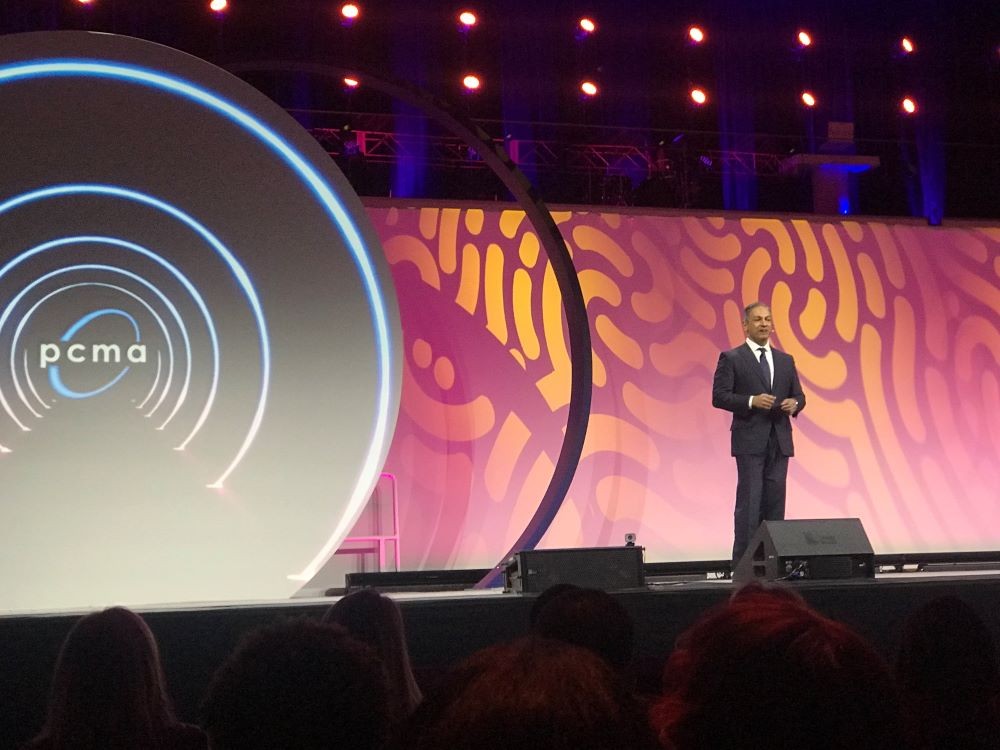 Sherrif Karamat on stage at PCMA Convening Leaders 2023
PCMA kicked off the first full day of 2023 Convening Leaders conference programming January 9 by announcing major partnership, alliance and acquisition moves that will address the biggest issues facing the meetings and events industry and far beyond.
From DEI to climate change, with the acquisition of meetings industry education organization Events Leadership Institute thrown in for good measure, the opening press conference for 2023 Convening Leaders in Columbus, Ohio, certainly ventured further than typical MICE industry event pressers in which attendance figures can take a starring role. (The most-current attendance figures for PCMA Convening Leaders 2023 were 3,272—a healthy number as the industry hopefully exits the COVID era, up roughly 1,000 in Las Vegas in 2022—by the way.)
Commitment to Climate Change
PCMA President & CEO Sherrif Karamat began the opening press conference by announcing an alliance with the American Geophysical Union (AGU) to address an issue that perhaps weighs heaviest in the PCMA leader's conscience: climate change.
"Today, PCMA is launching a new strategic plan based on four foundational pillars. And today, we're going to show you how we are bringing this plan to life. Not something down the road, right now. PCMA will always, always lead with our values," Karamat said in the opening press conference. "We believe that the climate crisis represents the biggest threat to our industry, our way of life and indeed our planet. If we are serious about our values, we need to stop talking and start acting now. But you know, climate is not about one organization. We cannot do it alone. It takes all of us. The American Geophysical Union is a worldwide thought leader on climate change, impact and innovation, and they want to help us."
The alliance is built on five tenets: 
Designing sustainable events
Convening discussions related to risk and climate change
Supporting the business events community with education and tools
Harmonizing data
Establishing goals for meaningful progress in the reduction of carbon and recognizing innovation and thought leadership in the business events industry
"First of all, we want to make sure that we design sustainably, and in order to do that, we need to convene people to have the discussion related to the risks and the climate change and the real challenge that we have in front of us," said Randy Fiser, CEO of AGU. "We also want to support the business events community with education and tools. We feel like there's a need to really raise the bar and create a common understanding of what it is that we are dealing with, with climate change. In order to do that, we need to harmonize the data and establish meaningful progress around the reduction of carbon in our community and around our world. And in order to do that, as well, we need to recognize innovations and thought leadership in the business events industry."
[Related: The Future of Sustainable Business Travel in the Meetings Industry]
Major Educational Innovation Acquisition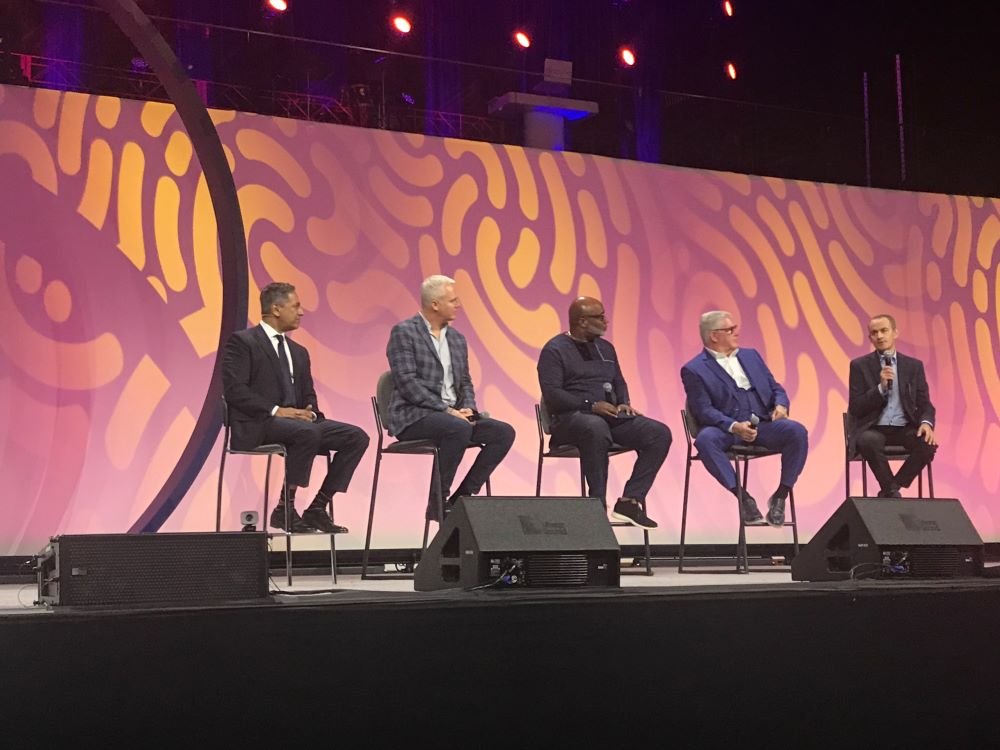 Perhaps the biggest announcement in terms of how it will affect the day-to-day life of business event planners was the revealing of PCMA's acquisition of Event Leadership Institute (ELI), which focuses on delivering premier education and serves as a product development design laboratory for the industry. In addition to the acquisition, Karamat announced that Howard Givner, founder of the 800-member ELI, is joining PCMA in the role of senior vice president of knowledge and innovation.
"In the coming weeks PCMA will welcome all existing ELI members, subscribers and business partners as part of PCMA global community, which is a new value for them and more network connections for every one of us," Karamat said. 
As part of the acquisition, PCMA members will receive access to ELI's content library of 260 video modules and webinars, as well as a 20% discount on 17 certificate courses, representing a $300 value.
"Over the last few years, we've driven innovation with concepts like micro learning, flipped classrooms, hybrid course delivery and digital credentials," Givner said. "With PCMA's resources, global reach and industry leadership, we're going to take leadership learning and innovation to the next level, providing training for the industry to succeed in the years to come. It's basically like we've been doing as much as we can with a Chevy, and now we're getting a Ferrari engine."
In a post-press-conference release, PCMA noted that the association and PCMA Foundation will continue to invest in educational programming, in addition to the resources brought by the ELI acquisition.
Alliance With National Coalition of Black Meeting Professionals
Karamat also announced a strategic alliance with the National Coalition of Black Meeting Professionals (NCBMP), with a goal of building value for the two associations' members and stakeholders. NCBMP will co-locate its 2023 annual meeting with the 2023 Business Events Industry Week (BEIW), a joint PCMA, Destinations International and International Association of Exhibitions & Events conference held March 6-9 at National Harbor, Maryland's Gaylord National Resort & Convention Center.
"We look forward to celebrating and empowering this industry, particularly within our 40th Anniversary," said Jason Dunn, who was selected new executive director of NCBMP in November. "It is our intention to broaden the impact of NCBMP by strategically aligning with organizations who have the same aim. NCBMP looks forward to this alliance and all its possibilities."
Stakeholders also announced that the 2024 BEIW will take place at the Walter E. Washington Convention Center April 9-11. Destinations International President & CEO Don Welsh announced a collaboration with ASAE, the AMC Institute and EIC, in addition to NCBMP, for the event.
[Related: Jason Dunn Named Executive Director of NCBMP]
PCMA Acquires U.K. Event Marketing Association
In more acquisition news, PCMA purchased U.K.-based Event Marketing Association-UK (EMA-UK).
"EMA UK has 800-plus corporate event marketing professionals representing a cross section of meetings industry segments and global brands," Karamat said in announcing the acquisition, comparing it to PCMA's acquisition of Corporate Events Marketing Association in 2020. "EMA UK will immediately become part of the PCMA global community. Their community does not only operate in the U.K., they also manage events across Europe and globally."
Download our eHandbook Checklists and Tips to Save Costs in an Iffy Economy, produced with ELI