From Dining to Live Entertainment, Connecticut Puts on a Show for Groups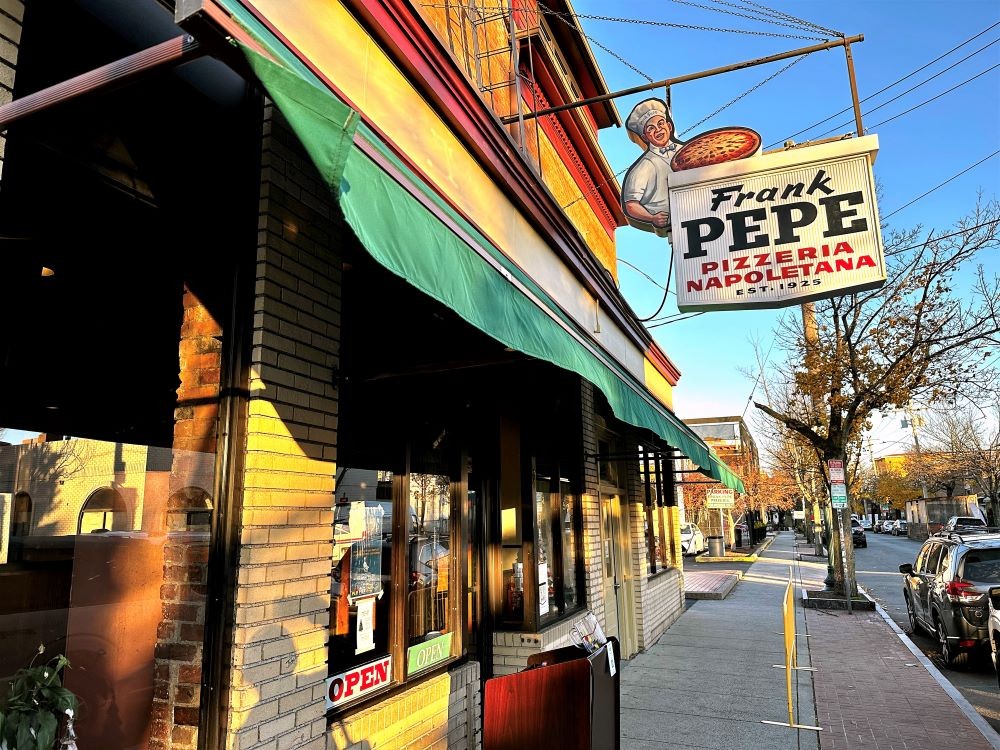 Frank Pepe Pizzeria Napoletana in New Haven. Credit: Jeff Heilman
The nation's third-smallest state punches way above its weight when it comes to dining and live entertainment. Here are marquee match-ups for memorable off-agenda fun.
Mohegan Sun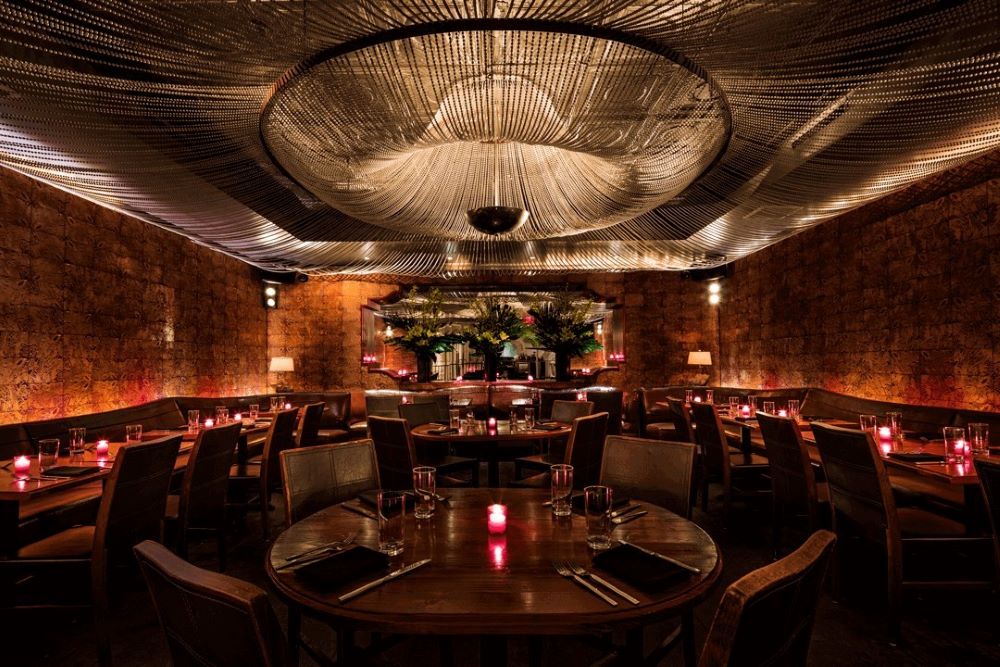 Integrating 5.5 million square feet of diverse venues and amenities under one roof, including 275,000 square feet of high-tech convention space, this luxurious 1,600-room casino-resort in northeastern Connecticut delivers world-class culinary and entertainment experiences.
First-rate dining includes BALLO Italian Restaurant, Michael Jordan's Steakhouse, and Todd English's Tuscany. In March 2021, Mohegan Sun partnered with global leader Tao Group Hospitality to introduce TAO Asian Bistro & Lounge. Featuring an eye-catching 16-foot-tall Quan Yin statue, the 10,000-square-foot Pan-Asian restaurant hosts groups from 15 to 300.
With locations in New York City, Los Angeles and Las Vegas, Tao's glamorous Beauty & Essex brand comes to Mohegan Sun this fall with a fetching 11,000-square-foot space.
Mohegan Sun also excels in entertainment. Routinely featuring A-list performers, 10,000-seat Mohegan Arena was ranked the world's top indoor arena for its size based on ticket sales in 2021, and 11th globally regardless of size.
[Related: New Facilities and Features at Major Gaming Resorts and Destinations]
Hartford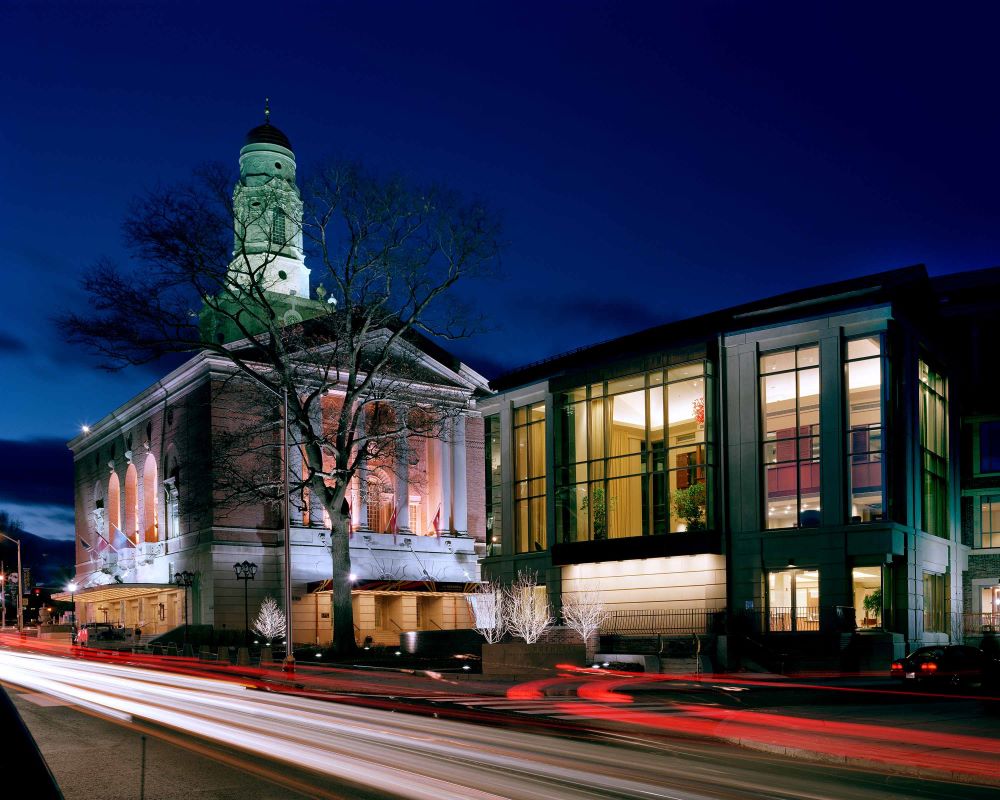 One event-capable landmark in Connecticut's capital city is The Bushnell Center for the Performing Arts. Opened in 1930 by Horace Bushnell, a civic visionary who created Hartford's Central Park, and his daughter Dotha, this state treasure, from the architects of NYC's Radio City Music Hall, has hosted legendary entertainers throughout its history. Other downtown showcases include Hartford Stage (1963), with an illustrious 60-year history of staging plays and Broadway shows, and the contemporary, multipurpose 15,000-capacity XL Center arena. 
Restaurants within walking distance include Max Downtown. Favored by celebrity performers as an after-show dinner spot, this fine-dining destination offers two private dining rooms for up to 50 guests. Renowned for dishes like the Rose Pasta, prepared with sweet sausage and mushrooms in a light tomato cream sauce, Italian hotspot Salute Restaurant hosts groups and provides full-service event catering.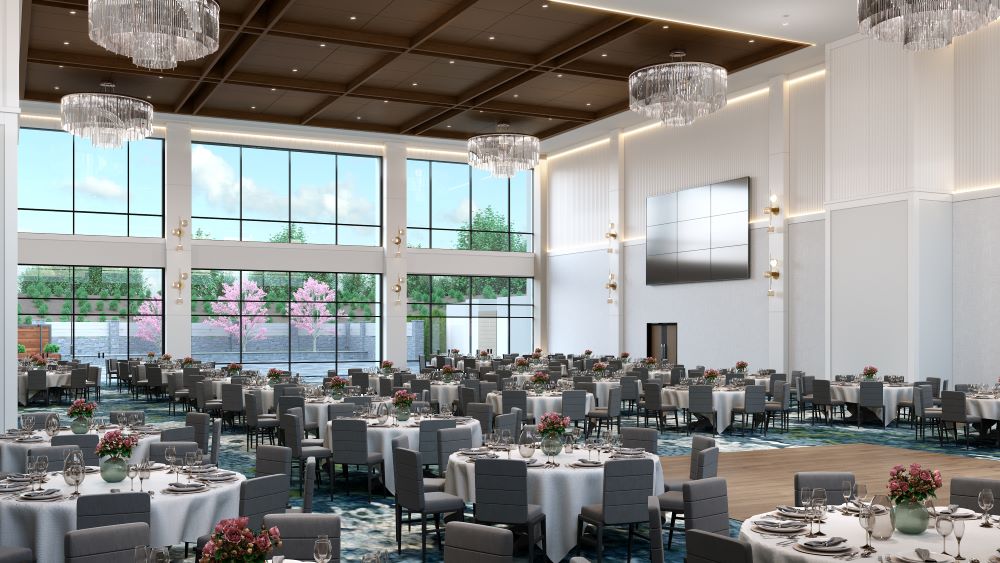 Area planners have an attractive new resource in the Bristol Event Center. Now taking bookings for June 2023 and beyond, this stylish venue just 19 miles from Hartford offers 50,000 square feet of versatile indoor and outdoor space.
For corporate meetings, tradeshows and other programs, venues include the 660-capacity Century Ballroom, 13 meeting rooms and an outdoor patio. The campus incorporates two Hilton-branded hotels with 230-plus rooms combined.
Connecticut River Valley 
Also celebrating its 60th anniversary in 2023 is the Goodspeed Opera House. Housed in the 1876 Connecticut Riverside Opera House on the banks of the Connecticut River in East Haddam, the Goodspeed has produced 250-plus musicals, including more than 70 world premieres, and exported 21 productions to Broadway. With a second stage in neighboring Chester, this acclaimed regional theater, named for theater-loving shipping and banking magnate William H. Goodspeed, has been honored with two special Tony Awards. 
Described as a "jeweled Victorian brooch pinned to the edge of the Connecticut River," the adjacent Gelston House Restaurant & Inn (1853) flexibly hosts private events for up to 120 people. 
Fairfield County
Tony suburban enclave Westport is home to another dynamic double act. Founded in 1931, Westport Country Playhouse combines historic lineage with star power. Housed in an early 19th century tannery that was converted into a steam-powered cider mill in 1880, this renowned non-profit first made its name for summer stock theater. 
Named artistic director in 2000, Oscar-winning actress Joanne Woodward, a long-time Westport resident with late husband Paul Newman, later oversaw the $18 million transformation of the Playhouse into a year-round theater. Discounts are available for groups of 10 or more.
Next door, Gabriele's Italian Steakhouse , also known as Gabriele's of Westport, is a stylish restaurant, bar and event venue complete with patio dining and a reception deck. Large group reservations are available Tuesday through Sunday for lunch and dinner.
[Related: Net-Zero Hotel to Debut in New Haven, Connecticut]
The Connecticut Shore 
Another cultural gem with a Hollywood connection is The Katharine Hepburn Performing Arts Center in Old Saybrook. Named for the four-time Oscar winner and long-time local resident, "The Kate" resides in the Old Saybrook Town Hall, opened in 1911, one year before Hepburn arrived at age five. Presenting more than 250 diverse performances each year, the national landmark incorporates a 285-seat theater and the Katharine Hepburn Museum. Rentals include the theater, lobby, boardroom and tented patio.
Across the street, The Essex is a rave-reviewed event-capable newcomer from late 2021 serving innovative seasonal farm-to-table Modern American fare. 
New Haven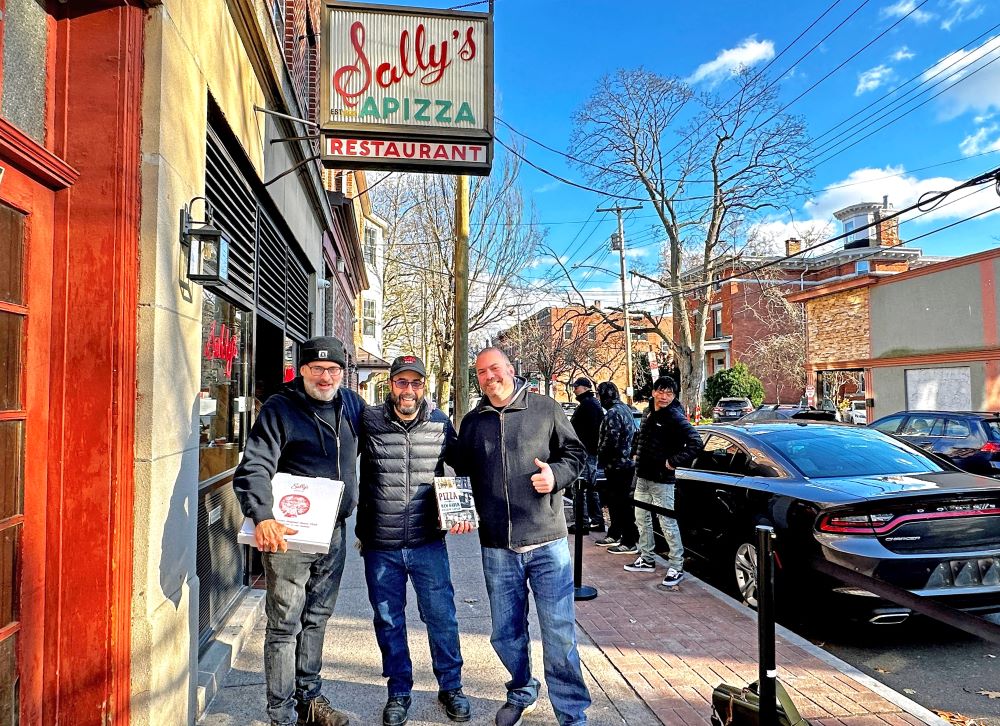 Recently, New York Times named New Haven as one of 52 places to go in 2023 for its "distinctive neighborhoods, an encyclopedic collection of great American architecture, a thriving cultural life and one of the best food scenes in the country for a city of its size." Founded in 1638, Elm City has long been a seat of history, culture and innovation rich with inspiration. 
Katharine Hepburn, Jimmy Stewart, Liza Minnelli and John Travolta were among the many stars that "broke a leg" and showcased their talent at the Broadway-style Shubert Theatre. Opened in 1914, "The Birthplace of the Nation's Greatest Hits" has staged more pre-Broadway tryouts and both American and world premieres than any theater in New York City, Boston, Philadelphia or Washington. Rentals include the magnificent three-tier, 1,600-seat theater; the stage, accommodating 150 guests for formal dining or 300 guests for cocktails; and 75-capacity KeyBank Suite.
The free-admission Yale University Art Gallery, from 1832, is the oldest university art museum in the U.S. The three-building complex comprises two neo-Gothic structures and a modernist masterpiece from Louis Kahn. Opened in 1953, the legendary architect's first commission sets an eye-catching stage for guided or self-guided tours of the encyclopedic collection of art and antiquities. 
Around 1880, in New Haven's industrial heyday, manufacturing giant Sargent & Co. started recruiting workers from Italy. These industrious immigrants later opened bakeries that evolved into America's earliest pizzerias. Known locally as "apizza" (pronounced "a-beets"), this culinary tradition is a treasured slice of New Haven life. Through his acclaimed company Taste of New Haven, local historian Colin Caplan and his guides lead entertaining insider tours of the city's apizza icons. Author of Pizza in New Haven and co-producer of the documentary film Pizza: A Love Affair, Caplan offers a range of public and private food and other guided programs.
Read this next: 5 Venues That Showcase the Culture of Connecticut