Preview Las Vegas: The Region Revs Its Economic Engines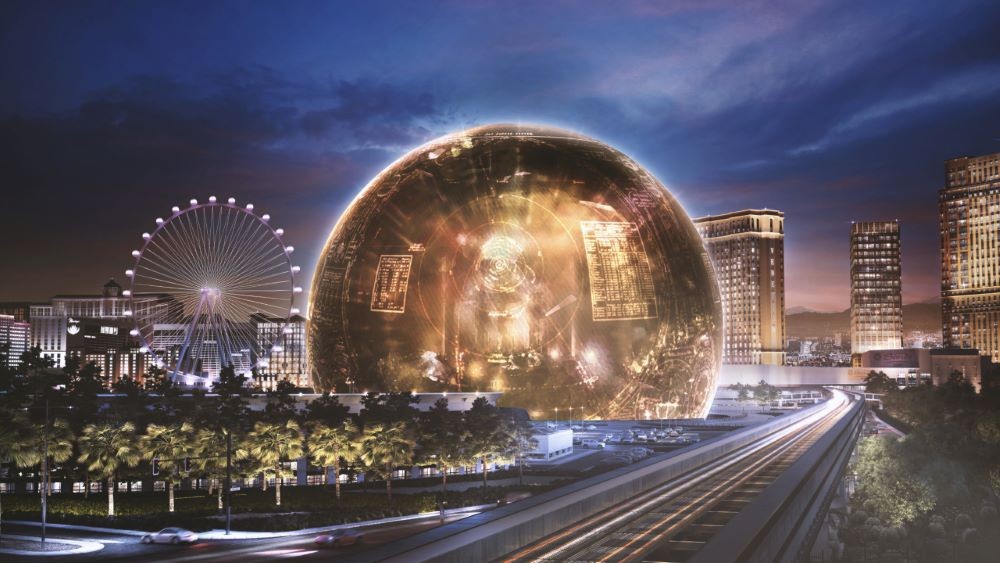 MSG Sphere rendering. Credit: MSG Entertainment
Las Vegas is gunning its engines via a massive amount of new development and thrilling major sports events, but with an eye also on sustainability and the expansion of its economy. 
Local leaders including Mary Beth Sewald, president and CEO of the Vegas Chamber of Commerce, and Steve Hill, CEO and President of the Las Vegas Convention and Visitors Authority, on January 23 showcased the excitement ahead at Preview Las Vegas, Southern Nevada's premier business forecasting event.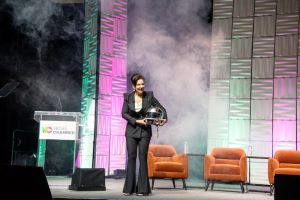 Presented to a full house at the new West Hall of the Las Vegas Convention Center (LVCC), where two weeks before some 115,000 attendees from 140 countries saw the future of technology at CES 2023, the half-day "It's Go Time!" program centered on economic growth, water conservation and new developments and events in the "Entertainment Capital of the World." 
"You like my ride I came in on this morning?" Seward asked as she took the stage holding a Formula 1 (F1) helmet and pointing to a gleaming F1 racecar parked off-stage. 
With the Formula 1 Las Vegas Grand Prix expected to attract 100,000 visitors over each of three days this November, it was an apt reference as Vegas revs up to accelerate past the competition and set a new global standard for the intersection of sports, entertainment, meetings, leisure, business and economic development.
Vegas already has 600-plus events booked for 2023, including 54 shows at the LVCC, and some $15 billion in new investment in the pipeline. Here is insight into the community-wide opportunities—and challenges—in what Hill calls a "category one" destination.
Desert Dollars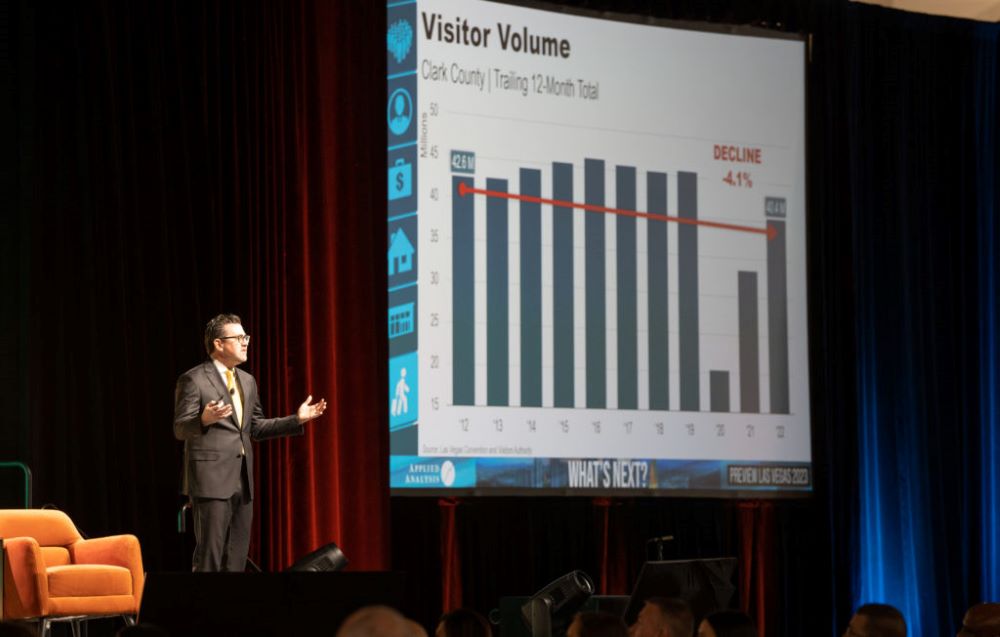 As principal analyst with Las Vegas-based Applied Analysis, Jeremy Aguero brings a sharp lens to economic forecasting and operational model development for Southern Nevada, with the data to match. 
Aguero first looked back at the remarkable decade behind, starting with the $2.4 billion Terminal 3 expansion at McCarran (now Harry Reid) International Airport, opened in 2012. He wondered where Vegas would have been capacity-wise "had we not constructed" what was the largest public works project in Nevada's history. 
Following 2013, when Vegas resorts collectively lost $1.3 billion, it has been a story of expansion on all fronts to meet surging demand and prosperity, including moving through and beyond the pandemic. The 10-year numbers are impressive. Airport passengers increased by 10.5 million, or 25.1%. The average daily room rate has increased by $57, up from $108 to $165, including a post-pandemic growth rate of 4.6%.
As Southern Nevada's population grew from 2 million to 2.3 million, the region added 250,000 jobs in virtually every sector of the economy, including leisure and hospitality, construction, transportation and utilities, for one of the highest growth rates in the nation. 
What's next? Imagining another decade of sustained, comparable growth ahead, Aguero foresees challenges such as slowing population growth, mounting financial pressure on individuals and consumers, and a declining footprint for expansion. 
"We are going to be constrained relative to land and other resources that are going to make it difficult for us to continue the same level of growth we have seen before," he said. 
Of these resource constraints, the continuing "martini glass-shaped" decline of Lake Mead's water levels, down 76 feet over the last decade, will be the most daunting.
[Related: The Dynamic Culinary Scene in Nevada Is a Treat for Groups]
Flowing Forward
Negotiated in 1922 by the federal government and the seven Colorado River Basin states, the Colorado River Compact ("Law of the River") set the stage for annual percentage-based water allotments to each signatory, with Mexico added by treaty in 1944. 
As described by former Secretary of the Interior and Arizona Gov. Bruce Babbitt, one of five water experts speaking at Preview, what followed, to paraphrase, was "an incredibly contentious, antagonistic and discouraging interval of litigation, quarreling and impasse." 
Following the U.S. Supreme Court's resolution in 1964 of a 25-year-old dispute between Arizona and California over water rights, the three Lower Basin states, Nevada included, settled into what Babbitt called a "golden age of cooperation."
As the western U.S. now faces 23 years of historic drought and low runoff conditions, Babbitt suggested recapturing the "spirit of working together." This, as the U.S. Bureau of Reclamation has called for shaving 2 million to 4 million acre-feet of water to stabilize the system. Left to negotiate reduction amounts among themselves, the states are back at odds—while Nevada is taking action.
"Moderation is the word of the day," said Patricia Mulroy, former general manager of the Las Vegas Valley Water District. 
To that end, Nevada has mandated the removal of decorative grass throughout the Las Vegas Valley by the end of 2026. Caesars, Wynn and other major resort operators all employ advanced water management systems. Examples include the Palazzo, which recycles 25 million gallons of groundwater for irrigation, street cleaning and cooling tower use. Major anticipatory moves by the Las Vegas Valley Water District include storing water and investing $1.3 billion in intake and low-level pumping stations that would deliver water even if the river hits the "dead-pool" level. 
"I remain optimistic that ultimately the states are going to come up with a plan," John Entsminger, general manager of the Southern Nevada Water Authority and lead water negotiator for Nevada, told the Las Vegas Sun following the panel. "But that's why it's always kind of a parallel process; we have to have a plan to take care of ourselves in Nevada, and we do, and we're implementing that plan."
The REIT Strategy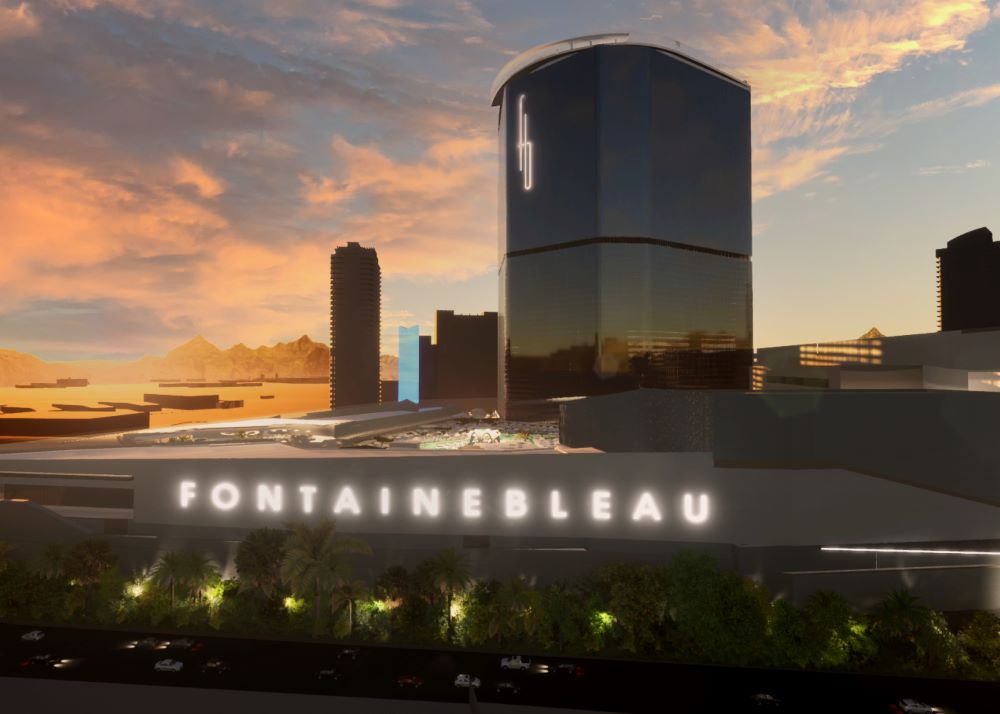 Even legendary operators Kirk Kerkorian and Howard Hughes did not own as much of the Vegas action as NYC-based VICI Properties does today. Focused on "experiential real estate," VICI owns 49 U.S. and Canadian gaming facilities with nearly 60,000 hotel rooms. The firm is also the biggest landowner and landlord on the Las Vegas Strip, with 10 of the 38 properties and 45,000 of the 106,000 rooms on the Strip, and an investment in Fontainebleau Las Vegas, which makes its highly anticipated debut later this year.
"We want to focus on businesses that cannot be disrupted," said VICI's chief financial officer David Kieske in a live Q&A with Steve Hill at Preview. "The experiences that casino operators provide to their end-users cannot be delivered replicated in another way, shape or form. These phenomenal boxes have food, beverage, entertainment, gaming and nightlife that cannot be replicated with at-home experience. Critical infrastructure is very important, which makes our business more secure."
VICI loves Vegas for the "economic vitality" of the 4.2-mile Strip.  
"It's the most economically productive strip in the world," Kieske said. "No other road in America can replicate or showcase what goes on the Strip: $7.5 billion of gross gaming revenue; $42 billion of spend. While there are some ebbs and flows in real estate over the years, the boxes have stayed there because operators continue to reinvent themselves by spending money and putting in new draws to the asset."
Citing excitement over "the opportunity to invest incremental capital" in the transformation of The Mirage into Hard Rock Las Vegas, including adding a Guitar Hotel and other developments, and the return of conventions, Kieske said that VICI is in it for the long run.
"Operators have realized that it is not important to own the real estate. They grow and maintain economic vitality by focusing on their core business and delivering the end-product of leisure and hospitality. Selling us their real estate frees up capital for growing their business through reinvestment and new experiences. We have a 50-plus year lease with The Venetian, for example. As the financier and landlord behind the scenes, we collect the rent and let our operators succeed."
[Related: Las Vegas Fontainebleau Secures $2.2B in Financing]
The Mindset, Mentality and Momentum of Success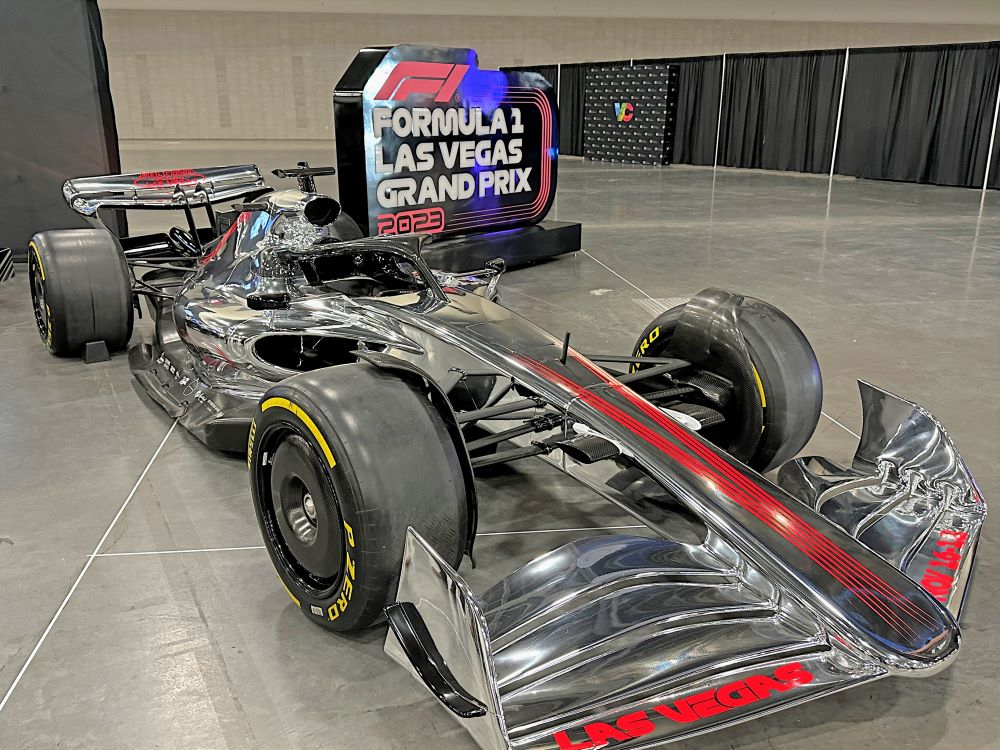 While the essential casino-resort box and associated products and services may be mostly immune to disruption, the $2.2 billion, 20,000-capacity MSG Sphere at the Venetian is poised to completely redefine the live event experience. 
"Do you remember the greatest concert you ever attended, and wouldn't you love to feel that energy and magic again?" asked MSG Sphere President Lucas Watson of the Preview audience. "Our mission is to introduce an entirely new medium to advance culture and the arts that will unlock shared experiences that people never dreamed possible." 
On track for completion in time for the Grand Prix event, the world's largest spherical structure—featuring the world's highest resolution LED screen, 164,000 speakers, visual programming from Hollywood talent and other mind-blowing technology—will host concerts, residencies, corporate events, product launches and other bookings year-round.  
F1 Group CEO Stefano Domenicali and Las Vegas Grand Prix CEO Renee Wilm previewed the excitement ahead as F1 racing returns to Vegas for the first time since 1981. With Wilm calling Las Vegas "the Monaco of North America," both strongly indicated that the three-day race, expected to produce 400,000 room nights, will park in Vegas beyond its current three-year commitment. According to Aguero, the event's projected $1.3 billion in economic impact will more than double the anticipated $600 million from Vegas' first Super Bowl, which follows soon after in February 2024. 
Legacy venues include the 300,000-square-foot, LEED-certified F1 paddock, which will operate year-round as a meeting and event space and offer private racing experiences for groups.
"It's going to be a spectacle this world has never seen," said Hill, naming the two events as "the biggest in Las Vegas in my lifetime." 
With a raft of other developments reshaping the Vegas landscape and offerings, including the anticipated Q4 addition of 3,700 hotel rooms and 550,000 square feet of space by the LVCC at Fontainebleau Las Vegas, Hill is bullish on the future. 
"With the tailwind and momentum we have, if we have a small recession, we are going to roll right over it," he said. "That's who we are."
Aguero, who knows the vicissitudes of economic cycles as well as Hill, anchors his outlook in Vegas' unwavering commitment to investing in success and managing the never-ending puzzle pieces, from the water supply and visitor safety to expansion and growth.
"What makes Southern Nevada special is that there is no victory lap," he said. "We never take a day off. We go to work while other people celebrate. The party's not over until the last person goes home."
Read this next: Off-Agenda Experiences and Shows for Meeting Groups in Las Vegas