Off-Agenda Experiences and Shows for Meeting Groups in Las Vegas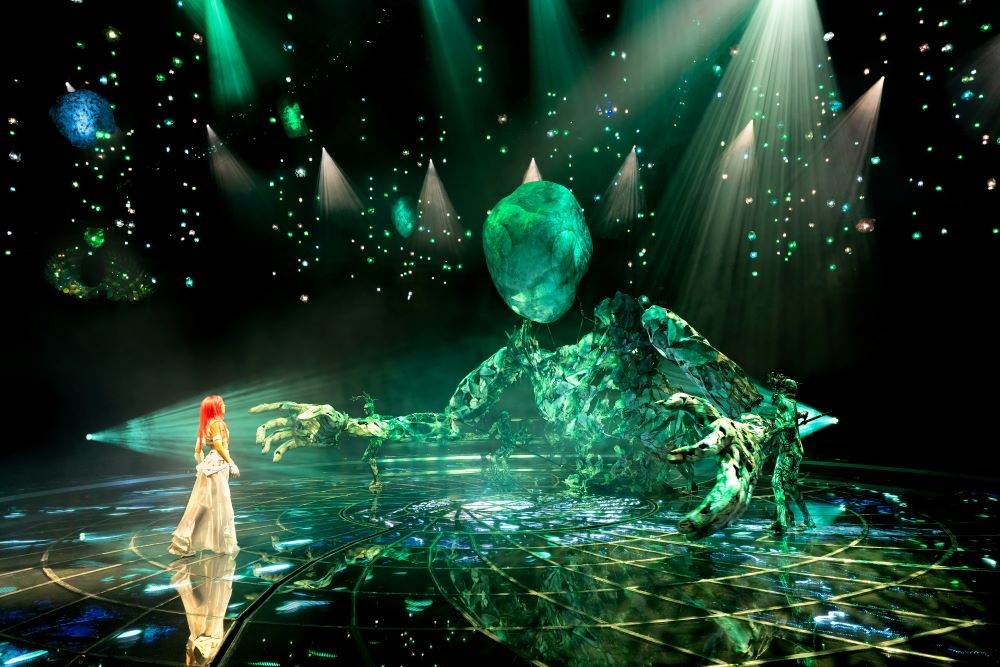 Awakening show, Wynn Las Vegas. Credit: Elisabeth Caren
The Las Vegas development ecosystem is running hotter than ever in 2023. Sidelined since 2005, Fontainebleau Las Vegas soon joins the party after securing a $2.2 billion construction loan late last year. Like a butterfly from a chrysalis, the long-dormant 67-story tower, adjacent to the Las Vegas Convention Center, is set to emerge in Q4 2023, integrating some 3,700 luxury hotel rooms, 550,000 square feet of versatile space and world-class experiences and amenities.
Targeting completion by end of 2024, Mandalay Bay is investing $100 million in updating its 2.1 million-square-foot convention center. Global sports and entertainment venue developer Oak View Group (OVG) has announced plans for a $3 billion integrated entertainment district south of the Strip. With an executive team that includes former Las Vegas Raiders President Marc Badain and Chandra Allison, who joined OVG as SVP of strategy and growth for meetings, conventions and exhibitions after 24 years leading convention and leisure sales at The Venetian, the project includes a 20,000-seat arena reportedly designed to attract an NBA team to Vegas.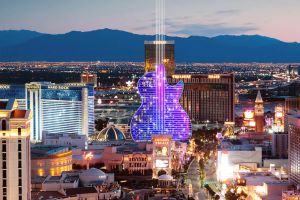 Billionaire Tilman Fertitta, owner of the NBA's Houston Rockets, has commenced site work on a luxurious new Strip  casino-resort between Planet Hollywood and MGM Grand. The estimated $3 billion, 43-story tower will include 2,420 rooms, 91,000 square feet of convention space and 2,500-capacity showroom. 
The highly anticipated $2.2 billion MSG Sphere at the Venetian is aiming for an opening later this year, with rock legends U2 rumored as the inaugurating act. Destined to redefine the concert and corporate event experience, the 20,000-capacity venue will be the largest spherical structure on the planet and feature immersive, multi-sensory technology including the world's highest resolution LED screen.
In December 2022, Seminole Tribe of Florida-owned Hard Rock International (HRI) assumed control of Mirage Hotel & Casino, making history as the first tribal operator on the Strip. As part of its forthcoming reimagining and rebranding of the 3,044-room Strip icon, which will remain under the Mirage name for an extended time, HRI intends to replace the Mirage's famed Strip-side volcano attraction with its signature guitar-shaped hotel tower.
Along with the MSG Sphere and other new landscape-shifting beacons, HRI's second Guitar Hotel, after its Hollywood, Florida flagship, will make an emphatic skyline statement about Vegas' status as the Entertainment Capital of the World. 
The new developments just scrape the surface of the possibilities for meetings and conventions in Las Vegas. As groups flock back to one of the world's most dynamic meetings destinations, keep these off-agenda items in mind to enhance the experience, from magic and comedy to spellbinding theater shows and A-list entertainers. 
Magic Shows in Las Vegas
Born in 1922, Gloria Metzner practiced magic at age four. At seven, her hometown performances in Alameda, California, prompted a local newspaper to call her "Abracadabra Miss, the youngest working magician in the world." In 1941, with the stage name Gloria Dea, she became the first-ever magician to perform in Las Vegas, wowing audiences at El Rancho Vegas's Roundup Room with her billiard ball and floating card tricks. From Vegas, she went to Hollywood, appearing in period films including 1952's King of the Congo with Olympic gold medalist swimmer and Tarzan and Flash Gordon star Buster Crabbe, and the 1957 Ed Wood classic Plan 9 from Outer Space.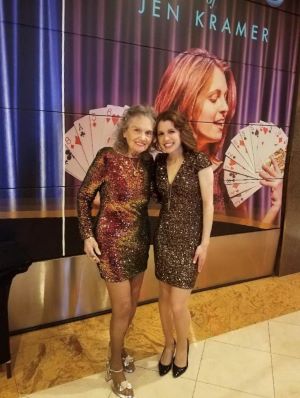 Last August, on her 100th birthday, Dea received the key to the Strip for her place in Vegas history. The ceremony took place at her favorite property, Westgate Resort and Casino, where today, her friend Jen Kramer (see below) brings Dea's legacy full circle as the only headlining female magician in town.
Modern legends Teller, of Penn & Teller, and David Copperfield attended the celebration.
"Magic is such an important part of this town," Copperfield told a local TV station. "There's more magic now than ever before. Gloria, in a way, opened that door."
Arriving in 1967, German-born Siegfried Fischbacher and Roy Horn cemented Vegas as a magic capital. Going by SARMOTI ("Siegfried and Roy, Masters of the Impossible"), the late duo's electrifying run of 5,750 shows included nearly 14 years at the Mirage, where magician and two-time America's Got Talent winner Shin Lim performs today. 
Copperfield, a self-taught child magician, has confounded the world by escaping from Alcatraz, walking through the Great Wall of China, and in 1983, appearing to make the Statue of Liberty disappear for a few moments. In 1996, the master illusionist came to Vegas, where he continues to mesmerize audiences at MGM Grand's 740-seat David Copperfield Theater. 
Celebrating 48 years of professional partnership this year, international stars Penn (Gillette) and (Raymond) Teller have captivated Vegas visitors since 2001 with their live show at near-Strip Rio All-Suite Hotel & Casino's luxurious 1,475-seat Penn & Teller Theater.
Other group-capable shows include Criss Angel: Mindfreak Live! at Planet Hollywood; Mat Franco at the LINQ Hotel and Casino; and Piff The Magic Dragon at Flamingo Las Vegas.
Jen Kramer: Every Little Thing She Does is Magic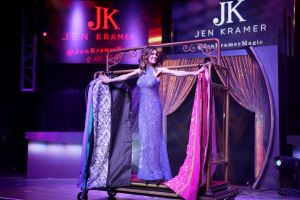 Born and raised on Long Island, New York, Jen Kramer's journey to stardom began with a 10th birthday present from her uncle Steve, an amateur magician. "His gift of the classic beginner magician's guide 'The Royal Road to Card Magic' was instant karma," Kramer recalled, speaking by phone last December before her 567th The Magic of Jen Kramer show at Westgate Las Vegas. 
While her conjury defies reality, Kramer's success is no secret. Finding wonder in card magic, she practiced and pursued her passion with singular purpose. 
After winning a junior competition at a summer magic camp, she joined the Society of Young Magicians in Manhattan, where she was mentored by Albert Lasher, director of the venerable organization. In high school, presaging her later work entertaining at-risk youth abroad with global non-profit Magicians Without Borders, Kramer's community and volunteer efforts included establishing a magic-based rehabilitation program at NYC's Mount Sinai Hospital and producing an American Cancer Society benefit.
In her first year at Yale University, where she majored in theater studies, Kramer founded the Yale Magic Society. With the campus and New Haven community as her stage, she also competed on Yale's ballroom dance and alpine ski teams, learned French and Swahili (adding to her Spanish) and worked toward her black belt in Shotokan karate.
Kramer has long celebrated the "wonder" of magic. "As author S.H. Sharpe wrote, 'wonder is the key to the cosmos and magic fabricates that key.' For me, magic is about making genuine human connections through storytelling and returning people to the mystery and excitement of childhood."
While intrigued by "magical" Las Vegas, she had no illusions about show business. "There are passion and dreams, and then there are practical realities. As part of charting my course and learning about the business, I devoted two summers to interning at the Nathan Burton Comedy Magic Show at the Flamingo Las Vegas. One unique episode was filling in as a showgirl, red lipstick, sparkly costume and all. I had to learn the choreography fast and ended up doing 20 performances over three weeks, but the experience was invaluable."
Back at Yale, it was nose down making cold calls and sending out her resume and cover letter. "My attitude was, 'just get one yes.' One chance to sit down face to face, share my magic, pitch my show concept and establish that personal connection. Much like meetings, right? Most people said no. No space, no budget, never done anything like this before. The Wyndham Grand Desert gave me a shot though, a weekly show, and in 2014, following graduation, I moved to Vegas."
Kramer quickly added weekly engagements at Marriott's Grand Chateau and Cancun Resort. She also traveled for corporate events, college shows and private parties. Playing her cards right paid off in 2018 with an invite to headline at the Westgate.
"The same building where Barbara Streisand, Elvis Presley and so many other stars played through the decades," mused Kramer, whose irresistible charm matches her beguiling craft. "Magic happens here all the time, from meeting Gloria Dea to creating memories for a different audience every night."
As she evolves her show, the human element remains timeless. "I love the smiles and laughter that comes from taking people outside of their daily lives. Interacting afterward at the meet-and-greet is special, too. My goals include inspiring more young women to become magicians, and every time a child shares her excitement about the show and magic, I'm 10 again with my magic book open, enchanted by the wonder of the world."
[Related: Las Vegas Mainstays and New Entrants Keep the Group Market Rolling in 2022]
"Discover the Extraordinary"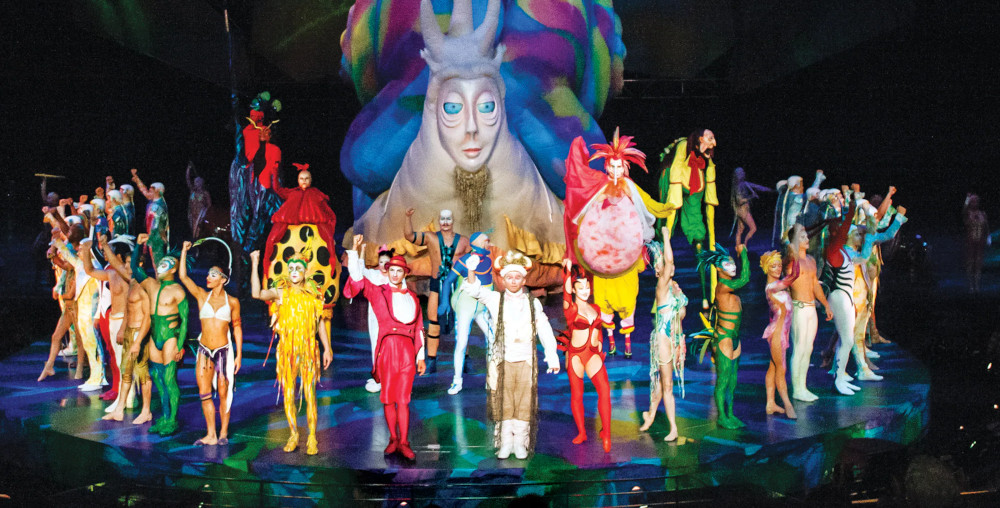 Originated by 20 street performers near Quebec City in the early 1980s and incorporated in 1984, Montreal-based Cirque du Soleil revolutionized traditional circus arts en route to becoming a global phenomenon. 
On December 25, 1993, "Circus of the Sun" debuted in Vegas with its first permanent show, Mystère. Staged at the custom-built 1,616-seat Mystère Theatre inside the then brand-new Treasure Island Las Vegas, the pirate-themed mega-resort era flagship that had opened just two months earlier, the exhilarating spectacle forever transformed the Vegas entertainment scene. 
Thirty years later, the show, deemed "the flower in the desert" by Cirque founder Guy Laliberté, and the resort, a perennial solid group performer with recent renovations including all 2,884 rooms and 30,500 square feet of versatile space, are still going strong. Currently presenting five other productions including Beatles LOVE! at neighboring Mirage, the recently reorganized company's new branding campaign invites audiences to "Discover the Extraordinary."
Steve Wynn originally wanted to name Wynn Las Vegas "Le Reve," French for "The Dream." The name instead went to the water-based spectacular that ran for 15 years in the since-demolished Le Reve Theater. 
Risen in its place, the breathtaking new 1,600-seat Awakening Theater and its titular show, which debuted last November, are revelations. Narrated by legendary actor Anthony Hopkins, Awakening's depiction of three friends seeking "to restore beauty and love to the world" soars to emotional heights in the custom-built 360-degree venue, with all seats within 75 feet of center stage and proprietary enveloping 3D sound. Available for buyouts, the theater is equally as wondrous for corporate and other events.
The Colosseum at Caesars Palace is another dream venue. Replacing the legendary Circus Maximus showroom, the 4,300-plus-seat landmark was erected in 2003 for Celine Dion's first Vegas residency. As Wolfgang Puck had revolutionized the Vegas culinary scene a decade earlier, the Canadian superstar set the stage for a new era of A-list residencies.
In 2019, a sweeping upgrade introduced a new state-of-the-art sound system, high-definition LED video wall and VIP area. With the farthest seats only 145 feet from the 15,700-square-foot stage, Keith Urban, who inaugurated the refurbished space, and 2023 residents Sting and Garth Brooks typify the regular roster of superstar acts.
From the opulent tri-level 1,815-seat Venetian Theatre and 607-seat proscenium-style Palazzo Theatre to the bi-level 742-seat Summit Showroom and Spiegelworld's Atomic Saloon, featuring the raunchy production of the same name, event-capable venues at Venetian Las Vegas are as vivacious as the resort itself.
Visibly commanding the downtown skyline from miles around, Circa Resort & Casino Las Vegas is a group siren call with 35,000 square feet of brand-new space and event-capable wonder venues including the indoor-outdoor rooftop Legacy Club, amphitheater-style outdoor Stadium Swim pool complex and world's largest sportsbook.
Debuting in 1957, Tropicana Las Vegas declared that it was "World Famous the Day It Opened." The showmanship continues under new owners Bally's Corp. Offering 100,000 square feet of flexible space, the 1,467-room South Strip anchor covers all the entertainment bases with Purple Reign: The Prince Tribute Show, The Laugh Factory Comedy Club, Murray the Magician and legendary impersonator Rich Little.
Groups with a taste for Vegas history can get "Up Close and Personal" with icon Wayne Newton's show at Flamingo Las Vegas, where he first headlined 60 years ago in 1963.
[Related: Vegas From the Vault: Inside the Las Vegas News Bureau's Archives]
Comedy Shows in Las Vegas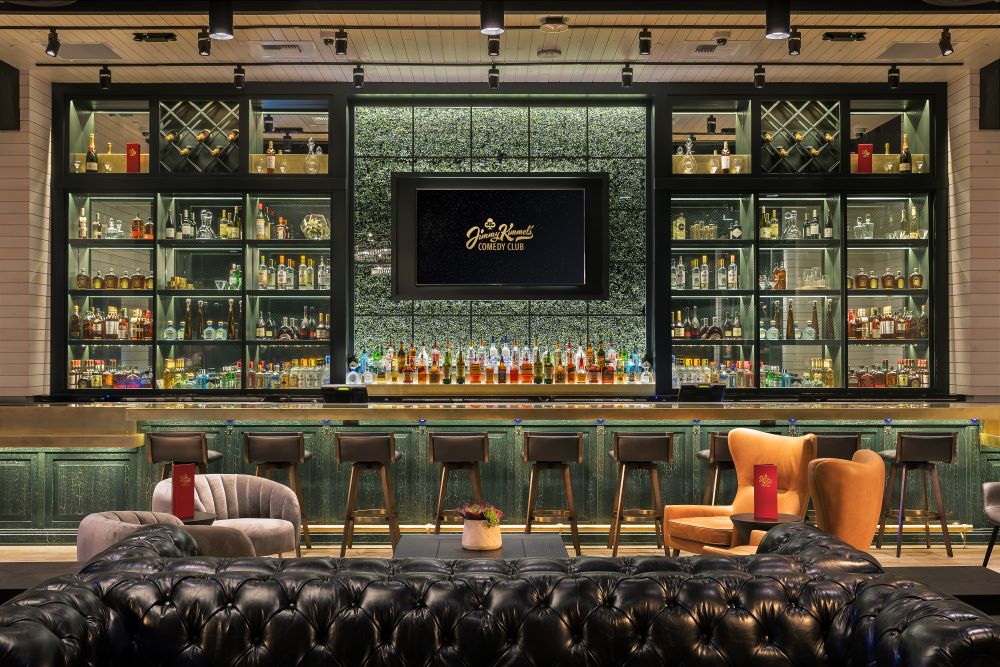 Synonymous with their resident resorts and venues, vanguard comedians including Shecky Greene, Buddy Hackett, Phyllis Diller, Don Rickles, Jerry Lewis and Redd Foxx broke conventions, taboos and barriers in establishing Vegas as a comedy capital. 
The legacy of laughter continues with today's generation of comedy merchants. 
Born in Brooklyn, New York, Jimmy Kimmel relocated to Vegas in the 1970s with his family at age nine. Starting out in college radio as a DJ at the University of Nevada, Las Vegas (UNLV), his rise to fame includes ABC's Jimmy Kimmel Live!, which debuted 20 years ago this month. In 2019, he opened his eponymous Comedy Club on Vegas's pedestrian-only LINQ Promenade in the heart of the Strip. The dual-level 8,000-square-foot venue flexibly hosts 300 guests and is available for private events.
Born in the Philippines and raised in Tacoma, Washington, Jo Koy also attended UNLV before dropping out to become a stand-up comedian. Starting in 1994, Vegas was his early training ground. Paying his dues the old-fashioned way, Koy worked at a local Foot Locker while moonlighting at The Mirage and gigging at the currently under-restoration historic Huntridge Theater. Later stages included MGM Grand and Treasure Island. The work paid off: last year, he became the first ever comedian to headline at 20,000-seat T-Mobile Arena.
Following 19 sold-out shows last year and the filming of Is It Me for Netflix, star Italian-American comedian Sebastian Maniscalco returns to Wynn Las Vegas' 1,480-seat, buyout-capable Encore Theater this year for more engagements in January, March and May. 
Back for the first time since 2019, Jerry Seinfeld plays six Colosseum at Caesars Palace shows in April, June and July. 
This February, June, September and November, Bill Maher performs at the David Copperfield Theater inside MGM Grand Hotel & Casino, where groups also have top-ranked Brad Garrett's Comedy Club. Combining comedy with magic, Mac King has performed nearly 10,000 shows to more than two million fans since January 2000 at Excalibur Hotel & Casino. Comedy On Deck Tours provides full-day VIP excursions to the Grand Canyon and Hoover Dam. 
Plus: Zoom In on Jaki Baskow, Founder and CEO, Baskow Talent and Las Vegas Speakers Bureau
Booking A-list actors, musicians and other luminaries for corporate entertainment and events takes moxie, tenacity and the personal touch. For New Jersey-born Jacqueline "Jaki" Baskow, founder and CEO of Baskow Talent and Las Vegas Speakers Bureau, becoming the "Queen of Las Vegas" began in 1976 with a quest for justice.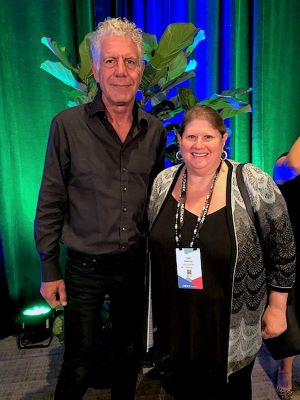 What brought you to Vegas?
A chance meeting in the Catskills with Batman co-creator Bob Kane. He was opening a movie studio in Vegas and scripting what became the Michael Keaton Batman movie. I wanted to act, and he invited me to come out. The project never materialized after Kane sold his script and moved to L.A. I flew home and then drove back to Vegas with $300 and stayed for good. 
A classic dollar and dream story?
In part, but there's more to my story. My father was murdered when I was a teenager, following which I became obsessed with making money to hire a detective to solve the case. At first, I did book-keeping and developed my phone skills selling to restaurants at the wholesale meat business where my mother worked. Her strength became mine.
Did you plan on getting into the talent business? 
Not by design. Still wanting to act, I sold cars and called bingo at night at the Silverbird to make money. Then I spent two months as a secretary for Telly Savalas, on one of his last Kojak episodes. I couldn't type but worked the phone and got noticed for scoring extras, locations and caterers. Why not start a talent agency, somebody suggested, and the rest is history.
With endless epic moments, this being Vegas?
Well, first there were death threats and bullet holes in my car after I broke the 25-year monopoly held by the only other agency in town. I was fearless though, and in a town where everybody knew everybody, things happened fast. Like the extra I booked for a beer commercial whose royalty skyrocketed because he held the product. Soon after his boss asked me to lunch. In walks Frank Sinatra. He was promoting a protégé, singer Marlene Ricci. I became her agent and went on to work with Mr. Sinatra. I once joined his birthday celebration, seated at his table with Jack Lemmon, Gregory Peck and Robert Mitchum. 
Star power galore.
The whole galaxy. Early on, I traveled the world booking talent for Italian TV shows including Sylvester Stallone, Michael Douglas and Sharon Stone. I helped Kevin Costner plan his Italian honeymoon. Since then, I've worked with countless stars, including three U.S. presidents, cast hundreds of movies, ran my own DMC, served as preferred vendor to Caesars and Wynn and much more.
Any distinctive memories?
I booked Anthony Bourdain's last speaking engagement, in New Orleans. He was down and quiet, but when he spoke, it was about his love for his daughter and his passion for cooking. That struck a chord. Keith Urban was a charm. Some stars have riders with crazy requests. All he wanted was a turkey sandwich and a Rice Krispie treat. 
What does this business mean to you most?
As I learned from another speaker client, Holocaust survivor and PTSD specialist Edith Eva Eger, be a survivor, not a victim. My mother showed me that too. Life is about personal relationships, embracing people and paying it forward. I never consider myself untouchable because of my years in the business. I help, mentor, brainstorm ideas and do whatever it takes to make events successful and exciting.
And what about your father's cold case?
My work continues. But I know he would be proud of me and my legacy.
Read this next: The Stories Behind Some of the Las Vegas' Long-Time Hospitality Talent