Waterfront Venues and Attractions in Tampa, St. Petersburg and Clearwater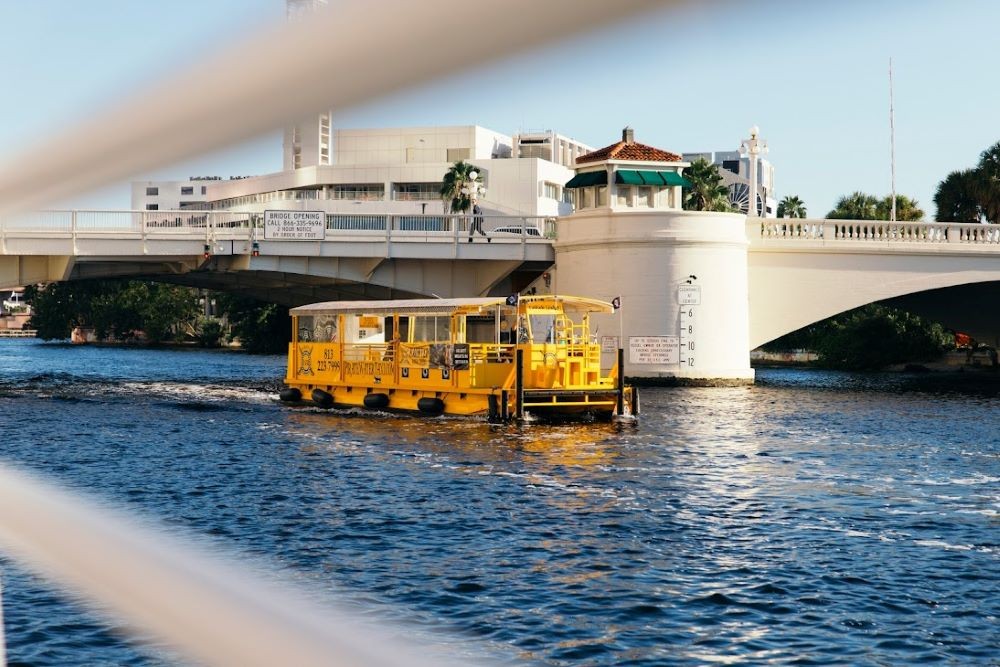 Pirate Water Taxi in Tampa
Florida's west coast building boom has dramatically altered the landscape, transforming its cities into très cosmopolitan centers, beckoning groups of every size and persuasion. Groups will feel welcome at the area's luxurious hotels, expansive meeting spaces and breathtaking vistas of the Gulf of Mexico. A seemingly endless array of culturally diverse dining possibilities and unique area attractions will captivate your attendees, ensuring they stay active and engaged throughout your program.  
"From the waterfront properties on St. Pete Beach and Clearwater, the Pier in downtown St. Pete and Pier 60 in Clearwater, there is so much happening here," said Steve Hayes, president and CEO of Visit St. Pete/Clearwater. 
Some of this region's best lures for meetings and events are waterside. Following are some of the latest offerings you should consider for your next program. 
St. Petersburg 
One of downtown St. Petersburg's showpieces is the St. Pete Pier, a waterfront gem on 26 lush acres overlooking Tampa Bay. Attendees will hunger for Doc Ford's Rum Bar & Grille, Spa Beach Bistro, Driftwood Café and Teak, the high-end, marquee eatery in the building. Pier Teaki features a rooftop bar with a distinctive Caribbean vibe, steel drums and exotic sunset cocktails overlooking St. Pete's wondrous skyline and Tampa Bay.  
Near but never far from St. Pete Pier is the historic Vinoy Renaissance St. Petersburg Resort & Golf Club, built in the 1920s. This 361-room hotel is undergoing a dramatic transformation and rebranding into the elegant Marriott Autograph Collection. With more than 40,000 square feet of indoor/outdoor event space and a pool overlooking the 72-slip Vinoy Marina, groups can board a Waypoints Yacht Charter for unforgettable wildlife and nightlife cruises on Florida's Gulf Coast. Groups are almost guaranteed dolphin and manatee sightings and depending on the route, the legendary Skyway Bridge, the world's longest cable-stayed concrete bridge.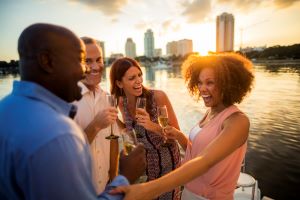 St. Pete Beach is undergoing its own revitalization with larger hotels snatching up smaller hotels and giving them a much-needed facelift such as TradeWinds Island Resorts—comprised of the Island Grand and RumFish Beach Resort—offering access to two properties in one, with limitless beachfront recreation, sumptuous dining and world-class meeting and function facilities.   
The hotel recently hosted 700 firefighters for the Fire Department Safety Officers Association meeting. The group enjoyed its four swimming pools, beachside hammocks, beach cabanas, a beachfront surfboard simulator, and even a zipline on the beach.  
Serving up mouthwatering seaside delicacies such as Florida snapper, ceviche and freshly shucked oysters, RumFish Grill features a serene under-the-sea Jules Verne vibe dominated by a 33,500-gallon aquarium, quite literally transporting your guests into an aquatic wonderland. 
Just down the road (Gulf Boulevard) is The Don CeSar, also known as the "Pink Palace" for its vibrant color. Built in 1928, this iconic property features 260 renovated rooms, 71 suites and a Grand Ballroom Foyer with stunning Gulf views. The Don's 11,000-square-foot Spa Oceana is both a showpiece and an idyllic spot to relax after a meeting. After a deep tissue massage, guests can continue to the outdoor deck that overlooks the Gulf while listening to the waves roll in. The new 2,500-square-foot South Terrace and outdoor Veranda (2,652 square feet) overlook the beach, classic perfection for outdoor events.  
Also on St. Pete Beach, Spinners Rooftop Grille is the quintessential spot for sunset views. Guests arrive via Bellwether Beach Resort's lobby and soar to the 12th floor overlooking the Gulf. Some of the more irresistible menu items include lobster mac and cheese, or a taste of the sea linguini with mussels, shrimp and scallops in a creamy beurre blanc. 
[Related: 6 Meeting Professionals Detail Why They Pick Florida for Events]
Clearwater 
North of St. Pete Beach, Clearwater Beach offers a selection of exceptional meeting properties overlooking the Gulf of Mexico. Daniele Mineck, director of talent management for the Iowa-based River Valley Cooperative, has brought the company's incentive group to the Wyndham Grand Clearwater Beach for the past four years.  
"We're in the process of planning our fifth year and our attendees never get bored going to the same property because there is so much to see in the area; they want to come back and do the things they've missed in previous years," Mineck said. "It also helps that we're coming from Iowa to Florida in February!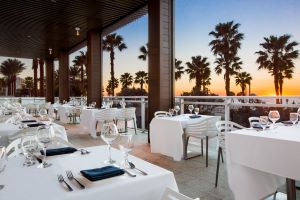 "The Wyndham hotel staff is phenomenal, from the front desk to housekeeping to the waitstaff, and the venues are just beautiful. We have breakfast at Ocean Hai overlooking the water and usually have an event on the pool deck overlooking the Gulf with fabulous sunsets. There's also the Pelican Ballroom with great views overlooking the water so it doesn't seem ballroom-y."  
Getting on the water is easy in Clearwater, she said, as they've taken the group for a cocktail sightseeing cruise on a double decker pontoon boat at sunset as well as deep-sea fishing on Queen Fleet. "Everyone was thrilled to see dolphins swimming by, but if they don't get enough, we also do a behind-the-scenes tour at Clearwater Aquarium." 
Also, a short hop from the hotel is Clearwater Marina where groups can charter a ship from Virgin Charter Yachts, rent jet skis or take a ride on a pirate ship via Captain Memo's Pirate Cruise. 
One outdoor Clearwater restaurant Mineck has used for her group is Island Way Grill, located next to the Clearwater Marine Aquarium. Specializing in sushi, other surf-inspired seafood and fresh grilled steaks, it offers space for private and semi-private events. Also overlooking the harbor is Marina Cantina, providing freshly caught seafood from their own fleet of boats and serving Grouper del Sol and Casa Ceviche among other specialties. Several areas can be used for groups, from the rooftop lounge for up to 220 to an entire restaurant buyout for 200 or more.  
[Related: Explore These Unique Florida Neighborhoods After Your Next Meeting]
Tampa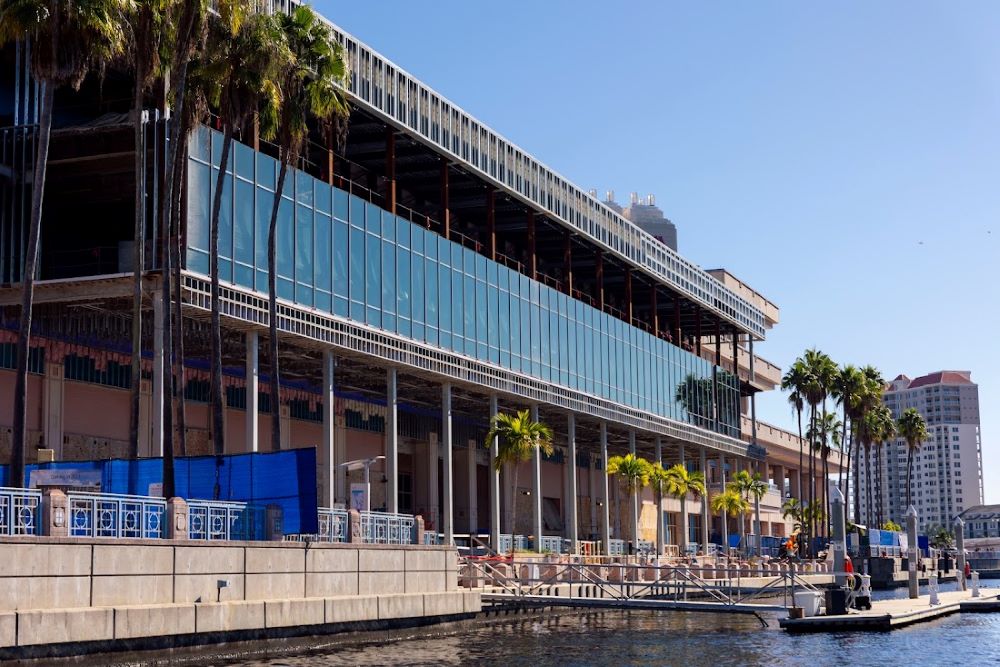 While mid-sized and board meetings work well in St. Petersburg and Clearwater, Tampa is better known for larger meetings and conventions with a total of 600,000 square feet at the Tampa Convention Center alone. Situated at the mouth of the Hillsborough River, guests will appreciate waterfront views of Tampa Bay and the city's skyline.  
"We are fortunate to have a convention center on the water. The weather here is phenomenal year-round and the convention center lends itself to the outdoors. Having said that, so many things are contributing to the evolution of this destination," said Santiago Corrada, president and CEO of Visit Tampa Bay.  
"The Tampa Convention Center is even expanding its ballroom and meeting rooms right over the water. We also have the brand-new JW Marriott near the convention center and a lot of new or 'made new hotels,'" he adds. 
"The water right behind the convention center is huge. Groups can take a water taxi to the parks, or the Straz Center for the Performing Arts, or take the Bay Rocket, Tampa Bay's only jet boat thrill ride," Corrada added.  
For a more elegant vibe, climb aboard a dinner cruise by Yacht StarShip for an unforgettable night of dining and dancing at sea.  
For the latest outdoor and entertainment destination on the downtown waterfront near the convention center, Sparkman Wharf on Water Street offers events, retail and dining and a biergarten and recreational lawn for live music.  
"Groups will even use the Tampa Bay History Center on the water or Florida Aquarium in the Channel District for events," Corrada said.  
Much activity and entertainment await the attendees of SERVPRO 2023, Buffalo Soldiers National Convention (NABSTMC) and the Church of the Nazarene, Inc. when they come to Tampa this year.   
"We have more than 10,000 attendees coming back-to-back this summer. We'll be full. In fact, it's the busiest summer we've ever had," Corrada said.  
[Related: 3 Southeastern Resorts Perfect for Beach Meetings]
On the Scene: Tampa 
Coverage from Jennifer Juergen's recent trip to Tampa.
I don't venture into Tampa as often as I could—or should, considering I have a condo in nearby St. Pete. So, after attending TINA, the Tina Turner Musical at the Straz Center in Tampa in February, I found myself utterly astonished at all the area development, especially near the convention center. I determined then and there that I simply had to return for a proper inspection tour.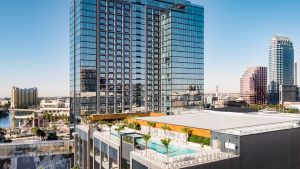 Staying at the 519-room JW Marriott Tampa Water Street, I marveled at the hotel's versatile meeting-space-to-guest-room ratio. Planners will be thrilled with the more than 100,000 square feet of flexible indoor and outdoor space that includes three ballrooms, one of which is the largest hotel ballroom in Tampa Bay. But of course, there is more, including 21 versatile breakout rooms and a Skybox, truly an awe-inspiring setting for receptions and small dinners three stories above the hotel lobby. The sixth-floor rooftop, JW Event Lawn, serves sips and snacks reception-style for 150, and to burn all those calories consumed and to decompress after a day of meetings, a stroll along the private Riverwalk Terrace overlooking the glistening bay is the perfect end to a perfect day.  
Following my tour of the JW, I made my way over the skybridge to the Marriott Tampa Water Street, adjacent to the Tampa Convention Center. With 727 rooms and 50,000 square feet of meeting space, planners of large events will want to consider combining these two hotels to ensure ample and seamless space and flexibility.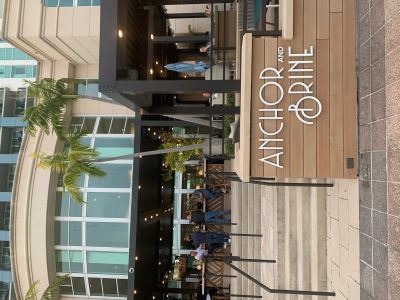 I capped off my day with a scrumptious dinner at the hotel's Anchor and Brine, designed to provide a casually elegant ambiance for maximum year-round comfort. I supped in style while overlooking the river and marina with a yacht appropriately entitled, Knot on Duty. 
Before tucking into a glass of prosecco, I realized how lucky I was to have a table. This eatery was so popular that every seat in the house was taken by lanyard clad attendees and families with children. I loved the succulent tomato-based cioppino soup with shrimp, white fish and mussels, and the grouper entrée served with sweet corn puree and mango-meyer lemon pico de gallo. Both hotels offer a combined eight restaurants—from casual to fine dining—so your attendees will indeed have a problem: too many irresistible choices!   
My next day's agenda, suggested by Santiago Corrada, the president and CEO of Visit Tampa Bay, was designed to introduce me to many of the area's new activities and venues. After hopping aboard the Pirate Water Taxi, I cruised north, berthing at the historic Armature Works set by the water. This fabulous food hall, in the historic Tampa Heights area, includes Steelbach, a charming, southern-inspired kitchen; Oak & Ola for EuroAmerican fare; and M.Bird, an art deco-inspired rooftop lounge atop Armature Works for tropical curated cocktails, sharable small plates and unforgettable waterfront views. It's available for large groups and private functions.  
Also nearby, in the 1906 Water Works building, is Ulele (pronounced You-lay-lee) Native-Inspired Food and Spirits, recently named one of the Top 100 Restaurants in the U.S. from OpenTable. This eatery celebrates the vibrant fusion of ingredients inspired by Florida waters and land, serving elaborately flavored, visually irresistible dishes prepared on their 10-foot diameter barbacoa grill. I devoured the native chili with wild boar, venison, duck and ground chuck, and scrummy, spicy corn muffins seated at the bar near the Ulele Spring Lawn East Side, ideal for groups of 60 seated, 100 for cocktails.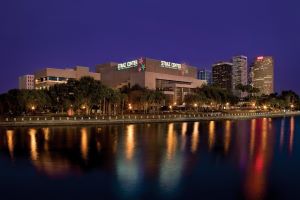 Back aboard the Pirate Water Taxi (with 14 stops along the river), I cruised past the Straz Center, the site of Broadway shows and other live performances, sailing south to the Tampa Museum of Art, a contemporary gallery offering a covered terrace available for group functions up to 400 with breathtaking views of both the University of Tampa's minarets and the city's skyline. After a cultural infusion at the museum, I meandered back towards the hotel passing the Tampa Convention Center and continued my trek to Sparkman Wharf on Water Street, home to numerous restaurants, including Jotoro Fine Mexican Provisions, LightHaus Beer Garden and Noblerice, among others. Splitsville southern + social goes beyond basic bowling (feather bowling, ping pong, etc.), offering serious noshing with an eclectic menu that includes island shrimp cocktail, gourmet burgers and creative main dish salads. Group outings might include an event on the garden at Sparkman Wharf with food, stompin' live music or DJ, or a Lightning Watch Party to cheer on Tampa's hockey team.  
Another attractive downtown feature is the free historic streetcars that make numerous, convenient stops. One must-stop is Ybor City, where Cuban refugees came in the '50s and stayed to open gems such as Columbia restaurant in 1905, and Ferlita Bakery, now Ybor City Museum.  
Other sure stops include Amalie Arena and Cumberland Ave. Station in the Channelside District where the Florida Aquarium resides. Here, groups can host exclusive events with rooftop vistas or aquatic habitats or hit the high seas aboard the aquarium's 72-foot Bay Spirit II catamaran for day, evening and sunset departures.  
Back at the JW Marriott Tampa Water Street, I realized I couldn't walk another step after my all-day sojourn, so I bellied up to the bar at SIX, JW Marriott's poolside casual eatery, where I quenched my thirst with one of the local Three Sisters Blonde Ales and then ate quite possibly one of the best cheeseburgers I have ever had! 
Connect 
(727) 464-7200  
(813) 223-1111  
Read this next: How to Savor the Tasty Group Dining Scene in Miami and Fort Lauderdale