The Case for Plant-Forward, Default-Veg Menus at Meetings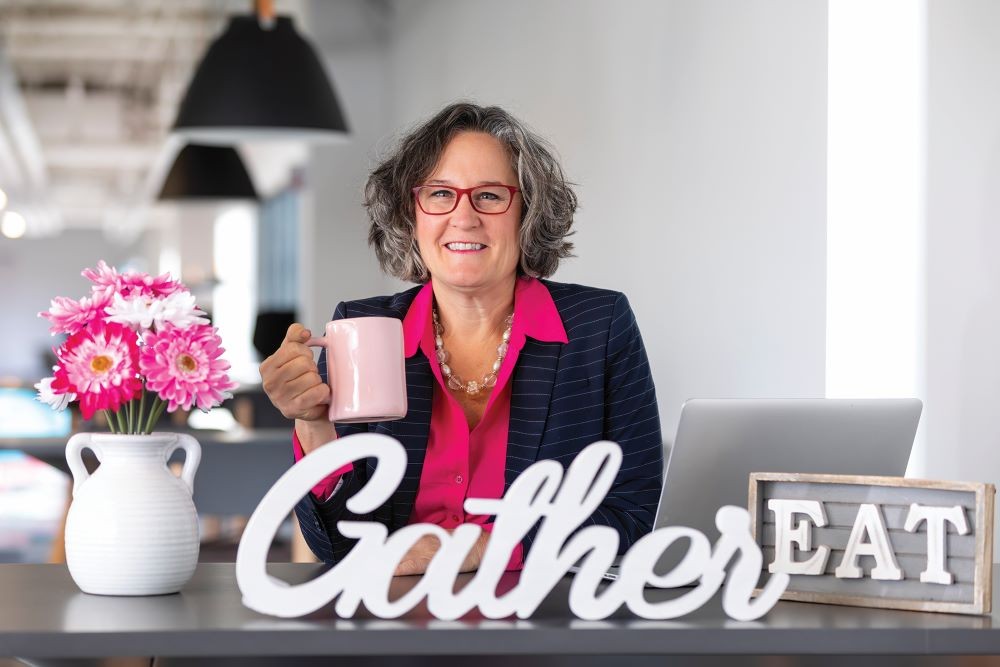 Tracy Stuckrath, Founder, thrive! meetings & events. Credit: Kevin Seifert, RTP.Studio
A simple concept originated in Europe: "default veg," the idea of making plant-based food and drinks the default option while giving diners the choice to opt into meat and dairy. A few years ago, Better Food Foundation (BFF) brought this concept to the U.S. to further its mission to create a world where plant-based foods are the norm.
In institutional outreach for BFF, Ilana Braverman spent her days reaching out to universities and helping them shift their food service models, asking different departments to commit to serving plant-based meals by default at their events.
"We were thinking about things like, 'Where can we make the biggest impact in places where we don't have to pass federal legislation to make a change? Where is that happy medium between grassroots and legislation?'" Braverman asked. "It's big institutions and corporations, their events and cafeterias, and behavioral science strategies [like making plant-based meals the default option] that can work really well in places where food is served every single day."
Braverman and the BFF team began building on top of their work within institutional outreach, focusing on universities and events to encourage them to switch to plant-based options by default. They emphasized benefits like improving health and satisfaction of guests and attendees, achieving sustainability goals and cutting food costs to encourage people to make the switch.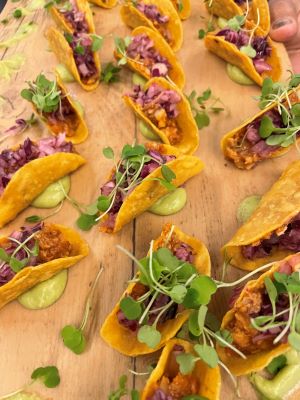 In 2021, Katie Cantrell joined the team to bring the default veg concept to corporate cafeterias. After conducting market research, she learned that the name and materials that appeal to college students were not the right fit for a professional audience.
"Greener by Default was born out of a need for a brand and a title that worked really well in the corporate sustainability sector, as an initiative of Better Food Foundation, and due to our success last year as an initiative at BFF, Katie Cantrell and I launched Greener by Default as its own nonprofit as of this year," Braverman said. 
Greener by Default is a nonprofit organization that applies behavioral economics research to food policy, "empowering institutions to serve inclusive, sustainable plant-forward food." The nonprofit makes plant-based food the default option at meetings and events, giving diners the choice to opt into meat/dairy products if they choose.
The strategy of making plant-based meals the default option allows institutions, corporations, businesses, associations and other organizations to meet carbon reduction goals, save on food costs, ensure inclusivity and improve overall health and well-being, all while preserving an attendee's freedom of choice.
"In the past, we've been approached by conferences who want to align their food choices with their sustainability goals. They've told their event planner they want to follow this model, and then we'll help them incorporate it into the conference," Braverman said. "Recently we've been having conversations with sustainable event planners, who can offer this program to help their clients meet their sustainability, inclusivity and wellness goals for the event. They can bring Greener by Default on as a partner if they want to reduce the carbon impact of their food, save on costs, help increase plant-based uptake…Greener by Default's expertise serves as an add-on for them to be able to offer the services we provide to their clients. Everyone wins!"
Health and Wellness Benefits
While most know plant-based meals are typically healthier options, what they lack is an understanding of how and why.
Plant-based meals better support your immune system, providing essential nutrients in large quantities that you cannot get from other foods like meat and dairy. The vitamins, minerals, antioxidants and phytochemicals (compounds that help prevent chronic diseases) found in plant foods are essential to maintaining the health of your cells and therefore keeping your body in balance.
These same vitamins, minerals, antioxidants and phytochemicals also reduce inflammation by neutralizing toxins, pollutants, processed foods, bacteria, viruses and more, a benefit that meat- and dairy-based meals often lack. It's important to note, too, that a lack of meat on your plate doesn't equate to a lack of protein.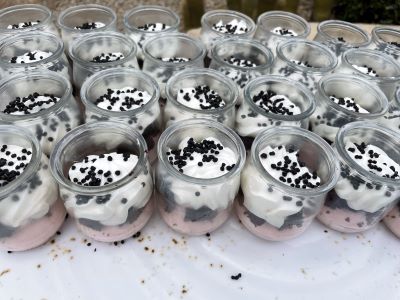 "Greener by Default meals are more vegetable-, legume- and grain-forward, which we all know is better for us," Braverman said. "People often think plant-based meals aren't filling, but [Greener by Default] makes sure all of the dishes we recommend are satisfying and filled with protein when we're working on menus."
The nonprofit often highlights cuisines that are naturally plant-based to begin with, Braverman said, giving attendees plant-based options that they are likely already used to seeing and eating without even acknowledging that they're plant-based meals. 
"For example, if you wanted to serve an Indian buffet, there are already so many Indian dishes that are vegetarian or vegan, so you don't have to change much of anything or swap many ingredients," Braverman said. "You're just highlighting the cultural dishes that just happen to be plant-based, and so, in that sense, people don't feel as if you're taking anything away."
Plus, when you make plant-based meals the default option for your attendees, they're likely going to be more willing to give plant-based meals a shot. Braverman cited an Oxford University Press Journal of Public Health study that found that changing the default meal option on a registration form from meat to vegetarian increased the vegetarian option on average from 7% to 87%, without pushback from the attendees.
Plant-based meals as defaults also substantially decreased attendee meat consumption, with 53%-87% fewer meat options chosen across studies. Eating less red meat puts people at a lower risk of death from heart disease, stroke or diabetes, helps in maintaining a healthy weight and decreases an individual's total calorie consumption overall. 
[Related: Orange County Is a Healthy Haven for Groups]
"If you only serve plant-based meals, you'll typically get pushback from people who are opposed to the idea, for various reasons" Braverman said. "We always make sure to preserve diners' freedom of choice. Making plant-based the default just makes it easier for the majority of people to choose the plant-based option. We're not trying to cater to vegetarians or vegans. We're trying to make plant-based the norm."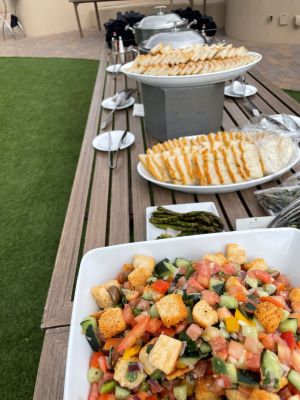 Plus, plant-based meals often leave diners feeling more energized and awake after eating than heavier meat- and dairy-based meals do, and when attending meetings and events, the need for high energy levels becomes even more important.
"I've heard from lots of people that after a plant-based meal, they just feel much more awake and replenished. They don't feel as fatigued," Braverman said. "And when it comes to conference food especially, you want to feel energized and ready to dive into your afternoon sessions."
Plant-based meals by default also promote inclusivity, as they typically consist of foods and ingredients everyone can eat no matter their diet—vegetarian, vegan, lactose-free, etc.—while allowing those who do prefer meat and dairy in their meals to opt into those choices if they'd like. Having to request special accommodations rather than being able to simply enjoy meals with peers can be alienating, but serving plant-based foods that meet the needs of more specific diets includes everyone, by default. 
"Plant-based by default is easier on everybody and will hopefully give many of your participants more options to choose from if they're typically limited by dietary constraints," Braverman said. "Overall, eating more whole, plant-based foods is just healthier." 
Sustainability and Cost-Saving Benefits
Working with Greener by Default for meetings, events, conventions, tradeshows and conferences can help groups achieve carbon neutrality while implementing cost-saving initiatives. Greener by Default can help position your institution, corporation, business or conference as an environmental leader by meeting your carbon and water reduction goals and helping you analyze the data related to your F&B choices to quantify your impact.
"Many conferences are already promoting and prioritizing sustainability values," Braverman said. "If a conference already cares about sustainability or has even hired a sustainable events company, maybe they're already using local and organic food, but they typically haven't really thought much about the overall carbon impact of their food.
"We can help corporations and institutions calculate carbon impact, change the wording on their registration form and menus, and we can do a baseline calculation of the carbon they saved assuming they did businesses as usual last year versus offering plant-based meals as the default option this year," Braverman continued.
[Related: 6 Heart Healthy Snack Ideas for Travelers]
Studies have shown that serving plant-based meals by default can reduce an F&B component's greenhouse gas emissions by 40% and water footprint by 24%.
"It's important that food sustainability gets a seat at the table when it comes to sustainability initiatives," Braverman continued. "For so long, we've talked about what to do with our food waste, how to change the packaging that our food comes in, where the food comes from, but what about the food itself? When you're talking about carbon emissions, changing the food you serve is one of the biggest things to consider to be able to offer sustainable, climate-friendly, healthy meals to your attendees. That should be a top priority, and we're bringing it to light." 
Last year, Greener by Default worked with sustainability-forward conference leaders such as GreenBiz, CleanMed, B Lab and more to implement plant-based defaults. They also work to implement plant-based defaults at large institutions, including LinkedIn's San Francisco office and NYC Health + Hospitals. This year, they're hoping many more join them in bringing food sustainability at the center of the plate.
One Plate at a Time: A Q&A with Tracy Stuckrath
Tracy Stuckrath, Founder, thrive! meetings & events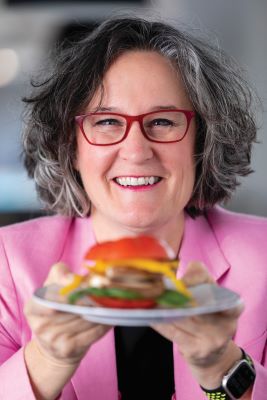 What can planners do to better inform attendees of the benefits of plant-based meals as the default?
Informing attendees of the benefits of plant-based meals as the default will be hard depending on the event, the audience, as well as all the other messaging being disseminated. My focus would be on serving plant-based meals that have lots of flavors, are familiar but with a twist, and emphasize what's in season and local to highlight the cuisine and origin of the food. 
Focus on flavor: Event menus don't usually have a great flavor history, so take this as an opportunity to create and showcase indulgent plant-based dishes that are tasty and delicious.
Integrate with other dishes on the menu: Avoid isolating plant-based items in separate menu sections.
Emphasize origin: Trend reports show attendees want to know where their food comes from and the history behind it. With meetings most likely being away from attendees' hometowns, serve dishes local to the region and represent that cuisine and preparation style of the dish.
Keep it familiar: While emphasizing regional food, also try to use plant-based dishes that are common.
Have fun with it: Offer a new and exciting take on familiar foods.
Accentuate health benefits, not negatives: To point out the positive nutritional content of a menu item, pick an ingredient within it and point out its uniqueness.
Subtly mark items as vegan or vegetarian: Use small symbols to indicate vegan or vegetarian options.
Promote the food: Use images and videos as well as appealing descriptors (plant-based, veggie; avoid meatless/meat-free) in pre-event marketing campaigns to positively frame and highlight the flavor and familiarity of the dishes attendees will be enjoying. 
Incorporate plant-based dishes into your brand: Share your environmental, social and governance goals (ESGs) to help attendees understand why you're offering more plant-based menus. Have fun with it by using dishes that match the colors of your brand. 
What information do you think attendees may not be aware of that may make them more inclined to give plant-based defaults a shot?
Plant-based diets inherently focus on fresh fruits and vegetables, but we often forget that whole grains, beans, seeds and nuts are part of it, too. Some benefits of plant-based meals, outside the adage of "an apple a day keeps the doctor away," are that they can help lower your blood pressure, add fiber to the diet, which in turn helps us poop, and potentially lowers cholesterol and stabilizes blood sugar. Plant-based diets reduce the risk of developing type 2 diabetes by 34% and keep your brain strong.
Severin Nunn, director of food and beverage at The Omni PGA Frisco Resort, said in 2019 when he was at The Omni Homestead Resort that plant-based "menu items also offer great profit margins. With meat, a restaurant's food cost is around 30%, compared to 15% for plant-based entrees. You can lower the price point while increasing your margins."
In a 2021 FSR magazine, Alex Kramarchuk, CEO, Future Foods Enterprises, said restaurants that sell plant-based menu options have shared that adding these options has helped them garner a larger consumer audience, increasing traffic and demand. It can potentially improve a business's cost efficiency. "We have been able to see margins maintained with restaurants who have the plant-based menu options versus animal protein and continue to offer more daily specials due to the cost impact," Kramarchuk said.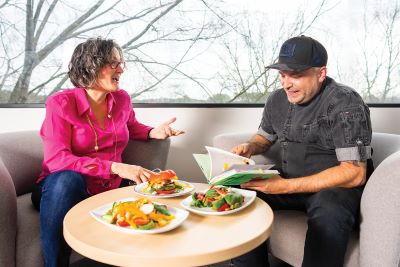 The International Food Information Council's (IFIC) 2022 Food and Health Survey found that Gen Z is "driving attitude changes on sustainability and health priorities across the broader population." With 73% believing their generation is more concerned about the environmental impact of food choices than other generations, "they are more likely to purchase products labeled as 'small carbon footprint/carbon neutral' and 'plant-based.'"
In the same report, IFIC found that 31% of Americans are eating more protein from whole-plant sources and 23% and 22%, respectively, are consuming other "plant-based dairy alternatives" and "plant-based meat/seafood alternatives. 
Back in 2015, a top London restaurant located in the Aldwych Hotel went gluten-free and dairy-free and no one noticed. Executive Chef Dominic Teague said, "One of my priorities was not to make it out as a fad. We didn't want people to think I was doing this just to be different. I did this for real reasons, and it fits into the hotel's philosophy of health and well-being." By doing so, the restaurant increased sales by 25% in three months and employee satisfaction increased to 89%. 
[Related: 4 Healthy F&B Strategies to Infuse Into Meeting Agendas]
What are some of your favorite benefits to plant-based defaults?
My favorite benefit of plant-based defaults is that I feel better after eating them—not heavy and sluggish. They are healthier because they are high in fiber, vitamins and minerals. They provide the opportunity to use local foods that are in season to showcase the foods from the region and the culture, therefore allowing properties and planners to be more creative with their menus. Standard banquet menus, even looking regionally, are the same. Incorporating whole-food, plant-based dishes gives chefs a new opportunity to be creative, in turn giving planners fresh, creative options to serve.
Whole-food plant-based dishes are better tasting since they are stacked with fresh vegetables, legumes and flavorful herbs and spices, and using whole-plant foods such as fruits, vegetables and legumes is normally cheaper than animal-based products, and these foods also experience less price volatility. By replacing animal ingredients or adjusting the plant/animal ratio in dishes, you can easily reduce costs. Some protein-rich plant-based foods—legumes, quinoa, beans, tofu, edamame, nuts and nut butters, rolled oats—have a longer shelf-life than animal products and possibly less price volatility.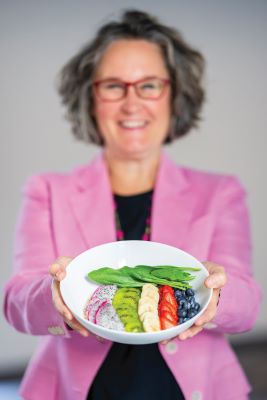 Have you attended or hosted an event in which plant-based meals were the default? What were your thoughts, and how did attendees react?
Yes, I have been to several events where plant-based meals were the default—some where they were actually the only option for the main course. At one event, the lunch was a large plate of penne pasta with a meat sauce made with a ground meat alternative. After lunch, I watched servers clearing a lot of uneaten plates. I'm not sure if it was the use of the meat alternative or just that it was not a good choice to serve for lunch in general. 
I do think that events should communicate to attendees they are going plant-forward, using the methods I suggested earlier. Also, I recommend giving attendees the option to add an animal protein to their meal, if needed or wanted.  
There are people who need and want more filling meals than those typically offered as plant-forward options. Plant-forward menus need to be more robust and fulfilling, and not just created using meat alternatives. 
What advice do you have for planners who want to follow the plant-based default model but are maybe too nervous to give it a try? What would you say to attendees who may be nervous or skeptical?
For planners, I suggest taking the leap with just one or two meals and gradually adding more as time goes on. See how it goes by watching what items get eaten and those that do not. Also, call attendees who have registered as vegan or vegetarian in the past (Do this with all your attendees with dietary needs.), ask for their favorite dishes for all courses and see if your catering partners can replicate it. 
Also, start with the salads, sides and desserts. This requires probably only removing milk and cheese from most dishes. Two weeks ago, I had a delish chocolate cake that was gluten-free and vegan. For the attendees who are hesitant, let them know you're incorporating dishes that other attendees have suggested and brought from home to the caterer. If Mikey likes it…
Again, have attendees submit their favorite dishes that are plant-based. Showcase these items on the menus as well as in the event app. This gets buy-in.
What are some of your favorite plant-based meals?
One of my favorite desserts is from Oh She Glows. The three-layer Dream Cups are vegan, gluten-free and nut-free (They do contain coconut.) and are an easy-to-make, 30-minute dessert that doesn't requires baking.
A clean, vibrant quinoa salad with diced fresh peppers and red onions, chickpeas, cilantro, lemon juice and olive oil is always delicious and filling. Cookie + Kate's recipe is a great example. 
As we design plant-based menu items, we still need to be cognizant of food safety as it relates to food allergies and celiac disease. There are nine foods that cause 90% of all food allergic reactions: wheat, soy, milk, egg, fish, shellfish, peanuts, tree nuts and sesame. While plant-based menus are free of four of the top nine—milk, egg, shellfish and fish—they are also primarily made with the other five—wheat, soy, peanuts, tree nuts and sesame.
It is hard to meet everyone's dietary needs all the time, so that makes labeling and transparency imperative. It also requires due diligence to ensure that there are a variety of options that meet multiple needs at the same time. Don't think you have to go cold "turkey"—pun intended—and make the event entirely plant-based.
Also, realize that the plant-based market is still growing. While more and more people are eating plant-based, animal-based options continue to reign as the primary source of protein.
3 Tips for Offering Plant-Based Meals at Events
Ilana Braverman, Co-Founder and Chief Operating Officer, Greener by Default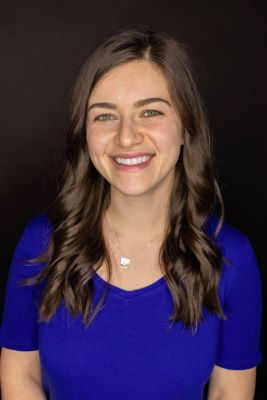 Event planners and attendees alike are keenly aware of the importance of serving food that meets everyone's needs—from intolerances and allergies to religious obligations and ethical considerations. This can be challenging, but an easy way to meet the needs of many at once is to feature inclusive meals as the default.
Greener by Default helps conferences and events do just that. By offering plant-based meals as the default option while giving diners the choice to opt in to meals with animal products, your clients can serve more inclusive meals that align with their sustainability values, all while preserving diners' freedom of choice.
Here are a few Greener by Default tips and tricks to get you started.
1. Redesign Your Registration Forms
If you're planning an upcoming event with a required registration form, take a page from B Lab's book! Redesign your food preference question to nudge diners toward the delicious plant-based option. Here's an example of language Greener by Default crafted with the global nonprofit network B Lab team for their latest annual event:
"B Lab U.S. & Canada is committed to aligning our event hosting practices with our values around climate justice. To reduce our environmental footprint, we will be serving plant-based meals by default. If you prefer something different, please indicate:
I would like to stick with the plant-based meal default.
I would like to switch to meat meals instead.
I would like to indicate further dietary restrictions or allergies."
Studies show that simply making plant-based the default, diners are over three times more likely to choose the plant-based option.
2. Offer an Equal Amount of Meal Options
No registration form? No problem! If you're planning an event with a buffet or boxed meals, offer an equal amount of vegan, vegetarian and meat-based entrees.
For example, instead of serving a taco buffet with choices of chicken, beef or vegetables, offer these choices instead: plant-based chorizo, spicy black beans and fajita vegetables or chicken.
Studies show that when there's a higher ratio of vegetable options, diners are more likely to choose them.
3. Highlight Flavors Over Health
Instead of prominently featuring "vegetarian" or "vegan" in the name of a dish, highlight the ingredients and flavors. Add a symbol at the end to denote if the dish is vegan or vegetarian. For example, "Vegan Pie Squares" could instead be "Lemon Cream Pie Bites (v)."
Studies show this simple change makes omnivores much more likely to choose veg options.
Connect
Read this next: 5 Tips for Eating Healthy on the Road