Central Illinois Cities Along Route 66 With Historical Meetings Opportunities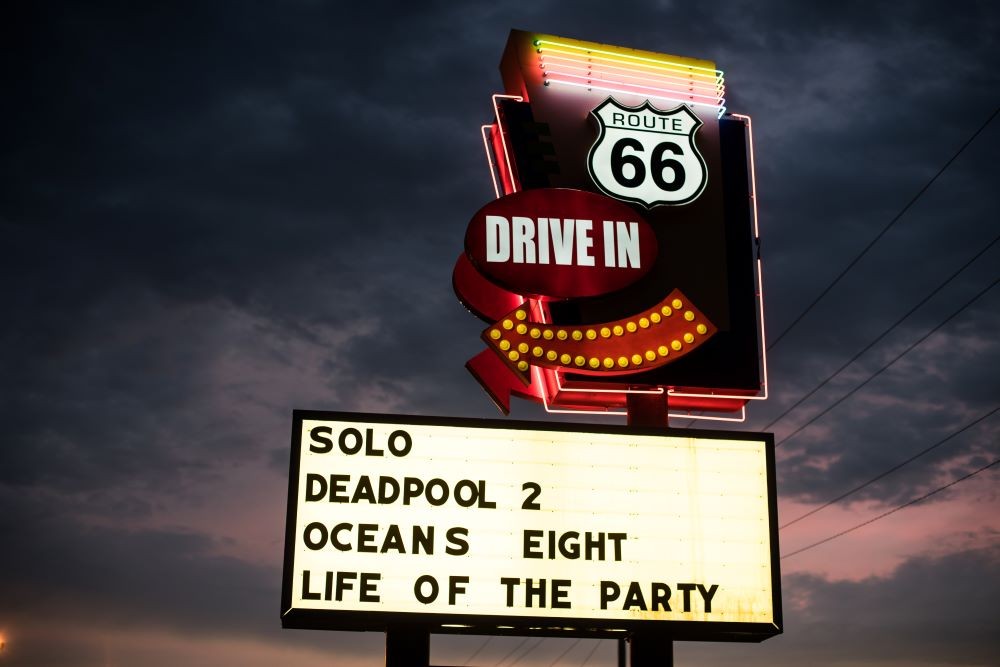 Route 66 Twin Drive-In, Springfield
From Bloomington-Normal down to Springfield, these Central Illinois-based stops along Route 66 offer sites and attractions "route-d" in city- and state-wide history.
Springfield
Gearing up to welcome groups like the Illinois Reading Council, American Legion and USA Gymnastics (USAG) Trampoline and Tumbling, Springfield, Illinois, is past pandemic levels, back in full swing and moving forward as a meetings and events destination in the heart of the state.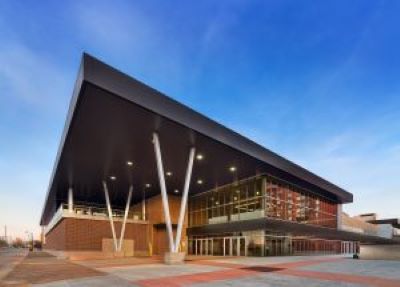 Groups like the Illinois Reading Council and American Legion have called Springfield home for their meetings and events for years, said Terry Truman, sales manager, Visit Springfield, and the city is excited to fully welcome them back this year following pandemic-affected gatherings. The last time USAG made Springfield its homebase for its trampoline and tumbling event in 2010, it became their largest recorded event attendance-wise, Truman added, and this year, USAG is expecting to draw more than 2,000 athletes to the state's capital city. 
"Those events are all going to be housing a portion of the event at our [Bank of Springfield] Center, which is our convention center," Truman said. "The main hall has over 40,000 square feet of conference space, then there's permanent seating at those venues that exceeds 5,000 seats. You can get closer to 10,000, depending on your setup." 
The connected President Abraham Lincoln Springfield – a DoubleTree by Hilton Hotel is accessible via a tunnel between the property and Bank of Springfield (BOS) Center. "A lot of folks will use that if they're doing something primarily during bad-weather months," Truman said. "But in the summer, spring and fall, the hotel is right next door to the convention center, and you've got more than 300 rooms there."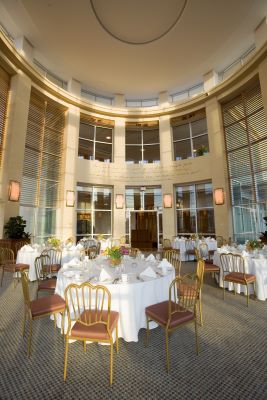 Across the street from President Abraham Lincoln Springfield is Wyndham Springfield City Centre, offering another 300-plus guest rooms within walking distance of BOS Center and Springfield's largest event venue.
"A lot of times, we're packaging those two hotels together for our largest events of close to 700 rooms," Truman said. "Space wise, if you use all three of those venues, you'd have over 130,000 square feet to bring some very large events."
Truman emphasized the increasing importance of attendees prioritizing the desire to experience a destination for all it can offer. Now more than ever, attendees are asking themselves what they can do when they find they have some downtime at meetings and events, and Springfield doesn't lack in offsite opportunities and excursions.
"The great thing about having events [at BOS Center and our hotels] is you are within walking distance of a lot of our historic sites," Truman said. "Obviously, Lincoln's always been a big deal here, and groups are within walking distance of the Presidential Museum, the old state capitol building, Lincoln Town…There's a lot of unique dining and shopping opportunities within walking distance as well, so it makes it a great place for conventioneers."
The Abraham Lincoln Presidential Library and Museum is an educational and historical offsite activity to add to any Springfield meeting agenda, introducing attendees to the story behind what the state's capital city is commonly known for. Planners can take their events one step further by hosting part of their group in one of the library and museum's event venues. 
"That's a really big thing. Planners will do events at some of these places because their schedules are tight and they're not going to have downtime," Truman said. "So, for instance, they can do an offsite at the Presidential Museum, an evening reception or a banquet. Same with the old state capitol, where Lincoln gave 'The House Divided Speech.'"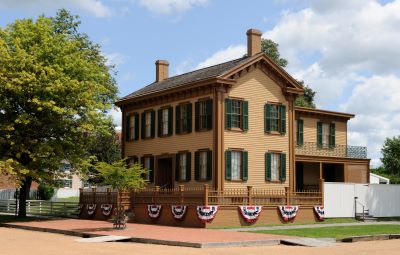 The Museum Plaza offers groups the opportunity to gather in the 4,500-square-foot center rotunda of the Abraham Lincoln Presidential Library and Museum, bracketed by a full-scale reproduction of Lincoln's Indiana log cabin and a replica of The White House. Groups can create unique event experiences by including museum exhibits, theater presentations and event enhancements. 
Truman also mentioned that, for smaller groups, the Dana-Thomas House—designed by world-renowned architect Frank Lloyd Wright in 1902—is a unique historical gathering place offering docent-led tours year-round. The home, built for Springfield-based socialite Susan Lawrence Dana, contains the largest collection of site-specific, original Wright art glass and furniture. Facility rentals are available for groups at www.dana-thomas.org. 
"Every event at a hotel is kind of similar. If you go to the DoubleTree here, a DoubleTree in Chicago or a DoubleTree in San Diego, there may be some slight differences, but we've all gone to those banquets," Truman said. "Going into a unique venue is a fun way to incorporate something new into your program."
[Related: 3 Route 66 Attractions for Groups in Springfield, Illinois]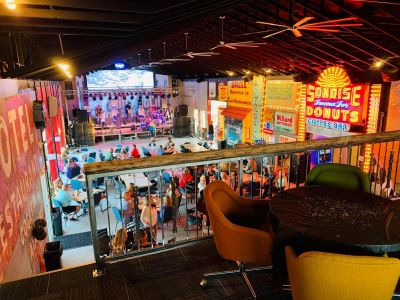 Springfield also happens to be a stop along Route 66, which will turn 100 years old in 2026, and the centennial celebration has become a "really big deal," Truman said. "We're lucky that we have sites and attractions for that as well that planners can incorporate into their events."
Route 66 Motorheads Bar and Grill, Museum and Entertainment Complex offers a one-of-a-kind dining experience with an "Owner's Manual" (a.k.a. the restaurant's menu) featuring classic pub food with creative car-related names like the Road King Cheese Curd Burger, Daytona Dogs (Reisch beer brats) and the Ferrari (Italian beef). 
The Route 66 & Motor Museum is home to a variety of motorcycle rallies, car shows and more throughout the year in The Motordome entertainment and event space. Groups booking events with Route 66 Motorheads Bar and Grill, Museum and Entertainment Complex have access to a full-service bar, unique food options and exhibits showcasing various automotive artifacts, collectibles and memorabilia from Springfield and Route 66. 
"The entertainment complex has a stage, so they have bands that play for private functions in there, and they have an outdoor area that's connected that's kind of like your beer garden setup," Truman said. "Even if your event doesn't have anything to do with cars or Route 66, it's a unique way to experience that aspect of Springfield and Illinois that's really great."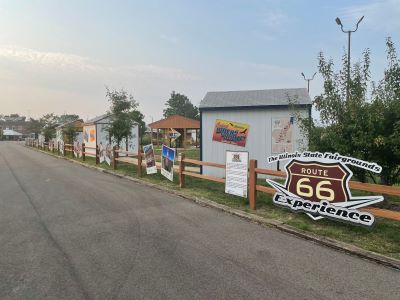 The Illinois State Fairgrounds has been undergoing major changes since July 2022 following the Illinois Department of Agriculture's $58.1 million capital investment in infrastructure improvements, including an $8.6 million restoration and renovation of the Multi-Purpose Arena and its 261,000 square feet of space. Construction is also underway on the multi-phased Coliseum of Champions renovation project, a 122-year-old facility available for shows and events.
Gate 2 of the Illinois State Fairgrounds in Springfield will soon feature updates to the Illinois State Fairgrounds Route 66 Experience, a multiyear project highlighting the nation's most iconic road and its Illinois-based communities and attractions in microform. The walking tour begins at the southern end of the route at the Old Chain of Rocks Bridge in Madison, Illinois, travels north through more than 90 communities and reaches the heart of Chicago.
"The Gate 2 Experience's purpose is to highlight all the destinations within Illinois that have Route 66 ties," Truman said. "There's going to be a neon sign park that a signing company is already working on and little 'huts' as I call them that highlight each destination and have little miniature things from each, like a miniature Chain of Rocks Bridge. It's a great outdoor option for events and you can get food trucks out there."
Springfield is where history comes alive, and the state capital city is ready to share its story with groups willing to listen. 
[Related: Central Illinois Cities Surprise With an Array of Group Activities]
Bloomington-Normal
A little more than one hour north of Springfield is Bloomington-Normal (BN), Illinois, a centrally located destination within two hours of major cities like Chicago, St. Louis and Indianapolis, and like Springfield, the destination is home to state history and offers a variety of venues for groups looking to learn more.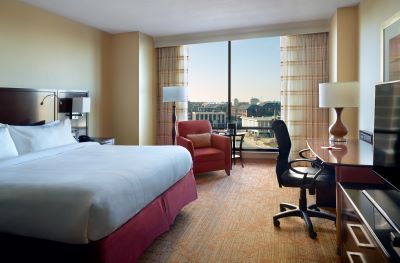 "Bloomington-Normal is the ideal location for meetings and conventions, located right off interstates 55, 74 and 39 and perfectly located in between Chicago and St. Louis," said Tracy Fulcher, communications manager, Visit BN. "We also have a direct Amtrack line that makes travel super simple and seems to be growing in popularity with the younger generations."
The two main locations for corporate meetings and events in Bloomington-Normal are:
Bloomington-Normal Marriott Hotel and Conference Center: Situated in the heart of Uptown Normal, the property is within walking distance from Uptown Station, where Amtrack is located, as well as numerous local shops and restaurants. It is the only AAA Four-Diamond property between St. Louis and Chicago, Fulcher said.
DoubleTree by Hilton Hotel Bloomington: This hotel puts guests within one mile from Grady's Fun Park and Lil Beaver's Craft Brewery and within five miles of Miller Park Zoo, the Den at Fox Creek Golf Course and university campuses like Illinois State University and Illinois Wesleyan University. 
To get out into the destination and experience what Bloomington-Normal has to offer locally and historically, groups can take advantage of a number of offsite venues at attractions and restaurants around the area.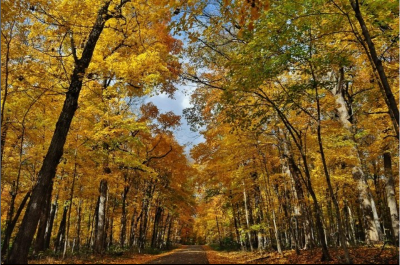 The Constitution Trail that runs through both Bloomington and Normal has been a staple in the communities since its grand opening in 1989. Stretching more than 30 miles through the Bloomington-Normal area, the multi-use trail was dedicated and named in celebration of the 200th birthday of the U.S. and designated a Millennium Trail by the White House Millennium Council in 2000. 
"This is a perfect trail for those who like to get out and walk, run, bike or just take in the sites of nature," Fulcher said. "There are hidden gardens and attractions placed along the trail. It runs along Uptown Normal and connects to a brewery, amphitheaters and parks."
A second "trail" for groups to follow is the Towanda Geographic Journey Linear Parkway, or "A Geographical Journey" Parkway, a 1.6-mile stretch of Route 66 lined with educational kiosks offering information about each state along The Mother Road. The historical site, a once-abandoned stretch of Route 66, now tells the story of Old Route 66 thanks to what originated as a class project for Normal Community High School geography and history students.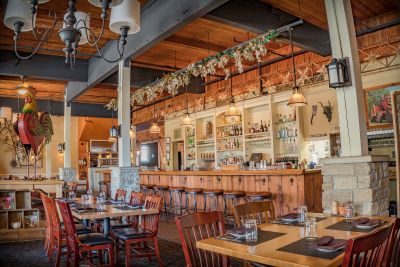 Epiphany Farms Estate, sitting on 75 acres of land, operates four restaurants and a special events business with seven venues offering farm-to-table catering. From company picnics and tasting dinners to farm yoga classes and corporate retreats, groups are invited to experience the estate and learn where food can be locally sourced from. The estate offers Farm Tour for a Cause opportunities that include a 90-minute walking tour of the farm and education on farming techniques, landscape and livestock production. 
Groups looking for more of a modern flair can book DESTIHL Brewery & Beer Hall, an independent craft brewery and restaurant company located in Normal that offers boldly flavored food paired with a wide array of inventive beverages.
"They often have live music and offer an outdoor patio and great aesthetics," Fulcher said. "The location is a great option for group gatherings and large-party dining."
The brewery's Barrel Room, once reserved for the application of aging beers, is now an open, 3,500-square-foot private event venue for groups of up to 275 for a cocktail reception or 175 seated. Groups can also book The Courtyard, a new string-lit area featuring cocktail tables and outdoor speakers with an additional bar area coming soon.
Visit Springfield's New Meetings Incentive
Visit Springfield invites groups to "revel in Springfield's Abe-mazing" meetings incentive offerings, available to groups working with the city's CVB. New events booked between now and Dec. 31, 2023 with Visit Springfield can take advantage of the following perks:
$3,000 mater bill subsidy with Sunday or Monday for 150 peak rooms and a total of 500 room nights actualized
$1,000 master bill subsidy with Sunday or Monday for 75 peak rooms and a total of 200 room nights actualized
Registration assistants
Welcome bags and visitor information
Name badges and covers
Offsite group tour coordination for 15-plus people
Assistance to arrange a philanthropic group outing
More information is available at www.visitspringfieldillinois.com. 
Connect
Visit Springfield, Illinois
(217) 789-2360
www.visitspringfieldillinois.com
Visit BN
(309) 665-0033
www.visitbn.org 
Read this next: Central Illinois Sports Venues That Keep Groups on Their Toes