Birmingham Beckons Groups With an Amazing Food Scene and Monumental History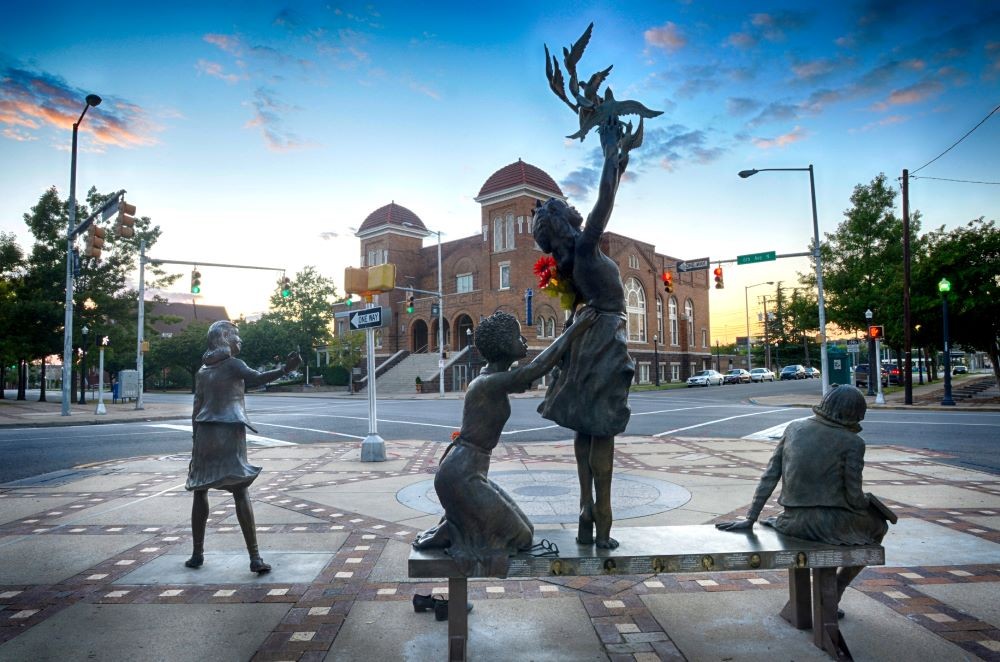 Kelly Ingram Park, Four Spirits sculpture, Birmingham Civil Rights Institute: Credit: Ted Tucker.
Birmingham, Alabama, a city central to the Civil Rights Movement, offers history as well as growing cuisine and sports scenes to draw meetings and conventions to "The Magic City."
Dubbed "the dinner table of the South," Birmingham's impressive culinary offerings have included six James Beard Award winners and three recent James Beard Award semifinalists: Pizza Grace, Bottega and Tim Hontzas, chef/owner of Johnny's Restaurant.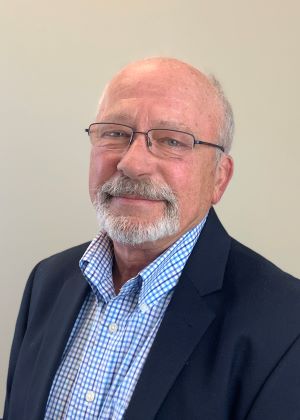 "When people think of Birmingham, and maybe the South in general, they think barbecue—you don't equate fine-dining or unique, independent restaurants with cities you aren't familiar with," said Steve Pierson, director of convention sales for the Greater Birmingham CVB.
"Aside from the fact that they're surprised to see we're so green here with rolling hills, they're surprised about the food scene. We have little gems like that everywhere, whether it's Asian, Italian—plus a lot of James Beard Awards winners and nominees here—and the service is impeccable."
Like in many rising culinary destinations, the city's ascent started with one dreamer who took a chance. In Birmingham, that would be Frank Stitt, who started Highlands Bar & Grill in the 1980s and recently opened Chez Fonfon and Bottega restaurant and the attached Bottega Cafe.
[Related: The Secret About Alabama as a Meetings Destination Is Getting Out]
Chefs that got their start at Highlands have since opened their own places, which in turn has resulted in new entertainment pockets sprouting up around town.
Pierson also noted that a quintessential Southern "meat and threes" eatery, Johnny's Restaurant, located in the suburb of Homewood, whose chef is up for a James Beard Award.
"You don't always hear about meat and threes up for these types of things," Pierson said.
The city has also tapped into the craft beer craze with a Beer Trail that has 12 taprooms in its current lineup in the Greater Birmingham area.
Following is a roundup of some quintessential Birmingham experiences and a few exciting large sports venues that can accommodate groups of virtually any size.
4 Birmingham Group Pub and Restaurant Options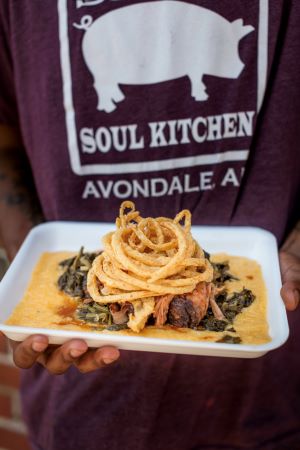 Avondale Brewing Company
Groups can rent two spaces at this craft brewing standout: The Upstairs and Cinderella Story. The Upstairs has a maximum capacity for 90 guests, or 140 with half standing/half seated.
Next door to Avondale Brewing Company is Cinderella Story, which offers an HD golf simulator that lets up to 12 players (six at a time) shoot Pebble Beach and St. Andrews, among dozens of other championship courses. Groups can also book The Clubhouse to push the guest list to 30 total. 
Carrigan's Public House
The downtown Carrigan's (there is also a 6th Avenue location with a beer garden) has an upstairs room dedicated to events that can host up to 70 guests, and also offers an optional rooftop patio, onsite catering and a private bar. Besides craft beers on draft, Carrigan's also slings a seasonally adjusted selection of craft cocktails along with traditional pub food.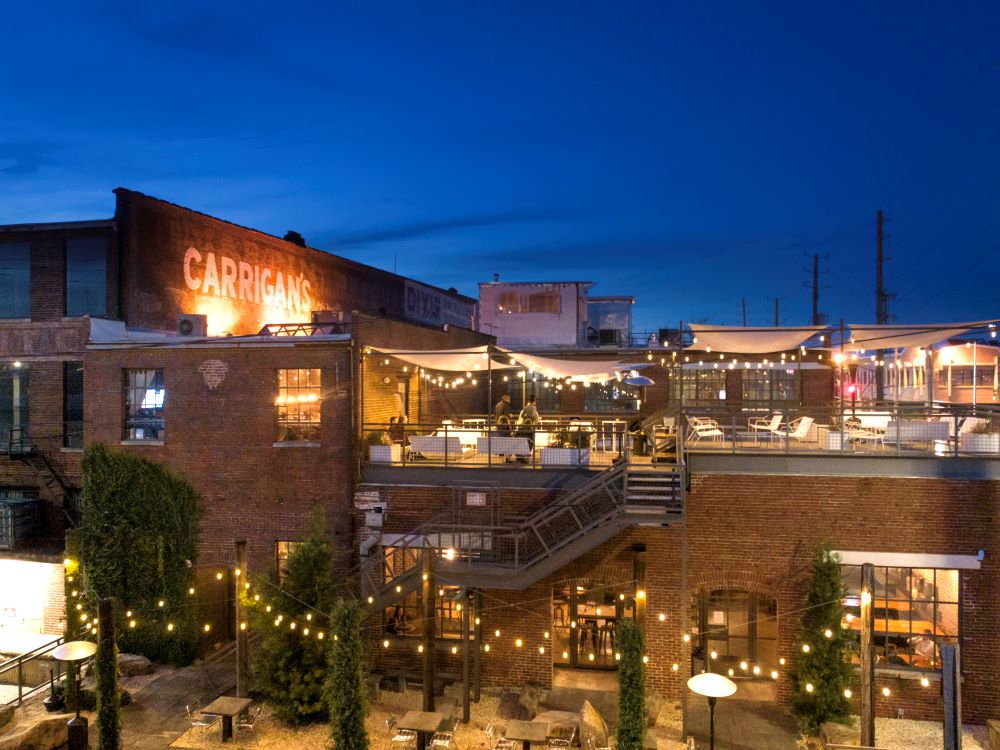 Chez Fonfon
This bistro, owned by Birmingham restaurateur legend and James Beard Award-winning chef Frank Stitt, is located in the heart of the Five Points South neighborhood and serves French comfort food such as steak frites and sauteed trout with brown butter and escargots, along with boasting an inventive cocktail offering and a deep list of French wines. Although Chez Fonfon does not offer a private dining space, it remains one of the top choices in the city for a sophisticated evening out with a client.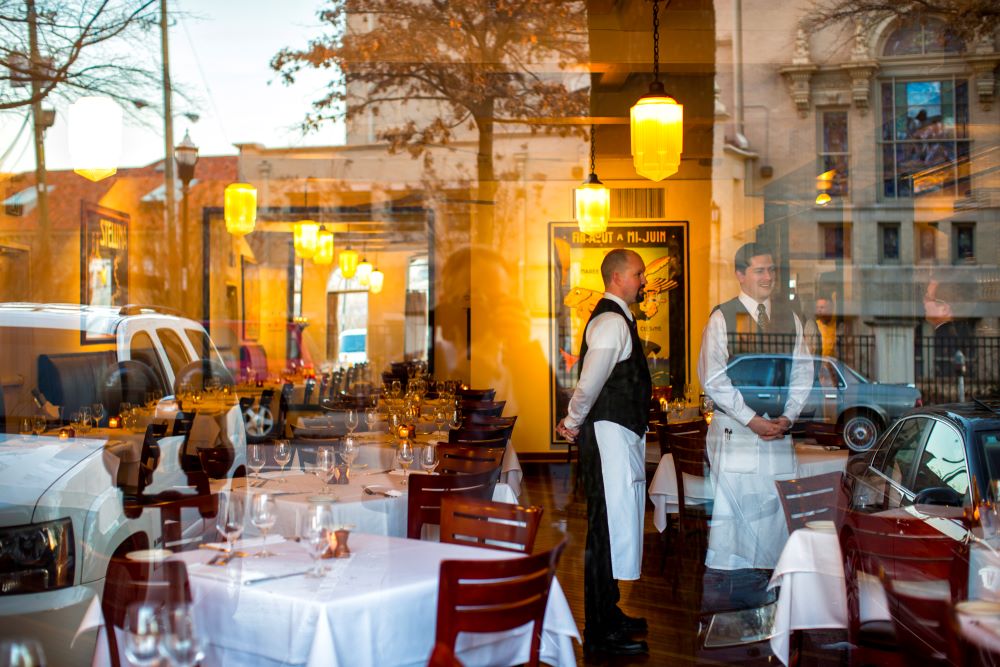 Rodney Scott's Whole Hog BBQ
Who is not tempted by good ol' authentic Southern pit barbecue? Pitmaster Rodney Scott, who has cooked whole hog-style barbecue since the age of 11, delivers that quintessential experience with three locations in the Greater Birmingham area, cooking over live coal with direct heat. The restaurant also runs a robust catering operation that can be pressed into service for offsite gatherings around town, and can even staff an event.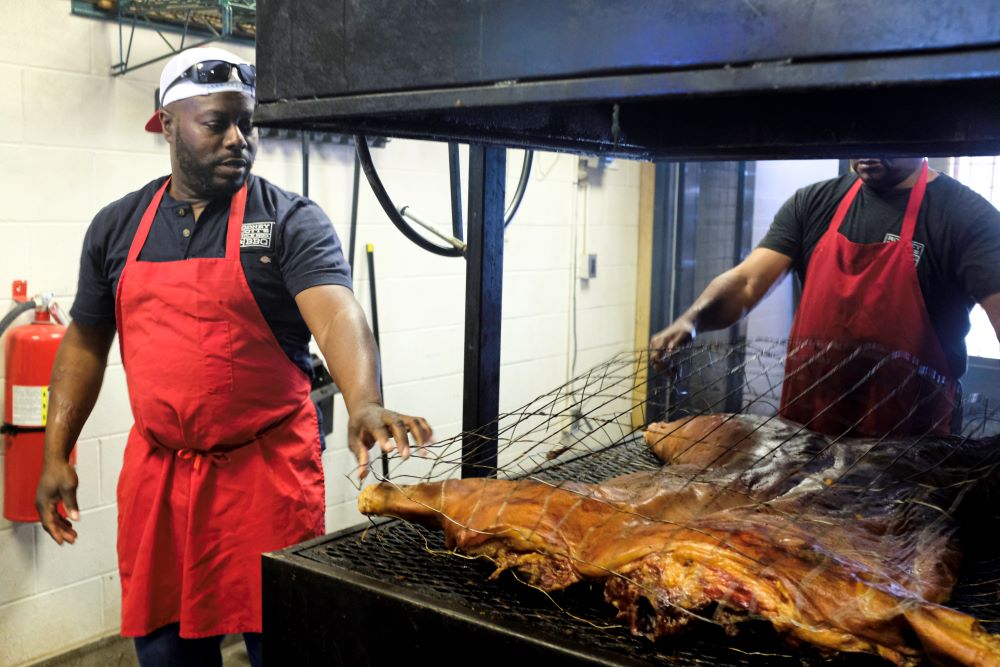 Birmingham Civil Rights Movement Landmarks
Birmingham played a key role in the Civil Rights Movement, with 2023 marketing the 60th anniversary of the Birmingham Campaign of 1963. That year included pivotal events such as Dr. Martin Luther King's monumental "Letter from Birmingham Jail," an open letter arguing that Black Americans had waited too long for equal rights under the law, and that unjust laws were invalid laws.
The year also saw the Children's Crusade march in May and the horrific September bombing of the 16th Street Baptist Church.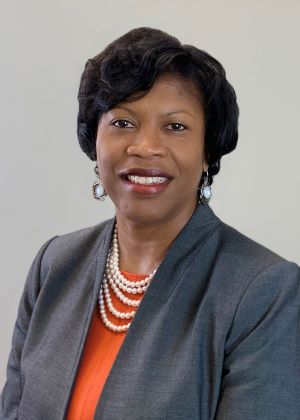 "The pivotal turning point was the bombing of the church. Once those girls were killed that's when it changed the conscious of America, when they said, 'What's going on in Birmingham and there has to be a change there,'" said Sara Hamlin, vice president of tourism for the Greater Birmingham CVB. "The Birmingham Civil Rights District and the Civil Rights National Monument are profoundly moving, especially the 16th Street Baptist Church.
"Groups can go in, take a tour, and they actually have a museum portion that highlights what happened there, in the basement of the church," she added.
Hamlin, who has worked for the bureau for more than three decades, has witnessed firsthand the destination's embrace of its role in the Civil Rights Movement.
"When I started at the bureau, the Civil Rights Institute was not constructed yet, but we would occasionally get calls about the church," Hamlin said. "Over the decades, it has grown in popularly not only for the meetings market but for the leisure market as well as international visitors."
Hamlin singled out Rotary International District 6860's May 4-6, 2023 International Peace Conference as a prime example of meeting groups celebrating the city's Civil Rights history.
The conference will include a reenactment of the May 2-3, 1963, Children's Crusade demonstration in which thousands of students skipped classes to meet at the 16th Street Baptist Church and then march to downtown Birmingham to dialogue with the mayor about segregation.
[Read More Meetings Today Diversity, Equity and Inclusion Content]
"We certainly invite people to come and learn the lessons of the past so they're not repeated in the future," Hamlin said. "The lessons that were learned then can also be lessons learned today, which is really how you bring about change in the world in  terms of harmony and justice for all people."
The community of Birmingham is eager to share this sometimes tragic but ultimately inspiring and nation-awakening history with meetings groups. The Greater Birmingham CVB's website maintains sample Civil Rights Movement itinerary options.
Popular spots for Civil Rights-inspired offsite tours and/or events include the following.
Birmingham Civil Rights Institute
This affiliate of the Smithsonian Institution is part of the Birmingham Civil Rights National Monument and is dedicated to promoting a comprehensive understanding of civil rights developments in the city. Showcasing permanent, special and traveling exhibits, groups can rent four spaces for meetings and events such as dinners and receptions:
Odessa Woolfolk Gallery: This venue, only open for evening events, can seat up to 100 for a dinner.
Rotunda: This dramatic circular, domed venue adjacent to the Woolfolk Gallery in the main entrance can host large standing receptions for up to 300. Like Woolfolk, it is only available for evening rentals.
Abraham Woods Community Meeting Room: With a capacity for up to 80 standing, this space is frequently used for seminars, dinners and cocktail receptions.
Lecture Room: Trainings and workshops are frequent uses for this venue, which offers a classroom-style layout for up to 24 seated.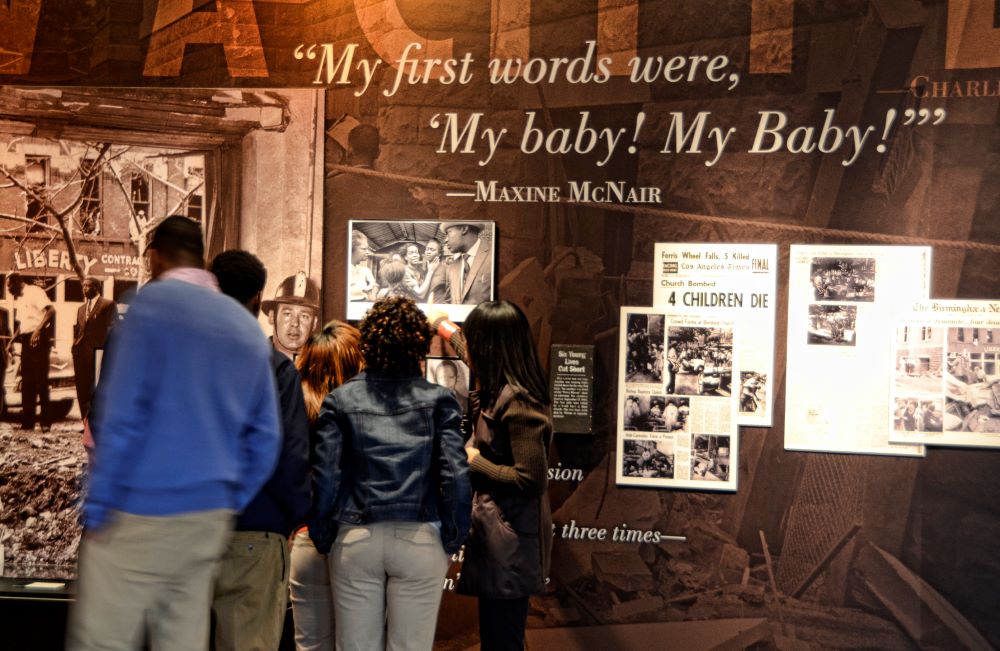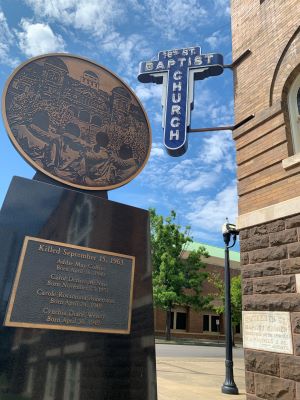 16th Street Baptist Church
The first Black church in Birmingham and recently designated a National Historic Landmark, four young girls were killed and 20 other members of the congregation were injured during the bomb blast of September 15, 1963. Hour-long tours of the church are available to be scheduled, with special arrangements made for groups of 30 or more.
Kelly Ingram Park
Facing 16th Street Baptist Church, this park served as a congregation and rallying area for demonstrators in the early 1960s. Visitors can access a free narrated audio cell phone tour that details the history and significance of this Civil Rights landmark. Sculptures in the park provide depictions of the police dog and fire hose assaults on demonstrators.
Birmingham Sports Venues
One of the biggest happenings in the city was the inaugural season of the USFL (United States Football League) and its Birmingham Stallions, who went on to win the league title. The Stallions' home field is Protective Stadium, which opened in October 2021 and is also the home of University of Alabama at Birmingham football, Birmingham Legion FC soccer and the Birmingham Bowl college football game.
The stadium is part of the Uptown Entertainment District's Birmingham-Jefferson Convention Complex (BJCC) campus, making booking for meetings and events easy. Groups can inquire about Stadium Club and Suite Level seating for event outings.
Another sports venue that is also part of the BJCC, the 18,000-seat Legacy Arena reopened in December 2021 after completing a $125 million renovation. Legacy Arena is the venue of choice for large concerts as well as the Birmingham Squadron, the G-League affiliate of the NBA New Orleans Pelicans, and is also used for large exhibitions.
In total, the BJCC offers 222,000 square feet of space; 90 meeting rooms; two ballrooms; a 1,000-seat theater; a 2,800-seat concert hall; 1,024 guest rooms in the Sheraton Birmingham and Westin Birmingham Hotels; and other options.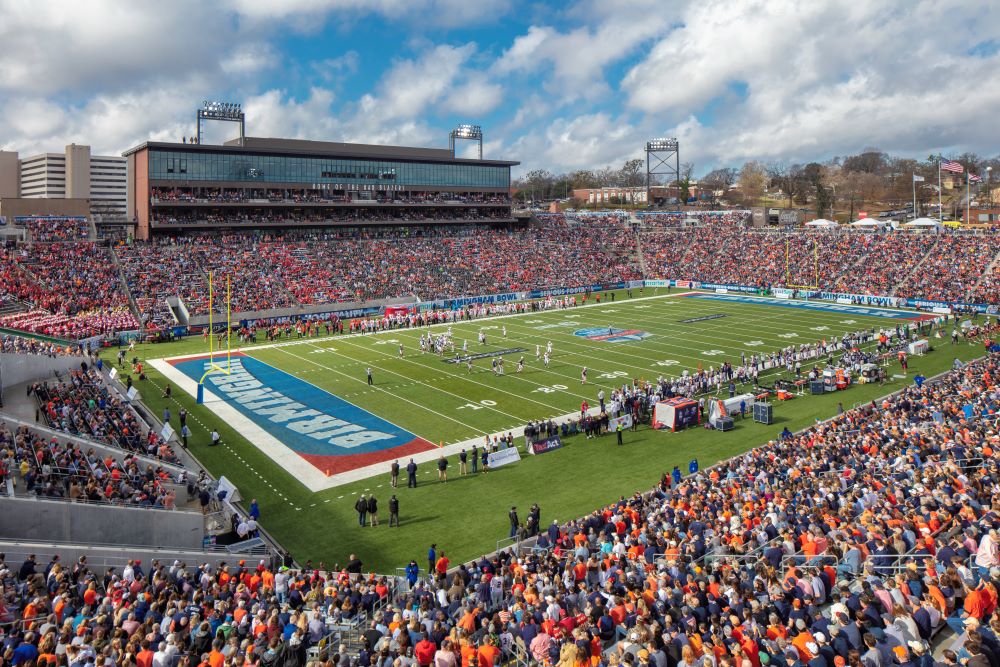 Connect
Greater Birmingham CVB
(205) 458-8000
 
Read more Meetings Today destination coverage: meetingstoday.com/destinations