4 Historic Hotels for Your Next Meeting in St. Louis and Kansas City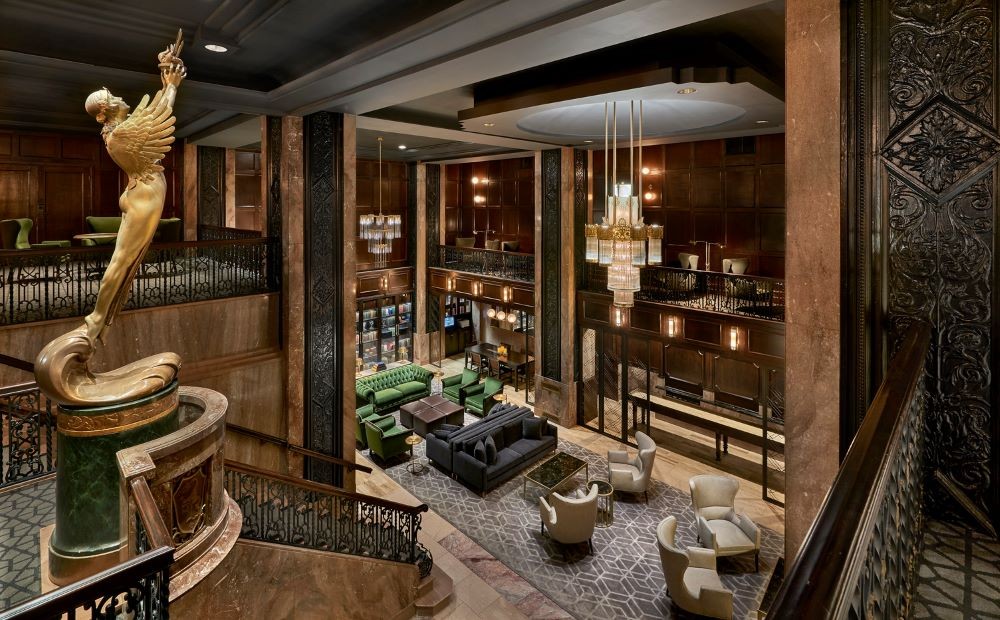 Hotel Phillips lobby, Kansas City. Photo credit: Hotel Phillips
There's something magical about meeting in a historic venue. Whether it's contemplating the businesses that used to call the building home or pondering the famous crooners, politicians or movie stars that wandered its halls, many properties have captivating stories to tell. 
It could also be said that such rich histories can inspire those planning for the future, which is why historic hotels might be such a popular option for meeting and event groups. Whether you're listening to a keynote beneath opulent chandeliers or toasting a day's work in a Prohibition-era speakeasy, there's a creative allure to these properties that can't be denied. 
Missouri's biggest cities, Kansas City and St. Louis, are full of these storied hotels that have been meticulously preserved and transformed into enchanting properties with the modern amenities present-day attendees crave. Following are a few of the top historic hotels in these cities for meetings and events. 
Hilton President Kansas City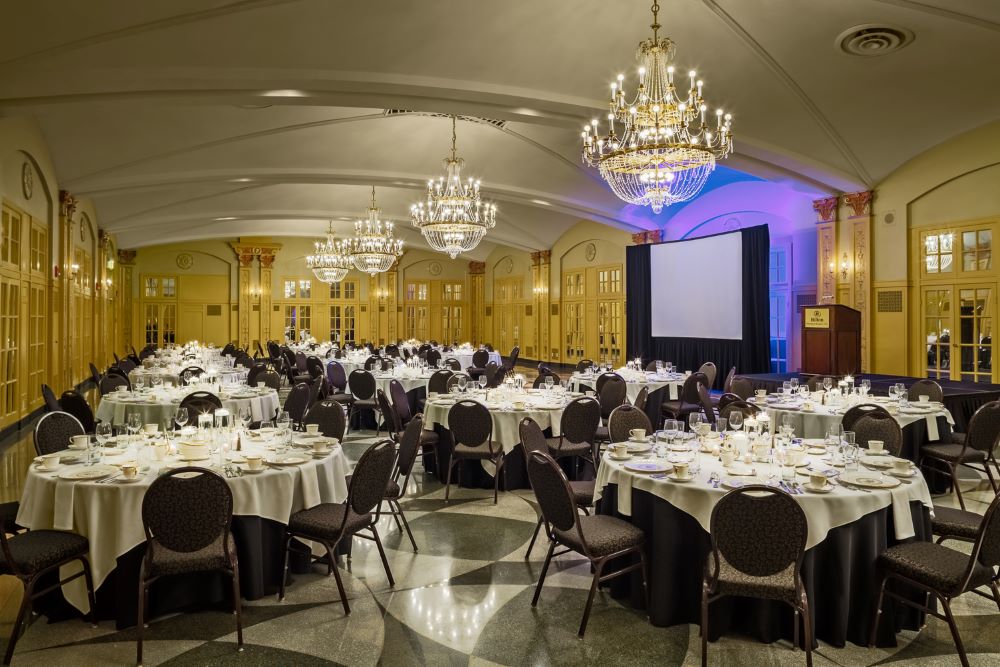 While the sights and sounds of Kansas City's popular Power & Light District—a nine-block neighborhood bursting with dining, shopping and entertainment—appear modern at first glance, a dose of history can be found within this part of town. Long before the district spurred a 2008 downtown revitalization, Hilton President Kansas City stood tall. Recognized by the Historic Hotels of America, this 1926 hotel has hosted the likes of Frank Sinatra, Patsy Cline and Benny Goodman. 
Groups can convene under glittering chandeliers in the Congress Ballroom, one of the hotel's event spaces, which spans roughly 9,000 square feet in total. The 213-room property is also just two blocks from the Kansas City Convention Center and the T-Mobile Center, an arena popular for sporting and live entertainment events. With inspiring historic spaces surrounded by modern amenities and attractions, the Hilton President Kansas City promises an exciting venue for history buffs, while offering all of the walkable convenience planners appreciate. 
Hotel Phillips Kansas City, Curio Collection by Hilton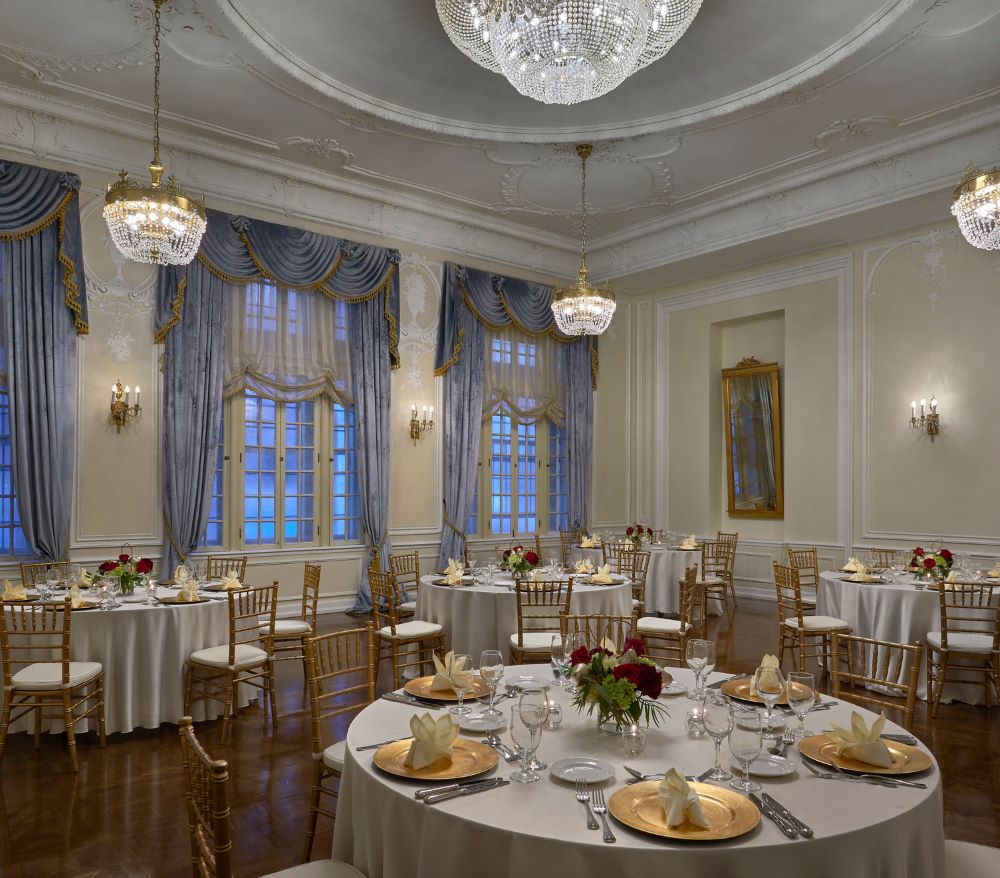 Also in the famed Power & Light District near the convention center and other attractions, the 1930s Art Deco Hotel Phillips Kansas City offers another dose of history for events. The 216-room property offers 8,324 square feet of event space. 
While plenty of entertainment is nearby, don't miss an opportunity to grab a drink in the hotel's own speakeasy, P.S. Speakeasy. The modern take on a 1930s speakeasy is concealed in a basement mail sorting room, accessible only by an unmarked door. It's the perfect ending after a day of meetings, offering fun drinks in a historic atmosphere that harkens to the Prohibition-era.  
[Related: Kansas City Is Upping Its Profile Via Major Additions]
St. Louis Union Station Hotel, Curio Collection by Hilton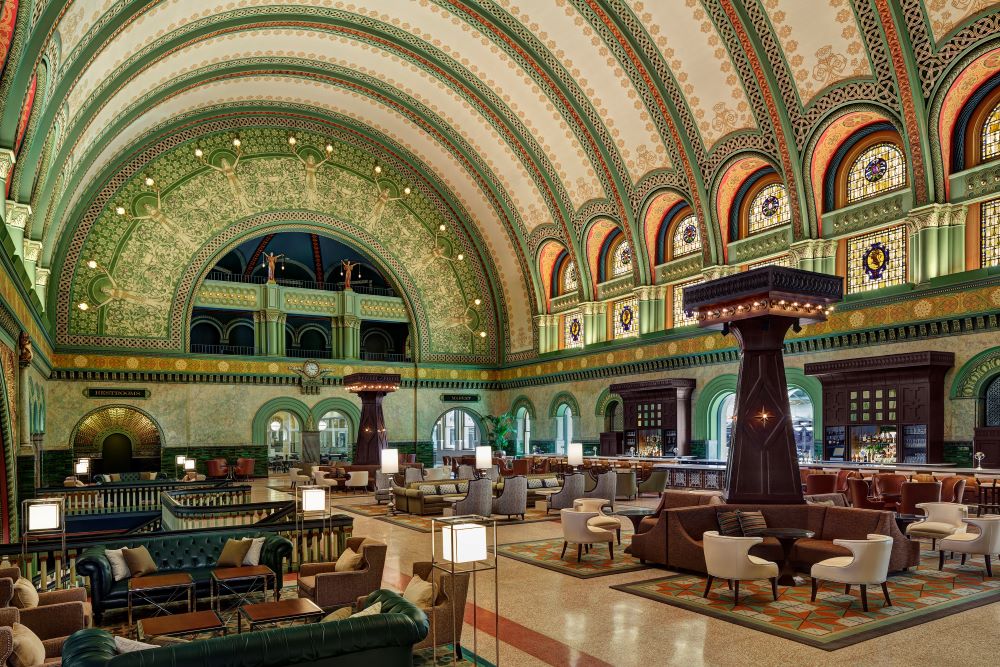 A staple in St. Louis since it opened to the public in 1894, Union Station has an important role in St. Louis' history. At its height, it was the largest and busiest railroad station in the world. Its expansion in 1903 helped welcome many visitors to the 1904 World's Fair, and famous U.S. icons like President Harry Truman and Joe DiMaggio have walked its halls.  
Though it's no longer an operating terminal, the railroad history of Union Station is very much alive in the now-converted AAA Four-Diamond St. Louis Union Station Hotel. Upon entry, the impressive Grand Hall maintains its original archways and decor, and also offers a hypnotic 3D lightshow that can be utilized during events. Many of the 539 guest rooms on property feature callbacks to the building's railroad days. More than 100,000 square feet of event space awaits groups, with the largest venue totaling 28,560 square feet. 
Nearby amenities include the event-capable St. Louis Aquarium at Union Station, which opened in late 2019, mini golf and The Wheel at St. Louis Station, a 200-foot-high observation wheel with 42 fully enclosed climate-controlled gondolas that can also offer group packages for the experience. 
The Pennywell St. Louis Downtown, a Hilton Hotel 
Steps away from the famous Gateway Arch, Busch Stadium and Ballpark Village and America's Center Convention Complex, The Pennywell is newly renovated while honoring its past life as a 19th-century bank. Various historical elements of the building have been preserved, including the 1888 vault doors, architectural details and some vintage decor.  
More than 5,000 square feet of space are available for meetings and events at the 195-room hotel, including a ballroom that boasts city views and some of the building's preserved historic elements.  
Read this next: New Developments Prepare St. Louis for a Strong Business Travel Comeback