Kansas City Is Upping Its Profile Via Major Additions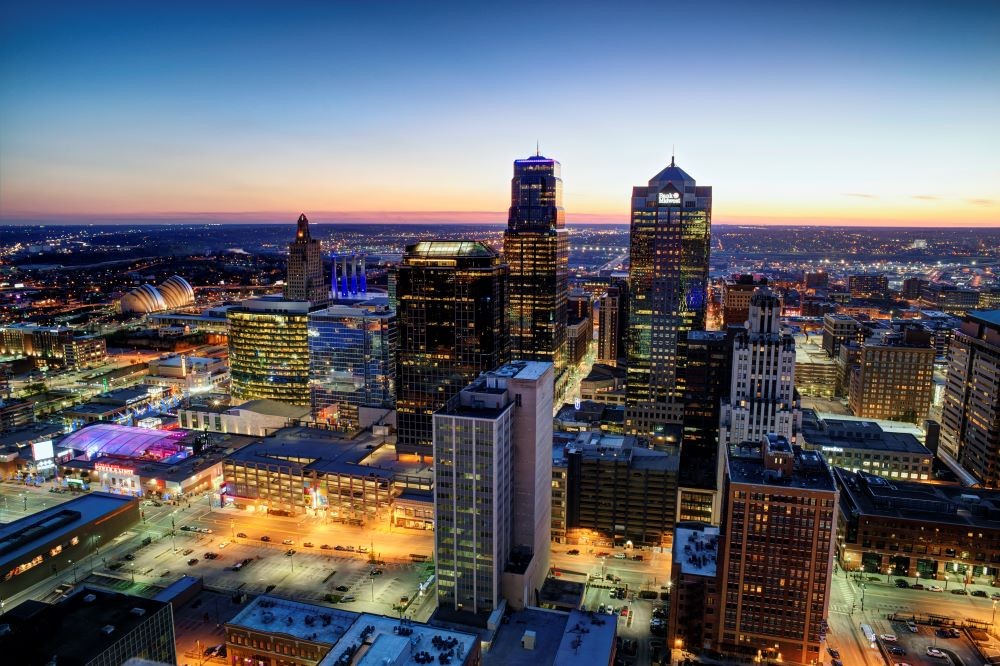 Ksnsas City skyline east. Credit: Jason Dailey.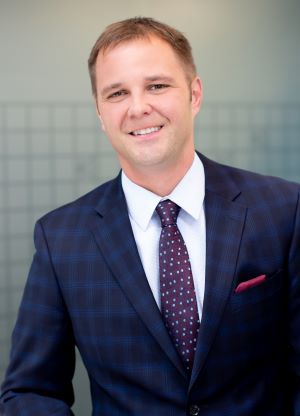 Kansas City is on the ascent, ready to add a new terminal at Kansas City International Airport and a groundbreaking riverfront soccer stadium, expanding its streetcar line and drawing two major sports events that will increase the destination's profile on the national, and world, stage.
Missouri's western metro, which also offers the Power & Light District, a popular after-hours group event option, also has three new or improved offsite venues that will appeal to meeting planners wanting to get attendees out and about.
"Thanks to major events on the horizon like the 2023 NFL Draft and the 2026 FIFA World Cup, the center of the country continues to be the center of attention," said Nathan Hermiston, senior vice president of sales and services for Visit KC. "Add to that our region's continued infrastructure improvements—such as a streetcar expansion and a modern new airport terminal—and K.C. definitely has a new story to tell, both to visitors and convention attendees."
Following are highlights of the major developments and events increasing the profile of Kansas City.
[Related: How Downtown Kansas City Is Poised for Meetings Recovery]
New Riverfront Soccer Stadium
Downtown Kansas City is slated to open a new 11,000-seat, riverfront National Women's Soccer League stadium for its Kansas City Current team in time for the 2024 season, with construction expected to start with a groundbreaking October 6. 
Perched on the Missouri River and set to be a destination on the KC Streetcar's planned Berkley Riverfront extension, the stadium will be the first purpose-built venue for the league and considered a landmark development in women's professional sports. The Berkley Riverfront Park stadium will also be used for concerts and events.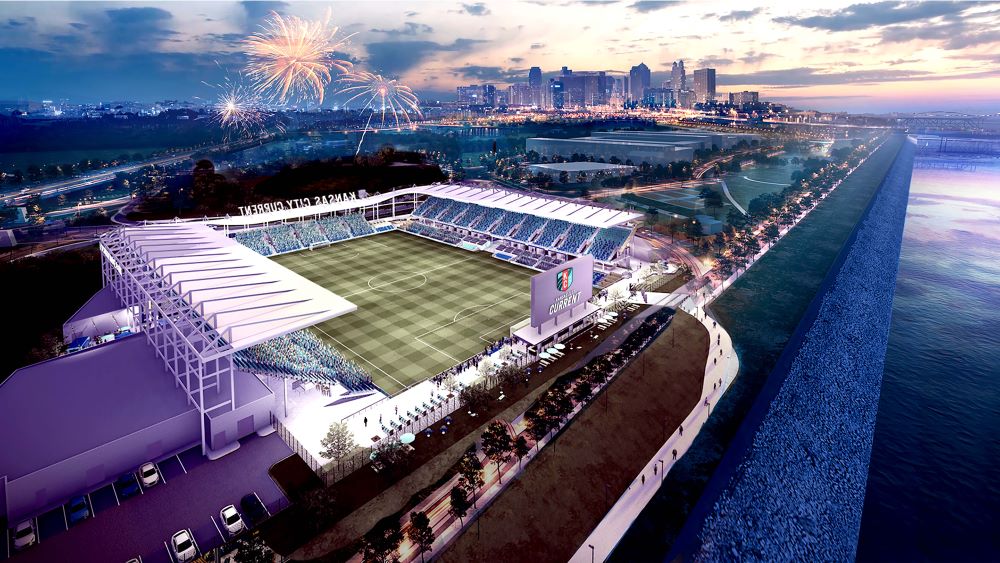 New Airport Terminal
A new 39-gate terminal at Kansas City International Airport (KCI) is set for take-off in spring 2023. The four-year, $1.5 billion project promises to deliver the largest all-glass facility in the U.S., according to Visit KC, and will also be the first U.S. airport to include wireless electric bus charging, building on KCI's accolade of being the first airport in the nation to offer electric buses.
Other features include more than 80% of the shops and restaurants being local to the region, with 17 concessions reserved for woman- and minority-owned businesses. Also fitting with Kansas City, Made for KC Championship will award an area pitmaster the opportunity to take over a restaurant in Concourse B for one year. The Barbecue Hall of Fame and the Kansas City Barbeque Society will also be available within the terminal.
Streetcar Extension
After securing $174 million in federal funding, Kansas City is expanding two of its KC Streetcar lines that will connect the convention center with more of the city's prime attractions. 
The 3.5-mile Main Street extension is scheduled to launch service in 2025 with 16 new stops, with access to major attractions and institutions such as The Nelson-Atkins Museum of Art and Kemper Museum of Contemporary Art in the Art Museum District; the University of Missouri-Kansas City; Country Club Plaza; and historic Westport.
The Berkley Riverfront extension will expand the line a half mile to reach the prime green space set on the Missouri River, and which will also be the location of the new 11,000-seat stadium for the Kansas City Current soccer team that also is expected to be a major concert and event venue.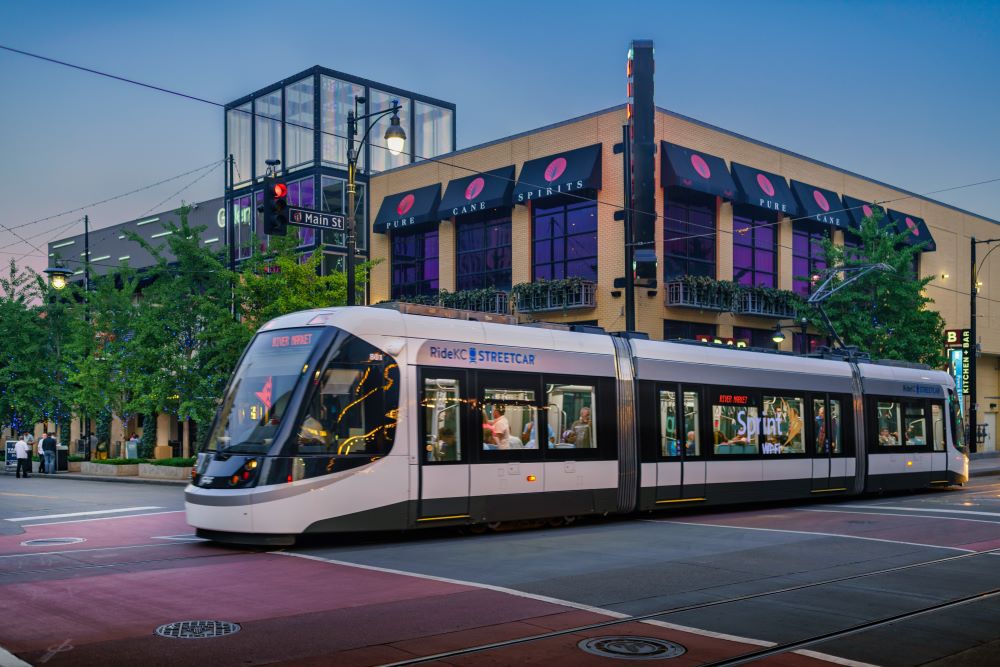 [Related: 3 Ideas for Safe, Clean Teambuilding Activities in Kansas City]
Major Sports Events Coming to K.C.
Always a sports town, Kansas City is set to welcome two major sports events in the next few years, with the 2023 NFL Draft Presented by Bud Light set to welcome a throng of pro football fans April 27-29 to immerse themselves in the NFL Draft Experience interactive theme park and other festivities surrounding the league's biggest off-season event.
"This will be one of the biggest and most-anticipated professional sporting events our city has hosted," said Kathy Nelson, who recently combined her role as president and CEO of the Kansas City Sports Commission with leading Visit KC, in a statement announcing the city's hosting of the event. "Not only will fans from around the country be traveling to experience the NFL Draft and NFL Draft Experience, but millions of viewers will see Kansas City in the national spotlight on NFL Network, ESPN and other major networks."
A global spotlight will be cast on the destination in 2026 when it will be one of 16 host cities for the FIFA World Cup, joining major U.S. cities such as Atlanta, Boston, Dallas, Houston, Los Angeles, Miami, New York, Philadelphia, San Francisco and Seattle.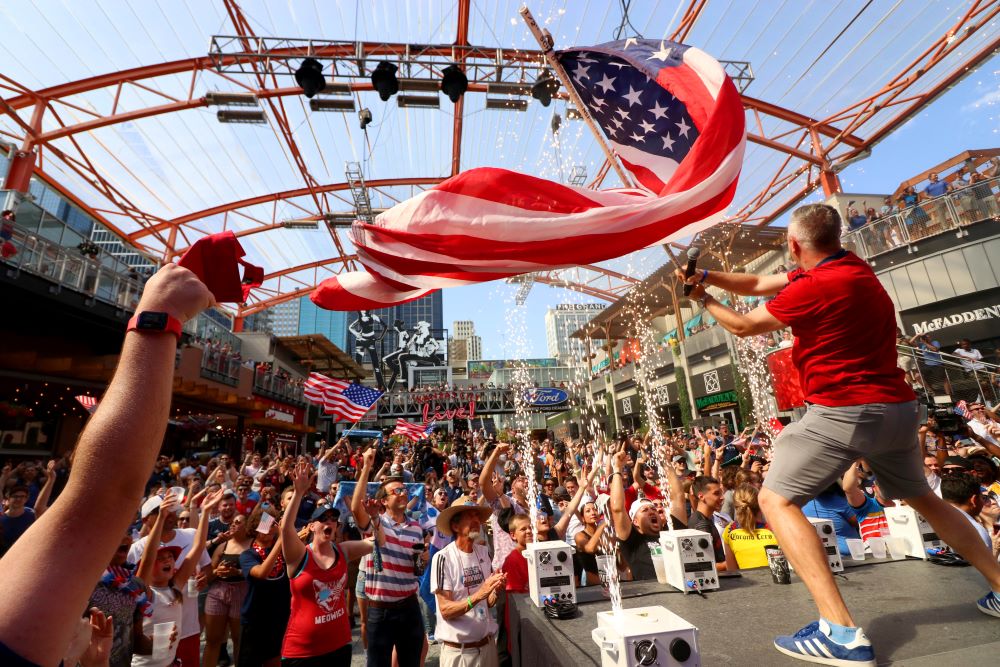 New and Improved Kansas City Offsite Venues
Three new or improved offsite venues should be on the radar of planners considering a Kansas City meeting or convention:
J. Rieger & Co. Distillery, which has been in operation for 120 years, offers two floors of event spaces in the historic Electric Park Neighborhood, with inclusive event packages. Venues range from a boardroom for up to 20 and a barrel room dinner venue for up to 16 guests to a glass-enclosed atrium, the private-dining Monogram, lounge and various bars. A full buyout can host 500 standing and 425 for events with a DJ/band and dancing.
Fountain Haus is a new LGBT+ entertainment complex in the Westport neighborhood offering multiple venues that include a rooftop bar, cabaret and multi-function space.
Harry S. Truman Presidential Museum and Library, celebrating the 33rd U.S. president and Missouri native, recently wrapped a $30 million renovation. Event rental options include a White House Decision Center teambuilding program set in a re-created West Wing and in which participants take on the roles of President Truman and his advisors to tackle some of the monumental challenges facing the U.S. following World War II. Catering and an open bar are optional.
Connect
Visit KC
(816) 691-3800
Read Next: Inspiring Arts Experiences in Kansas City