New Developments Prepare St. Louis for a Strong Business Travel Comeback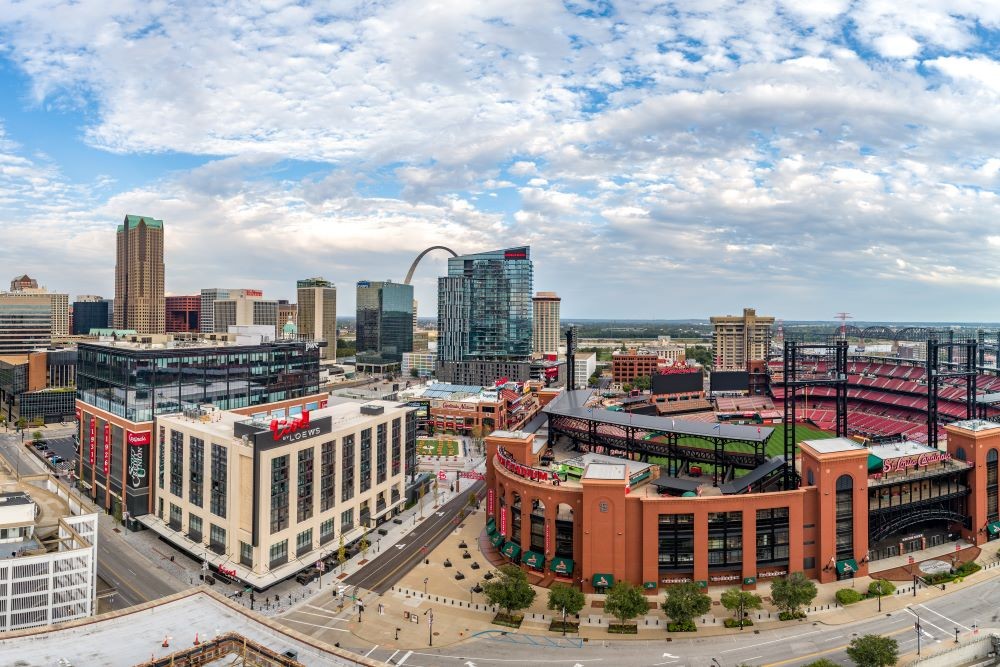 St. Louis Ballpark Village
Beer, baseball, barbecue and the St. Louis Blues have drawn visitors to the Missouri city for years, making it known for more than St. Louis' 630-foot Gateway Arch, the tallest national monument in the U.S. And as St. Louis rises in popularity, the city has made room to welcome even more guests to the area, adding 450 new hotel rooms in 2022 alone.
"That's an addition to the 2,095 rooms that we put online since January of 2020," said Brian Hall, chief marketing officer for Explore St. Louis. 
The additions don't stop there. Hotel developments continued throughout 2020 and 2021 despite the pandemic, and the city is nearing 2019 numbers as both business and leisure travel make a return.
While the city saw significant reductions in events throughout 2020, at the start of 2021, St. Louis found that, with the city's Global Biorisk Advisory Council (GBAC) STAR certification—"the gold standard of healthy and resilient facilities"—it was able to continue operating safely.
"More and more activity emerged that was driven at the beginning of the recovery by a lot of amateur athletic competitions, including volleyball tournaments, of which we hosted four in early 2021," Hall said. "But as we sit here toward the end of 2022, our convention calendar is nearing levels that we had experienced prior to the pandemic, so we're really pleased with the recovery in the meeting and event industry here in St. Louis."
In short, St. Louis is ready for a strong comeback, and what the city has to offer can take meetings and events to the next level. Following are some of the newest and most exciting opportunities to take advantage of during your next trip to the Gateway to the West.
Hotels
St. Louis recently opened a new Le Meridien in the heart of its downtown, housed in a building dating back to 1913 and added to the National Register of Historic Places in 1984. Le Meridien St. Louis Downtown sits less than a mile from the Gateway Arch and half a mile from America's Center Convention Complex and the Enterprise Center, which hosts sporting events year-round.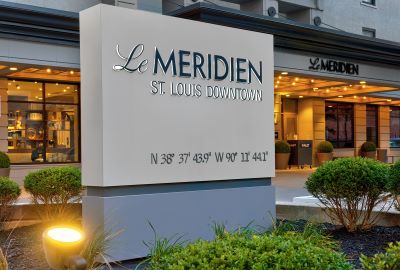 The 96-room, nine-story hotel offers 1,210 square feet of meeting and event space across two event rooms and three breakout rooms. Both Salon A and B can be combined for a total of 1,450 square feet of space to host up to 100 guests for a standing reception. 
Just as the pandemic commenced, St. Louis opened Live! by Loews-St. Louis in the city's Ballpark Village and across the street from Busch Stadium, home of the St. Louis Cardinals. The AAA Four-Diamond hotel offers 216 guest rooms and 19 suites next door to the buzzing, sports-themed Ballpark Village, where guests can enjoy restaurants, bars and St. Louis nightlife venues. 
Live! by Loews-St. Louis features more than 17,000 square feet of flexible indoor and outdoor meeting space, all conveniently located on one level of the hotel and boasting views of downtown St. Louis. The 5,070-square-foot Cardinals room can host more than 500 guests for a standing reception or 400 banquet-style and can be broken down into three separate spaces for smaller groups. 
[Related: 3 Historic Buildings Repurposed as Hotels in St. Louis]
After St. Louis' historic Shell Building sat vacant for nearly a decade, Hilton renovated the 12-story, 1926 build into a dual-brand Home2 Suites and Tru by Hilton hotel, which opened May 2022. Tru by Hilton St. Louis Downtown brought 203 new hotel rooms to the city, 75 of which are standard guest rooms, while the rest serve as extended-stay suites. 
The hotel offers 2,296 square feet of total event space across three meeting rooms, the largest of which measures 1,144 square feet and can accommodate 96 guests in cocktail rounds. Tru by Hilton St. Louis Downtown is also in walking distance to America's Center   and Enterprise Center, each within 10 minutes from the hotel's doors. 
Currently under construction in St. Louis' restored YMCA building is 21C Museum Hotel, with exhibition and meeting space set to showcase rotating curated exhibitions, interactive site-specific art installations and a roster of cultural programming based on collaborations with local and national arts organizations, according to Brian Hall and Explore St. Louis. 21C Museum Hotel is set to bring another 173 guest rooms to downtown and scheduled to open late this year.
"It's just really exciting to see all these great, old buildings coming back, either for hotels or for event space, or a combination of the two," Hall said.
Also in the works is Moxy St. Louis Downtown, a Marriott Bonvoy hotel bringing 154 rooms and scheduled to open in late 2024, as well as Residence Inn by Marriott St. Louis Downtown North, with 150 rooms, and Springhill Suites by Marriott St. Louis Downtown North, bringing 90 rooms.
America's Center Enhancement and Expansion
Already underway in downtown St. Louis is a $210 million expansion and renovation for the America's Center Convention Complex. The project, also known as AC Next Gen, will include improved and redesigned exhibit space, a new 61,000-square-foot ballroom opening to a ground-level outdoor pavilion and more than twice the number of loading docks for access to the exhibit space.

"We're going to be adding 72,000 square feet of additional exhibit space that is going to be completed by the end of 2023," Hall said. "We are under construction right now. The project is coming out of the ground and it's looking really great."
The complex's new grand ballroom will be among the largest in the country, featuring a 32-foot ceiling and column-free design with color-changing LED light fixtures. AC Next Gen will also enhance the convention complex's Washington Avenue entrance and offer a hybrid meeting broadcast stage. The additional exhibit space will not only change the exhibit hall layout but allow the complex the ability to host larger events.
The project is also slated to bring 20,000 square feet of prefunction event space and 22,000 square feet of new support space to improve service access to current and new exhibit halls and ballrooms. The Grand Ballroom will be supported by a 14,000-square-foot banquet kitchen capable of serving at least 6,000 meals and will provide catering support for the junior ballroom  and other meeting rooms. 
[Related: AC Next Gen Groundbreaking in St. Louis]
Guests will be able to mingle at America's Center Convention Complex's new 80,000-square-foot outdoor plaza with tiered amphitheater-type benches during St. Louis' warmer seasons, and the complex's 67,000-seat Dome will remain a flexible multi-purpose venue for large-scale events and activities.
Venues and Entertainment
To close out 2022, St. Louis is opening a $60 million entertainment venue in a historic Midtown building that once housed the 138th Infantry division of the Missouri National Guard in 1938 and later became the site of the St. Louis Tennis Club. In mid-December, the site will be known as The Armory, the new largest indoor entertainment attraction in St. Louis with more than 10 private event spaces.
"It's 250,000 square feet of entertainment, with live music, lots of food, lots of beverages," Hall said. "It's got a two-story slide, LED displays that are some of the largest in the region, and it has a capacity of about 5,000 people in a concert configuration with a 60-foot stage. It's going to be an event mecca."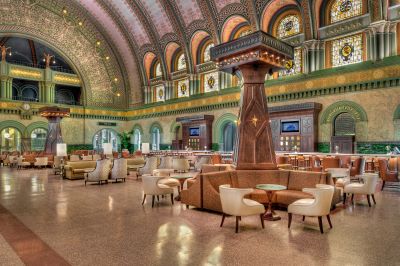 St. Louis Union Station, built in 1894 and once the busiest train station in the U.S., according to Hall, stands today as an entertainment complex and hotel in the heart of downtown. St. Louis Union Station Hotel, a Curio Collection by Hilton, is an AAA Four-Diamond hotel offering 539 fully renovated guest rooms and suites, some of which are within original Pullman train cars.
The hotel's Grand Hall features a 3D light show projected across the entire 65-foot vaulted ceiling that tells the story of the building's history, or guests can stop by the multimillion-dollar fire, water and light music show, Daily at the Lake, featuring dramatic 25-foot flames and a 100-foot waterfall.
"We've added the St. Louis Wheel, and it's about 200 feet tall and has LED lights on the exterior of it," Hall said. "It's a real sight to behold, and we've got the St. Louis Aquarium immediately adjacent to it  with about 100,000 square feet of meeting space, making that just a wonderful event venue for folks to indulge in and create teambuilding exercises." 
[Related: Meet With the Sharks at the New St. Louis Aquarium at Union Station]
Across the street from St. Louis Union Station is CITYPARK, the new stadium and home of St. Louis CITY SC. The depth of the stadium bowl is below street-level and brings fans closer to the soccer action as every seat will be within 120 feet of the pitch, the closest seats just 15 feet from the touchline. 
The open-air stadium is centrally located in Downtown West with a seating capacity of approximately 22,500, and the main stadium entrance is less than 250 feet from Union Station.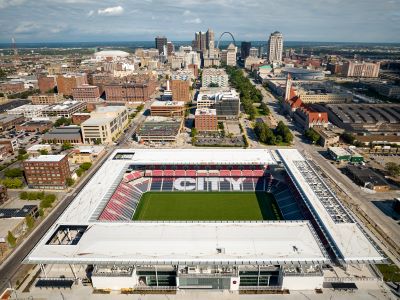 "It's an amazing event venue," Hall said. "You can actually, on their practice fields, conduct soccer play and teambuilding exercises. They offer event spaces like the ULTRA Club that has a commanding view of both the stadium, as well as the practice facility. It's an absolutely world-class experience, and I think it's going to be a real hit." 
At Ballpark Village, guests can choose between a variety of bars, restaurants and quick bites, or turn to Ballpark Village's weekly specials, while watching sporting events or attending live shows. The entertainment complex hosts one-of-a-kind public events, such as Football Game Day Experiences, Paws 4 Pints—a "yappy hour" in partnership with Stray Rescue STL with adoptable dogs onsite—and karaoke Thursdays at Shark Bar, "home of the endless summer" and the signature beach pail punch. 
Opening late this year, City Foundry STL, "where St. Louis can be found," will encompass 17 kitchens and eight local shops all in one place. The site will be home to St. Louis' first food hall, where chefs from around the city and region will gather to cook and serve some of the city's local fare. Kitchens will feature food from 4 Hens Creole Kitchen, Fordo's Killer Pizza and Intergalactic Burgers, and gluten-free, vegan and vegetarian options are available. 
City Foundry STL will also bring Shop Foundry Way, a shopping center featuring "vibrant brands with local roots" making a "real STL impact." Visitors can shop for accessories, clothing, art or groceries from businesses that have a progressive approach and think outside of the box in the St. Louis area. 
The food hall and shopping center also has plans to become "STL's entertainment playground." Puttshack, coming to City Foundry STL late this year, is an upscale, tech-infused mini golf game from the makers of Top Golf, and TruFusion, an all-encompassing fitness and yoga boutique, is scheduled to open at City Foundry STL by the end of 2022. 
"St. Louis is really coming into its own," Hall concluded. "Our best days are before us. So many exciting developments surround us, and we wanted to keep up with everybody else's energy and make sure that we're putting out our best for visitors that come here to our community."
Connect
Explore St. Louis
(800) 916-8938
www.explorestlouis.com
Read this next: 8 Great St. Louis Attractions That Are Free for Visitors