On the Scene: O'ahu, Hawai'i Offers a Well-Rounded Island Adventure
'Alohilani Resort Waikīkī Beach Pool Deck
Ahead of Meetings Today LIVE! on the Island of Hawai'i, I had the opportunity to visit O'ahu, where Honolulu's bustling urban scene stands in stark relief to the many paradisical beaches and rural offerings of the islands. Stroll past the palm trees down Kalākaua Avenue and along Waikīkī Beach and you'll find the tourism epicenter of not only the island of O'ahu, but arguably the entire archipelago.
Kalākaua Avenue is home to both the busiest Cheesecake Factory and UGG Store in the world, according to Tripadvisor, as well as retail outlets Royal Hawaiian Center and Waikīkī Shopping Plaza, with tourists from all around the world filing in and out of shops en masse.
Kalākaua Avenue is also where you'll find 'Alohilani Resort Waikīkī Beach, a tranquil oasis within the busy city "located 60 steps from door to shore." When I made the short journey myself, my toes were in the sand within a minute. 
'Alohilani Resort Waikīkī Beach
Blending beach life with Hawaiian culture, 'Alohilani Resort Waikīkī Beach unveiled renovations in December 2017 and opened in 2018 following a $115 million redevelopment of the Pacific Beach Hotel, originally opened in 1969. The project rebranded and refreshed the entire property, from the building's exterior to all 839 guest rooms and suites.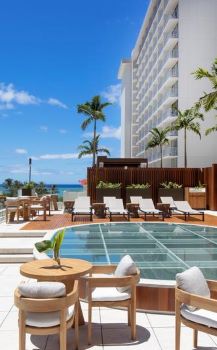 The only thing that remains the same is the two-story, 280,000-gallon indoor Oceanarium serving as the resort's centerpiece off the lobby. Visit around Halloween, and you may see a diver carving jack-o-lanterns inside the tank, feeding the sea life all the pumpkin seeds and guts. 
A member of the Preferred Hotels & Resorts Lifestyle Collection and under Highgate's portfolio, 'Alohilani Resort Waikīkī Beach features two guest room towers—Beachside and Seascape—with premier oceanfront views or balconies overlooking Diamond Head, the volcanic cone on O'ahu and Hawai'i's most-popular state park. My balcony off Seascape's 36th floor practically put me in the clouds as I took in the sight of the 300,000-year-old crater.
Morimoto Asia Waikīkī, helmed by Japanese Iron Chef Masaharu Morimoto, offers world-renowned cuisine off the resort's main lobby and an entrance so close to the beach you can smell Morimoto's Peking duck, sticky ribs and Korean kalbi from the sand.  Momosan Ramen Waikīkī offers more of a casual setting and the only beer garden in Waikīkī, and Makana Lani gives guests breakfast, brunch and evening buffet experiences on the second floor. 'Alohilani will soon offer La Bettola, an Italian café in the morning that serves classic dishes at night.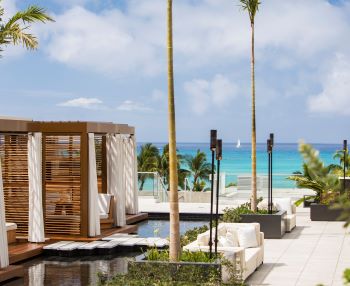 Guests in Club Access rooms can escape to the exclusive Longboard Club, a private setting offering daily continental breakfast fare, an evening made-to-order pasta station and interior and exterior seating. 
'Alohilani features nearly 20,000 square feet of meeting and event space, including the 12,000-square-foot 'Alohilani Ballroom with drop-down screens, projectors and color-changing LED lights along the ceiling, which waves and ripples like the ocean. Outside the ballroom is prefunction space leading to five breakout rooms, and groups can turn the "roof" of 'Alohilani's Oceanarium—accessible via the Longboard Club—into a dance floor or gathering space above dozens of swimming fish. 
After one last gander at the Oceanarium off the lobby, I made my way past 'Alohilani's row of retail boutiques to Kai Coffee, Hawai'i, a cafe serving locally grown, hand-crafted Hawaiian coffee, for a boost of energy before my next adventure.
[Related: Hawaiian Industry Professionals Discuss Mindful, Respectful Travel]
The LineUp at Wai Kai
After a 35-minute Uber ride from Honolulu to the shores of Ewa Beach in West O'ahu, I arrived at Hoakalei Resort's newest waterfront recreation and lifestyle venue, The LineUp at Wai Kai, offering a year-round gathering place for active adventurers, daring visitors and laid-back locals alike.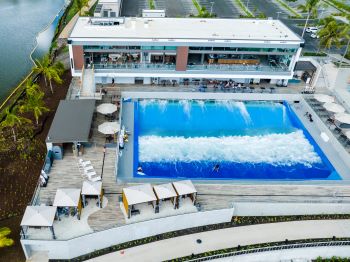 The venue offers Hawai'i's first deep-water standing wave and the adjacent 52-acre recreational Wai Kai Lagoon, where guests can participate in a number of aquatic activities. Also offered are three dining outlets, event space, Nalo Kai Club with a private lounge and Sessions Lifestyle & Apparel, selling swimsuits, wetsuits, The LineUp merchandise and more. 
First, I made my way to the Launchpad, where guests can either check into their pre-booked activities or peruse The LineUp's website and offerings to sign up onsite. After receiving my wristband, it was time for the adventure to begin on the protected Wai Kai Lagoon, where guests can rent watercraft including kayaks, stand-up paddleboards and pedalboards, Hydrobikes, outrigger canoes, surfskis, pedal boats, Duffy boat cruises and AquaBana floating cabanas. 
I opted for the Play Your Way package, allowing visitors to swap out different watercraft and use the floating cabanas for the same hourly rate as a kayak or paddleboard rental, and decided to start with the watercraft I was most unfamiliar with: Hydrobikes. My favorite watercraft, though, was the six-person outrigger canoe, which I paddled to the other side of the lagoon and back with members of The LineUp's team as they taught me the proper technique and significance of canoes in Hawaiian culture.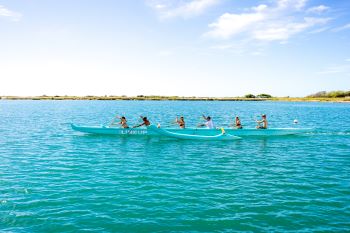 After an hour on the water, it was time for lunch at The LookOut Food & Drink, a Surfrider Foundation Ocean Friendly Restaurant providing front-row seats for watching the surf action below and unobstructed views of the Wai Kai Lagoon in the distance. The social hub's menu showcases locally sourced, healthy meals inspired by various surf spots around the world. 
Powered by citywave, the Wai Kai Wave spans 100 feet wide with adjustable simulated waves stretching from two- to six-feet high and can be divided into three lanes with 10 surfers per lane. Using citywave technology and 22 high-power pumps, the Wai Kai Wave emulates natural standing waves like those on O'ahu North Shore's famous Waimea River Sand Bar, creating an authentic surf experience for beginners to professionals. 
The LineUp at Wai Kai can host group functions and catered events ranging from intimate gatherings to full buyouts across venues like the 61,200-square-foot Event Lawn, with its adjacent Fire Pit Terrace, and nearby Lagoon Promenade along Wai Kai Lagoon. The 12,600-square-foot Surfside Lawn offers a smaller outdoor space next to the Wai Kai Wave, and the critically acclaimed Kitchen Door Napa restaurant has an intimate private dining room for smaller gatherings. Groups can also book experiences like group surfing on the Wai Kai Wave, teambuilding activities on the lagoon or private Duffy boat excursions. 
With windswept hair and sand on my feet, I checked Hydrobiking on a Hawaiian lagoon off my bucket list  and headed to my final stop, Aulani, a Disney Resort & Spa, to call my trip complete.
[Related: Podcast: True Aloha: Meet Hawai'i's John Reyes Shares How Hawai'i's Tourism Is Guided and Guarded by Its Culture]
Aulani, a Disney Resort & Spa
It's typical of many to assume that, when visiting a Disney property, children in Mickey Mouse ears and princess dresses are unavoidable. To an extent, that may be true, but at Aulani, Disney magic doesn't come first. Instead, the emphasis is on the magic of the Hawaiian culture and traditions—and you will find it everywhere, even within the resort's name.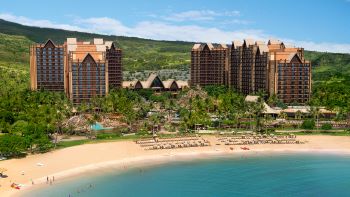 Aulani came to one of the resort's cultural advisors in a dream, and Disney Imagineer Joe Rhode believed it to be a gift. The word "aulani" means "messenger of a chief," and in making it the name of the resort, Rhode's goal was to reflect and emphasize how the property is speaking on behalf of the Hawaiian culture. When guests share stories from their stay at Aulani with friends and family, they become messengers of the Hawaiian culture, too.
In constructing and designing the resort, Disney worked closely with an advisory board of dedicated native Hawaiians to respect and honor the culture through details from the iconic Aulani arch—representing the shape of a traditional canoe house—to the carpeting on guest room floors covered in the heart-shaped leaves of the taro plant. Look closely at the volcanic outcropping ("pu'u kilo") in the heart of the property and animals including a boar, sea turtle, seahorse and more will start to appear.
If you're a Hidden Mickey-hunter, fear not, as the mouse's head appears in geometric shapes throughout the property, but you'll have better luck finding the nearly 300 mysterious Menehune sculptures creatively tucked away in corners around the resort.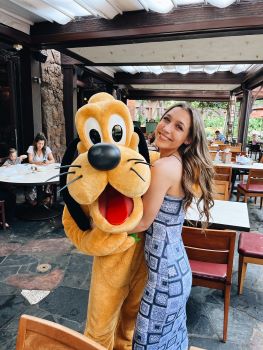 According to Hawaiian legend, these mischievous little people stand no more than three feet tall and live deep in the forests and valleys of the islands. The Menehune are talented craftsman, but they only work at night, leaving new projects like temples, fishponds, canoes and houses for Hawaiians to wake up to the next morning. I found dozens and dozens of them throughout the property, but my favorite was submerged in Aulani's saltwater lagoon, Rainbow Reef, home to 1,000 tropical fish that you can swim with, too, thanks to the resort's snorkeling opportunities. 
Look up upon entering the 4,590-square-foot Kaiona Ballroom and you'll find a Menehune peering at you from above. The space can be divided into five smaller areas and is adjacent to the 2,885-square-foot Ka'ala Ballroom, with the 5,195-square-foot Kipuka Lawn in the middle, all pieces of the 21,258-square-foot Aulani Conference Center. Plus, an additional 76,685 square feet of outdoor space is available as well, including the 21,800-square-foot Hālāwai Lawn where Aulani's Ka Wa'a Lū'au takes place nearly every evening. 
At Aulani, groups can have as much or as little Disney as they please. The Hawaiian culture is in the spotlight.    
Whether you're looking for a seaside escape near natural wonders, a busy city to explore or waves to catch just off the shore, Waikīkī and Honolulu can serve up the unexpected if you look hard enough—especially for adventure-seekers and Hidden Mickey-lovers.
Lucky for me, I happen to be both.  
Connect
Hawaiʻi Visitors & Convention Bureau
(808) 923-1811
www.hvcb.org
Read this next: Meetings Today LIVE! Shares the Aloha in Hawai'i