How Providence's TID Sets the Stage for Group Success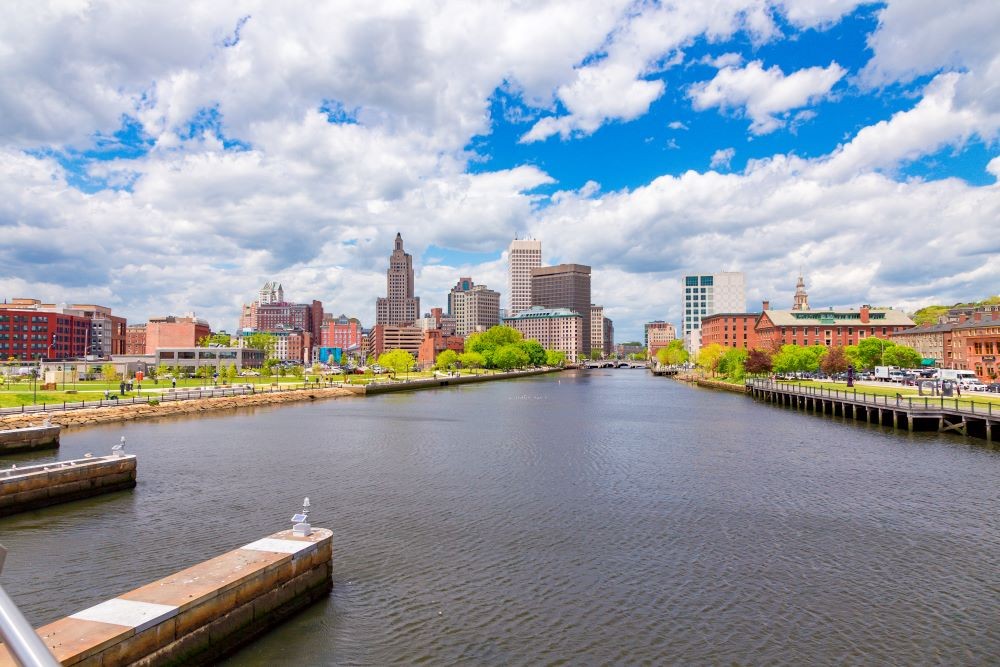 Cityscape from Providence River Pedestrian Bridge. Credit: N. Millard
During the pandemic, which saw Rhode Island lose $78 million in direct spending revenue from canceled events, Providence Warwick CVB President and CEO Kristen Adamo worked tirelessly with local media and government officials to promote tourism in the state's primary group base. In 2022, she devoted that same energy to advocating for a Tourism Improvement District (TID).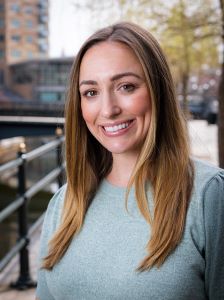 Introduced in West Hollywood in 1989, a TID is a well-established vehicle for funding new tourism marketing opportunities through the collection of hotel-imposed guest fees on top of bed tax. Her efforts, which included working with hotel partners and local and state politicians, paid off last December when the Providence City Council authorized the creation of the Providence Tourism Improvement District.
The TID, which assesses all in-District hotels with 50 or more rooms 2% of gross short-term room rental revenue, began collections April 1 and is projected to generate around $1.6 million in its first fiscal year.
Alana O'Hare joined the CVB this February as senior director of the Providence TID. Leveraging her local journalism and public relations experience, which includes serving as news anchor for Providence's ABC-TV affiliate followed by press secretary and campaign communications director for Rhode Island Gov. Daniel McKee, O'Hare oversees communications and day-to-day operations of the TID.
In this Q&A with Meetings Today Senior Contributor Jeff Heilman, Adamo and O'Hare discuss the TID's success, the plan for funding advertising, marketing, sales and other actions in support of meetings and tourism, and Providence's perennial group appeal.
Jeff Heilman: No shortage of challenges these past three years, to say the least.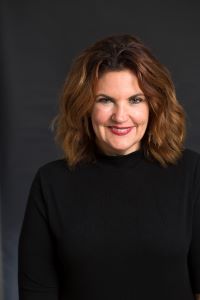 Kristen Adamo: And we are not done yet! In Providence, we secured 90% buy-in from hotels. According to Civitas, the pioneering Sacramento, California-based firm that specializes in sustainable funding solutions like TIDs and which was integral to our success, that's among the highest ever. Support from the Mayor's office and unanimous approval from the City Council, which embraces our work and the cohesiveness of our hospitality community, also made it easy. However, Warwick, which is part of our convention package, remains a work in progress. Fewer Warwick hotels are locally owned, which complicated reaching decision-makers, along with personnel changes during the pandemic.
Jeff Heilman: How are you addressing that?
Kristen Adamo: Politically, it was easier to form separate TIDs for Providence and Warwick. The plan is to focus on Providence for the first year and establish the expected ROI and value proposition, which should make the sell to Warwick easier. We are close though. The TID requires 60% participation, and about half of the Warwick hotels are on board.
Jeff Heilman: Looks like there is also a Rhode Island TID—how does that tie in?
Kristen Adamo: There was prior state-level legislation that allowed for the holistic formation of business and tourism improvement districts, but with limited scope and funding power. We worked with State Representative Lauren Carson, who chairs the House Oversight subcommittee for Tourism, Arts and Recreation, and State Senator Joshua Miller, who owns a Providence bar and restaurant, to pass different legislation that allowed for statewide usage and removed the funding cap.
Jeff Heilman: How exactly does that work?
Kristen Adamo: By opening the door for additional TIDs. Newport has a TID under the former legislation but can renew using the version we filed. Other locales are also looking at TIDs based on our work.
Jeff Heilman: How will your TID benefit Providence going forward?
Kristen Adamo: We do not have a huge tourism marketing budget. Like many CVBs around the country, we also face the uncertainty of continuing "consideration" of hotel tax funding. Our TID provides a steady dollar stream that we can bank on no matter what. Using 2019 numbers as our bellwether, we project a TID-generated budget of around $1.6 million in fiscal year one, based on the participation of 14 Providence hotels with a total of 2,950 rooms. The prospective future Warwick TID will add 18 hotels with 2,489 keys.
Jeff Heilman: Early days yet, but how is your deployment strategy shaping up?
Alana O'Hare: TIDs are governed by strict guidelines, including the statutory requirement that funds are deployed for new sales and marketing initiatives only. First steps include working with our recently formed five-member TID committee to take advantage of new opportunities afforded by the TID while also building on what we have already done here at the CVB.
Jeff Heilman: Any sense of how you will split the funds between leisure and business tourism?
Alana O'Hare: Not yet, since we just started collecting funds in April and will commence deployment on July 1, which is the start of our fiscal year. We also want to hear from our committee members, which include our biggest hotels, regarding their priorities, which I expect could be an even mix.
Jeff Heilman: Sounds like the stage is set for fresh success, picking up on Providence's pre-pandemic momentum.
Kristen Adamo: Timing is everything. Our community and our government leaders have a heightened post-pandemic awareness and embrace of the importance of business events and tourism to Rhode Island, which is most encouraging. Just this morning, I met with a key politician in Warwick who was up to the minute with hotel tax revenue numbers because it informs their budget-making process. That's a positive, along with the entire TID experience.
My predecessor Martha Sheridan, whose successful creation of a TID for Boston, I think, made it an easier sell in Providence, gave us valuable pointers. Civitas was an invaluable ally, guiding our team and lobbyists through the process. We have a point person at the City of Providence, which collects TID dollars. What might have been an arduous process was as easy as could be.
Jeff Heilman: Great to know, for new and returning planners and delegates alike.
Alana O'Hare: The confidence is back. One of our bigger shows just sold out the exhibit floor, while another had near-record attendance. Group business is returning stronger than expected, with the booking pace on track to go 10% or higher above 2019 numbers.
The other half of my role is communicating Providence's visitor appeal, which goes for leisure and business travelers alike. For groups, integration into our compact downtown means convenient access to our convention center, hotels and acclaimed culinary, cultural and creative offerings. This March, Breeze Airways opened a new hub at easy-in, easy-out T. F. Green International Airport in Warwick and will scale up to 16 new seasonal direct routes by this summer, including Los Angeles International Airport, creating an important West Coast link.
Kristen Adamo: We spent two years fighting to stay alive during the pandemic and a year getting the TID done. Now it's time to do what we do best, which is telling the Providence story through vehicles including a new website, new video and advertising campaigns, and more. It's like starting over and it's exhilarating.
[Related: Newport and Providence Are on the Post-Pandemic Comeback Trail]
The Way of the Walk
Could promenading and perambulating be the secret to Providence's preeminence as Rhode Island's "Creative Capital?" From New York Times film critic A. O. Scott and TV personality Meredith Vieira to R&B singer Jeffrey Osborne and fantasy and horror fiction author H. P. Lovecraft, Providence has produced artists, actors, musicians, poets and other talent for generations. Did they find inspiration from ambling the city's compact core and fetching neighborhoods?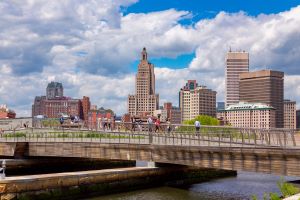 Writers especially benefit from walking, a time-honored cure for writer's block embraced by luminaries including J.K. Rowling and Ernest Hemingway. In a 2014 study, Stanford University found that walking boosts creative cognition and output by 60%. Promoting "walkable neighborhoods" around the U.S. and abroad, Walk Score gives Downtown Providence an 88/100, with even higher scores for the inviting Fox Point, Federal Hill and College Hill neighborhoods.
For a second-tier destination with regional and smaller meetings and events as its sweet spot, walkability is a distinct advantage and agenda-booster. Of the five TID Committee hotels, Providence Marriott Downtown is the farthest from the Rhode Island Convention Center by foot, at 20 minutes. Renaissance Providence Downtown Hotel and Hampton Inn & Suites Providence Downtown are both about 10 minutes. Graduate Providence is four minutes. Omni Providence is skybridge-attached.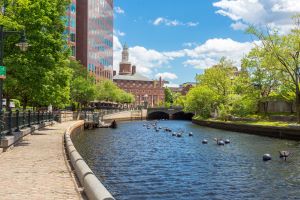 World-class artistic and cultural venues within walking distance of downtown include the Providence Performing Arts Center, Trinity Repertory Company, Rhode Island School of Design (RISD) Museum and Providence Art Club. Home of top culinary school Johnson & Wales University, Providence is also a dining capital, with many top restaurants concentrated in the downtown core. Providence's mesmerizing signature event, WaterFire, is typically staged twice monthly on Saturday evenings from May through November.
Walkable neighborhoods include Federal Hill, Providence's storied Little Italy. For supreme cityscape views and photo-ops, stroll to the Roger Williams National Memorial on College Hill, and the Providence River Pedestrian Bridge, which connects the historic East Side and fabled former Jewelry District, now evolving into the Innovation District.
Connect
(401) 456-0200
Read Next: How to Experience the Arts and Culture of Rhode Island at Meetings