Newport and Providence Are on the Post-Pandemic Comeback Trail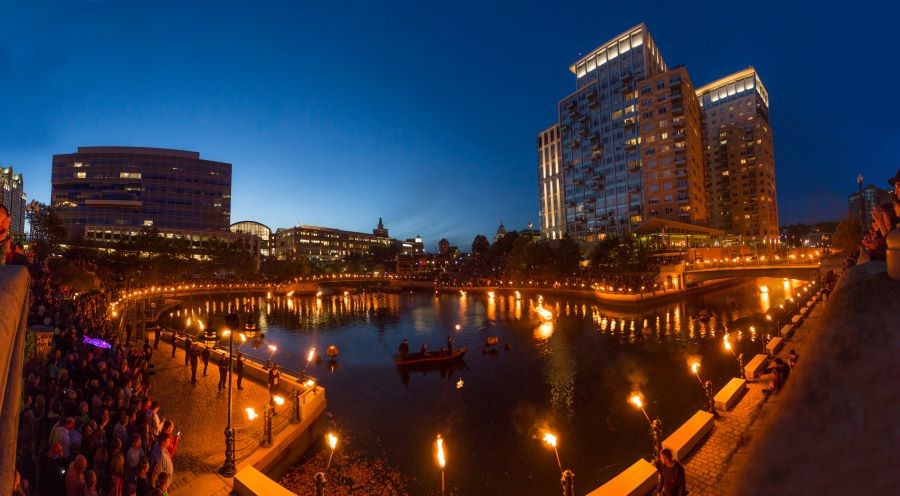 WaterFire Providence. Credit: Providence Warwick CVB.
Like many meetings destinations in the U.S., the Rhode Island cities of Providence and Newport weathered the pandemic by rolling up their sleeves to welcome new and renovated properties, as well as leisure travelers wanting a drive-to escape from housebound isolation.
Newport Meetings and Events
The storied city of Newport, home to Gilded Age mansions and a maritime culture centered on sailing, drew a healthy amount of leisure travelers during the pandemic, drawing from the massive drive market located within four hours of the destination.
[Related: Host Your Event in The Great Gatsby Mansion and 5 More Notable Offsite Venues in Newport]
"We opened two new hotels in Newport during COVID," said Tim Walsh, vice president of sales for Discover Newport, referring to The Brenton Hotel and Hammetts Hotel. "We fared fairly well during COVID just because of what we offer—hiking, outdoor activities, walkable downtown areas, harbor activities—and we're in between Massachusetts and New York City. Next May the National Sailing Hall of Fame Sailing Museum is opening in Newport, and we have a new aquarium downtown, in what used to be our visitors center. So, things have been moving and shaking during COVID."
The 84-room boutique Hammetts Hotel offers two small meeting and event rooms that feature a dedicated high-speed wireless network, audiovisual and a catering kitchen, along with a list of available preferred caterers. The Murray and Sullivan rooms can be combined to offer a total of 800 square feet of space.
The Brenton Hotel opened in summer 2020, offering 57 guest rooms and located on the harbor corner of America's Cup Avenue and Long Wharf. Although it doesn't offer meeting space, the luxury hotel operates a private 36-foot Hinckley Yacht that can be pressed into service for cocktails and hors d'oeuvres cruises.
Walsh said that Newport's meetings business really took off after the government lifted restrictions in May, with the destination hosting a few medical meetings, among other gatherings.
"We're slowly and surely getting back to a sense of normalcy, which is great to see," he said, adding that the city's major annual festivals and exhibitions—always big business in Newport—such as July's Newport Folk Festival and September's Newport International Boat Show took place in 2021.
A resort-type destination that draws an upscale clientele, Newport is famed for its Gilded Age mansions, many of which can serve as an opulent setting for an event. The city is imminently walkable, too.
"Newport is a small seaside city," Walsh offered. "To go from the two farthest hotels, you can walk from one to the other and it would take about 15 minutes. It's a very walkable place.
"We have such an incredible array of venues," he continued. "You can do a while-glove, black-tie event at a mansion and then a family-style lobster dinner at a restaurant, and everything in between."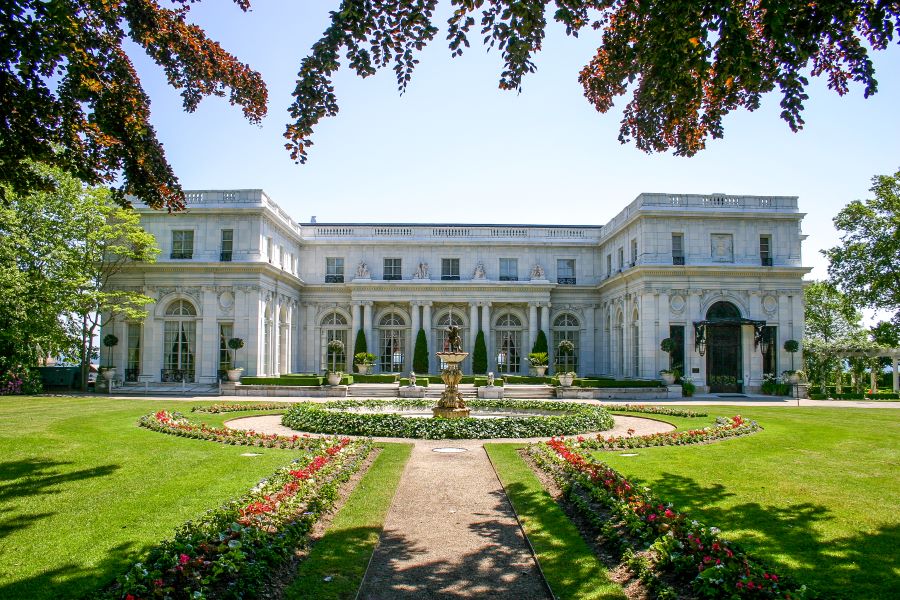 Newport Offsite Options
Newport is a destination that lends itself to maritime-focused teambuilding and activity options. Following are three that are standouts:
Americas Cup Charters
Boasting the largest fleet of 12-meter America's Cup winners in the world, groups can board from the company's downtown docks and partake in either a leisurely sail or a competitive "Cup Racing" outing. The yachts are piloted by an experienced crew, and passengers can choose their level of interaction during the voyage. 
The company also runs a robust, "hands-on" teambuilding program that finds attendees assigned various responsibilities on the vessel. Motor yacht and traditional sailboat group rentals are also available, among other options.
12 Meter Yacht Charters
Another America's Cup-style charter company, 12 Meter Yacht Charters uses up to six 12-meter yachts for teambuilding programs and racing. With no sailing experience necessary, the company says participants will be "grinding the winches, trimming the sheets or helping call sailing tactics" from adventures launched from Newport Harbor. The company can also customize 12-Meter Crew Gear for groups.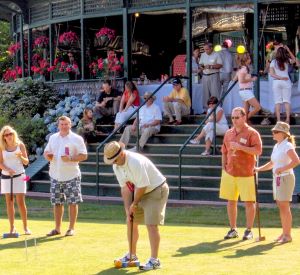 The Sailing Museum
Set for a May 2022 opening and within the historic Armory building (which it shares with the National Sailing Hall of Fame), The Sailing Museum offers six multimedia thematic areas in 11,000 square feet of space that explore sailing, including the environment, the makeup of a sailor, teamwork, competition and the legends of sailing. The museum is in the same space where the America's Cup press room was located and is operated by a nonprofit. 
Another popular event option is the International Tennis Hall of Fame (ITHF), a National Historic Landmark where events large and small can tap into myriad venues, such as its Horseshoe Piazza & Court, USTA Wing & Porch and East Porches. The facility also offers a boardroom and an executive lounge.
Activities include cornhole, Giant Jenga and museum scavenger hunts, but croquet tournaments on the ITHF's verdant lawns is one of the hottest group games going. 
Providence Meetings and Events
While Providence was more challenged by the pandemic, as it is a very event-driven destination, it did experience a "significant swell" of leisure business over the weekends during the fall, according to Tom Riel, vice president of sales and services for the Providence Warwick CVB.
One very positive development on the event side is the return of the city's signature WaterFire Providence show following a pandemic hiatus. The annual pyro extravaganza lights up the town with more than 80 bonfires on the three rivers of downtown Providence and fills the air with the comforting aroma of burning wood.
[Related: Celebrated Providence, Rhode Island Restaurants for Future Bookings]
"It came back in September and they extended it into the holiday season this year," Riel said. "It usually ends around November."
On the meeting facilities scene, Riel noted that two hotels have recently opened, The Beatrice, which opened in October, and the Aloft Providence Downtown, which opened in November.
The 47-room Beatrice, a small luxury property in downtown's historic district, can hold events in its private dining room and upper lobby, or larger get-togethers at its 100 Westminster atrium, which is connected to the lobby. A highlight of the hotel is the chef-driven Bellini Italian restaurant, where Ignazio Cipriani's menu offers up handmade pasta, classic Italian fare and seasonal dishes, along with its extensive wine list, signature bellinis and other craft cocktails.
The 170-room Aloft Providence Downtown, a contemporary boutique Marriott brand, is located in the Innovation and Design District on the Providence River and is within walking distance of Brown University and Johnson & Wales University. The hotel contains two meeting rooms and just shy of 700 square feet of meeting space. Highlights include the rooftop Blu Violet bar, located atop the 17th floor, and unique spaces that include the Backyard social area, Re:mix Lounge and WXYZ Lobby Bar.
"While these two hotels are small, they help more in terms of the variety of product in the market," Riel said. "It also brings our room inventory in the downtown area walkable to the convention center to about 3,000 rooms, which for us is significant growth over the last three years."
Providence Warwick CVB Primed for Efficiency
Riel said that the Providence Warwick CVB retooled itself during the pandemic by launching a "one-team initiative" that channeled its workflow to provide greater speed to market with initiatives and service.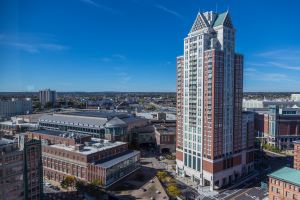 "There was an opportunity that came out of COVID, and that opportunity was to make ourselves more efficient," Riel said, adding that the city's Rhode Island Convention Center was actually pressed into service as a hospital during the height of the pandemic to handle overflow, along with the Omni hotel. Both are now reopened and welcoming conventioneers and guests, with the state posting an admirable 83% vaccination rate.
At the moment, Riel said the groups coming to town for meetings are at about 60% of their traditional attendance, "and we're happy to have them!"
Providence also banded together with counterparts in Madison, Wisconsin, and Albuquerque, New Mexico, to conduct virtual events for customers to highlight their reemerging downtown areas, with the trio starting to do in-person events on the road to get the word out about their destinations.
As the destination's meetings business starts to pick up steam, the CVB is looking to retool its team to better serve its clients, with an initial emphasis on the drive market.
"As we grow our team back, we're bringing in more business development managers than sales managers," Riel said, "and introducing ourselves to customers that we haven't done business with before."
Contact
(401) 845-9132
(401) 456-0229
www.goprovidence.com/meetings
Read Next: 6 Historical Offsite Venues in Rhode Island