New and Renovated Properties That Meet the Demand for Outdoor Space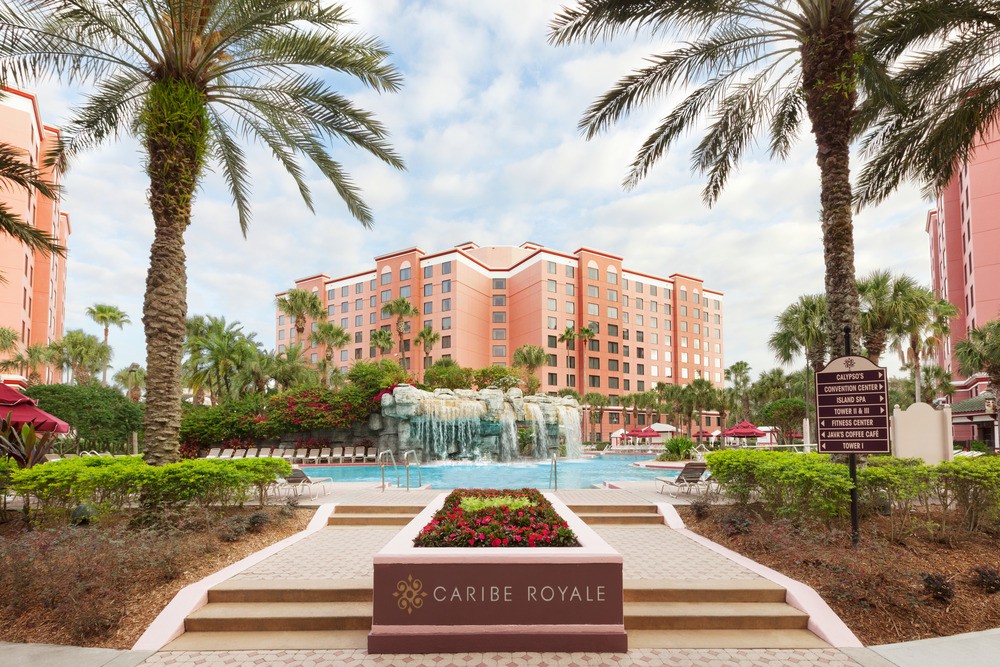 Caribe Royale Orlando Pool Deck
Outdoor events are by no means a new development. Nearly 500,000 people attended the three-day Woodstock Music Festival more than 50 years ago, and while the event remains one of the largest and most iconic outdoor music festivals in history, it didn't start the outdoor gatherings trend.  
In fact, by the sixth century B.C., Panhellenic games held in Ancient Greece like the Pythian Games in honor of Apollo at his sanctuary in Delphi drew thousands of spectators to the outdoor festival, which included musical performances at one of the world's earliest known outdoor gatherings. 
For nearly 3,000 years, outdoor events have brought people together, but during the few years of indoor isolation and little human interaction throughout the Covid pandemic, those outdoor gatherings became memories many people longed to relive.  
Now, the desire to host and attend outdoor gatherings is greater than ever before, and hotels and resorts across the country are renovating and expanding their properties' outdoor event spaces to meet increased demand.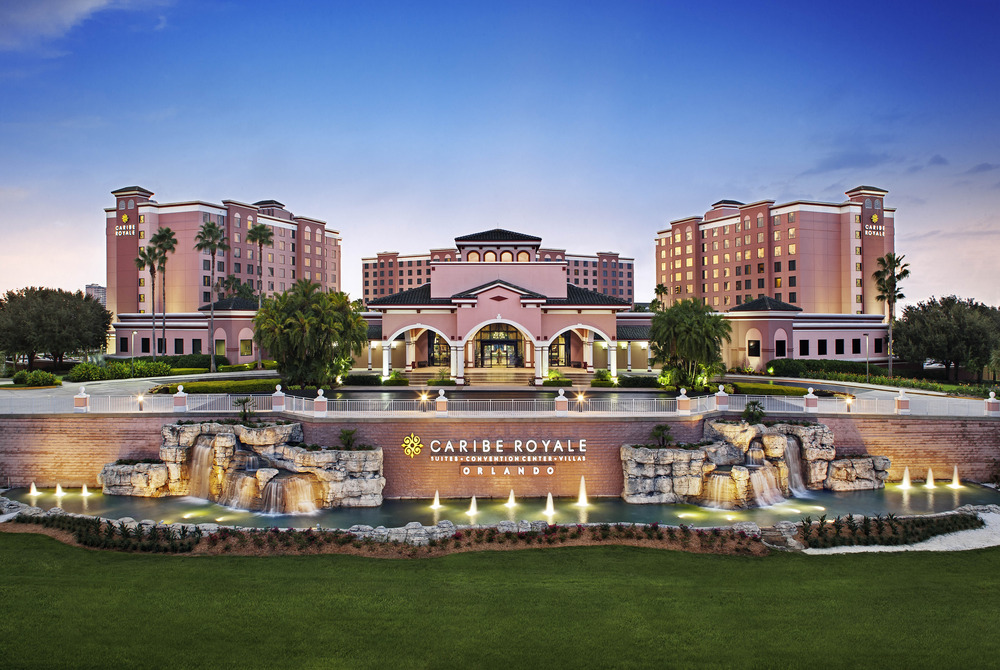 Caribe Royale Orlando 
Situated in the center of attractions like Walt Disney World Resort and Universal Orlando that draw tens of millions of visitors every year, Caribe Royale Orlando has much to offer both inside and outside its guest room walls.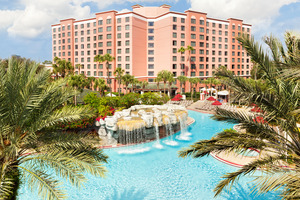 The hotel recently underwent a nearly $130 million renovation of its 1,337 suites, added a new 50,000-square-foot ballroom and refreshed lobby, and reimagined all public areas. 
"Really, it encompassed everything from top to bottom," said Amaury Piedra, managing director of Caribe Royale Orlando. "Phase one really touched every single area of that hotel, but once we finished phase one, there were a couple of things we wanted to do next. 
"The one thing that the customers were asking for most was outdoor meeting space, and more outdoor space, and more outdoor space. So, we took advantage of this feedback." Piedra continued. "We heard it from the meeting planners, 'Hey, what do you have for outdoor event space?' And we do have it. We do a lot of events by the pool. We have a beautiful waterfall, but we needed to get a bigger area, and that's where The Grove came to life."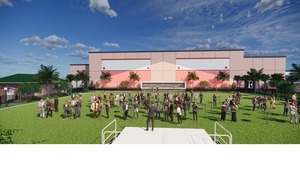 The Grove, Caribe Royale Orlando's new 20,000-square-foot outdoor event lawn set to open later this fall, received its name because of the tropical landscaping that will surround the space, putting up to 2,000 event attendees in the middle of lush palm trees and plants that thrive in Orlando's warm climate. 
"Outdoor spaces also give meeting planners a chance to do something different," Piedra said. "Everybody's looking for new and experiential, meaning, 'How do we do it differently?' What happens is there are things you can customize outside that you just can't do inside, and I think that's a big part of [the increased demand]." 
In deciding how to go about meeting planners' needs and requests, Piedra said he and the Caribe Royale Orlando team looked into what their local competitors were doing and asked themselves, "How do we match it or do it better?"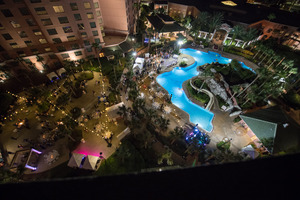 "Our new event lawn is in a perfect location almost adjacent to our largest ballroom," he said. "It gives us the ability to either be open-air, which can create a great type of event, or if the customer wants, the space can be covered with a 20,000-square-foot tent. It's very flexible and positioned well in the hotel so that if one of our groups wants to bring in a band and do that true outdoor event with music and everything, it doesn't bother anyone else in the hotel. We wanted to make sure we thought through all the different scenarios before we moved forward. 
"At outdoor events, people are more relaxed. You're not in the four walls, right?" Piedra said. "The networking is different. The camaraderie is different. I believe it just creates a more intimate and relaxed environment. If you're outdoors at night, you have different lights that set the mood. You have music setting the mood. It just puts people in a different frame of mind. 
[Related: The Latest Property Openings and Renovations in Florida (2023)]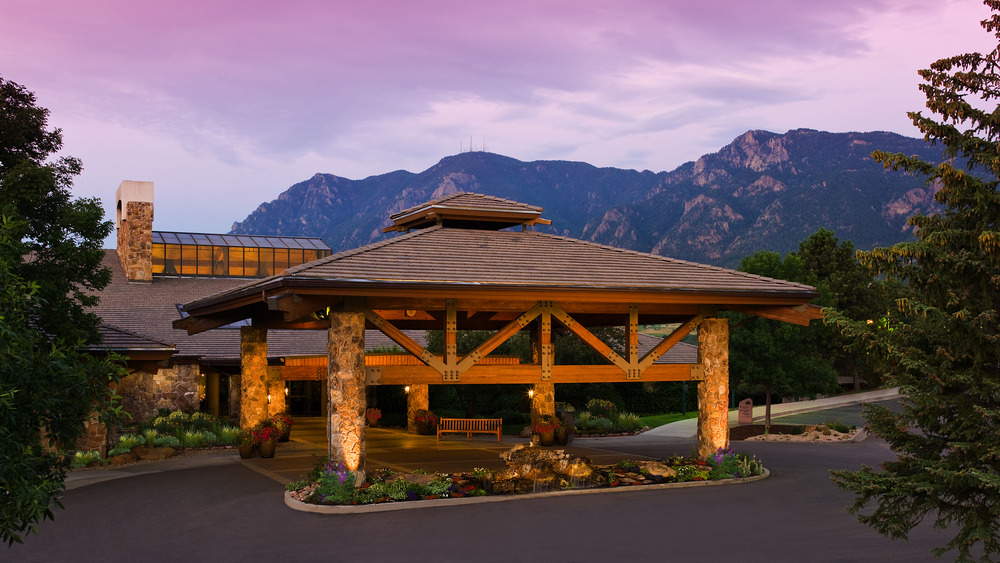 Cheyenne Mountain Resort 
In July 2020, four months after the Center for Disease Control and Prevention declared Covid a pandemic, Colorado Springs had the highest occupancy in the country, said Jess Johnson, director of sales and marketing at Cheyenne Mountain Resort. That demand for space was key in challenging hotels in the area to be creative in bringing people together while following Covid-related restrictions and guidelines, and in doing so, created an alternative type of meeting experience.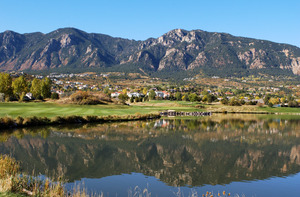 "What we see in today's world, even more so over the last two years, is the millennial workforce and decision makers within that age group are really looking for that kind of alternative experience versus your traditional four walls," Johnson said. "It enlightened us to be more creative with opportunities at our facility, and the beautiful thing is that Cheyenne Mountain Resort was kind of already set up for that." 
Situated on 200 acres of land overlooking Cheyenne Mountain, the resort offered a number of outdoor gathering spaces before demand for outdoor gatherings increased. Now, the resort is looking to expand its outdoor offerings even more, having just placed a bid on land with what Johnson claims are arguably the best views on the property.  
"We have a great piece of land that's adjacent to the resort, and we just got a new bid on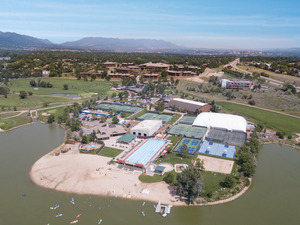 creating a brand-new event lawn space over there to be able to host different types of meetings," Johnson said. "We already have lawns, but we asked ourselves how we could expand our infrastructure to the outdoors, and that started off the vision of adding different lighting, different ambiance and just different experiences to our facilities." 
One of the resort's taglines, he said, is "Quintessential Colorado," emphasizing the resort's efforts to provide an authentic Colorado experience, putting guests and groups in the middle of the mountains Colorado Springs is well-known for. In deciding to expand the resort's outdoor offerings, Johnson said, the team considered both the social side of outdoor events like receptions to outdoor corporate retreats and networking events.  
"If you're sitting in a meeting in this space, you're going to experience Colorado," he said. "Cheyenne Mountain is in the backdrop, and depending on the weather that time of year, we may still have some snow-capped mountains, but it's 70 degrees out, so you can sit here and experience the outdoors. Destination experience goes hand-in-hand with creating that kind of ambiance in outdoor spaces. You've got a backdrop of Cheyenne Mountain, and your environment is totally different than sitting inside four walls."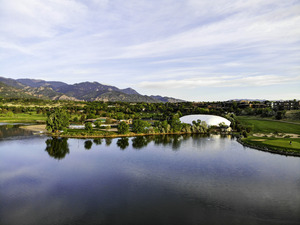 A second area Cheyenne Mountain Resort worked on improving in relation to the resort's outdoor spaces was Wi-Fi access and how easily groups could get online if they decided to meet outside. Cheyenne Mountain Resort expanded its technology internally to be able to allow groups more Wi-Fi capabilities and allow for the use of audiovisual equipment outdoors and more interactive experiences. 
It was important for the team to think creatively, Johnson said, as planners are more conscious now of what they are looking for as well as finding the right space within their budgets. Instead of asking planners to spend additional money to make audiovisual capabilities possible outside, Johnson said the resort took into consideration how it could help planners by offering that technology in-house even when groups meet at one of the property's outdoor spaces.  
"The biggest thing is to think outside the box and be creative with your outdoor event venues and technology," Johnson said. "Utilize what's out there and take it to the next level to really help create that one-of-a-kind, unique experience that planners are looking for right now." 
[Related: CSR Activities in Colorado That Make a Lasting Impact]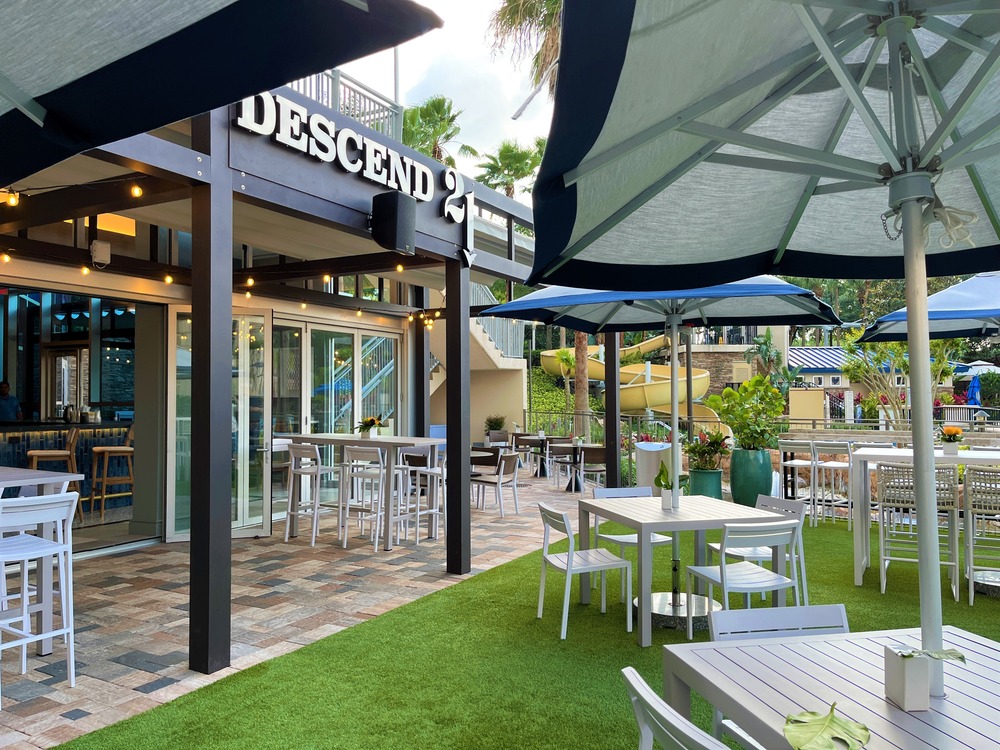 Hyatt Hotels 
Following suit, Hyatt hotels in major meetings destinations with weather allowing for outdoor meetings year-round are expanding their outdoor offerings to meet demand.  
"Even though we are well into recovery and the need for social distancing is less pressing, the demand for outdoor gatherings has continuously grown over the past three-plus years," said Cyndi Layton, director of sales and marketing at Hyatt Regency Orlando. "To meet this demand, we reimagined one of our primary outdoor spaces to cater to corporate events." 
In February, Hyatt Regency Orlando debuted a new indoor-outdoor event space, Descend 21, named for the number of steps on its curved staircase. Descend 21 offers a centrally located bar with communal tables, lounge seating, a landscaped terrace with fire pits overlooking the hotel's Grotto Pool and interactive entertainment like Topgolf Swing Suites, pool tables and electric darts. 
"In 2023, we are continuing to see an increased focus on well-being from corporate travelers and a desire to reconnect, reinvigorate and relax together in meaningful ways that incorporate the best of a destination," Layton said. "When guests have spent all day in meetings in a destination like Orlando, they want to get outside and enjoy the great weather while spending time with their teams and coworkers. Outdoor gathering spaces gives them the convenience of staying on property without having to travel far for a communal space."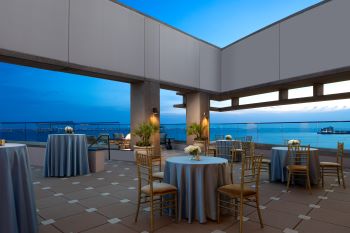 Situated on 35 acres of Tampa's coastline, Grand Hyatt Tampa Bay has also expanded its outdoor event venue offerings. Skylark, perched high above the mangroves of Old Tampa Bay, boasts unobstructed views from the hotel's 14th floor and features 3,400 square feet of indoor space complemented by a 1,400-square-foot outdoor rooftop terrace.  
Over the past several years, event organizers and attendees have prioritized open-air concepts, said Cornelia Jung, director of events at Grand Hyatt Tampa Bay. They are looking for relaxed settings, natural light and dynamic spaces that can be used for activities ranging from group yoga to outdoor networking events, and to keep up with the demand, Grand Hyatt Tampa Bay has also expanded its pool and incorporated unique culinary experiences like Taste of Oystercatchers, the hotel's signature locally driven restaurant.  
"We have been able to use outdoor spaces in a number of ways, and in a destination like Tampa, guests do not want to be indoors. They're seeking ways to utilize our outdoor areas, and it feels comfortable to them," Jung said. "We've incorporated activities such as yoga on the hammock deck, biking along our scenic bayside trail, paddle boarding, pickle ball and tennis, which gives guests an authentic experience." 
[Related: Hyatt Regency Hill Country Resort and Spa Announces Multi-Million Dollar Guestroom and Meeting Space Renovation]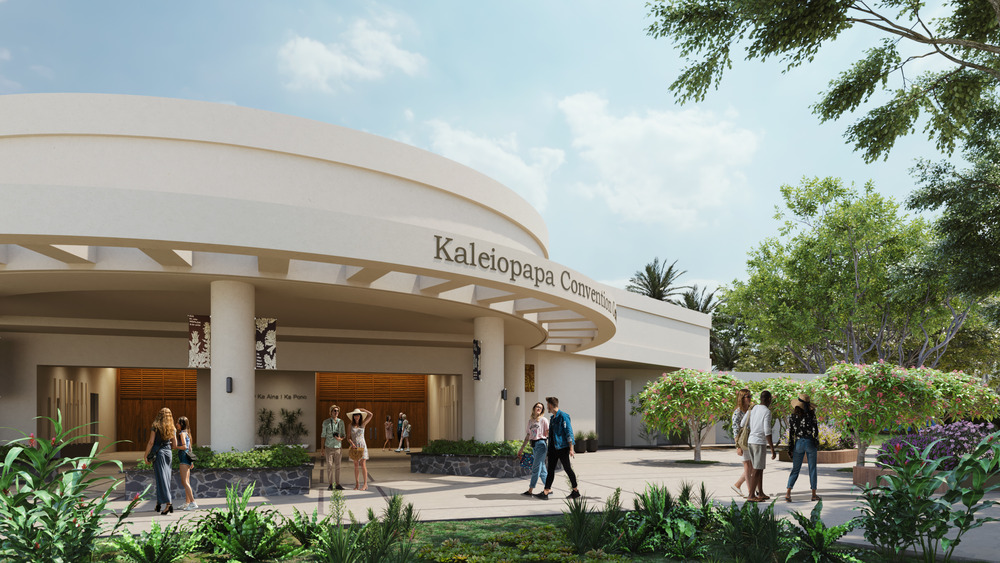 Outrigger Kona Resort & Spa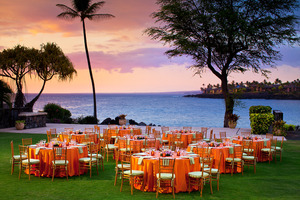 Home to the largest convention center along the Island of Hawaiʻi's Kona Coast, Outrigger Kona Resort & Spa has been inviting groups to gather outside in spaces overlooking Keauhou Bay, lava cliffs and the lush tropical greenery that thrives on the island. The resort is one of the few places where groups can book business during the day and snorkel with 3,000-pound giant manta rays at night, and the property's meetings and events offerings are only improving as the resort undergoes a multimillion-dollar renovation. 
"In Hawaiʻi, we have ideal outdoor spaces and areas to meet, but part of the revitalization that we're doing right now is getting a little bit creative and pivoting to offer more experiential," said Angela Murphy, vice president of sales of the Americas for Outrigger Hospitality Group. "At Outrigger Kona Resort & Spa, we're turning our tennis courts into pickleball courts, and we want to have a wet-weather option for groups who meet outside."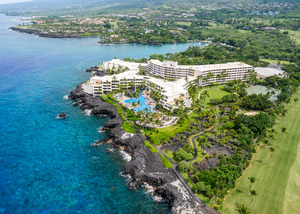 The resort's Feast & Fire Lū'au is set on 22 acres of oceanfront land overlooking Keauhou Bay, but as of right now, the only form of protection from rain comes from the surrounding hala trees. In the future, Outrigger Kona Resort & Spa is working on covering the lū'au stage and viewing area within the next six to 12 months, allowing for outdoor breakouts and gatherings even in rainy weather. 
While requests for outdoor space to meet on the Island of Hawaiʻi have always been a reality thanks to the destination's general outdoor appeal, Murphy said there's been an increased demand for the resort's outdoor spaces in recent years. 
"We firmly believe that comes from the desire to be more immersive and experiential," she said. "While you can have the option for both indoor and outdoor gatherings, we cater to the outdoor spaces that offer a little bit more of a relaxed and informal setting that, for us, we found from our attendees fosters some more camaraderie."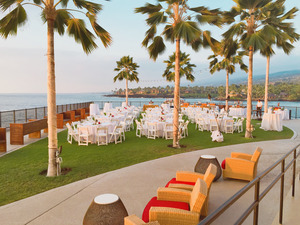 A second trend pointing toward an increased demand to gather outside, Murphy said, is the desire to experience a destination authentically, and in a place like Hawaiʻi, outdoor activities are one of the best ways to understand and immerse attendees in Hawaiian culture. 
"That's deeply rooted within our brand, and those outdoor activities are really at the core of our Hawaiian culture," she said. "You can have more experiential connectivity with the place if you are outdoors, whether it be as a group swimming with the manta rays in front of the property connecting you to the birthplace of King Kamehameha III or experiencing an authentic Hawaiian lū'au, you're doing it as a team. You're experiencing that together with the other attendees or your colleagues, and it's just really special." 
[Related: Aloha and Adventure at Meetings Today LIVE! Hawaiʻi]
Sonesta Hotels and Resorts 
Recently, Sonesta hotels across the U.S. have undergone or are currently in the process of renovating outdoor event spaces, staying on trend after noticing an increased demand from meeting planners for outdoor gatherings.  
Royal Sonesta Kauai is currently in the process of renovating its exterior event courts,
modernizing the art and flooring, providing new planters and updated furniture, fixtures and equipment (FF&E) offerings to transform the spaces into inviting exterior gathering areas, while Sonesta Hilton Head Island is renovating its oceanfront pavilion, including a new pavilion bar for evening events and daytime service for high beach traffic.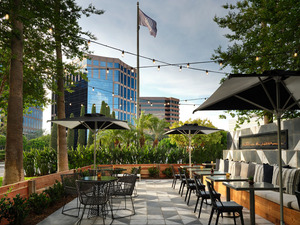 "Sonesta Irvine's new WorkSuite, the first of its kind in Sonesta's portfolio, expanded into an outdoor patio where groups can break out in between collaboration sessions," said Bridget Rooks, vice president of architecture, design and construction for Sonesta. "A similar patio breakout is being designed at Sonesta Resort Hilton Head's WorkSuite. Sonesta Irvine also expanded its bar, Haven Point Provisions & Spirits, with an outdoor patio." 
The spaces are ideal for private events of all kinds, Rooks said, including small social gatherings, corporate meetings, private dining, culinary events, wellness sessions, pop-up activations with local vendors and more. 
"It's all about location," she said. "The outdoor space availability made it easier for the design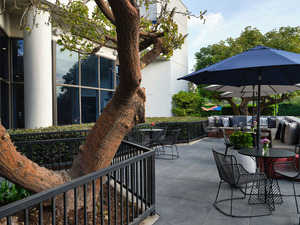 team to re-conceptualize the space to be appealing to groups and events. This past year, travelers more than ever have been looking for connections and new experiences. We see the same trend with corporate meetings and social events. Companies and individuals are looking to host meetings and events in well-designed spaces that inspire them to come together and have a productive meeting where they can create new experiences." 
Outdoor meetings offer more flexibility to the attendees to work, connect in a new setting and take breaks all in the same space, she said, and give groups the option to stay in-house for meals and pre- and post-event sessions without feeling restricted to a four-wall space. 
"It provides a sense of the destination that can't always be brought to life inside," Rooks said. "It's another way for attendees to know where they are in a very tactile way." 
Read this next: 8 U.S. Hotel Openings in 2023 That Meeting and Event Professionals Should Know About