Aloha and Adventure at Meetings Today LIVE! Hawaiʻi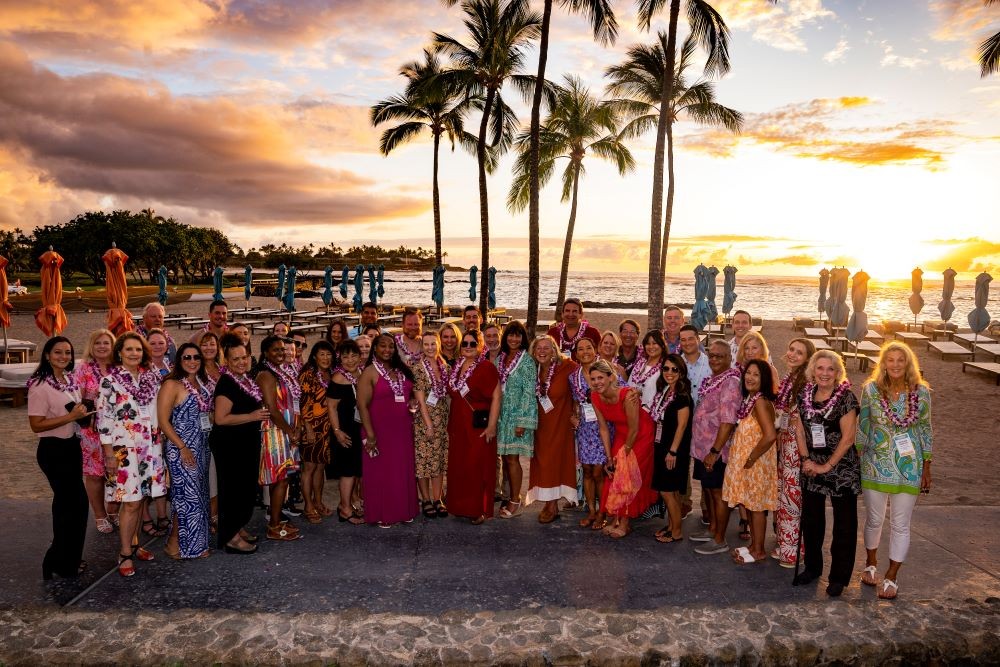 Meetings Today LIVE! Hawaiʻi 2023 Group Photo at Mauna Lani. Credit: Keith Uehara Photography
Looking out the airplane window as it landed at Ellison Onizuka Kona International Airport at Keāhole (KOA) on the Island of Hawaiʻi felt more like being in a rocket ship touching down on Mars, with black lava rock lining the runway and stretching for miles along the island's coastline.
The Island of Hawaiʻi is the youngest in the archipelago, with some land forming as recent as when Abraham Lincoln served as president of the U.S. a little more than 150 years ago. To put that into perspective, mainland America is about 240 million years old. The Island of Hawaiʻi offers sights and experiences entirely new to the world, and they're all worth exploring.
At Meetings Today LIVE! Hawaiʻi, which ran April 19-22, attendees got to experience firsthand what the Island of Hawaiʻi has to offer, from luxury hotels and resorts with perfect sunset views to fire dancers and dolphin shows, and the adventure made for something unforgettable. 
[Related: Meetings Today LIVE! Hawai'i Kicks Off at Hilton Waikoloa Village]
Opening Night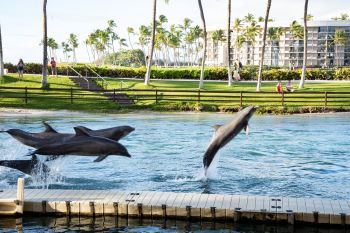 The lush grounds lining the road to the main entrance of Hilton Waikoloa Village stood in stark contrast to the lava rock along the highway. We passed the resort's famous 8-foot tall "ALOHA" sign—one of the most-photographed on the island, according to Simon Amos, hotel manager—and upon check-in, were greeted with leis made of fresh orchids. 
The group gathered on a shaded balcony off one of the hotel's hospitality suites in its MAKAI tower. In Hawaiian, "makai" is a direction meaning "toward the sea," a central piece of Hawaiian culture. At Hilton Waikoloa Village, MAKAI puts guests in the center of all the resort has to offer—an oceanfront experience, premium rooms and amenities and easy access to the resort's popular attractions like the saltwater lagoon, Kona Pool, Legends of Hawaiʻi Lū'au and Kohala Spa. 
"This tower is going to go under renovation next year," Amos said. "There's a lot of money coming into this property over the next few years. For ownership, it's a long-term investment, and they see the value in it. So, lots of moving parts in this property. Lots of projects, always lots of things to do."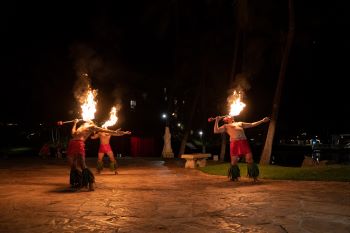 Before a tour of the property, which took planners from the hospitality suite through MAKAI tower via one of the resort's four electric Duffy boats, the group received a private dolphin experience from Dolphin Quest Hawaiʻi, a sanctuary for the resort's dolphins living in the resort's protected ocean-fed saltwater lagoon. Guests can sign up to swim with the dolphins, and the lagoon itself is open to guests for snorkeling and swimming and offers kayaks, paddle boards, peddle boats and more. 
Dinner took place in Hilton Waikoloa Village's Water's Edge event space off the outdoor Lagoon Lanai, with views of the four-acre saltwater lagoon and a capacity for up to 1,200 people. Executive Chef Frederic Hoffman and his culinary staff set up a number of stations for attendees to pick and choose from a variety of dishes prepared with local fare. Once everyone was seated, hula dancers gave us a sneak peek of the resort's Legends of Hawaiʻi Lū'au, inviting a few guests on stage to dance with them.
Following dessert, the group gathered outside at Lagoon Lanai for the grand finale—fire dancers performing tricks and stunts with twirling flaming batons.
Meetings Today LIVE! Hawaiʻi: Simon Amos, Hilton Waikoloa Village
[Related: Hawaiian Industry Professionals Discuss Mindful, Respectful Travel]
Day One
Following breakfast off Hilton Waikoloa Village's Grand Staircase, the group gathered in the resort's Kona Ballroom for an educational session presented by Kainoa Daines, senior director of brand for the Hawaiʻi Visitors and Convention Bureau (HVCB), to learn about mindfully and respectfully infusing elements of Hawaiian culture into their meetings and events.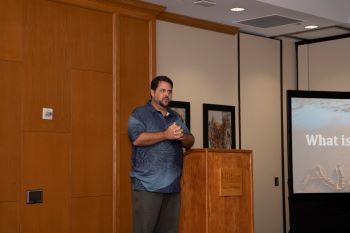 Daines touched on everything from venue experience at historically significant sites across the islands to the importance of properly pronouncing Hawaiian words and understanding the true meaning of "aloha."
"The lei is such an important part of the destination," Daines said during his presentation. "You were all greeted with a lei, and by definition, it's a garland wreath or necklace, but it's also the personification of 'aloha' when the lei becomes this around someone's neck," he said, gesturing to his own lei.
"That gesture, that extension of your love, whether you got the lei from the lei stand or you made it yourself, that extension in that moment is 'aloha' from you to somebody else," he continued. "And you don't want to throw it in the trash can, because there's spirituality in that moment [of receiving a lei]."  
Daines' wisdom was engaging, and his sense of humor was contagious. With their new knowledge, attendees also left with sore cheeks from laughing with Daines as he cracked jokes on stage. He was kind enough, too, to sign copies of his book Island Wisdom: Hawaiian Traditions and Practices for a Meaningful Life for attendees following his presentation. 
Two hours of back-to-back one-on-one appointments took place in Hilton Waikoloa Village's Monarchy Ballroom, part of the hotel's 66,000-square-foot Waikoloa Convention Center, where meeting planners met with 20 suppliers from the islands. Then, we were on our way to Fairmont Orchid - Hawaiʻi, the luxury resort on the Island of Hawaiʻi inspired by the island's culture, well-being and spirit of aloha.
[Related: Kainoa Daines Turns to His Roots to Educate the Hospitality Industry on Hawaiian Culture]
The 540-room Fairmont Orchid - Hawaiʻi is situated on 32 acres of tropical gardens with waterfalls, a white-sand beach and lagoon leading into the Pacific. Guests have access to the award-winning Spa Without Walls, a 10,000-square-foot oceanfront pool, six restaurants, world-class golf and more, but of course, our group was most interested in the resort's 32,000 square feet of indoor meeting space and additional 76,000 square feet outdoors.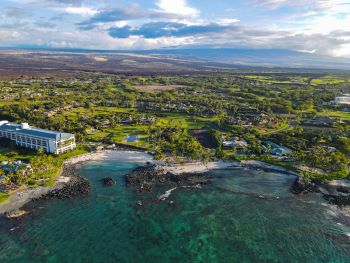 Our tour started in the lobby, where we were once again greeted with leis around our necks and gifted bags full of items like lip balm and soap made using raw, white, monofloral Kiawe honey—one of the rarest in the world—from the resort's four onsite hives containing 80,000 honeybees. We journeyed through the Ballroom Foyer & Courtyard, a 3,750-square-foot space on the lobby level with a capacity of 250 guests, and into the Grande Ballroom, measuring approximately 14,000 square feet that can be divided into three separate rooms. 
The resort also offers smaller indoor spaces, including the 3,600-square-foot Plaza Ballroom, with doors that open up to views of the fountain in the center of the Ballroom Courtyard, and the Paniolo Lounge, an indoor-outdoor function space offering ocean views from the private lanai. 
Following our tour of the property, we gathered on the resort's garden level for lunch on the 500-square-foot Courtyard Lanai where stations showcasing Fairmont Orchid's six dining venues were offering, including Island of Hawaiʻi-inspired cuisine from Brown's Beach House, flavors from northern Japan from Binchotan: Bar & Grill and decadent desserts from Brown's Deli. 
The Hawaiʻi sunshine made for two hours well-spent at Hilton Waikoloa Village's Kona Pool, where planners who opted to spend their free time in the water got to enjoy private cabanas and poolside cocktails before a site tour and dinner at Mauna Lani, Auberge Resorts Collection, named the No. 1 resort on the Island of Hawaiʻi by Travel + Leisure in 2022.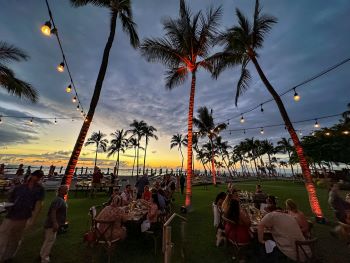 Mauna Lani sits along the Kohala Coast in the piko ("center") of 3,200 acres comprised of five mountains, fishponds and petroglyph fields and puts guests in the heart of land once cherished by Hawaiian royalty like King Kamehameha I and Francis H. Iʻi Brown. The resort offers 292 guest rooms with private lanai, 90% of which offer ocean views, as well as 36 suites and nearly 27,000 square feet of meeting space.
With fresh leis around our necks, we entered the resort through its main doors overlooking a wooden outrigger canoe at the bottom of two grand staircases, with greenery throughout the lobby bringing the outside in. The group first gathered in the Francis Brown Suite just off the main lobby, measuring 4,625 square feet with a state-of-the-art gourmet kitchen and private lanai with a fire table. 
The 10,000-square-foot Kilohana Beach has a maximum capacity of 750 guests, but our group gathered just off the sand along Nanuku Beach at the 4,258-square-foot Surf Shack Deck + Lawn for a more intimate setting that can host up to 200. The Surf Shack restaurant is inspired by Hawaiʻi's retro surf dens and sits just beyond the resort's Great Lawn, where we dined on kimchi quesadillas, pad thai and more decadent desserts while watching the sun set behind the palm trees and below the horizon.
Meetings Today LIVE! Hawaiʻi: John Reyes on What Makes Hawaiʻi Unique
Day Two
A second morning of one-on-one appointments allowed planners the chance to wrap their meetings with every supplier on site before yet another site tour. This time, at Outrigger Kona Resort & Spa, a 22-acre property acquired from Sheraton in July 2021 that is currently undergoing renovations with a focus on the area's history and culture as the birthplace of King Kamehameha III. 
Hula dancers greeted us in the lobby of the 509-room resort, which features island-inspired design and furnished lanais overlooking Keauhou Bay and its surrounding lava cliffs. The group was perched above the bay for lunch at one of the resort's outdoor spaces that total 100,000 square feet. The resort's Kaleiopapa Convention Center is the largest on the island's Kona Coast offering 10,000 square feet of event space including a 2,970-square-foot ballroom.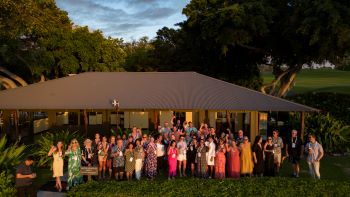 Dinner that night took us to Mauna Kea Resort, a destination with a storied past nestled between the waters of Kaunaʻoa Bay and a landscape of lava rock overlooking Maunakea's summit. The property stands as the Island of Hawaiʻi's first resort, built by Laurance S. Rockefeller in the '60s, and offers 252 guest rooms and suites and a number of indoor and outdoor event spaces. The Kaunaʻoa Ballroom measures 3,534 square feet and is the largest indoor space at Mauna Kea Resort with a capacity of 355 for a reception or 220 seated, while the smaller Lloyd Sexton Gallery can host 180 standing or 100 seated.
Our group gathered at Parker Cottage, where Rockefeller resided during construction of his resort, with a staircase leading directly to the water below and floor-to-ceiling windows facing the ocean. Tables lined the side of the cottage and overlooked Mauna Kea Resort's beach for the group to dine on lobster and steak cooked above an open flame feet away from where they ordered their drinks. 
Before the sun dipped below the horizon that evening, we gathered in front of Parker Cottage for one last group photo, smiles and shakas on full display as we said aloha to our Hawaiian adventure.
[Related: On the Scene: O'ahu, Hawai'i Offers a Well-Rounded Island Adventure]
Meetings Today LIVE! Hawaiʻi: A Recap by Keith Uehara Photography
Thanks to Our Sponsors
A big thanks to the sponsors of this year's Meetings Today LIVE! Hawai'i event:
Hilton Waikoloa Village
Hawai'i CVB
Island of Hawaii
Meet Hawaii
Mauna Kea
Mauna Lani 
Fairmont Orchid 
Outrigger Kona 
The Brandit Agency
Maui Jim 
Kailani Tours
Keith Uehara Photography