Western Montana's Glacier Country Is a Bucket-List Meetings Destination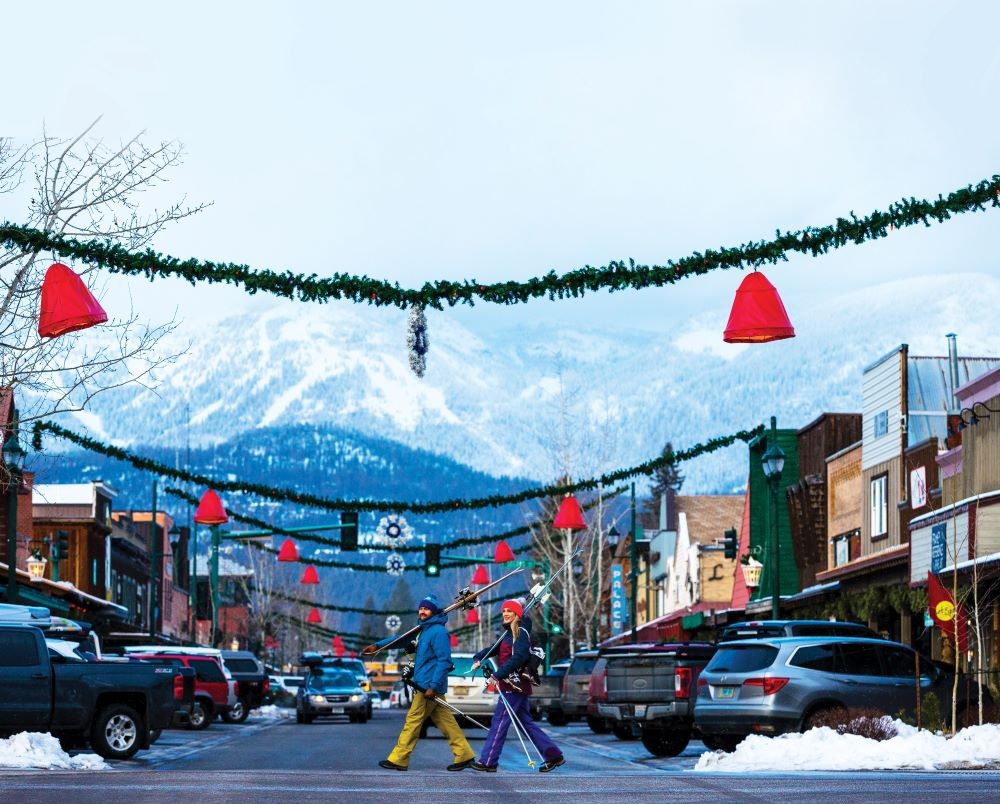 Wide-open vistas, historic mountain towns and wildlife around every corner—Western Montana is a jaw-dropping echo of the Old West, and Glacier Country, which stretches from Missoula north to Kalispell, Whitefish and Glacier National Park, is its essence distilled. 
And besides the phenomenal scenery and wide-open spaces of Big Sky Country, Montana also benefits from having no statewide sales tax and a lodging tax that is within reason at 8%. 
According to Debbie Picard, director of sales for Western Montana's Glacier Country Tourism, which has all three cities as well as the national park under its marketing umbrella, Missoula and Kalispell can accommodate groups of up to 250 comfortably while Whitefish is a good option for high-end groups of 150 or less. 
From luxury guest ranches and Western chuckwagon dinners to rubbing elbows in quaint, authentic mountain towns, Western Montana's Glacier Country is a stunning destination that just may be on the bucket list of attendees.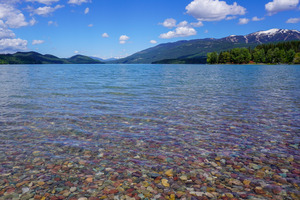 Picard said most attendees arriving by air fly into one of the area's two regional airports in Missoula and Kalispell (Glacier Park International Airport). 
Missoula International Airport is located about five miles from downtown Missoula and opened a new terminal in 2022, with a second phase scheduled to open in 2025. Kalispell and Whitefish are served by Glacier Park International Airport, located about 12 miles from each town. 
"It's very easy to get here," she said. "We have 17 direct-flight markets, mainly from the West Coast, but we're a one-stop hub spoke from United, Alaska and American, etc." 
Picard added that the destinations also capture drive-market business from Seattle and Spokane, Washington, and Portland, Oregon. For the incentive segment, the region's many luxury guest ranches are among the most popular options. 
"People often add a Western theme, with cowboy poets, Western music and chuckwagon dinners at local ranches," Picard said. "Summer is our high season. It's very busy because a lot of people are coming to see Glacier National Park, but our shoulder seasons are definitely more affordable—April, May, even a little into June, and October and November for sure—but we're accessible all year long. A lot of people think in winter we are inundated with snow, but that's in the mountains, and the cities are in a valley." 
[Related: 11 Special Offsite Venues for Wow-Worthy Events in Montana]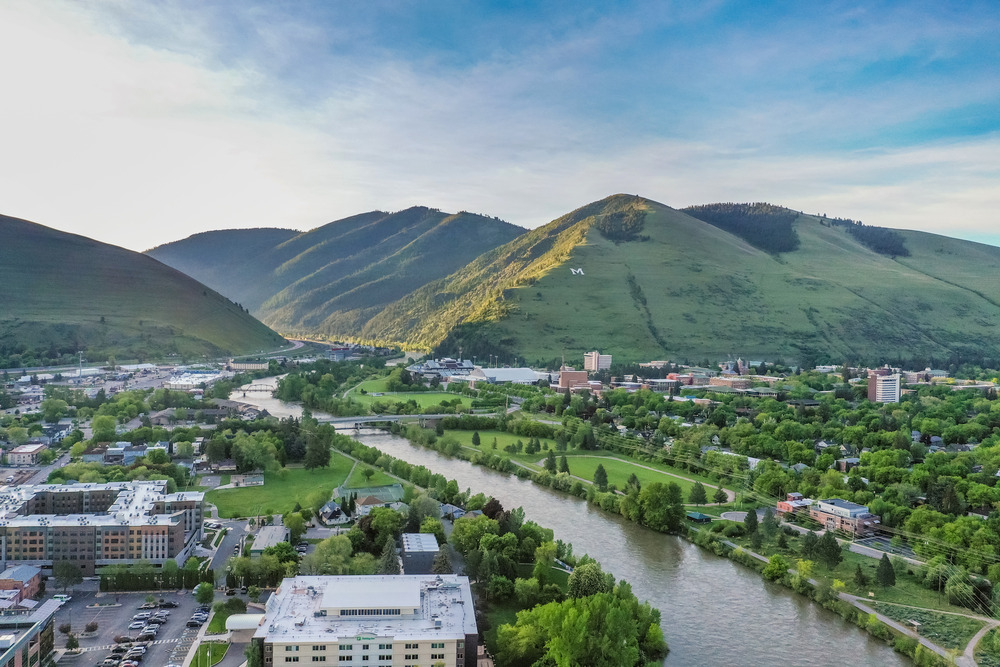 Missoula 
Western Montana's largest city (and second largest in the state), and which also offers the region's largest amount of meeting space, Missoula is home to the University of Montana, with a college-town vibe that translates into great food, music scenes and offsite options that include breweries, distilleries and music venues. Attendees that are fans of the hit TV series Yellowstone may even want to pretend they're a Dutton family member at area guest ranches such as The Resort at Paws Up, The Ranch at Rock Creek and Triple Creek Ranch.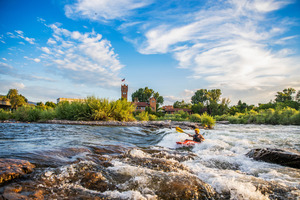 "Missoula is wonderful because it provides people with more than just that meeting room. There's so many things to do—tons of outdoor recreation options, arts and culture, and great food and beverage and a music scene," said Emily Rolston, group sales manager for Destination Missoula. "It's for meeting planners who want more of an experience for their attendees—work hard, play hard." 
Rolston said many groups opt for whitewater rafting excursions, with several outfitters ready to take attendees down three rivers near Missoula. Alberton Gorge, in particular, is a very popular stretch of Class III whitewater. For those who are not quite adrenaline junkies or have other issues that preclude them from whitewater rafting, Rolson said there is a "booze cruise" type of outing that meanders on a calmer section of water and stops by a brewery for growlers and snacks. 
Other popular offsite options include downtown history tours to learn some of the more-bawdy details of this storied Old West town.  
Also on the Missoula history agenda: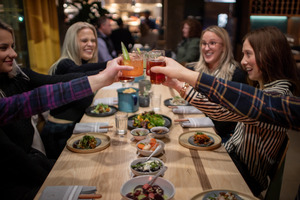 The restored historic The Wilma Theater is ready to welcome up to 200 for dinners, receptions and private concerts and film screenings. 

Heritage Hall, a historic building on the grounds of Fort Missoula (which was built in 1887), and its Northern Rockies Heritage Center has retained its original hardwood basketball floors from when it was the base's rec hall and now is used as an offsite venue for receptions or seated dinners. Destination Missoula can help planners arrange for catering and transportation from downtown Missoula, which is about 15 minutes away. 
Missoula offers three primary meetings hotels: 
The largest meetings hotel is the 146-room Hilton Garden Inn Missoula, which contains a 13,000-square-foot ballroom in its 22,000 square feet of meeting space.  

Holiday Inn Missoula Downtown offers 198 guest rooms (the most in the city) and 20,000 square feet of space. 

The 171-room DoubleTree by Hilton Hotel Missoula-Edgewater has about 9,000 square feet of space and select rooms overlooking the Clark Fork River and is located about a 15-minute walk from downtown and a half-mile from the University of Montana. 

Clark Fork, Missoula
According to Rolson, Missoula also prides itself on being a welcoming community for all. 
"Missoula is a little more progressive," she said. "We have the University of Montana, with a conference center on campus, and we're really working on trying to promote our town's diversity and welcoming nature and sustainability initiatives, and we also have opportunities for CSR to be incorporated into tourism." 
[Related: Meet in Montana]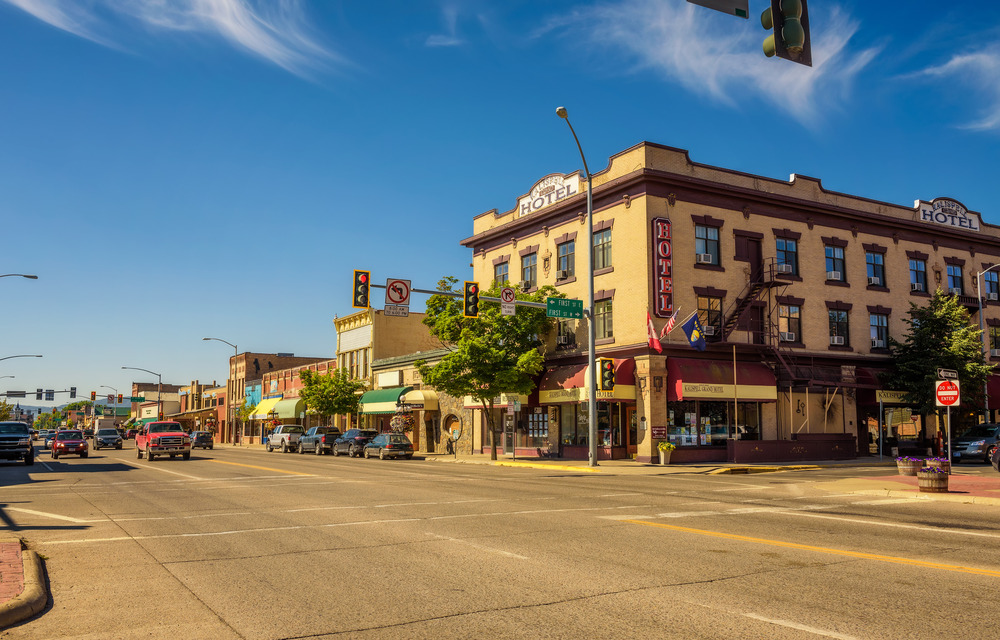 Kalispell 
About 120 miles north of Missoula, the Old West town of Kalispell is the hub of Flathead Valley and an ideal location for groups that want to include Glacier National Park in their program or pre- or post-meeting activities.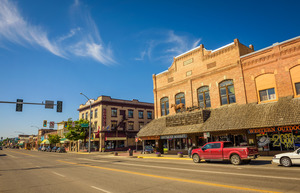 "Our Main Street kind of captures that Western history and feeling still," said Dawn Jackson, group sales manager for Discover Kalispell. "We don't have any chain stores on Main Street—it's all local restaurants and businesses, and we're keeping those storefronts from the late-1800s." 
The office of Discover Kalispell is actually in the historic old train depot building, and there are three different museums downtown: 
Hockaday Museum of Art, which was originally the 1903 Carnegie Library Building, showcases regional artists. 

Northwest Montana History Museum, in the building that was the first school in Kalispell, details the history of the region and is available for event rental via meeting rooms on the top floors.  

The 26-room Conrad Mansion, the 1895-built home of the Charles Conrad family that is on the National Register of Historic Places, is available for group tours and private event rental. 
Jackson said other popular group options include using stores on Main Street, some of which have rooms upstairs for up to 50 that are very unique; Snow Line Acres and Ashley Creek Historic Venue, which is located about two miles from downtown and offers views of the Swan Range Mountains; the town's rodeo grounds; and the new Glacier Range Riders baseball field.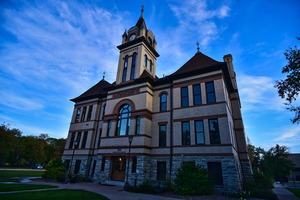 Still more options include a nearby barn that is often used for weddings, tradeshows and banquets, with a large field opening up to Flathead Lake, and Wachholz College Center, which offers a 1,000-seat arena and meeting rooms about a mile north of town. 
To really immerse attendees in nature, Glacier National Park is about 45 minutes away, and Flathead Lake—the largest natural freshwater lake west of the Mississippi—is 10 minutes to the south. There are also seven state parks nearby, and Lone Pine State Park offers a meeting room. 
"We've got some great outfitters that offer fly fishing to backcountry tours to e-bike riding, along with two Indian reservations with casinos and museums," Jackson said. "Oftentimes, we'll have a tribal member come in and speak to groups, and in summer, Native American talks in the park. That's a big draw for a lot of groups—they want to learn about the Native American culture." 
Kalispell offers four primary meetings hotels: 
The 170-room Red Lion Hotel Kalispell features 12,000 square feet of meeting space with six breakout rooms. 

The 40-room Kalispell Grand Hotel, which is currently being remodeled and is going to add a small meeting room for up to 10 people, is making sure to maintain the historic integrity of the property during the project. 

The 144-room Hilton Garden Inn Kalispell, which was recently remodeled, has 14,000 square feet of meeting space and is located about a half mile outside of town. 
Great offsite options for a chuckwagon lunch or dinner for meetings held either in Kalispell or Whitefish (about 15 miles west of Kalispell) include Bar W Guest Ranch, Lonesome Dove Guest Ranch and Artemis Acres Painthorse Ranch. 
[Related: 5 Western Montana Retreats Perfect for Getting Your Team Back Together]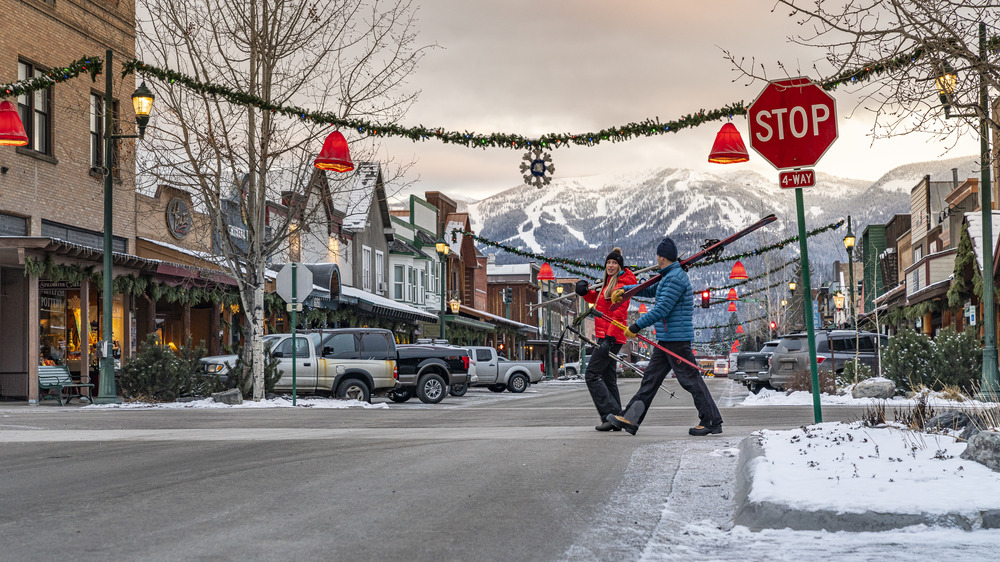 Whitefish 
Considered the high-end resort town in the region, and especially popular with tech, medical and financial groups, Whitefish is loaded with charm and near world-class skiing at Whitefish Mountain Resort.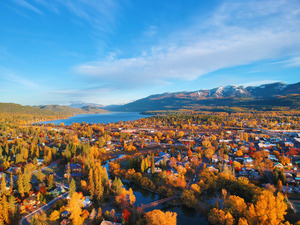 "We definitely specialize in smaller groups, from executive board meetings in the teens range to 100-120 people for ski groups," said Dan Hansen, marketing and sales manager for Explore Whitefish. "There are lots of shops and restaurants, and you can see the ski resort in the background. There's definitely a mountain town vibe. Glacier National Park is about 45 minutes away, and we're really trying to get people to shift their travel and come here outside of the peak summer months, as it gets pretty busy in summertime." 
Hansen said that May is typically the first month visitors can enter the national park, as snow plowing starts in April. Big tour buses may have to wait until the end of June or early July. A recent trend is people renting e-bikes for rides through the park. 
"That really has been a draw in the late-May and early-June window for groups coming here," he said. "That's one of those activities that they can add in that's really a game changer." 
Top meetings options include the 144-room Grouse Mountain Lodge, with 11,000 square feet of meeting space about three-quarters of a mile from downtown and located at the 36-hole Whitefish Lake Golf Club. 
Around the same distance from downtown is the AAA Four-Diamond The Lodge at Whitefish Lake, which is the only four-diamond property in the state. This luxe option includes nearly 14,000 square feet of meeting space and also features boats groups can charter—or drive themselves—on Whitefish Lake, including historical wooden boats that can take up to a dozen out on the water.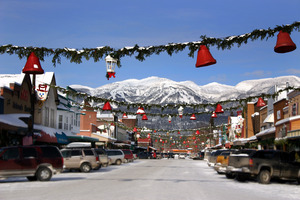 The Lodge at Whitefish Lake's downtown sister property, The Firebrand Hotel, contains 86 guest rooms and an executive boardroom, and there are another half-dozen mid-market hotels available, according to Hansen. 
Hansen said Whitefish Mountain Resort, about eight miles from downtown Whitefish, has a fairly large rental pool, and its ski-in, ski-out Kandahar Lodge has two main meeting rooms (with a little over a thousand square feet total), 50 guest rooms and the onsite Cafe Kandahar that boasts award-winning chefs. 
"One of the things that I hear from a lot of people is they've done Whistler and Park City and they're looking for something a little off the radar, and that's something that we're really about," Hansen said. "Montana is a place that a lot of people haven't been before, so that's definitely a draw." 
Connect 
(406) 532-3282 
(406) 758-2820  
(406) 862-3390 
Western Montana's Glacier Country Tourism  
(800) 956-6537 
Read next: Standout Venues and Meetings Updates from Montana