Wolfgang Puck on 25 Years in Catering, F&B Trends and His Legacy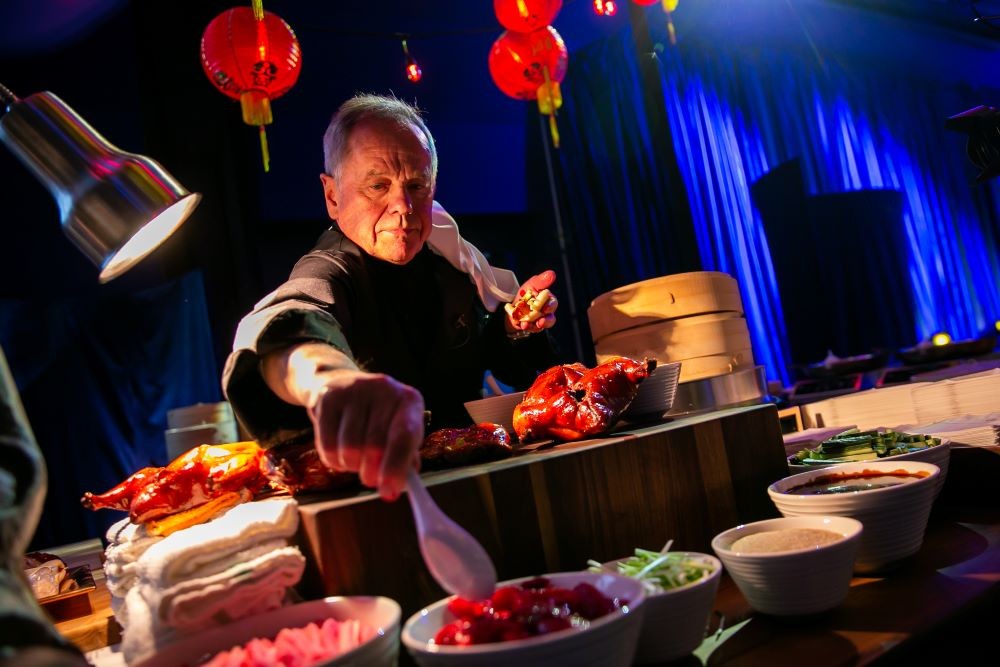 Wolfgang Puck preparing food at Atlanta's Georgia Aquarium for Super Bowl event
Wolfgang Puck is the O.G. celebrity chef, a cuisine-culture pioneer and arguably the most influential culinarian in terms of elevating the American palate since Julia Child. The face of Wolfgang Puck Fine Dining group, Wolfgang Puck Catering and Wolfgang Puck Worldwide, his catering operation is celebrating its 25th anniversary this year. Meetings Today seized the opportunity to ask the icon about his epic journey that began, as most all great chef stories do, in his mother's kitchen.
[Listen to the Meetings Today Podcast With Wolfgang Puck]
Tyler Davidson
In the beginning of your career—you started off when you were 14—you were really inspired by your mother, which is a story I hear from so many chefs that I interview.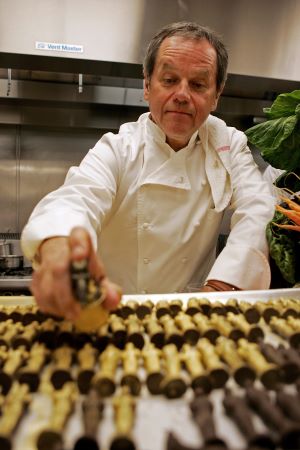 Wolfgang Puck
Totally, totally. You know, I was lucky. My mother was a chef, also, and I used to spend every summer at the hotel while she was working with the pastry chef, making sweets and eating ice cream, and everything was better than just lying on the beach, you know?
Tyler Davidson
And then you worked at some of the top restaurants in France, which is really a pedigree career trajectory. You gave that all up and came to the U.S. when you were 24, and to Indianapolis, of all places. What guided that?
Wolfgang Puck
Because I love outdoor racing. I used to live in Monaco—they have their big Formula 1 race there. And the 500 miles in Indianapolis was always fascinating when they said they have 350,000 people that are watching the race and it looked like a big stadium, and so I was always intrigued by that. So, when somebody offered me a job in Indianapolis, I said, "Oh my God, I want to go to Indianapolis, that sounds great! It must be like Monaco."
I took the Greyhound bus from New York City to Indianapolis, which took like a day and a half or so, and then finally arrived there and said, "Indianapolis is nothing like what I expected it to be." So, I said, "Where is the racetrack?" So, I went to the racetrack and I said, "It looks terrible." 
It was in November when I got there. So, it was nothing like I expected it to be, and especially at that time the restaurants were very poor, but there was a French restaurant there called La Tour. 
[The owner was] the president of the Indiana National Bank and was a very Francophile guy. He bought all this Christofle silver and Christofle pastry carts and everything, and we cut the duck in front of the guests and I cooked more well-done steaks there in a year than in the rest of my culinary life. But, you know, I had to start working there because I had no money to leave. 
So, I worked there, got my green card and then moved to L.A. 

Tyler Davidson
You've really achieved a number of firsts. I think you were the first, and only, chef to have won the James Beard Outstanding Chef Award multiple times. You really pioneered Asian fusion cuisine, and really were the first celebrity chef, and also the first big-name chef to open multiple restaurants in Las Vegas. 
What do you think about all of this you've created and your influence on modern restaurant cuisine, and really the way Americans cook and perceive cuisine? 
[Related Content: Wolfgang Puck's Eric Klein Shares Insights on Culinary Wellness]
Wolfgang Puck
It's funny; some of the things we do out of necessity. So, when I opened Spago, and when I was at Ma Maison before, Patrick Terrail, who was the owner of the restaurant, basically pushed me to the background. 
You know, I remember [actor] Donald Sutherland used to come to dinner and he loved food. And he said, "Oh, make me something," and I made him a menu. 
And then I went out to talk to him—he wanted to talk to me. And Patrick basically pushed me on the side and said, "No, no, no, let me talk to him." The same thing was true with television. 
You know, [actress] Dinah Shore used to have a famous TV show at that time—the '80s. And one time Dinah came to dinner at Spago—and a major dinner—and she loved it. And she called me out and said, "Sit down, have a glass of wine with me" and everything, which was really nice. And I sat with her and she said, "Oh, you're such a nice guy. I don't understand why you don't want to do TV." And I said, "What TV?" She said, "Yeah, I ask Patrick always about if you can come and do some television, chef, and he told me you don't do TV—he is doing the TV." So, without ever asking me.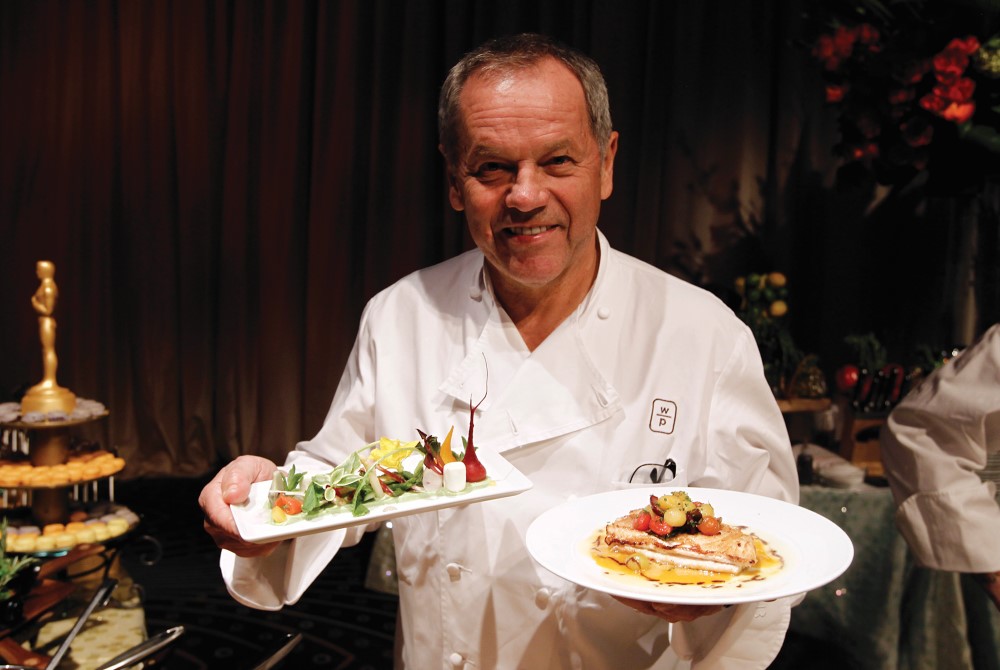 I said, "You know, you never asked me," so that's why I never went on. 
When I pitched Spago I said, "You know, the kitchen should be front and center; people should see the chefs because, you know, generally 60% to 70% of the sales of a restaurant is food, and food is important." I know the ambiance, the hospitality is just as important, but in the old times nobody knew the chef in a restaurant, everybody knew the manager or the owner and so forth, so it was so different. 
So, I built a kitchen and a dining room, and I democratized it a little bit because I saw there was no good pizza place in L.A. And so, I said, "I'm gonna build a wood-burning oven." And there was none of that in L.A. And I said, "I'm gonna make pizzas but I'm not gonna make the pizzas like in Italy," you know, with tomato sauce and mozzarella, or with pepperoni like you could get in cheap pizza places in America. 
So, I said, "I'm gonna make my own duck sausage." And then we made it with smoked salmon and caviar and so forth. So, it was a different thing. That really changed the way people thought about pizza.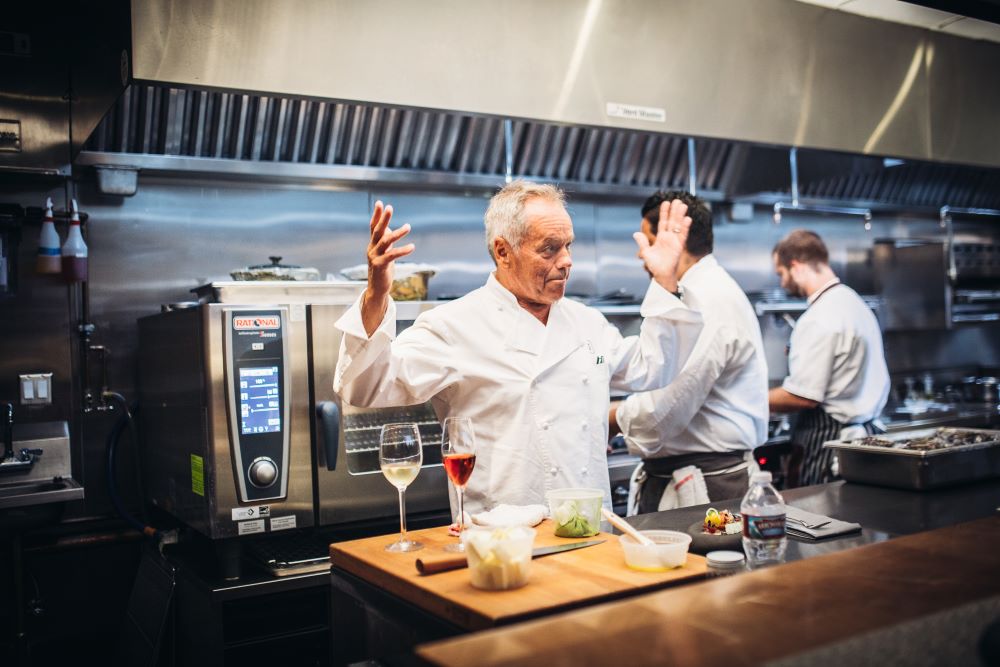 Tyler Davidson
Let's talk about Wolfgang Puck Catering—your 25th anniversary. What made you decide to go into the catering business?
Wolfgang Puck
It's almost just like the frozen pizza. You know, we started the frozen pizza line; it was because of Johnny Carson, The Tonight Show host. He used to take pizzas home and freeze them and I said, "What do you mean you're freezing my pizza—that's not allowed." 
Then I tried to make them, and the first one I cooked well-done, like normal at the restaurant, then froze it, and it was dry a little bit. Then I cooked it less and less and I said, "You know, if you do it right, it's actually not bad. You know, because there are good ingredients."
Then I started that frozen pizza business. And then with the catering. We did catering from the old Spago; it was so difficult because the kitchen was so small and everything. And we did parties for [oil mogul] Marvin Davis—his daughter got married, or the bar mitzvah for some of his grandkids and so on. 
But for [entertainment executive] Michael Ovitz, we did the parties at his house when he had I.M. Pei come and design his new office building. So, we did a little bit of catering only for our customers from the restaurant, and then the Academy [of Motion Picture Arts and Sciences] asked me to do the Academy Awards, the Governors Ball...
[Related: 2019 Oscars Governors Ball: 3 Mouthwatering Recipes From Wolfgang Puck]
Tyler Davidson
...which I was lucky enough to attend in your kitchen maybe four years ago, and you guys did an amazing job...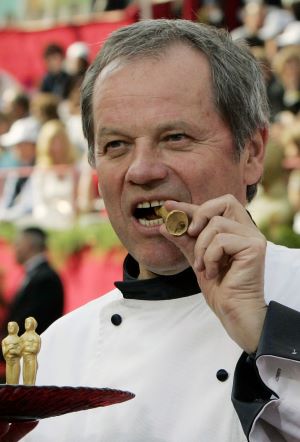 Wolfgang Puck
...it was a fun day. So, then I did it the first time at the Shrine Auditorium, and then the next time we did it at the Music Center and there I met Carl Schuster, who used to run the Music Center for Restaurant Associates. And then we became friendly...and we started a catering company together. 
I told Carl, "You tell me what you want and we can do it. And you will have to run it because I don't have enough time. Obviously, I will be there when we do the parties and everything. But also, running a business, you know, there's so many little things, like getting the staff, getting all those things. It's a lot of work. I don't want to do that—you have to do that." 
So, he said, "Yeah, I know how to do that." I said, "Great, we have a partnership." 
[Related: Behind the Scenes at the Oscars' 2018 Governors Ball]
Tyler Davidson
How has the catering industry changed since you launched yours 25 years ago?
Wolfgang Puck
Well, I think it has changed because we didn't do corporate catering at that time. You know, we did mostly weddings, bar mitzvahs and stuff like that—fancy dinners and in people's houses for 20 people, 10 people or 150 people, a lot of it benefit dinners in the big houses in Beverly Hills and Bel Air, you know, so that was our main business. 
And it's only later on when we started to do more corperate events and corporate business, like Sony Pictures and NBC Universal and things like that.
Tyler Davidson
When you talk about using only the best ingredients, a lot of the time that translates into sourcing it locally or seasonally. I'm sure that sort of sustainability angle has always been present?
Wolfgang Puck
Totally, you know, especially when we started out. We went to the farmers market and got everything delivered, and then we used it for a party. It's just the same thing as at the restaurant. And we use the same purveyors, the same meat purveyors, fish purveyors, whatever it is. And even when we grew bigger, like we are in Atlanta, for example—which is quite far away—when we do a party at the Georgia Aquarium, we always go and use local people, local ingredients as much as we can.
[Free On-Demand Webinar: Elevating the F&B Experience With Wolfgang Puck Catering's Mary Cline]
Tyler Davidson
How do you incorporate attendees' dietary needs in the event menu planning process?
Wolfgang Puck
Well, I think we always have different things for everybody. And we consider religious [dietary needs]. 
When we do the Oscars, I have like five chefs just doing special requests. And you know, a lot of people are vegetarian, but when they're so hungry, they are not vegetarian anymore. So, it's interesting to see. 
But we always take care of that. We always have really good vegetarian food. We have a great mushroom risotto or some asparagus risotto, whatever it is. So, when people eat it, they don't feel like, "Okay, that's pushing me to the side." I want them to be just as happy as the other customers. 
I remember when I did [my restaurant] Cut, in 2006, Richard Meier designed the restaurant. I had them assign a plate for the vegetarians. I said, "If somebody comes to the restaurant and the people love steak, and they want only vegetarian, or vegan, we're gonna give them even more." So, I designed the plate with four inserts, really not inserts, but the way it was shaped. So, I could put in one, risotto. I could put in one, a Hunan eggplant. So that way, they actually got all these different tastes, and it's a challenge for the chef, but it's also good for the guests. 
You know, when they go home and say, "Oh, my gosh, I had the best vegetarian dinner at Cut," people look at them and say, "I thought that was a steakhouse?"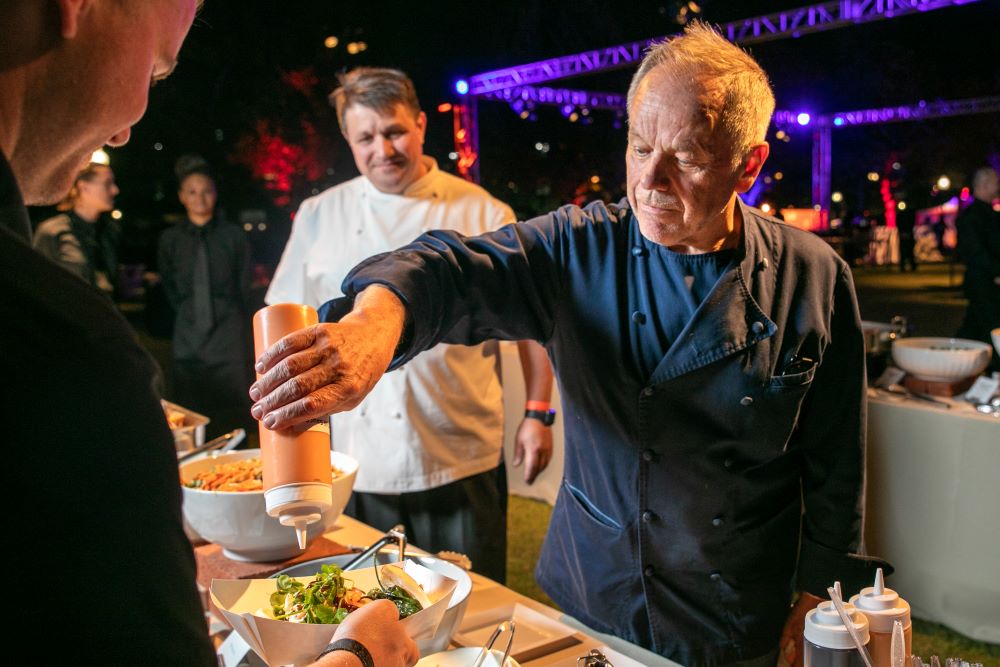 Tyler Davidson
Everyone in the meetings industry is struggling with staffing issues since the pandemic. How has it affected Wolfgang Puck Catering? 
Wolfgang Puck
You know, we have a great group of people who've worked with us for many years. Yes, some of them were on furlough for a while, but then in the end, they came back. We pay them well now and everything, and I think they know they also have a future is how you set it up. 
If somebody is young and is a sous chef somewhere and they say, "Okay, we're gonna do catering in Atlanta. We need a catering chef there." We get somebody who knows our culture and send them there. 
So, opportunities. And I think it's an important part in our restaurants and in catering to give people opportunities.
Tyler Davidson
What new trends are you seeing in catering, and do changing demographics affect those trends?
Wolfgang Puck
You know, I think people know much more now about ethnic foods and things like that. Whereas before people said, "Oh, no, I don't want to have some Indian dishes, or some Thai dishes or some Latin American dishes," versus now they're very popular and people really like them. 
And the same thing with us; we have to make them and we have a lot of chefs from all over. So, if I have a guy from Mexico and they know about the flavors of Mexico, I say, "Show me how you make a great taco, or what you do you start it with, or what do you use it for?" Or, if you make a mole, "Show me how you make the mole." 
And to some of the chefs who did an amazing job, I say, "Wow, this is really good. We can put it on the menu."
Tyler Davidson
After so many years on top, what keeps you inspired and motivated?
Wolfgang Puck
I really am passionate about what I do, and I love what I do. And a lot of people say, "Why do you still go to the restaurant? Why do you still do catering?" 
For me, it's like a big family business. So, I'm very excited, but also to see the business grow. Our catering company, during the pandemic, basically we went down to zero. Now, I think our year finishes in October and we think we're gonna do over $150 million in revenue. So, starting from zero to go up there, and we can do it because we have great people working for us.
For us, hospitality is just as important as finding good ingredients, because we want to give the people an experience when they come to us...because our reputation is the most important thing.
To listen to our podcast with Wolfgang Puck, visit www.MeetingsToday/podcasts. 
High-Profile Wolfgang Puck Catering Events
Night at the Museum at Perot Museum of Nature and Science  
re:PLAY in Las Vegas  
Oscars Governors Ball  
Adobe MAX Bash 
Lexus Annual Dealer's Meeting 
Nasher Prize Gala 
Jewel Charity Ball 
American Airlines Chairman's Dinner  
Super Bowl XLV Events at Verizon Theatre  
On Location Super Bowl LVI  
Super Bowl LIII
ESPY Awards  
Kid's Choice Awards 
MTV Movie Awards  
NAACP Image Awards  
X Games  
2013 Inauguration: The Green Ball
Greenbuild Expo Reception (zero waste events); 3 years (D.C., L.A., Boston)
Baker Polito Inauguration Event
HBO Concert for Valor
YouTube Zeitgeist Awards
White House Correspondents Weekend Events
MPAA Creativity Conference
Microsoft Inspire
Microsoft Ignite
The Atlantic Washington Ideas Forum
Countless movie premieres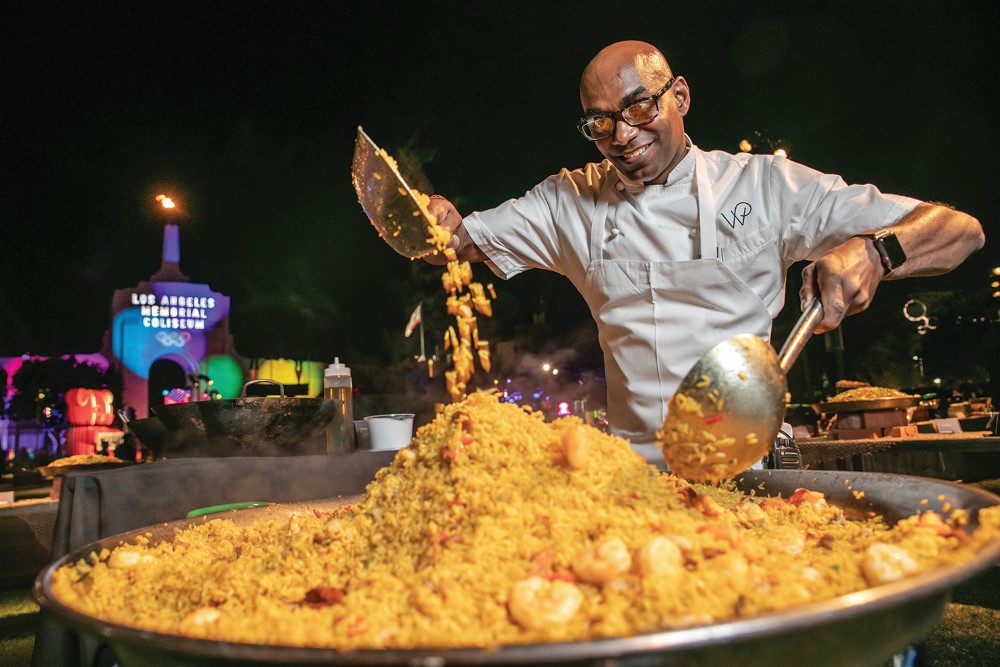 Wolfgang Puck Catering Timeline
Today, Wolfgang Puck Catering operates in Los Angeles, San Diego, the San Francisco Bay Area, Seattle, 
Tucson (coming summer 2023), Houston, Dallas, Austin, Chicago, Atlanta, Raleigh and Philadelphia.
Following is a timeline of the major Wolfgang Puck Catering milestones.
1998
Wolfgang Puck Catering (WPC) is founded as the first national, chef-led catering and managed services company. 
Services expand from special event catering in the Los Angeles market to include managed services partnerships.  
WPC partners with its first managed services client, Gleacher Center at the University of Chicago Booth School of Business.
2001
WPC launches commissary in the Los Angeles market at Hollywood & Highland, in one of the largest ballrooms in Los Angeles, Dolby Theatre (formerly Kodak Theatre).
2004
WPC partners with Compass Group North America to expand market presence and growth potential.
2005
WPC partners with sister company Restaurant Associates on managed services for Atlanta's Georgia Aquarium.  
In Los Angeles, WPC initiates a partnership with Goldenvoice at El Rey Theatre. 
2006
WPC partners with Nasher Sculpture Center in Dallas.  
WPC partners with City of Los Angeles Department of Recreation & Parks at Griffith Observatory. 
WPC partners with Sony Pictures Studios in Los Angeles.  
WPC expands to Seattle.
2008
 WPC launches catering services in Dallas market. 
WPC partners with L.A. LIVE to provide special event catering. 
WPC partners with Goldenvoice at The Shrine, Los Angeles.  
WPC launches joint venture with sister company Restaurant Associates to provide catering at the Newseum in Washington, D.C. WPC also partners with Wolfgang Puck Fine Dining Group to open The Source restaurant.
2009
WPC partners with Reunion Tower in Dallas and opens Five Sixty restaurant in partnership with Wolfgang Puck Fine Dining Group.
2012
WPC partners with Perot Museum of Nature & Science in Dallas.
2014
WPC partners with the National Center for Civil & Human Rights in Atlanta.
2015
WPC partners with Live Nation at The Fillmore in Philadelphia and the Tabernacle in Atlanta.
2016
Launch of Test Kitchen at Hollywood's Pacific Design Center, an exclusive dinner experience featuring 10 to 20 courses per evening.
2017
WPC pops up Wolfgang Puck's Spago restaurant at BNP Paribas Open at Coachella Valley's Indian Wells Tennis Garden.
2018
WPC launches catering services in Houston.
2020
WPC partners with The Modern Art Museum of Fort Worth, Texas.
2021
The Event premieres on HBO, a docuseries following WPC as it manages high-profile events.  
WPC partners with Space Center Houston to reimagine its visitor food program as well as special event catering.
WPC partners with Texas Medical Center to open restaurant III by Wolfgang Puck and provide elevated catering services across the growing campus.  
WPC launches catering services at the Academy Museum of Motion Pictures in Los Angeles as well as restaurant Fanny's.  
2022
WPC partners with Jewel Charity Ball to provide an immersive multicourse catering experience for its annual gala fundraiser.
2023
WPC caters Wolfgang Puck's 29th Oscars Governors Ball.
WPC opens commissary in the San Francisco Bay Area.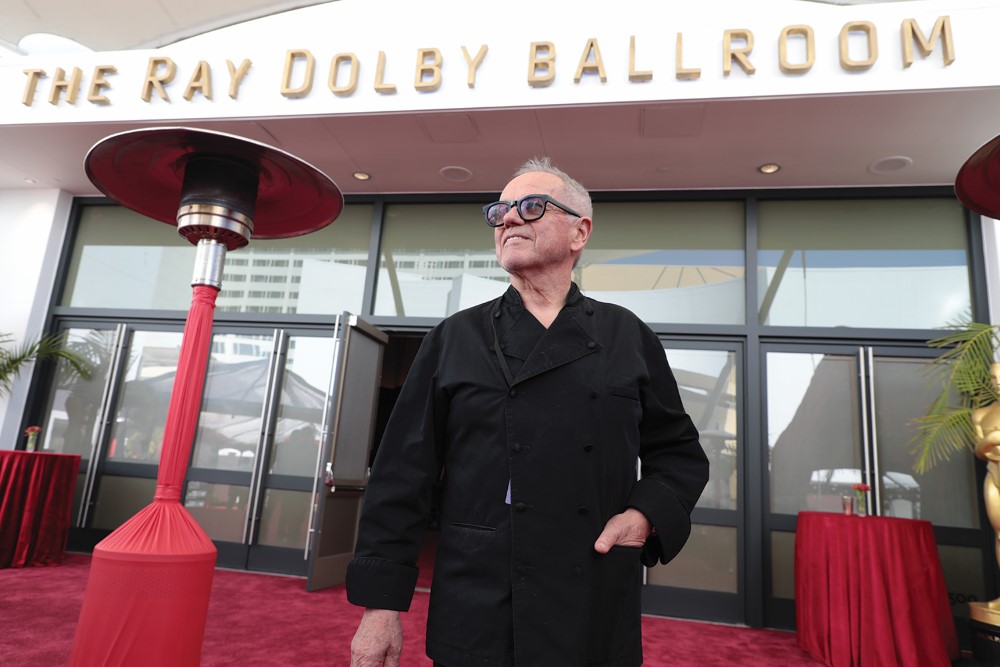 Read This Next: Wolfgang Puck Takes Catering to Famous Heights