Fun Pickleball Tournament Ideas for All Skill Levels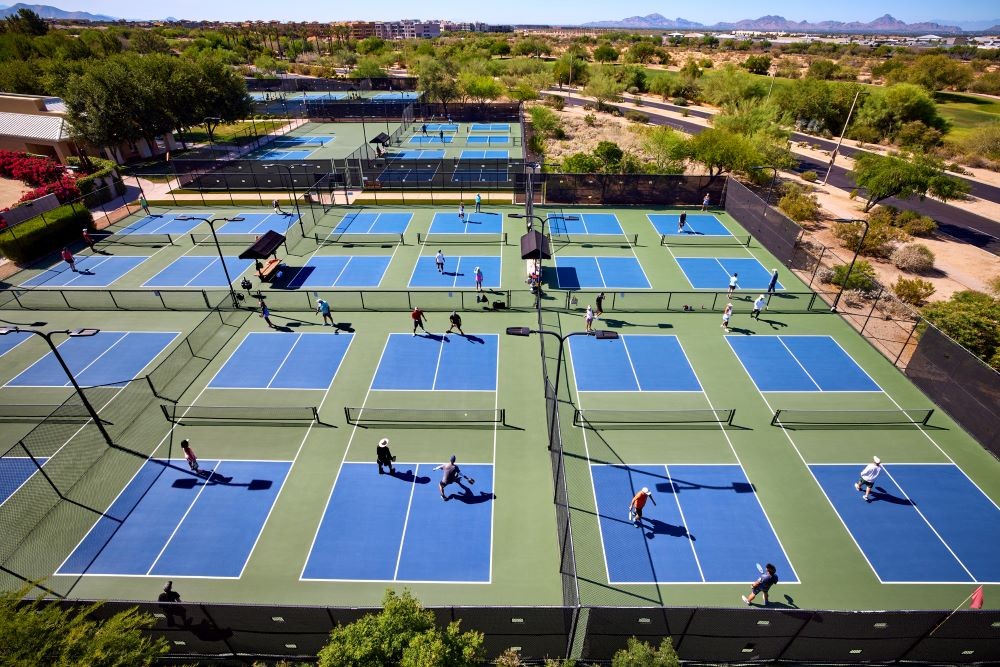 Pickleball courts at JW Marriott Phoenix Desert Ridge Resort & Spa. Credit: JW Marriott Phoenix Desert Ridge Resort & Spa
Pickleball is the fastest growing sport in the U.S. In 2022, pickleball participation doubled, increasing by 85.7% year-over-year and by a whopping 158.6% over three years. Today, 8.9 million players in the U.S. over the age of six play the sport. Despite its meteoric rise, you might be surprised to learn that pickleball is a sport that has been around since 1965.
Why is pickleball suddenly all the rage? According to Connie Thrasher, sector leader for the West with USA Pickleball, the COVID-19 pandemic is where its surge in popularity started.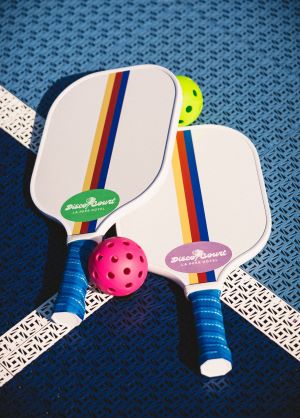 "It was one of the few sports that you could play. It had restrictions around it, but those were loosened up a lot sooner than several of the others," she said. "We started creating programs in order for people to play safely and network. We focused on it because of the social side of it."
As the pandemic waned, Thrasher saw the masses come out to play, in all age groups. 
"I think we've gotten past a stigma of it being an older person sport. Courts are packed with younger people now. I mean, it's incredible," she said. "So, I think the fun and social side [of it] is huge. And it's a welcoming culture, and it's affordable."
As its popularity increases with all ages, it trickles down to meetings and events, with requests building to incorporate the sport as a corporate teambuilding or networking activity. 
"The one area that I'm seeing the largest increase in requests is around the corporate component of it," Thrasher said. "They're coming in and wanting to do teambuilding activities. And we're talking organizations that are pretty large in scope, and they're finding that the teambuilding aspect for them is huge."
Becky Barrett, spa and racquet center director at JW Phoenix Marriott Desert Ridge Resort & Spa, is seeing this same demand. During the pandemic, the resort, which originally had 12 pickleball courts, converted five more tennis courts into pickleball courts, bringing the resort's total to 17. 
"There are still tennis players, and there always will be, but the demand for pickleball always exceeds," Barrett said. "Whether it's hotel groups or local groups, there are a lot of calls coming in that want to do teambuilding and food and beverage, and we are able to do it all."
Brandy White, director of sales and marketing at Loews Ventana Canyon in Tucson, Arizona, was surprised when a meeting group recently requested that she write a pickleball activity into its contract, and now has a pickleball pro onsite and two pickleball courts.
Does your group have pickleball fever? Learn the basics of the sport, all the ways you can make pickleball fun for group play and some of the meetings-friendly hotels that can bring your pickleball event to the next level. 
[Related: Teambuilding Has Changed. So Must You.]
What Is Pickleball?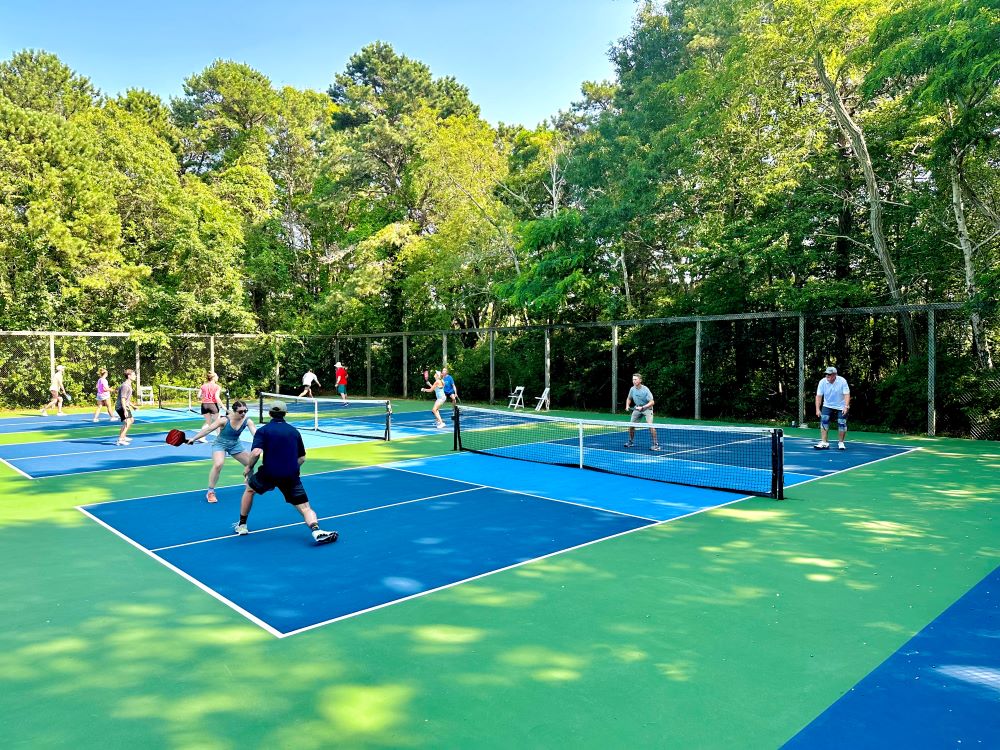 Pickleball has been a sport for more than 50 years, but many are just becoming familiar with the sport due to its burst in popularity. So, what exactly is pickleball? Many describe it as a combination of tennis, badminton and ping-pong. Courts are badminton-sized with a slightly modified tennis net, and it can be played indoors or outdoors with paddles and plastic balls with holes in them. Pickleball, like tennis, can also be played with doubles or singles.
If some of your attendees have never heard of pickleball, USA Pickleball has a wealth of resources on its website describing basic rules of play, how to master the basics and useful tips and strategies.
Top Tips for Pickleball Beginners
If you're planning to incorporate pickleball into your event agenda, include some of these basic tips in your "Know Before You Go" email:
Dress: Wear comfortable athletic clothing that's appropriate for the climate, and wicking apparel, if you have it. Pickleball requires lateral movement and lunges, so wearing tennis shoes is important on the courts.
Equipment: Pickleball requires a paddle and ball with holes. If your event is at a hotel with pickleball courts or a pickleball facility, attendees likely will not need to provide their own equipment.
Hydrate: While pickleball is an approachable sport for all ages and skill levels, you can still work up a sweat! Bring a reusable water bottle to the courts to hydrate.
Study the basics: For attendees that are new to the sport, watch USA Pickeball's introductory videos for pickleball basics like how to serve; how scoring works; what "dinks," "lobs" and "volleys" mean; and more.
Pickleball Games That Everyone Can Play
If you're incorporating pickleball into your event agenda, it's highly recommended that you work with a certified pickleball instructor who can operate clinics or manage play. Evaluate the skill level of your attendees and work with the instructor to decide what sort of play is right for your group. Open Play is great for beginners, and Round Robin play (where players meet all teams in the pool) is a nice choice if networking and teambuilding is one of the main goals of the event. For more advanced skill levels, you can work with an instructor to set up some regular match play following official pickleball rules.
[Download USA Pickleball's Recreation Guide for details on all formats]
Some popular games outside of regular match play that USA Pickleball recommends include:
Dinking Survivor: This Open Play option is a nice introduction to pickleball for beginners. Have players partner up on the courts for a dinking contest using the non-volley lines. The last team to survive without making an error wins a prize.
Musical Courts: A type of Round Robin play, have players find an open court and begin play. Use music to start and stop activities. As soon as the music stops, players find a new court and partner. 
Serving Challenge: Set up hula-hoops or buckets on the ground as targets and have players attempt to serve a ball into the hoops. Players and/or teams can challenge each other for number of successful hits. A prize can be given to the player who has the highest score.
How to Make Your Corporate Pickleball Event More Fun
While every group will have its select few competitive athletes, teambuilding and networking is meant to foster camaraderie and fun. Here are a few ways to spice up your pickleball event to ensure everyone has a good time.
Dress up: Have everyone come to play in costumes, in coordinated outfits or branded t-shirts with your company logo.
Give out prizes: Hand out prizes or sponsor swag for categories like "Best Dressed," "Most Improved" or "Best Serve."
Lean into the pickle theme: Work with the host hotel's catering manager to serve pickle-themed food and beverage.
Get that #instagram shot: Bring a fun backdrop or signage to the courts and encourage players to post about their pickleball experience on social media.
Bring out the radar gun: Have a need for speed? Host a serving competition to see whose serve is the fastest using a radar gun.
[Related: 3 Fun Group Golf Formats That Speed Up Play]
Hotels With Pickleball Courts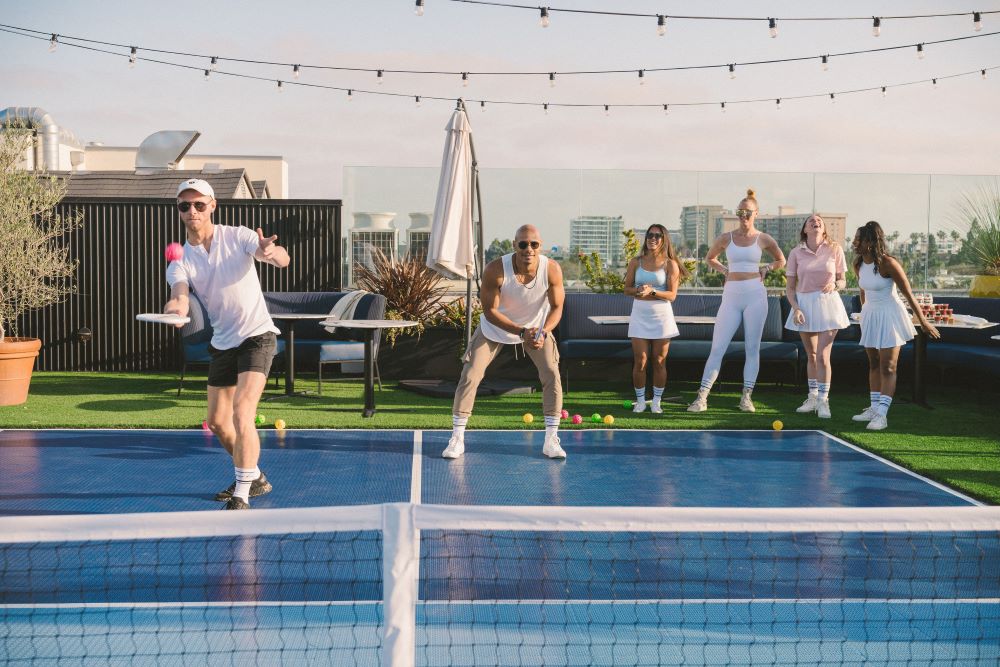 While there are many public parks and indoor sporting complexes with pickleball courts, the convenience of keeping a group on the hotel property is a major plus for the logistics that come with planning meeting and event programs.
Fortunately, meeting hotels and resorts are adding pickleball amenities at a quick clip. Here are a few standouts.
With 17 professionally surfaced pickleball courts, JW Marriott Phoenix Desert Ridge Resort & Spa boasts one of the most impressive pickleball offerings by a resort in the country. The Professional Pickleball Association (PPA) has hosted the top 100 pickleball players in North America at the property during its Foot Solutions Grand Slam the past three years. Full-time, certified instructors are on hand to help groups plan a pickleball outing, from teaching the game rules and lessons to overseeing matches. Custom paddles by Recess Pickleball can be created exclusively for pickleball at the property.
Event lawns around the pickleball courts take special events up a notch. 
"There's a pickleball lawn that is right in front of the main pickleball court that seats up to 150 people. If the group is a little bit larger than that, we have an area off to the right that can hold up to 150 people and that sits right adjacent," said Jodi Bourdo, senior catering sales executive for the resort. "If a group is playing early in the morning, we can do a breakfast, maybe do a lunch [on the lawns]. We have some pickleball events coming up this fall. One of them is an all-day event, so they are hosting a breakfast, bar and lunch at noon, and from 4 p.m.-6 p.m. doing a dinner buffet. It gives groups a chance to sit, chat and network with each other."
The resort completed an $80 million renovation in 2022 and offers 950 guest rooms and 240,000 square feet of indoor/outdoor event space.
This resort on Massachusetts' Cape Cod is leaning into the rise of pickleball with both group play and a themed pop-up bar. The resort currently has six courts, and staff is available to help set up clinics and competitions for groups. There is also a pickleball supplier that has the capability (with enough lead time) to create custom paddles for groups, which can include their group logo, event dates, etc.
The new pickleball pop-up bar gives groups and guests a fun way to socialize post-pickleball play with pickle-themed cocktails and snacks. The pop-up bar includes two specialty cocktails: Baseline, which features tequila, triple sec, pickle juice, lime juice and simple syrup, garnished with a piece of bacon and a pickle; and Two Bounce Rule, which features bourbon, maple syrup, lime juice and orange juice and is garnished with a pickle and lime. Pickle-themed snacks include: hummus, pickle-flavored chips, as well as a variety of pickled vegetables, including carrots, peppers, cauliflower and radishes.  
"Pickleball has been a great activity for all guests to do at their leisure, but our new Pickleball PickleBar experience is a great way for us to bring a group together in a no-pressure environment to learn a new sport and socialize," said Gordon Palm, director of sales for the resort.
Ocean Edge Resort & Golf Club has 21,000 square feet of meeting and event space and can book up to 300 rooms in a room block for groups. With Cape Cod Bay as its backdrop, other amenities for memorable group meetings include clambakes on the beach, private beach bonfires, golf, oyster tours and more.
For incentive groups in the Caribbean, Aruba always impresses with its fine, white-sand beaches, reliable weather and crystal-blue waters. The island's oceanfront Marriott Resort & Stellaris Casino has hopped on the pickleball train, adding courts and themed cocktails for guests to enjoy. Planners can work with the hotel to set up a cocktail station for groups post-play.
The resort has more than 10,000 square feet of meeting space, with the largest space on property able to accommodate 880 people. The pool deck and beach are also available for events.
Kimpton La Peer in California's West Hollywood made some waves when it announced that for the summer it was converting its rooftop into a pickleball court in partnership with Grey Goose. Guests can dink around while enjoying panoramic views of Los Angeles.
"When looking at transforming our unique and dynamic rooftop space, we saw an opportunity to do something special while maintaining the essence of a great summer hang; well-crafted cocktails and bites with a DJ setting the mood," said General Manager Evan Thomas. "Pickleball is that extra element we were looking for to not only encourage wellness but communal fun, no matter your experience level."
On the weekends in the afternoons and evenings, the area transforms into a "Disco Court," where the DJ plays music while the sparkling disco ball comes out, and guests or the public can pop in for open play. Themed cocktails and snacks are also part of the rooftop experience. 
The hotel features 105 guest rooms and suites, a rooftop event space, poolside fitness center and more than 8,000 square feet of indoor and outdoor dining and lounge spaces.
Read this next: Fun Golf Games to Spice Up Group and Tournament Programs