Fun Golf Games to Spice Up Group and Tournament Programs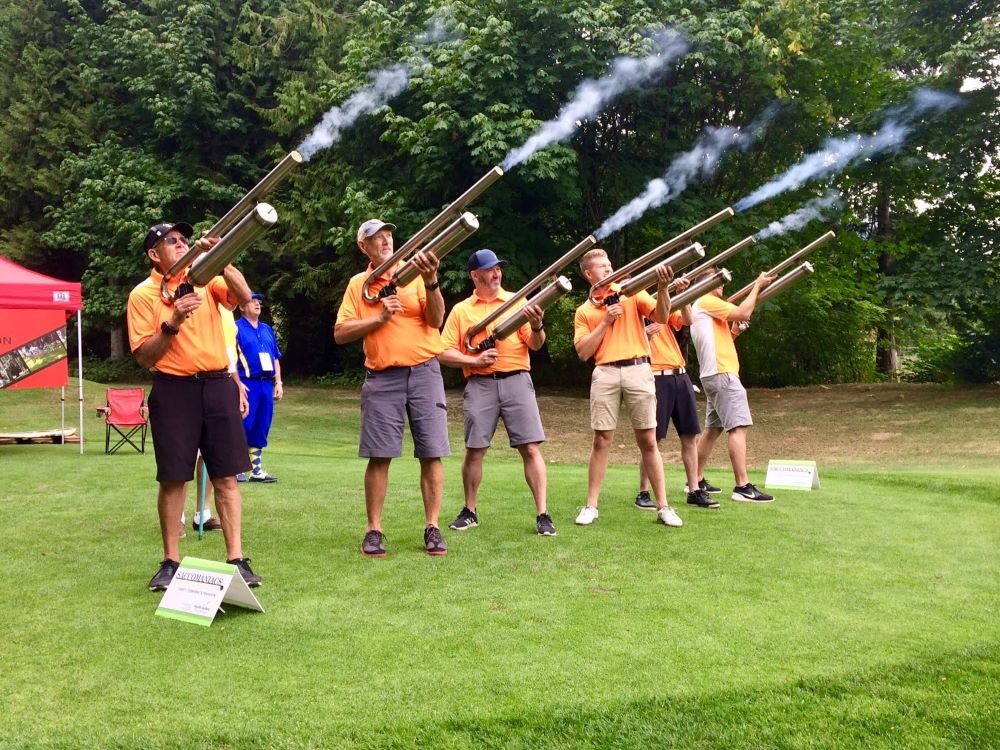 Golf Cannons, Golf Cannon Canada. Credit: Golf Cannon Canada.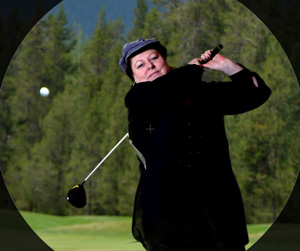 To mangle the famed Mark Twain quote, "The reports of golf's death [as a meetings program component] have been greatly exaggerated." And ironically enough, it was a global pandemic that seems to have resuscitated the flagging sport.
According to the National Golf Foundation, rounds soared by 14% in 2020 compared to 2019, before the pandemic set in, and were up an additional 6% in 2021.
"COVID was the best thing that ever happened to golf," said Dawn Donahue, CEO of British Columbia-based Go Golf Events Management (GGEM). "It without a doubt put more generations onto the golf course because of the physical space, to be outdoors and meet all of the health protocols put into place, and golf course owners and managers have never seen anything like it—full tee sheets, people teeing off every nine minutes and the junior programs filled. "
[Related: The Massive New Omni PGA Frisco Is a Golf Resort Game-Changer]
GGEM has produced more than 1,000 conferences and meetings, with more than 600 stand-alone golf tournaments, along with 400 charity golf tournaments that have raised over $20 million for various registered charities over the course of its nearly 40-year existence.
The pandemic golf boom actually worked to the detriment of golf tournament organizers such as Donahue by creating a dearth in golf cart availability in many locations. Donahue said the resurgence of golf has also placed a lower priority on golf tournaments by course owners, who think that lower tournament group rates result in too much work for the financial reward.
But as we settle back into traditional patterns—that rise in rounds has already showed signs of cooling—meeting and event planners should maintain their vigilance at keeping golf programs fun for all participants, whether seasoned duffers or shy newbies. 
And if all else fails, summon the golf cannons!
[Related: Tee Up These New Packages and Upgrades at Major U.S. Golf Resorts]
Tips for Making Golf Fun
Although rounds have been trending upward since the pandemic, Donahue believes several factors remain a challenge to the popularity of the sport, and thus its popularity for group programs: a high price that is a barrier to entry for many families, the time commitment to play 18 holes, and the current lack of a transformational young player, such as Tiger Woods, to widen the sport's appeal beyond its traditional white male demographic.
Conversely, many younger people are interested in "entertainment golf," such as offered by Topgolf or indoor golf simulators, so planners should consider incorporating it when feasible.
Donahue stressed that serious golfers can be annoyed by all of the frivolity, so it's a good idea to offer them a traditional round before or after the event, especially if the tournament is using a premier course. Also, traditional golf tournaments always have prizes related to long drives, the most accurate drives, closest-to-the-pin and a potential hole-in-one, which reward the more experienced golfers. To involve all skill levels, incorporate prizes, activities and rewards that don't rely as much on skill level.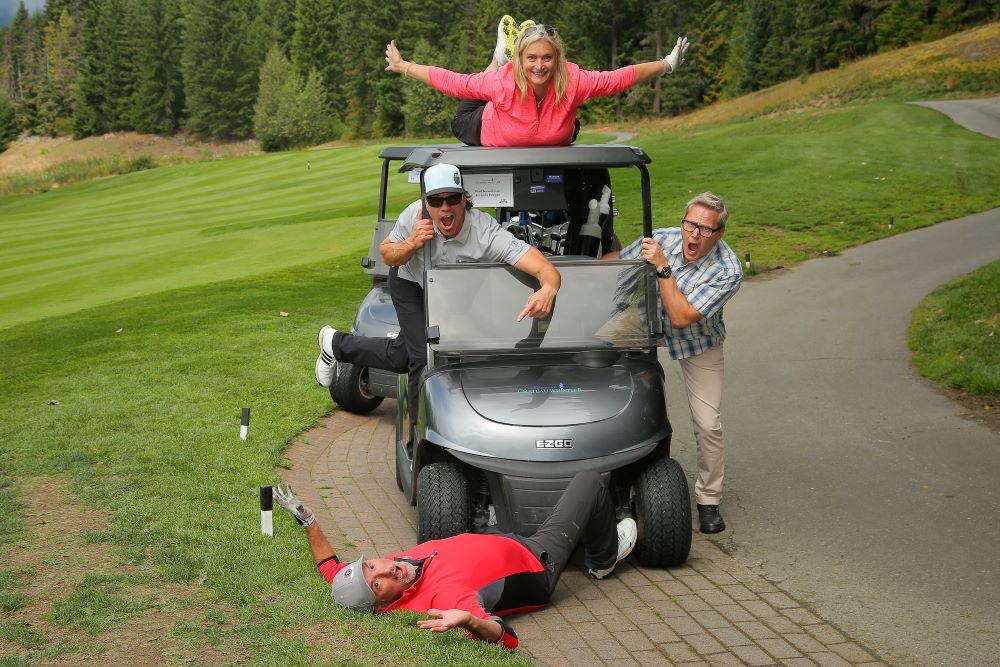 Following are some of Donahue's tips for injecting a bit of levity and time-saving formats into a group golf program:
Host a 9-hole tournament if time is a challenge.
Play a par-3 golf course to make it easier for beginner golfers.
Include two or three activities/games that are fun and keep the pace of play on track.
Consider a speed-golf hole (which rewards the fastest time to complete a hole) or golf air cannons (an air cannon that shoots golf balls). 
Incorporate food and beverages into the round—and make it more than just a boxed lunch—such as working with the golf course to host a chef's station or craft cocktail station, which are also great sponsorship opportunities.
Include local food and beverage producers: sample wines, craft beers, cheese, meats.
Create the ultimate charcuterie board, with a food sample at every hole.
Offer a "candy bar": golfers love a sweet treat.
Don't forget unique non-alcoholic beverages such as craft sodas, mocktails and juices.
Be creative: Have six people on a team, which allows for more golfers to play in a fun scramble tournament. Thirty teams of six golfers (180 golfers) will play 18 holes quicker than 36 teams of four (144).
Create a sponsorship opportunity to get all meeting attendees to the driving range or a lesson in their hometown.
Play disc (Frisbee) golf.
Don't go overboard on the silly factor; two or three goofy elements are usually enough.
Give a team prize for the Most Honest Team (last place!).
[Related: Fun Pickleball Tournament Ideas for All Skill Levels]
Fun and (Golf) Games
Donahue offered the following fun games planners can incorporate into their tournaments to make it fun for all levels of players:
Golf Cannons: Place on the most difficult hole; the cannons speed up the pace of play. Cannons can be used one person at a time but are a lot more fun with a cannon for each person and when teeing off together.
Speed Golf: Choose one hole to play in the quickest time possible. Example: For a par 4, the golf team chooses who will tee off, who will hit the second and third shot, and who will putt. Time the hole from tee to pin—fastest team wins.
Corn Hole: Chip a golf ball into a cup. If a team gets one ball in, they tee off from the 150-yard marker; two balls, 100-yard marker; three balls, from 50 yards; four balls, they are putting.
Beer Pong: Same premise as Corn Hole, but with the addition of beverages for each shot made.
Longest Marshmallow Drive (Not to be used in very hot weather, as marshmallows melt and stick to the golf clubs!): Set up three or four targets and tee off with a marshmallow. Each target has a reward, which can be a prize or a free tee shot (see Corn Hole).
Axe Throwing: Axe-throwing companies can bring portable stations. Hit the bullseye and win a long drive for the team or a free golf shot.
The Instagram Hole: Bring props, have cameras and post to social media, with prizes offered in various categories.
Team Photos: Make them fun! Offer a prize for best group pose.
Trivia Game: Include a trivia question at each hole that could relate to the meeting, destination, charity or sponsor, among other options.
Golf Equipment Demonstration: Have an equipment demo on a hole or pre-event and/or invite a golf company to host the longest drive competition and showcase new drivers and new equipment (this keeps your experienced golfers interested).
The Meditation Hole: Aromatherapy or yoga is always a nice break from the frenetic activity of a golf tournament.
Donahue added that planners should seek to maximize sponsorship opportunities when appropriate, such as by setting up "tradeshow booths" in the tee areas, and that it's very important to mix the ability levels on each team so there aren't teams loaded with very experienced players while other teams are made up of novices. Also, producing a proper draw sheet can shave 30 minutes to an hour-and-a-half off the pace of play, and hiring the services of an experienced golf planner could be money well spent.
Read Next: 3 Fun Group Golf Formats That Speed Up Play