4 Easy and Fast Ways to Stay Active During Meetings and Events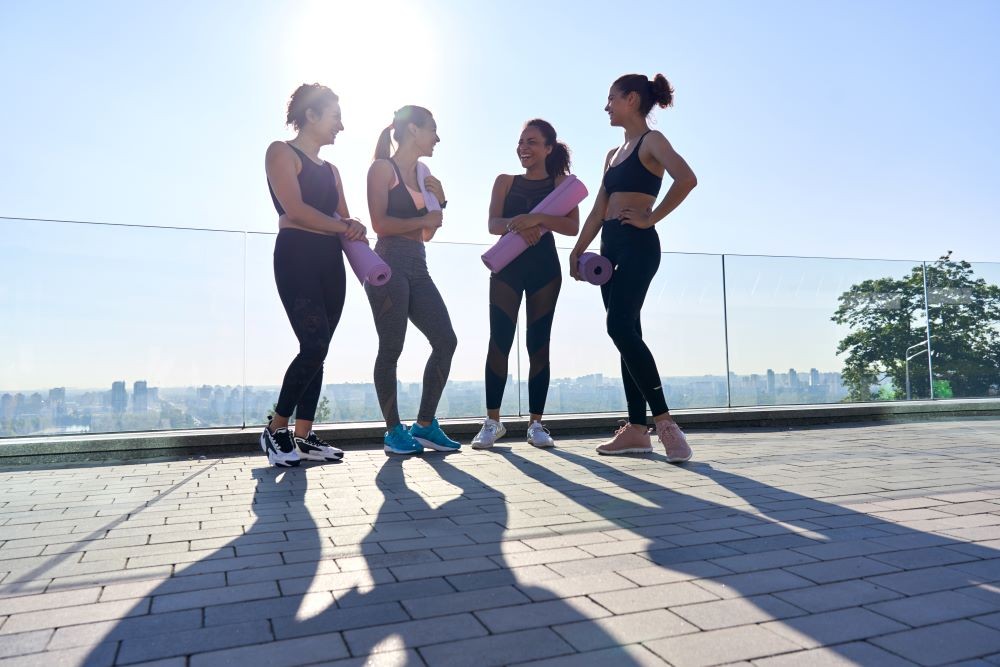 While many attendees prioritize exploring a new city or relaxing during dedicated free time, and others choose to spend theirs catching up on emails, there also exists the group of attendees who hope to find a few spare minutes for mindful movement and being physically active.  
Sometimes, though, fitting that free time into a packed agenda is impossible, and no matter how many group yoga activities or outdoor hikes you try to plan, things just fail to fall into place. But that doesn't mean you can't still help your attendees get up and moving. 
Here are four easy ways to encourage your attendees to stay physically active despite their busy schedules, from simple stretches and teambuilding exercises to helpful online resources for quick workouts on the go.  
Stretching Sessions 
If your meeting agenda doesn't allow time for a group fitness activity, consider incorporating a few 10-minute stretching sessions in between meetings and during breaks.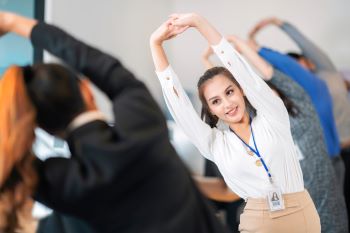 Stretching is beneficial for reducing fatigue by increasing blood supply to your muscles, preventing muscle strain injuries, improving posture by allowing muscle tissues to realign and increasing overall coordination and balance, according to Society Insurance. Plus, there are multiple easy ways to encourage your meeting attendees to take a few minutes out of their day to stretch without having a professional onsite guiding attendees through a stretching routine. 
Consider researching easy stretches to do at work and putting together a flyer you can hand out to your attendees with a handful of different stretches to try. The Canadian Centre for Occupational Health and Safety shares detailed instructions with diagrams on their website for how to stretch the hands and forearms, neck and shoulders, back, side and legs while at work or in a professional environment. 
On YouTube, simply searching for 10-minute guided stretching videos will put dozens of options at your fingertips. Choose a few to watch, pick your three favorites and project them somewhere in an open group setting during your designated stretching breaks for attendees to follow along, or put together a pre-event email package linking to one or two videos for attendees to stretch on their own time. 
[Related: Wellness-Related Corporate Gift Ideas That Promote Attendee Health and Mindfulness]
The Human Knot 
A quick and common teambuilding exercise, the human knot also requires attendees to get on their feet, collaborate and problem-solve with one another. This simple exercise is easiest to complete in small groups between 5-12 people and requires participants to tangle their arms together and carefully "unravel" themselves without breaking their hold.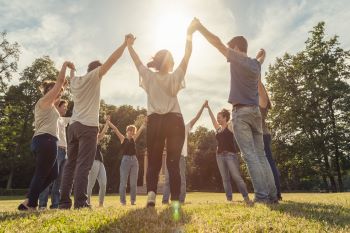 To guide your attendees through the human knot, start by separating them into groups of no more than 12 and having each group stand shoulder to shoulder in a circle. Each attendee then extends their left hand toward the middle of the circle and grabs the hand of another attendee across the circle. (It's important to make sure to not grab the hand of an immediate neighbor!) 
Then, attendees do the same with their right hands, grabbing the hand of a different participant from across the circle to create a "knot" of arms. Once everyone is holding hands, the teambuilding portion of the human knot begins. 
Throughout the untangling process, attendees will have to stretch and move their bodies to reconfigure and maneuver around the arms of other players, therefore encouraging some physical activity. The end goal is for all participants in the human knot to unravel their arms without letting go of each other's hands and, once finished, form one large ring with no hands remaining in the middle of the circle.  
Wellness Walks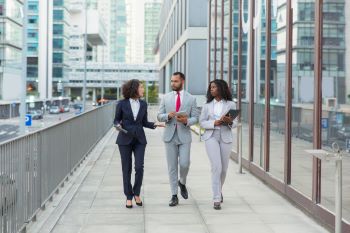 Instead of organizing one group fitness activity and setting aside two hours in the morning for hiking or yoga, consider adding a handful of "wellness walks" to your agenda, giving attendees a time and place to get together for quick, 30-minute walks around your event venue or host property between larger group sessions.  
By weaving a couple of wellness walks into your meeting itinerary, you eliminate the stress of finding the extra time and resources necessary for group wellness activities while still giving your attendees the opportunity to get together and enjoy some low-intensity movement they may not have thought to organize on their own. Plus, providing multiple times for attendees to meet allows them to participate in more than one wellness walk or choose one that fits their individual schedule best.
[Related: The Case for Plant-Forward, Default-Veg Menus at Meetings]
Online Resources and Apps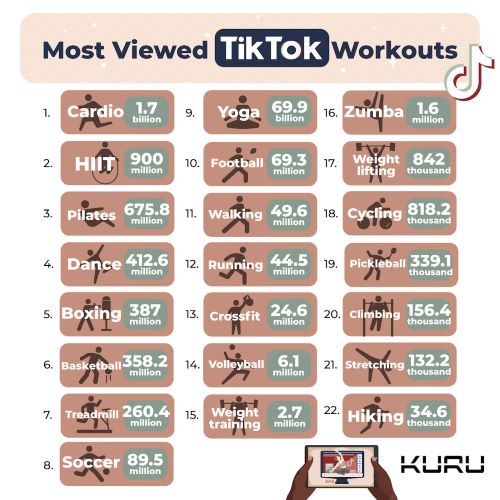 Sometimes, even working mini movement sessions into a meeting itinerary can be tricky. Following are a few online resources, social media platforms and applications to share with your attendees for quick and rejuvenating wellness breaks on the fly. 
Peloton App: Known for its catchphrase "work out anywhere," the Peloton App's purpose is quite literally to tailor your daily workouts to whatever routine you're living in the moment. Whether you're spending time exploring a new city with 20 minutes to spare for a quick high-energy cardio session or stuck in a crowded airport due to flight delays and in need of a calming meditation to clear your mind, the Peloton App is bound to have an answer for your fitness needs within one of its thousands of classes, all just a tap away. 
YouTube: In 2017, there were more than 30 million fitness-related videos on YouTube, according to BBC, and that number has only grown in the six years that've passed since then. Simply searching "10-minute at-home Pilates workouts" will have you endlessly scrolling through videos (some with millions of views) to choose from that require little to no equipment to complete. Plus, YouTube workouts come with the added benefit of knowing exactly how long each workout will take to complete!  
TikTok: A recent study conducted by KURU Footwear set out to discover the top trending workouts on TikTok and found that "both at-home workouts and gym workouts have 1.6B views" on the app, meaning there are literally millions upon millions of short videos on the social media platform to inspire a quick and easy workout on the go. The top three most viewed TikTok workouts, according to the study, are cardio, with 1.7B views; high-intensity interval training (HIIT) with 900 million; and Pilates, with 675.8 million.  
*Brought to you by Caesars Entertainment.
Read this next: Tips and Tricks for Combating Jet Lag and Business Travel Fatigue