7 Ohio Museums You Can Book for Special Events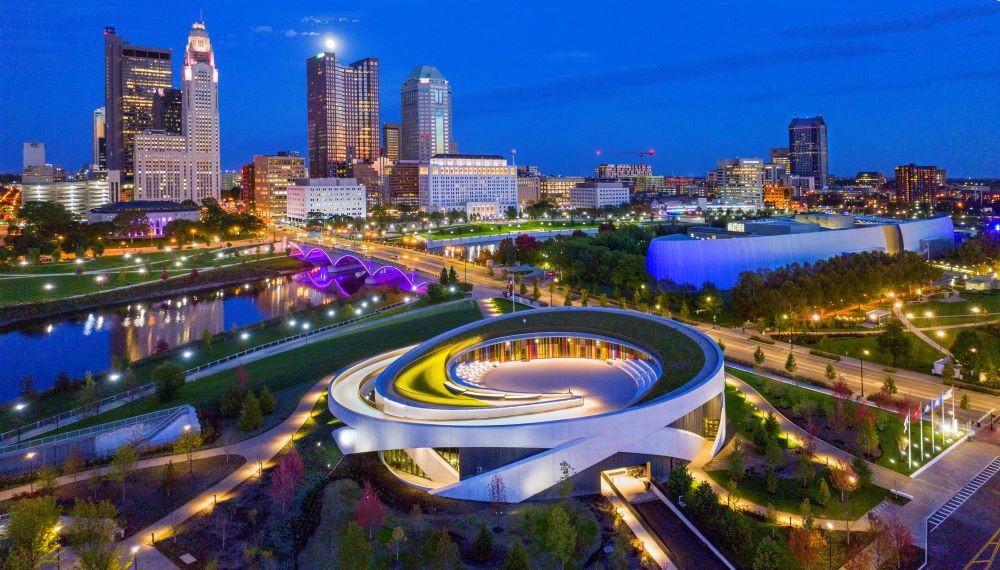 Downtown Columbus and National Veterans Memorial and Museum. Photo by Randall L. Schieber
For planners on the hunt for event venues that deliver a true sense of place, museums are often an ideal option. They might feature local artists or industries that make a city special, but they also come with in-house event teams, reputable catering partners and stunning architecture or beautiful spaces that require little decor. 
 
Two of Ohio's key meetings cities, Columbus and Cleveland, offer a wealth of museums that fit this bill. From mingling among the instruments of the world's greatest rock musicians to networking near art galleries of legends, these two Buckeye State cities offer a wealth of museums that promise unforgettable events. 
Rock & Roll Hall of Fame, Cleveland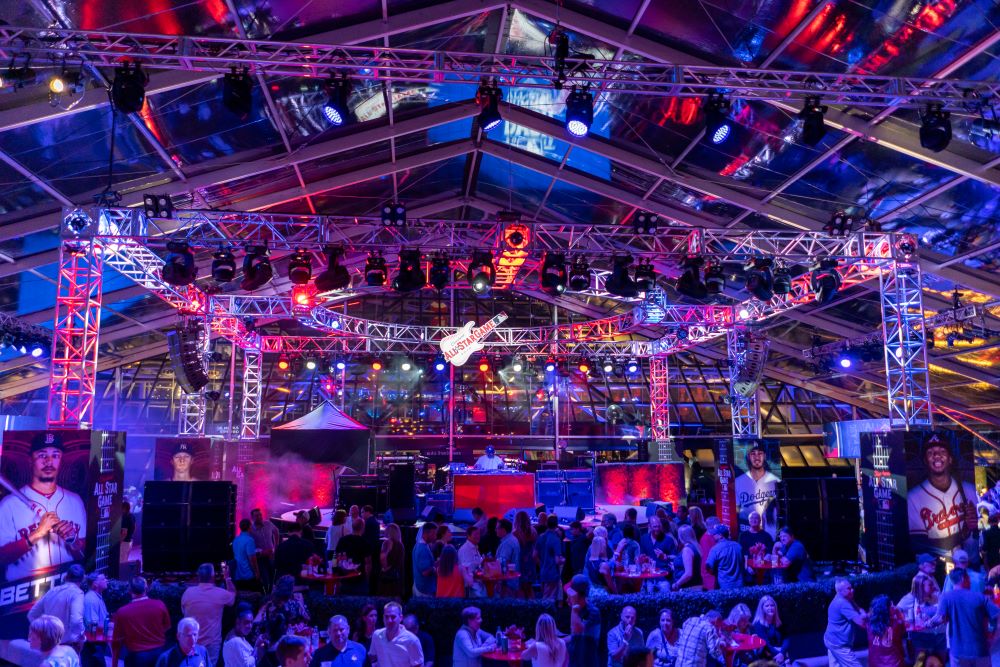 Undoubtedly the must-see attraction in Cleveland, the glass-encased Rock & Roll Hall of Fame preserves the history of the genre and houses the legacies and accomplishments of some of the music industry's most iconic stars. The popular venue also frequently hosts private events, offering several rental options for groups of 20-2,000, from a conference room and a light-filled cafe to the state-of-the-art Foster Theater, or space for a cocktail hour or dinner. The Hall also offers rock star-caliber packages that include access to exhibits, so attendees can mingle among artifacts like instruments and performance outfits donned by the stars. 
Cleveland Museum of Art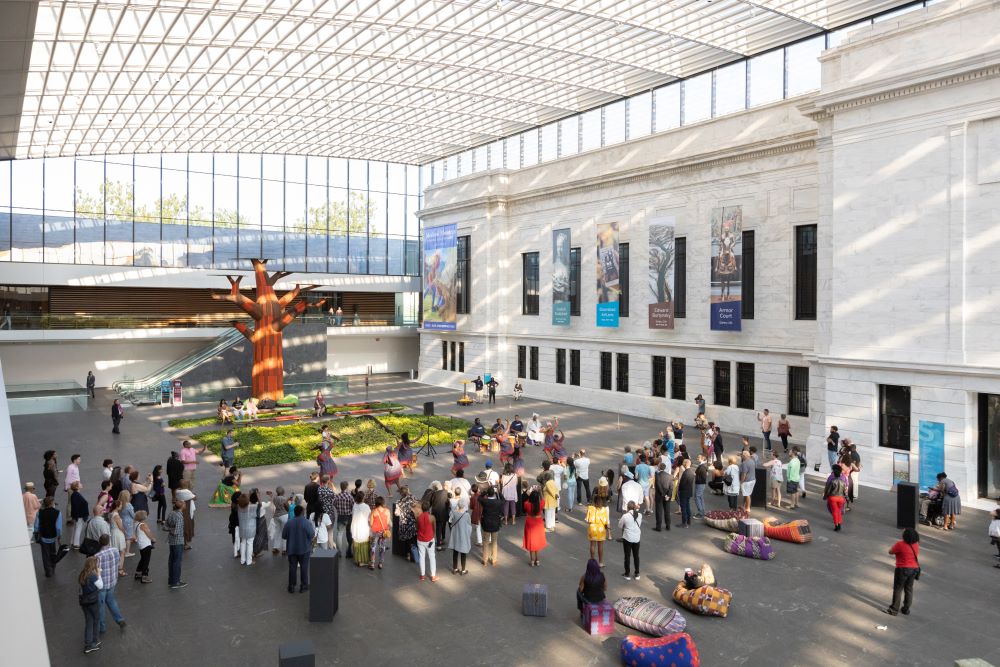 Widely considered one of the best art museums in the nation, Cleveland Museum of Art houses works by greats you know well, like Picasso, Dali and Monet, and other collections spanning Egyptian and Near Eastern Art, Greek and Roman Art, Contemporary Art and much more.  
The museum has a variety of event spaces for groups, including its full-service restaurant, Provenance, led by chef Douglas Katz, who creates globally inspired cuisine from locally sourced ingredients in a fine dining atmosphere. Other event spaces include a private dining room for 100 (with custom menus provided by chef Katz and his team), a banquet room for 128, the new Provenance Cafe and atrium for 60-120, and Gartner Auditorium. 
[Related: The Latest Meetings News in Key Ohio Cities]
Great Lakes Science Center, Cleveland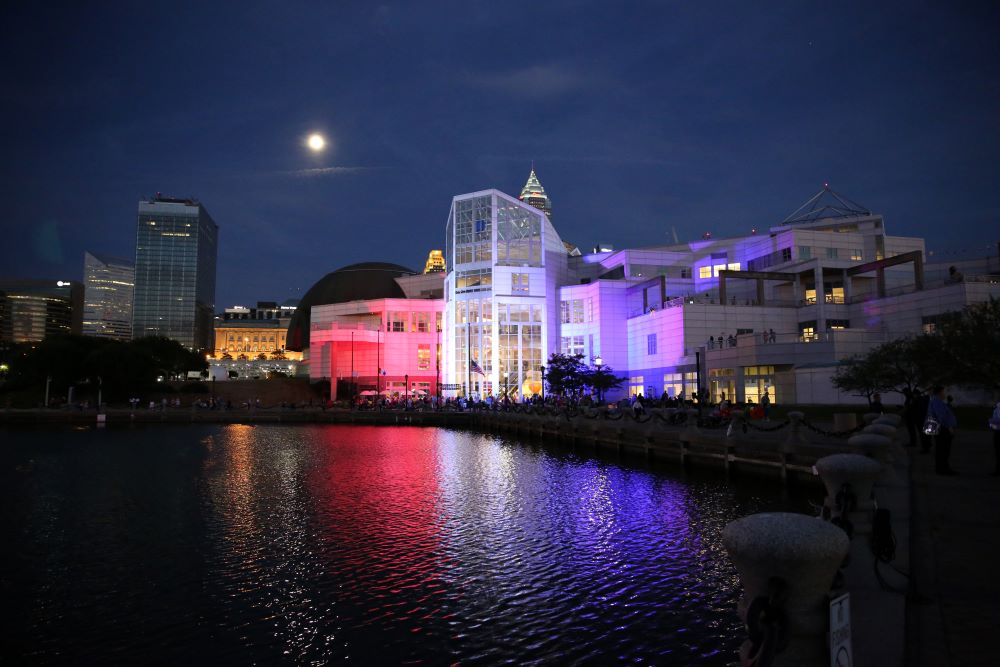 Science, technology, math and engineering come alive on the shores of Lake Erie at Cleveland's Great Lakes Science Center. From the NASA Glenn Visitor Center to the 618-foot William G. Mather Steamship—a Great Lakes freighter—and other science phenomena, attendees can satisfy their curiosity at the museum's many exhibits, where group admission rates are offered. 
Great Lakes Science Center can host events from 10-10,000. Buyouts of the whole museum are possible or planners can book events by floor. Other unique indoor and outdoor spaces with beautiful lake views are on hand, as well as an in-house caterer that can craft custom menus. Teambuilding activities can be baked into an event at the exhibit if a group wishes, like hands-on science demonstrations by the center's staff. An attached 500-car parking garage also makes travel easy for local attendees. 
Cleveland History Center 
To dig into Cleveland's past, consider an event at the Cleveland History Center, where you can trace the city's history through its collection of maps, furniture, clothes, art, documents and photos. See Lebron James' size-16 championship shoes, a restored carousel rescued from the old Euclid Beach Park on Cleveland's lakefront, or a wide collection of antique cars, planes and other transportation vehicles.  
The center is partially housed in a 20th-century mansion, Hay-McKinney House, which can also be used for events from 10-200, depending on which space you choose. The Hay Vanderbrook Garden is a great choice in the warmer months, offering an open lawn with the option for tented events and a garden that can host up to 200 people for cocktails. Other spaces at the Cleveland History Center include the Hanna Courtyard Garden, the onsite conference center and meeting spaces, Norton Gallery and the Crawford Rotunda, where guests can mingle among vintage automobiles, rare artifacts and motorcycles that reflect Northeast Ohio's transportation history. The Rotunda can host up to 300 for a banquet and 500 for a cocktail reception. 
Columbus Museum of Art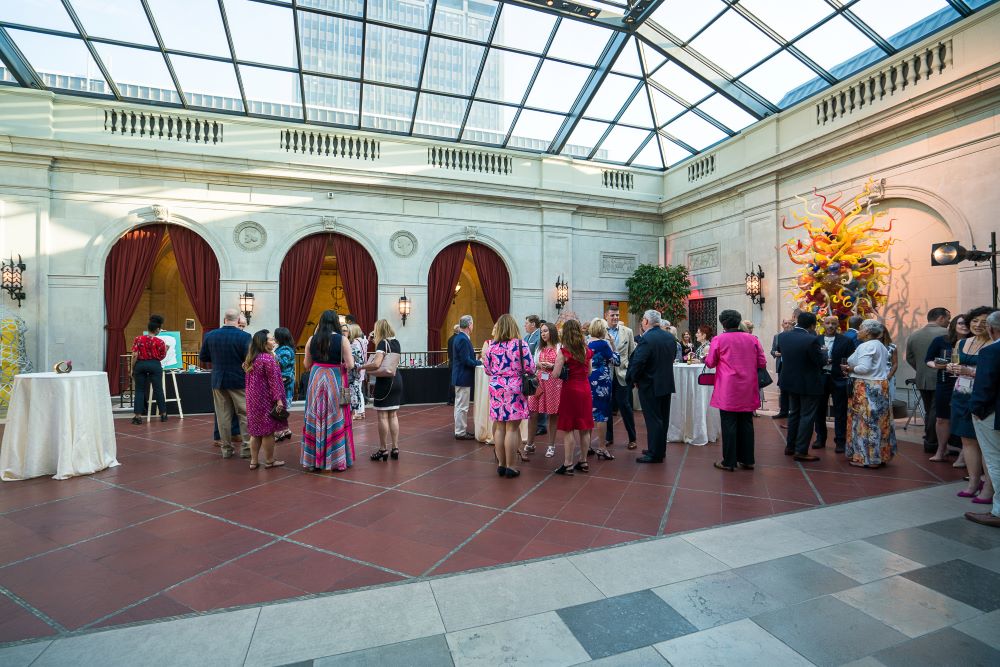 Just 1.4 miles from the convention center, the Columbus Museum of Art makes for a convenient—and stunning—option for a special event. Not only is the museum full of late 19th- and early 20th-century American and European modern works of art, but it's also a striking venue. Groups will flow through an arched entryway into spaces like the glass-roofed Edwards Court with Dale Chihuly's Isola di San Giacomo in Palude glass sculpture. Or, take your event to the Schottenstein Property Group Pavilion—the museum's largest event space, capable of hosting up to 350 with a balcony that looks out onto the garden. 
[Related: Columbus, Ohio, Is a Creative City of Superlatives for Meetings and Events]
National Veterans Memorial and Museum, Columbus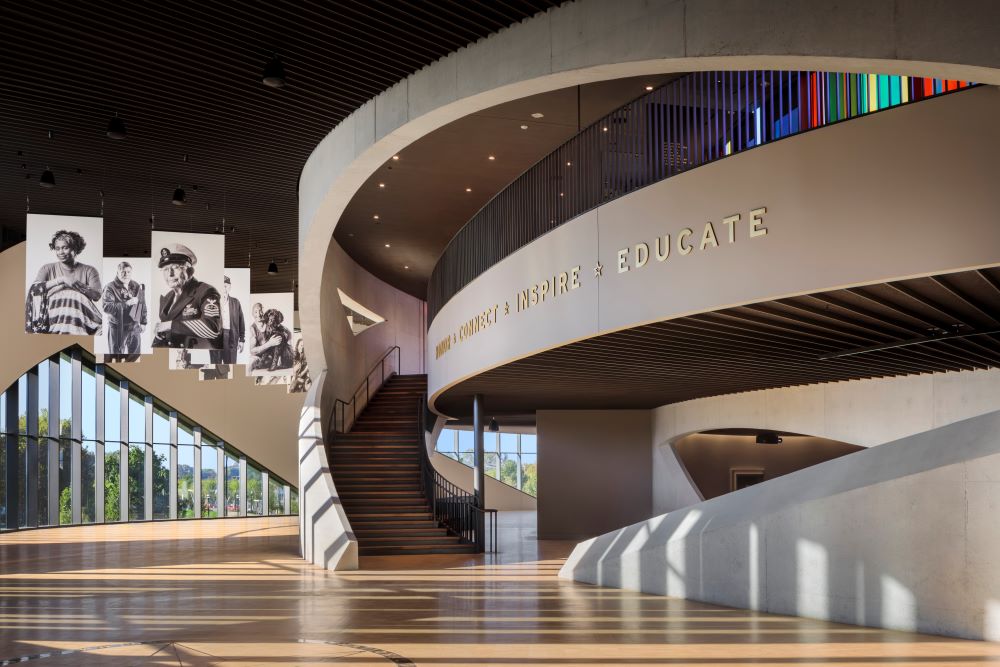 Designated as the only place in the U.S. dedicated to telling the stories of veterans of all military branches over the course of all conflicts, attendees will have an unparalleled experience at the National Veterans Memorial and Museum in Columbus. Groups can experience tributes to all veterans and their stories while meeting in one of the facility's event spaces, some of which include: The Great Hall, adjacent to the core exhibits, has beautiful views of the Columbus skyline; the open-air Rooftop Sanctuary is an ideal place for receptions for large groups (up to 700); and intimate functions can take place in Gallery 33, which hosts special exhibitions.  
Planners can work with the venue to craft custom packages that include guided tours so attendees can explore the museum, and an onsite events team is available along with a preferred vendor list. 
Center of Science and Industry (COSI), Columbus 
While during the day, Columbus' Center of Science and Industry (COSI) may be filled with kids exploring the wonders of STEM, this interactive museum on the city's waterfront turns into an adult's playground when the sun sets. Book events after hours at COSI to provide a unique event experience for your attendees. You can host a dinner or cocktail reception in one of the Classic Exhibits, like Progress, where you can explore technology of the past; Poseiden's Ocean, where you can explore the physical nature of water; or test your skills as an astronaut in Space. Meeting rooms, theaters and other spaces provide backdrops for corporate meetings, presentations or formal galas. You can also take events outside on the English Plaza, with scenic views of downtown Columbus, for groups of up to 1,200 (depending on seating configuration). 
COSI has in-house catering and AV teams and can help with vendor coordination and set up and tear down, and nonprofit organizations receive an automatic 20% discount on facility rentals. 
Connect 
Read this next: 4 Family-Friendly Midwest Resorts That Have Unveiled Major Improvements