The Latest Meetings News in Key Ohio Cities (2022)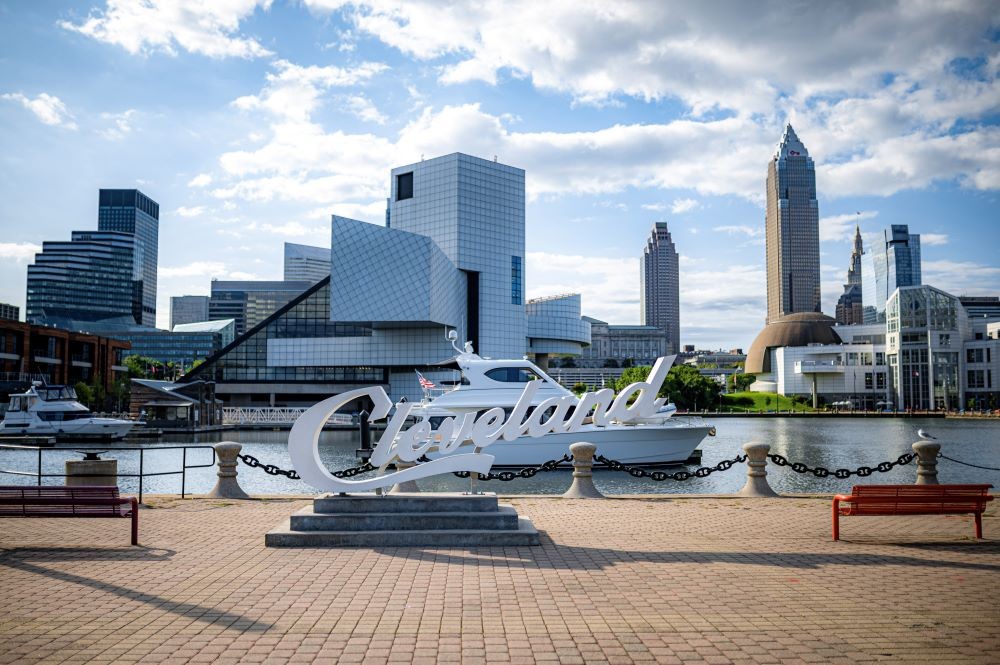 Cleveland, Ohio. Credit Erik Drost
Accessibility, walkability, friendliness. These are the common threads that weave through the key meetings destinations in Ohio, where planners and attendees constantly walk away surprised by how much they enjoyed their visit and looking forward to returning again. 
But, as they say, sometimes you have to see it to believe it. And there are many reasons why you should give the Ohio metros of Cleveland and Columbus a serious look for your next meeting. Major industry events like PCMA and ASAE are bringing their annuals to the Buckeye State next year, and national favorites like the NFL Draft and NBA All-Star Weekend have been there recently, too. Plus, once your feet are on the ground, you'll see there are many new developments launching these cities to the next level for meetings and conventions. 
Following, we explore why you should consider Cleveland or Columbus for your next meeting, and the new property openings, renovations and expansions you need to know about.  
Cleveland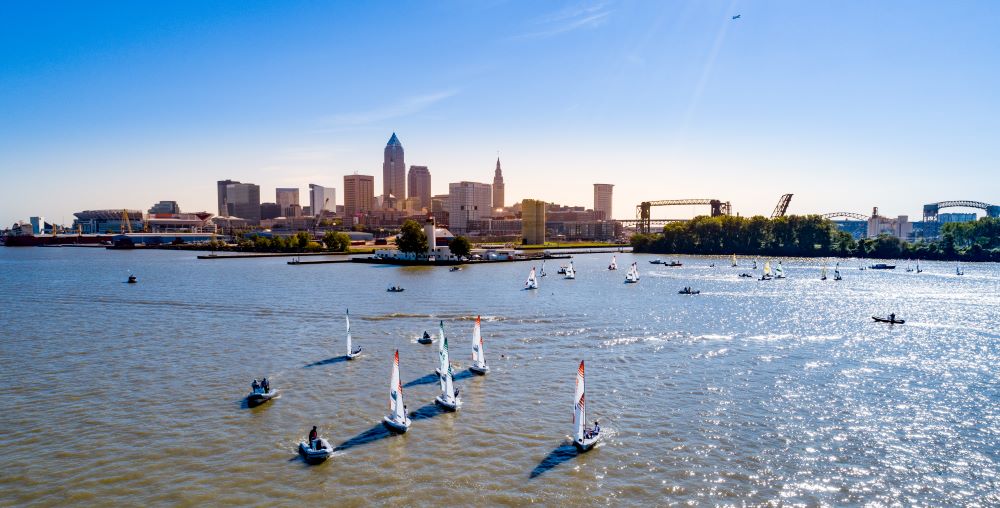 For those who come to Cleveland for the first time, the city often surprises them—in the best way—according to Gordon Taylor III, vice president of sales and convention services for Destination Cleveland. Following a 2022 survey of meeting planners who had recently brought business to Cleveland, Taylor saw comments like, "our attendees were blown away by this city."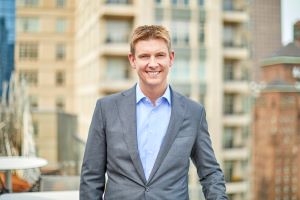 "The younger folks are coming here and seeing it for what it is: affordable, walkable and there's no waiting period to be a Clevelander—people are really welcoming and it's really genuine here," Taylor said. "In Cleveland, people are just so happy to have you here." 
Many newcomers have had a chance to see Cleveland on display in the past year. The city hosted the 2021 NFL Draft, 2021 Rock & Roll Hall of Fame Inductions and the 2022 NBA All-Star Weekend. And more is on the horizon. Taylor anticipates finishing the year at 86% of group booking nights compared to 2019, and Destination Cleveland finished August with its highest lead volume since 2019. 
And big events are on their way in the coming years. In 2024, Cleveland will host NCAA Women's Final Four, followed by the 2024 Pan American Masters Games and ASAE's Annual Meeting & Exposition in August 2024. 
"ASAE will be one of the most important events that we've hosted in the history of Cleveland from a meeting standpoint," Taylor added. 
[Related: Ohio Offers Electrifying Nightlife Options for Groups]
New Developments in Cleveland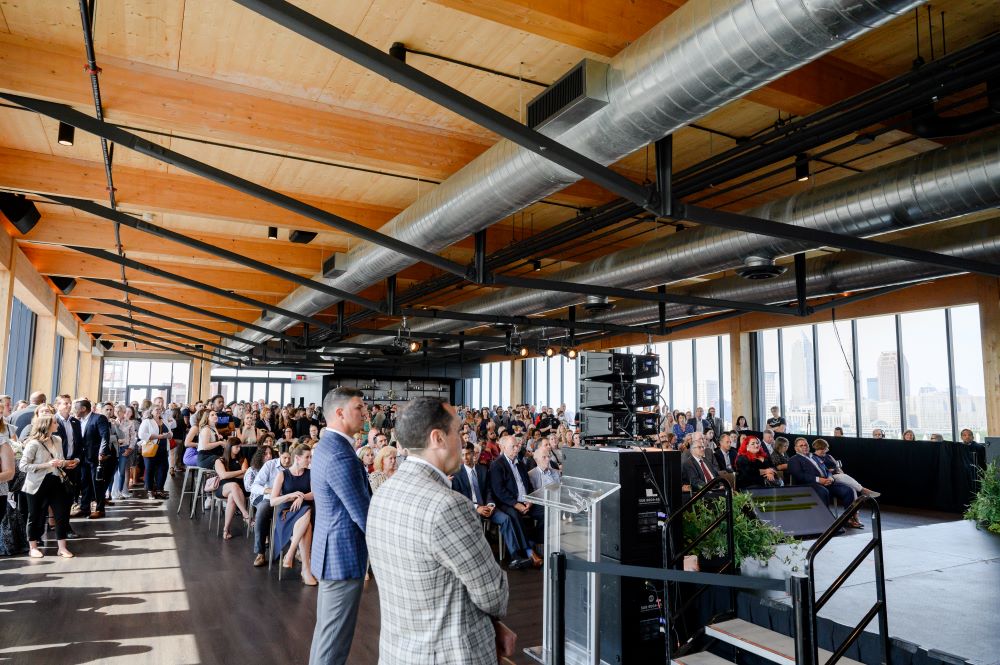 According to Destination Cleveland, billions in recent infrastructure investments are underway in the city, from updates to the state-of-the-art convention center to multiple new and renovated hotel properties, and also fresh updates to attractions like the Rock & Roll Hall of Fame and Cleveland Museum of Art.  
News broke in mid-September that Cuyahoga County Council approved $40.4 million to turn the Global Center for Health Innovation into an expansion of the Huntington Convention Center of Cleveland. The Global Center for Health Innovation has been mostly vacant for the past decade. The renovations to the building would double Huntington Convention Center of Cleveland's Junior Ballroom space to 22,000 square feet and would also add more meeting space, escalators, stairs, restrooms and other improvements. 
The LEED Gold-certified facility has undergone $2.2 million in improvements and updates, and has a new in-house AV partner (Mills James) to assist with hybrid meetings.  
Additionally, the International Exposition Center (I-X Center), another convention center facility, reopened in late-2021 under new ownership and management, and a $50 million renovation and redevelopment plan is underway that includes the division of the 2.2-million-square-foot main floor and new parking and entrance. 
Recent and upcoming hotels add to the nearly 5,000 guest rooms in Downtown Cleveland, most within walking distance of the convention center and entertainment districts. Some notable news includes: 
Hotel Indigo Cleveland Downtown opened following renovations in April 2021. The 142-room hotel features an updated design that reflects the history and popular attractions of the East 4th Street entertainment hub neighborhood.  
ROOST Apartment Hotel opened in March 2022 in The May building, an adaptive restoration of a historic department store designed by famed architect Daniel Burnham in 1915. The 62 studio, one- or two-bedroom units blend the comfort and practicality of an apartment with the amenities and design of a boutique hotel.  
A new W Hotel will open next year in a 1960s modernist skyscraper in Downtown Cleveland. Plans for the 210-room hotel include a 15,000-square-foot ballroom and event center, a full-service spa and gym, and a restaurant and bar on the 38th floor with panoramic city views.  
The Renaissance Cleveland Hotel will be rebranded as the Hotel Cleveland following extensive renovations, returning the city's second-largest hotel to its original name. The 491-room hotel will be part of Marriott's Autograph Collection when renovations are completed in 2023. 
The restoration of historic buildings continues to be a trend in Cleveland, opening up more unique offsite event venue options for planners. Highlights include: 
Truss Cleveland opened in March with five event spaces, including a 6,000-square-foot main ballroom, a 4,000-square-foot rooftop terrace and a green room decked out with Gucci wall coverings.  
BLDG17 CLE is a new venue in a renovated loft near Downtown Cleveland that offers 15,000 square feet of open space with a furnished lounge and kitchenette. Owner Kattie Cool draws from her experience as an event planner to deliver a seamless experience for event organizers.  
The Aviator, conveniently located near Cleveland Hopkins Airport and the I-X Center, is an event space that features runway views, onsite catering and a variety of spaces that can fit groups up to 400.  
The Elliot opened this summer in a century-old church located near Downtown Cleveland in the Tremont neighborhood. The space celebrates the historic architecture of the building with a barrel-vaulted ceiling, a grand staircase and private suites built into the bell towers. The 10,000-square-foot space can accommodate up to 200 guests.  
The redevelopment of outdoor areas, including a lakefront bike path and regional trails, also enhances the Cleveland experience, which enjoys a scenic location on the shores of Lake Eerie. 
Columbus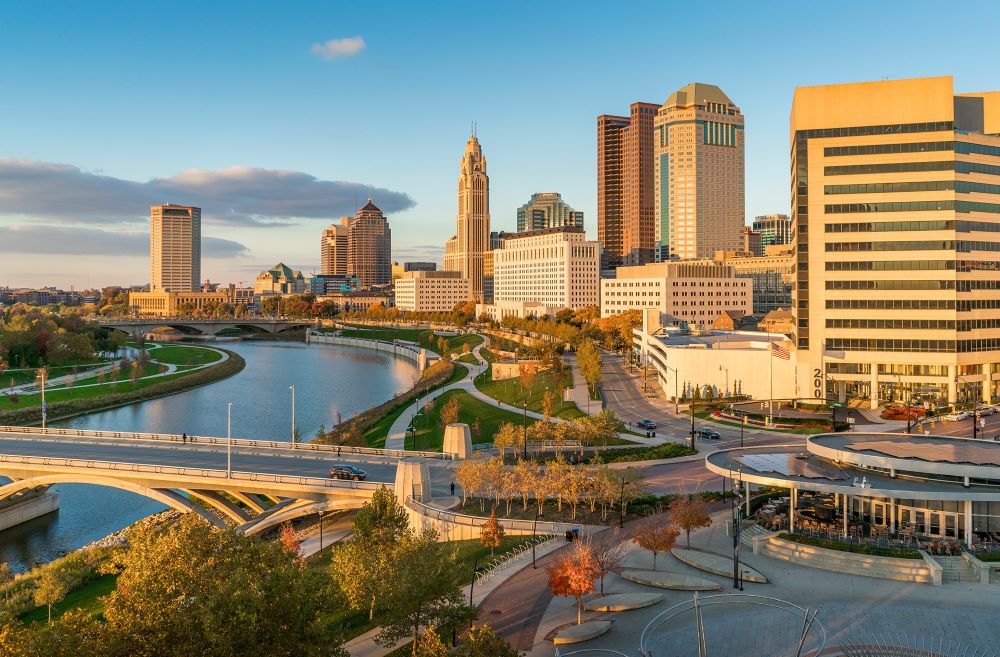 To the south of Cleveland in central Ohio, the recovery story sings a similar tune. The second half of the year yields promise for group business, according to Experience Columbus Chief Sales Officer Dan Williams. 
"The first part of the year was difficult, but this second half of the year has been phenomenal," he said. "We have seen steady growth and are getting close to the 2019 levels." 
Larger meetings and citywides signal this steady growth. Williams said that groups like American Foundry Society's CastExpo, North America's largest metalcasting tradeshow, came to the Greater Columbus Convention Center last April; the National Collegiate Bowling Championship also brought its excitement to Columbus in April; and the 2022 ICMA (International County Managers Association) Annual Conference came to the convention center in September for the world's largest gathering of local government management professionals. 
Williams added that he's looking forward to kicking off 2023 with PCMA Convening Leaders followed by the U.S. Conference of Mayors Annual Meeting in June—two major events that keep the group momentum rolling in Ohio's capital city. 
"Those two opportunities will really showcase our community," he said. 
[Related: Unique Offsite Venues to Consider for Your Next Columbus Event]
New Developments in Columbus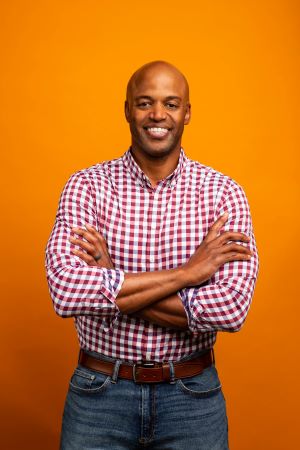 Some of the biggest development news in Columbus starts with the expansion of the Hilton Columbus
Downtown opening this fall. With the expansion complete, it becomes the largest hotel in Ohio, with 1,000 rooms—nearly doubling its original size by adding more than 500 guest rooms.  
Four new food and beverage outlets are aboard as well, including FYR, a full-service live fire restaurant; Spark, a bar located on the lobby level; Stories on High, a rooftop lounge sitting 28 stories over High Street; and The Market, a grab-and-go outlet. 
In addition to being directly connected to the convention center, the hotel will now offer 75,000 square feet of meeting space. 
The Junto, a 198-room hotel, will also open in Columbus in April 2023. Though specifics have yet to be released, the hotel will include meeting and event space, private dining options, a social lobby and bar, fitness center and dining outlets. 
These newest additions only continue the growth that Columbus has seen over the past decade. 
"We have 305 hotels and more than 32,000 rooms [citywide]—and that's a 12% increase from 10 years ago," Williams said. 
[Related: Columbus, Ohio's Collaborative Spirit and Preparedness Builds Confidence in Meetings]
Experience Columbus Launches Accessibility Guide 
After a few years in the making, Experience Columbus launched  an Accessibility Guide on its website in mid-July, serving as a resource for visitors and locals seeking accessibility information on Columbus attractions, hotels, restaurants and transportation options. 
"This shows how welcoming and inclusive our community is," Williams said.
Extensive research was conducted to create the guide, which provides details on accessibility offerings in the categories of mobility, vision, hearing and cognition. Experience Columbus consulted with Rosemarie Rossetti, Ph.D., an internationally known disability inclusion expert and universal design and accessibility consultant, when creating the guide. Currently, more than 20 attractions, restaurants, hotels and transportation options are listed in the guide and have been reviewed and screened by disability inclusion experts.  
"What makes Columbus such an inspiring and progressive city is the abundance of places and events that can be experienced and shared by all," said Rossetti in a press release announcing the guide. "As a person who uses a manual wheelchair, I've enjoyed the opportunity to share my perspective on how this city can be enjoyed by people of all abilities. I hope this guide affords many others the chance to take advantage of what Columbus has to offer." 
The accessibility guide also features tips for planning an accessible meeting in Columbus and accessible outdoor dining options, as well as links to helpful resources like how to request a sign language interpreter, how to request accessible rideshares, adaptive sports resources and more. 
The guide will be continuously updated as new businesses and venues open or as local businesses and organizations share their accessibility information. Additions will also be reviewed by Rossetti and other inclusion experts, according to Williams. 
Connect 
(216) 875-6680  
(614) 221-6623  
Read this next: Detroit's Innovation and Creativity Bring in New Meetings Business