Phoenix Is Enjoying an Economic Expansion That Is Fueling Stunning New Hotels and Renovations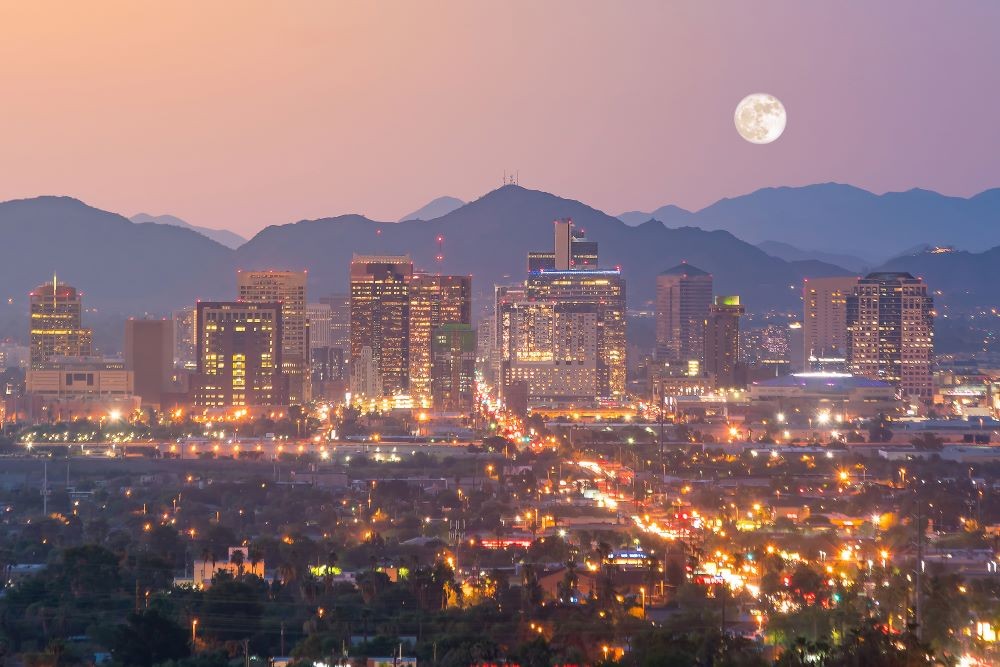 The Valley of the Sun, which encompasses the Arizona cities of Phoenix, Scottsdale, Glendale, Mesa, Tempe and others, is shining bright these days, with numerous new meetings-ready properties, major renovation projects set to wrap, a Mattel toy company-branded theme park in the works and a maturation and population influx in downtown Phoenix that positions it well to draw tech and medical meetings.
"Phoenix is hot—and more than just the heat—we are in demand," said Deborah Lahti, director of hotel and resort sales at Visit Phoenix. "We are exploding, whether it's our hospitality sector or the tech sector, even our biomedical sector."
Phoenix, now the fifth-largest city in the U.S., notched a major tech meetings score when it landed SEMICON West, North America's premier microelectronics exhibition and conference, for a multi-year rotation starting in 2025. 
[Related: Visit Phoenix's Deborah Lahti on the Explosive Growth in the Valley of the Sun]
The technology manufacturing facility scene in Phoenix is on such a tear, in fact, that the area has been dubbed the "Semiconductor Desert." The 36-acre Phoenix Bioscience Core (PBC) in the heart of Downtown just steps away from the Phoenix Convention Center continues to be a magnet for large annual medical meetings. In fact, The Center for Advanced Molecular Immuno Therapy will open its doors at the PBC in the next 24 months. This new center will be on show when Phoenix hosts the Society for Immunotherapy for Cancer annual convention in 2026.  
"There is a real intentionality around how we work with our stakeholders to attract these large knowledge industry events that matter," Lahti said.
"We're definitely doing a lot more large conventions that are around those medical/pharmaceutical [segments]," Lahti continued. "The neighboring Phoenix Bioscience Core has been a tremendous community asset in being able to deliver access to thought leaders as speakers at several of these medical and STEM related conventions." "Being able to connect our clients with these unique resources  enables us to attract the kinds of conventions that align with our city's growth sectors."
[Related: How to Experience the Arts and Culture of Phoenix and Scottsdale]
Phoenix has drawn close to 23,000 residents to its downtown core, according to Lahti, which has resulted in the addition of retail and restaurants that have also greatly increased off-session options for attendees convening at the Phoenix Convention Center.
In tandem with all this growth, the hotel and meeting venue scene is welcoming a number of new entrants, as well as renovations to existing properties.
"Everybody's really enhancing their products right now because we have such high demand," Lahti said. "And everybody's really looking for what's new—what's that experience? We have luxury coming in that we haven't seen in the last 10 years."
Notable new properties and renovation projects include the following:
New-Builds
Restaurant innovator Sam Fox is ramping up to open his debut luxury property in Phoenix in November. The Global Ambassador is part of the Preferred Hotels & Resorts Legend Collection, sharing that stage with such iconic properties as New York's Baccarat Hotel, Montage Laguna Beach and Napa Valley's Carneros Resort and Spa. This high-design, 144-room luxury hotel a decade in the making sits at the base of Camelback Mountain and will offer four signature restaurants, a spa with 10 treatment rooms and a Pavilion Ballroom with 4,600 square feet of space. A highlight will be the largest rooftop venue in the city as well as three outdoor terraces available for events.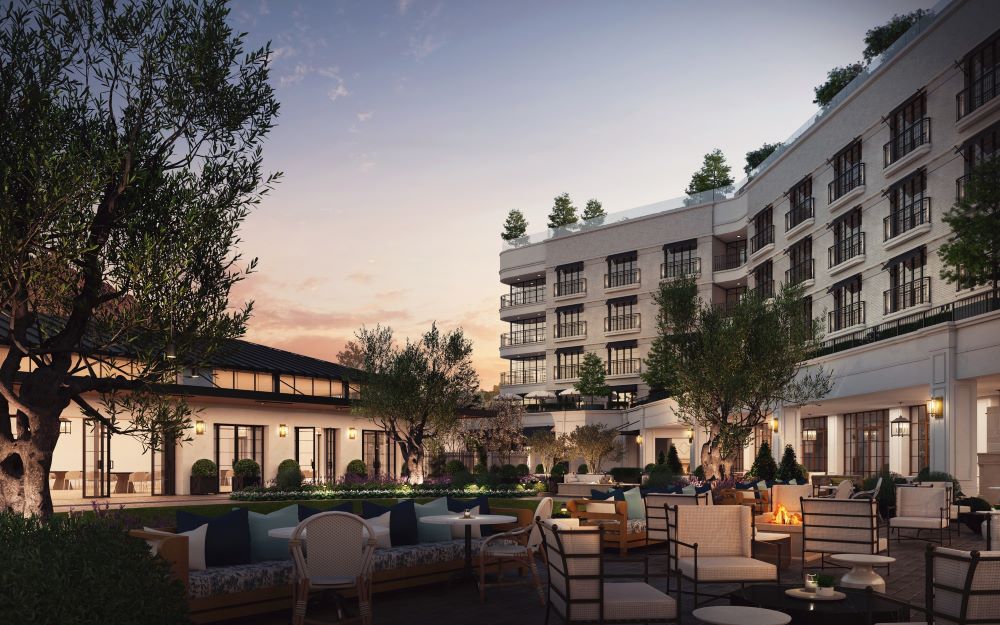 Located near Glendale's Cardinals stadium and marketed as Arizona's largest resort, the 1,100-room VAI Resort, scheduled to open in 2024, will feature a 160-room Amphitheater Tower that will allow guests to actually view concerts from their private balconies overlooking a $40 million stage. The hotel will have four towers, including one that is situated next to VAI's 50,000 square feet of indoor conference space, 150,000-square feet of flexible outdoor space and 10,000 square feet of private dining space. The property, which also offers VAI Resort Villas, will boast a 35,000-square-foot rooftop event space atop the VAI Conference Center as well as 12 restaurants. A huge bonus is that VAI will feature its own manmade Konos Island and expansive swimming options, and is also adjacent to the splashy new Mattel Adventure Park.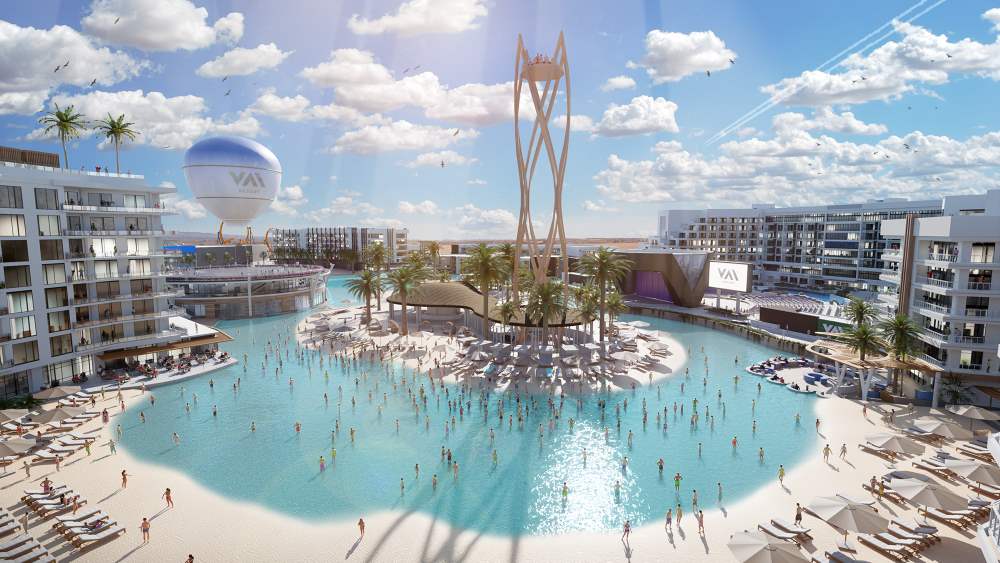 Caesars Entertainment may be known as a dominant gaming empire, but Scottsdale's Caesars Republic Scottsdale, located next to Fashion Square, will be the brand's first North American non-gaming hotel when it opens in February 2024. The 11-story, 265-room lifestyle hotel will feature a Luna by Giada restaurant as well as a first floor Pronto by Giada from acclaimed chef Giada De Laurentis, as well as the event-ready 7th-floor SEVEN pool and lounge that overlooks Camelback Mountain. Meeting space highlights include the 7,000-square-foot Contemporary Ballroom and a Main Ballroom that can be divided in thirds and accommodate banquets of up to 500, along with five 650-square-foot meeting rooms for events up to 150. Outdoor venues include the 3,000-square-foot Camelback Veranda on the 8th floor.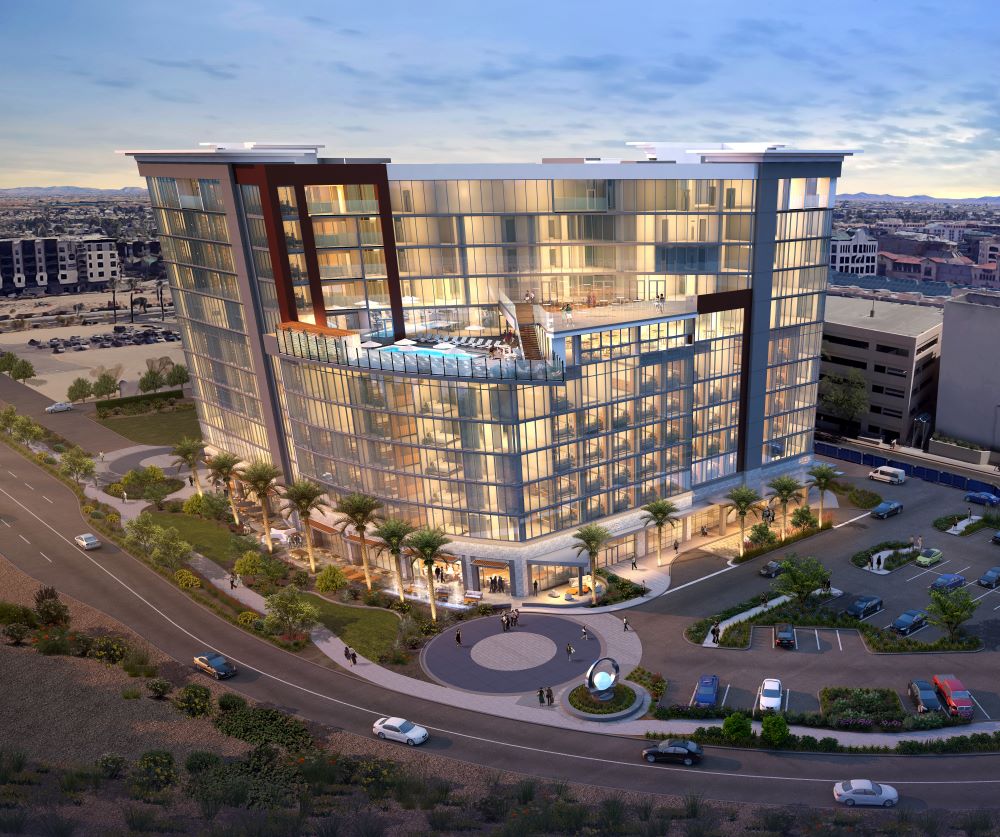 Part of a $2 billion, 122-acre development spanning Scottsdale and Paradise Valley, and which includes high-end retail and homes, this 215-room Ritz resort will also include 80 Ritz-Carlton Residences Villas, 32 "estate homes" and 20,000 square feet of meetings and events space, along with an amphitheater and 9,800-square-foot ballroom. The resort, which itself comprises 20 acres of the development, at publication time is scheduled to open in 2024.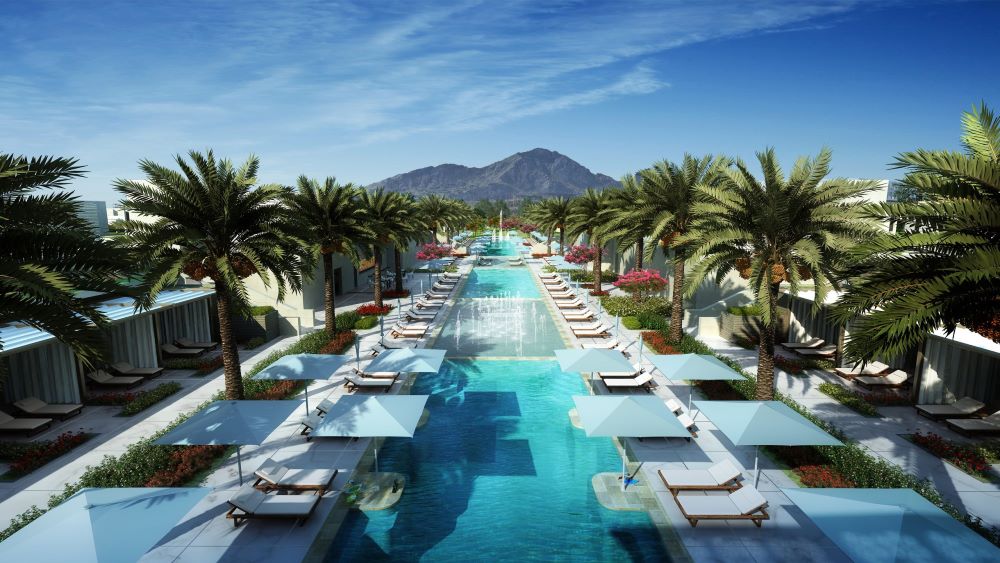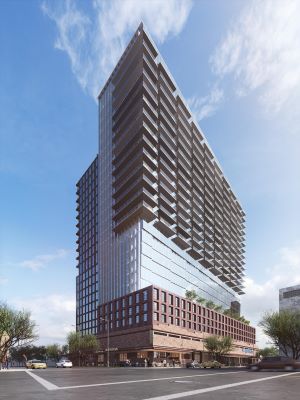 The 25-story Fairmont Phoenix will feature 225 guest rooms, including 34 suites and 151 residences. Rescheduled to open in early 2027, this towering gem on First Avenue and Jackson Street will transform downtown's accommodations offering. The Gensler-designed property is expected to offer 23,000 square feet of meeting and event space and a rooftop bar and terrace, and is being constructed atop the historic, four-story brick Arizona Hardware Supply Company building. The Fairmont will be four blocks from the convention center, next door to Footprint Center arena and two blocks from Chase Field.
[Related: 9 Inviting Outdoor Venues in Phoenix and Scottsdale]
Renovations
Fresh off an $80 million refresh of the entire property, this standout 869-room Phoenix resort remodeled its guest rooms and lobby; launched new dining experiences, including its flagship Tia Carmen helmed by "Top Chef" star Angelo Sosa; and even added three massive water slides to its large pool complex. The resort also added wellness suites that feature in-room Peloton bikes and spaces for yoga and meditation.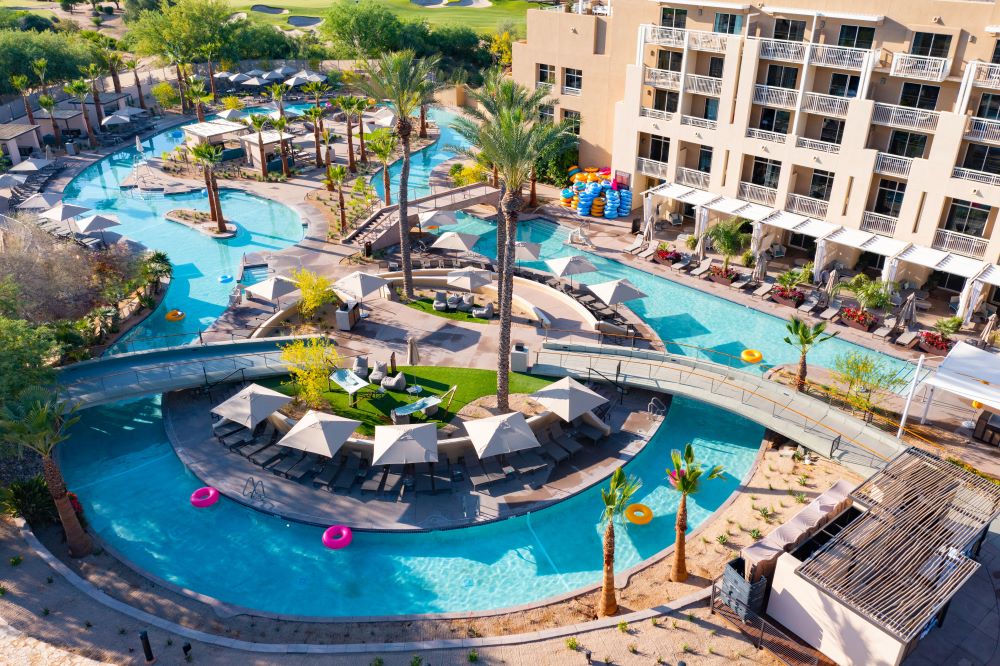 Arizona Biltmore completed a $150 million renovation in 2021 that added fresh dining experiences, the adults-only Saguaro Pool, The Spire Bar and the Tierra Luna Spa. Called a transformation that peeled back layers to reveal its original glory, the project had the intent of keeping the iconic charm of the more than 700-room luxury hotel intact from its 1929 origins as the place Hollywood stars and U.S. presidents stayed while in Phoenix. A highlight of the project was bringing back its lush gardens and embracing the key architectural element of its many "Biltmore blocks," a core building element throughout the resort that is designed in 34 geometric patterns made of desert sand that were inspired by the grooves in the trunk of palm trees.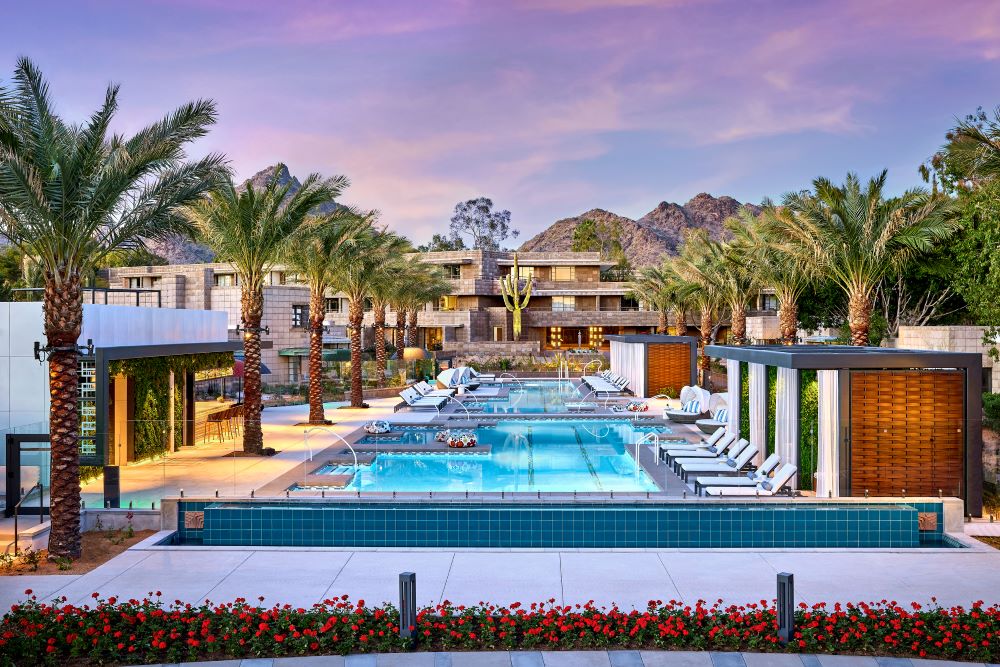 This Scottsdale resort favorite launched a $110 million renovation in summer 2023 that will include enhancements of its 493 guest rooms, pools, F&B outlets, spa, public areas and expand its indoor and outdoor meeting space. Upon the scheduled completion in late 2024, the property will re-emerge as Grand Hyatt Scottsdale Resort & Spa.
A flagship property for the Sheraton brand, this downtown hotel with 110,000 square feet of meeting space a block from the Phoenix Convention Center recently completed a guest room and meeting space renovation, along with adding a new signature fine-dining restaurant, Carcara.
The Renaissance Phoenix Downtown completed a $13 million renovation that focused on modernizing the exterior of the property and relocating its entrance, as well as improvements to its lobby and the addition of Dust Cutter, its signature restaurant. A highlight of the project was facilitating the property to better connect with the Adams St. Project, a partnership between Gensler, the ownership group of the hotel, Marriott International and the City of Phoenix to transform the area to be more pedestrian friendly and open it up for additional F&B outlets.
This iconic West Valley resort that opened in 1918 is set to unveil a $20 million renovation that will completely makeover its guest rooms, substantially upgrade its technology offering and improve its 100,000 square feet of meeting and event space.
Hyatt Regency Phoenix completed a comprehensive renovation of its 693 rooms as well as public space, lobby and re-concepted restaurant Barrel and Bushel. The renovation, which was completed in 2020, also added four new meeting rooms to its 50,000 square feet of space.
Connect
Sponsored by Visit Phoenix.