How to Experience the Arts and Culture of Phoenix and Scottsdale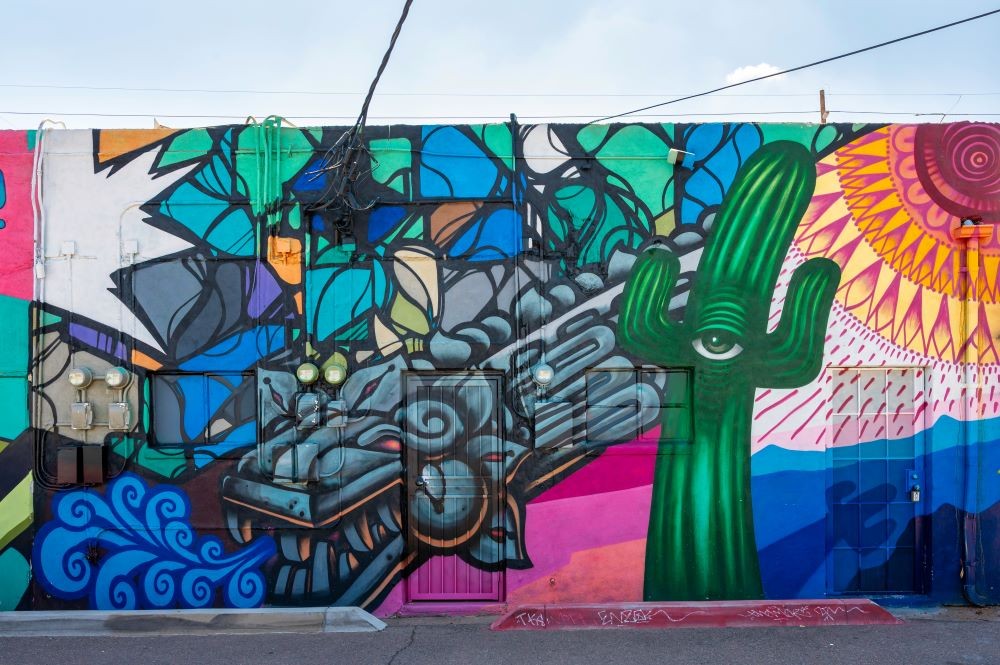 Roosevelt Row, Phoenix. Credit: Visit Phoenix, An Pham
Arizona's heart beats for the arts and culture that established the destination it is today and continues to form the one it will become tomorrow. Here are a few ways you can experience this creativity running deep through Phoenix and Scottsdale. 
Phoenix 
As the largest city in the Sonoran Desert with more than 300 days of sunshine annually, Arizona's capital city has more to offer planners and attendees than warm weather. The city is defined by invention and innovation, bustling with numerous acclaimed hotel and resort properties, diverse nightlife and a world-renowned arts and culture scene that only continues to grow.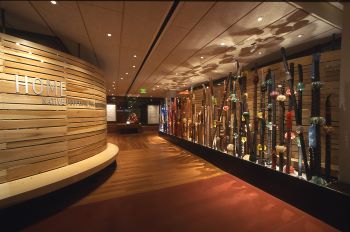 "The energy in Greater Phoenix is palpable, and more than anything, we want to share it with you," said Chris Miller, corporate communications manager for Visit Phoenix. "Whether you're here to explore, grow, learn or recharge, know that you belong." 
One of the most inclusive and creative segments of life in Phoenix is the city's arts and culture scene, which Miller enthuses is "vibrant, eclectic and in full force."  
Communities in and around Phoenix act as stewards of art and culture "in the strictest sense of the term, as they are a true anchor of Phoenix's identity," Miller said, and ensuring Phoenix remains a supporter of the arts is pivotal to preserving the city's past, honoring the way it changes over time and promoting inclusivity and diversity. 
"Showcasing art is imperative to Phoenix on so many levels. The overarching importance of art is rooted in the immense value the city gains from it, be it socially or economically," Miller said. "Additionally, the art of our city is a distinguishing part of our history and continued evolution and uncovers our culture, adds meaning to place and spotlights the distinctiveness of our communities."  
Here's how you can experience Phoenix's arts and culture scene the next time you host or attend meetings or events in the desert city. 
[Related: The Hidden Gems and Local Favorites for Nightlife Fun in Major Arizona Cities]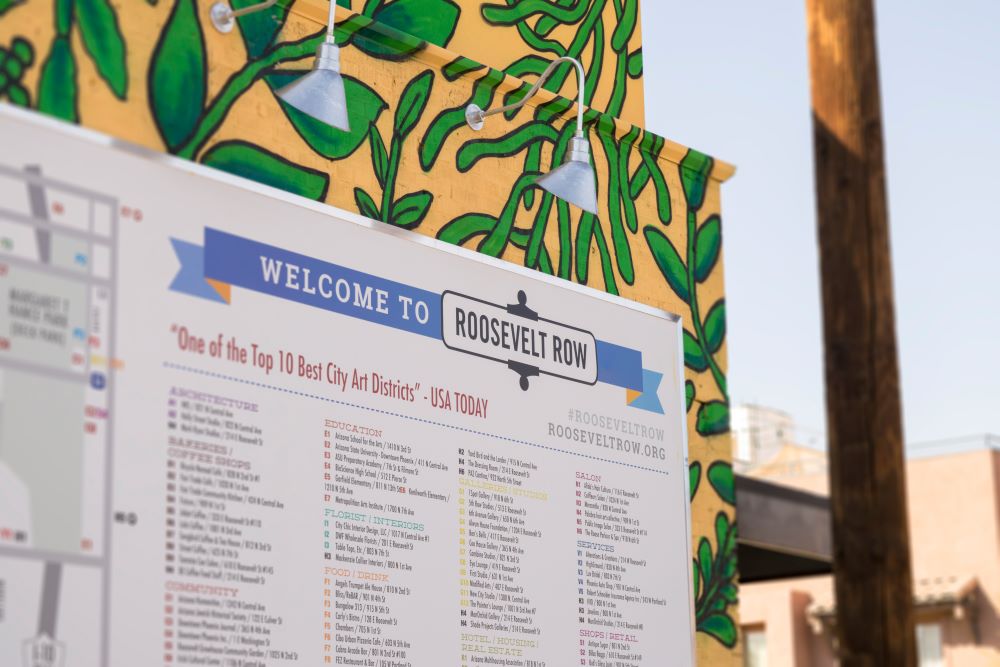 Roosevelt Row  
"Roosevelt Row is the center of the universe and prime creative district when it comes to Phoenix's art and culture scene," Miller said. "It boasts several art galleries, renowned restaurants and bars, live music and boutique shops all in one incredibly walkable neighborhood."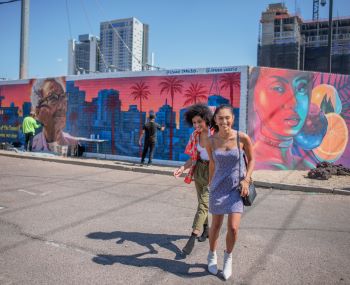 Roosevelt Row, downtown Phoenix's arts district, spans McDowell Road south to Van Buren Street and Central Avenue east to Seventh Street. The street-art lined landscape has been named a "Great Place in America" by the American Planning Association (APA) for numerous reasons, including the area's diversity and walkability. Roosevelt Row "has a strong Latino presence that is reflected in its murals and local artwork," according to the APA, and a light rail system helps connect Roosevelt Row to other key parts of the metro area.  
"At the helm of Roosevelt Row is their Community Development Corporation that exists to advance arts-focused initiatives for artists, entrepreneurs and residents all in the name of cultivating a creative and sustainable space," Miller said. "According to the Roosevelt Row Community Development Corporation, in recent years, their work has evolved to amplify the stories and important creative work of local artists in the area. They believe that for artists to thrive in a growing city, it's important for artists of all backgrounds to have a place to create, perform and showcase their work, and to do so, they prioritize community partnerships who support local artists, assist in identifying spaces for artists to produce and sell their work, serve as an example for higher paying wages for artists, and encourage local community members in the area to get involved." 
One way visitors and groups can do so is by attending Roosevelt Row's First Friday Art Walk, which is "the ultimate way to experience Phoenix's culture, arts, flavor and vibe," Miller offered.  
The Art Walk is a free, all-ages event drawing thousands of attendees over the course of several city blocks and includes nearly 100 businesses. The Phoenix Art Museum, the Heard Museum and the Japanese Friendship Garden all participate on select First Fridays, too. 
"As we continue to evolve as a city and region, so does the vitality and diversity of our arts community," Miller said. "The First Friday Art Walk invites vendors, musicians and artists of all varieties into the [closed-off] streets for an evening where you'll feel the essence and spirit of Phoenix through sight, sound, smell and taste."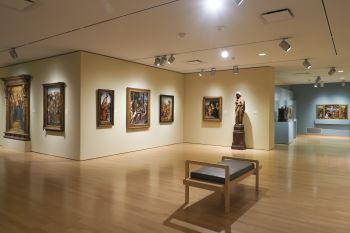 While exploring Roosevelt Row, Miller suggests checking out spaces like: 
"Plain and simple, art drives our identity, bolsters our sense of community pride and belonging, and enhances the quality of life for our residents and visitors," Miller said. "Art has the power to transform not only space, but life itself." 
[Related: Tap These Arizona Arts and Culinary Treasures for Group Activities]
Scottsdale 
Fewer than 30 minutes away from Phoenix, Scottsdale is a second Sonoran Desert city with more to soak in than just the sunshine.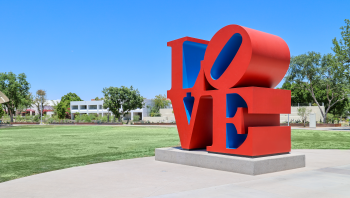 The city greets visitors with exotic cactus blossoms across the desert landscape and views of Scottsdale's McDowell Mountains, known to take on vibrant colors depending on the sunset's light conditions. Scottsdale's artistic splendor literally stretches all the way to its mountaintops.  
Where it starts, though, is in the heart of downtown Scottsdale in Old Town, a walkable area of the city split into nine districts, each offering something new to explore.  
"With our location and Native American heritage in our city, the art and culture scene in Scottsdale lends itself to being pretty eclectic, culturally," said Christina Dicksen, director of communications for Experience Scottsdale. "You definitely have those Southwestern, Native American, even Western and true cowboy cultural and artistic influences, and some influences from across the border in Mexico. That's all layered with a real surge in modern and contemporary art, not only through our public art program but through some of our public art events, too." 
Scottsdale has two art museums, both located in Old Town. One, the Scottsdale Museum of Contemporary Art (SMoCA), is "dedicated to contemporary art, architecture and design" and currently showcases exhibitions like Philip K. Smith III: Three Parallels, with commissioned work highlighting changes in perception related to light, color, time and space.  
"SMoCA is a museum that houses more contemporary, boundary-pushing, thought-provoking art," Dicksen said. "It's a beautiful facility, not only to visit for tours or the latest exhibition, but also for events. It makes for a great event space for groups because it's, in some areas, like a blank canvas that you can kind of work with, and then in other spaces, you have this beautiful backdrop of really interesting art to entertain guests and give them something to do and something to look at during your events." 
Next door to SMoCA at Scottsdale Center For The Performing Arts, visitors can experience international traditional and contemporary arts promoting "creative expression, diversity in thought and awareness of cultural heritage." Rentals at the center include the 853-seat Virginia G. Piper Theater and the Dayton Fowler Grafman Atrium, with a capacity of 500 to 900, and more spaces are available on the Scottsdale Center for The Performing Arts' website.  
The nearby Western Spirit: Scottsdale's Museum of the West is a cultural institution showcasing the art, culture and history of 19 states in the American West, Western Canada and Mexico, and was named the No. 1 Best Western Museum by True West magazine in 2023. 
"They work with curators from all over to get different exhibitions that fall under either Native American art or Western Art, and it's really focused on teaching people about the roots of the West and the influences that you can see from that time," Dicksen said. "Right now, there's an exhibition called Canvas of Clay, which is one of the most substantial collections of Native American clay art that you can find in the country."  
Private event venues at the museum provide backdrops of the American West and host 25 to 500. Western Spirit's Christine and Ted Mollring Sculpture Courtyard is an open-air gathering space for up to 117 surrounded by desert plants and artwork by some of the American West's most renowned artists.  
[Related: 4 Tucson Venues for Space and Science Fans]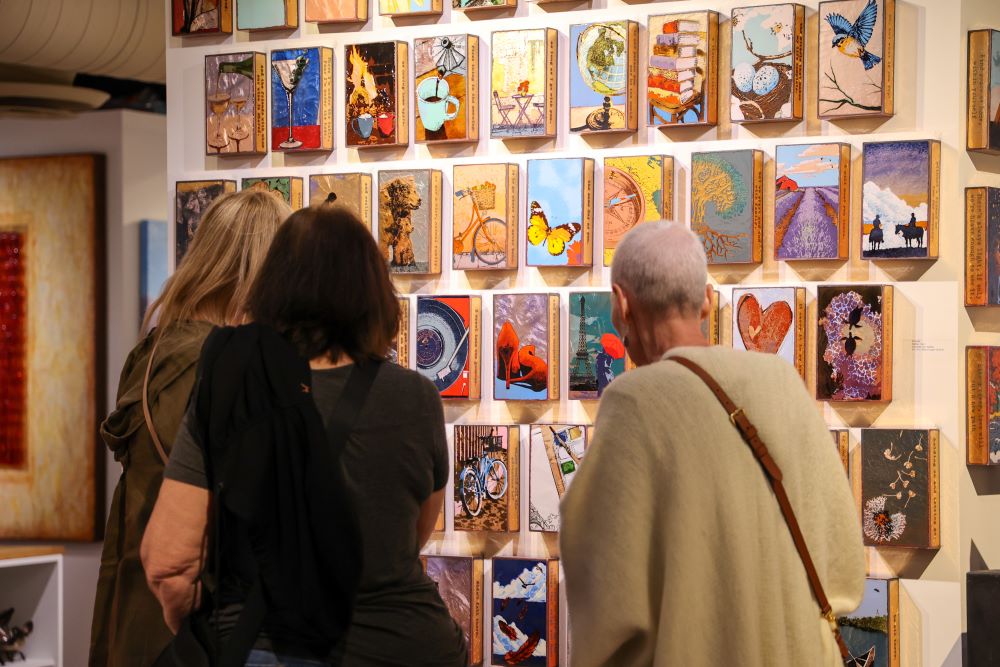 Scottsdale ArtWalk 
Scottsdale is home to more than 100 galleries and "internationally known as a mecca for art collectors," according to Experience Scottsdale, and the Scottsdale Gallery Association (SGA), in partnership with the City of Scottsdale, hosts the Scottsdale ArtWalk every Thursday except Thanksgiving from 7-9 p.m. for locals and visitors alike to experience the city's art scene.  
Since 1975, the Scottsdale ArtWalk has invited people to stroll at their own pace into galleries to meet featured artists, purchase artwork, and enjoy live music and local dining in Old Town. 
"It's comprised of 30 different art galleries that open their doors and stay open a little bit later to allow people to come in and view anything they have on display at that time," Dicksen said. "Sometimes, there will be special activations like wine and cheese or artist demonstrations. It's one of the core things in Scottsdale to definitely do for anyone who's here on a Thursday during their visit." 
Connect
Read this next: 9 Inviting Outdoor Venues in Phoenix and Scottsdale